Microfiber sheets are very famous because of their smoothness and affordable prices. But Microfiber is made of polyester that might irritate your skin. 
Even though different varieties of Microfiber sheets are available in the market, most of them are made of 100% human-made polyester. 
Polyester in Microfiber doesn't allow the skin to breathe; that's why heat is trapped, which causes irritations. 
In this article, I will answer the question: are microfiber sheets good for your skin? And what are alternatives to the Microfiber sheet that you can go with? 
So let's get started!
Are Microfiber Sheets Good For Skin?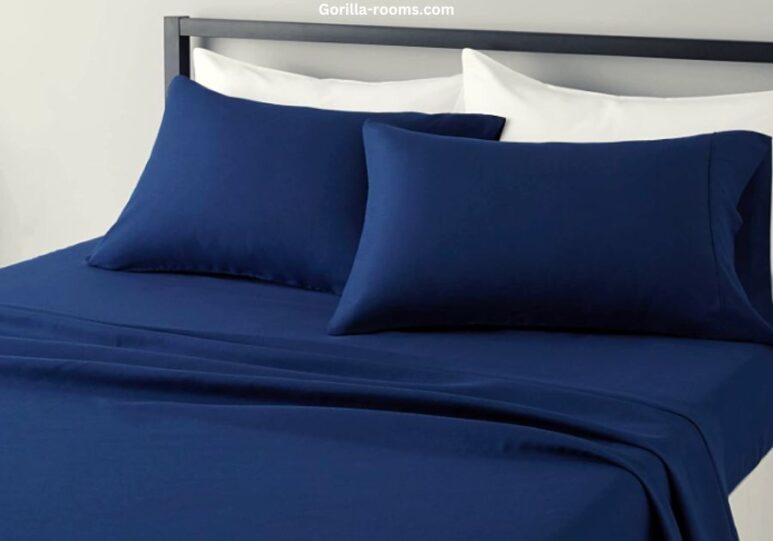 If your Microfiber sheet is made of 100% man-made polyester, it's not breathable; that's why it's not good for your skin. 
Especially in the summer season, Microfiber sheets cause immediate irritations and itching. As polyester doesn't breathe, moisture and heat are trapped, which is the major cause of irritation. 
Secondly, a bad smell can spread around your bedding if you sweat more. 
What Are the Major Disadvantages of Microfiber Sheets?
Although Microfiber sheets are inexpensive and the best choice of most individuals, but they have several disadvantages that you should know.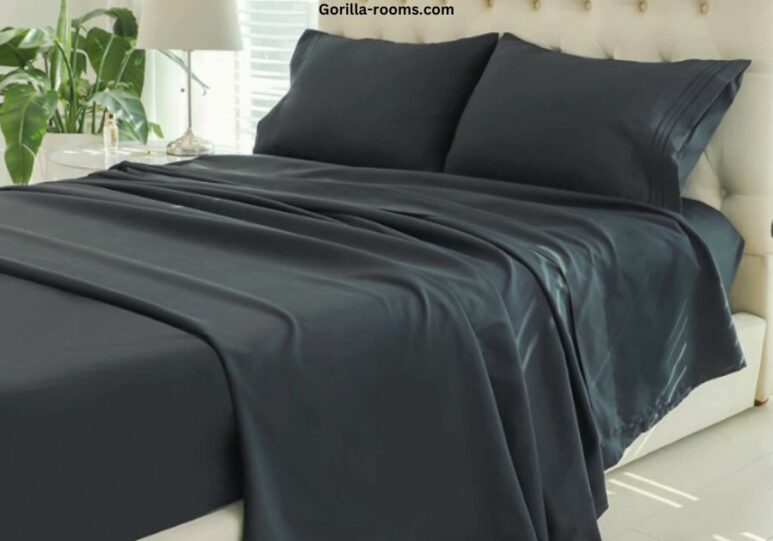 1- Not Environmental Friendly
The manufacturing process of Microfiber sheets emits fumes into the air that pollute the environment.
Similarly, compared to other sheets made of natural material like Cotton, the production of microfiber sheets consumes more energy. 
2- Can Cause Breathing Issues
The dust and other bacterial hosts easily accumulate in microfiber sheets because they are non-breathable.
And if you're using these microfiber sheets for a long time, it might cause breathing issues. In severe cases, it causes breathing problems and suffocation. 
3- Cause Itching On Sensitive Skins
If you're a person with sensitive skin or sweat, then Microfiber sheets are not good for you. 
As mentioned, Microfiber sheets are made of polyester or polyamides, non-breathable materials.
So, if you sweat, more moisture will remain trapped, which causes itching and irritations. And in such conditions, if you will not replace the microfiber sheets, it can cause severe skin infections and rashes. 
4- Microfiber Sheets Can't Be Wash With Other Fibers
Another disadvantage of a microfiber sheet is that you can't launder it with other fibers because the microfiber sheet will leave the lint attached to other fibers. 
Once the other fiber picks up lint, it will be difficult to clean them. 
Similarly, you can't wash a microfiber sheet in hot water as it can damage the sheet. As a result, your investment will be wasted. 
5- Doesn't Last Longer
Microfiber sheets are not durable as other natural sheets. The quality of the microfiber sheet will degrade with every wash. Washing a microfiber sheet several times will damage the sheet, and then it will become useless. 
Does Microfiber Sheet Cause Sweating?
Microfiber sheets have poor sweat management nature. On summer days, microfiber sheets cause sweat, and it doesn't even absorb sweat. So it's not recommended for people who swear a lot, as it can cause skin irritation because of trapped moisture.
Microfiber sheets don't absorb sweat, which spreads a bad smell around your bedding. 
Best Alternative To Microfiber Sheets
There are different kinds of bedsheets available in the market. If Microfiber sheets don't suit you, you can opt for other options. 
Here are some best alternatives to Microfiber sheets.
1- Cotton Sheets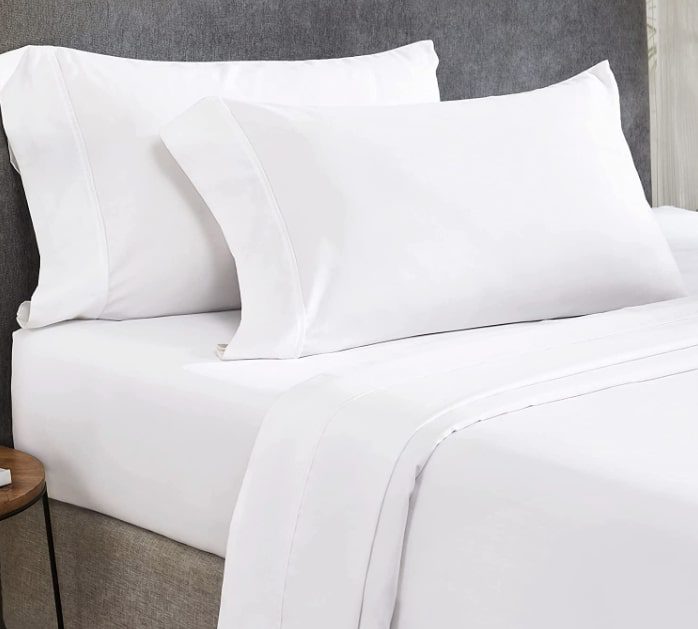 Cotton is one of the most used bedding fabrics. A 100% pure cotton sheet is best for your skin, as it's breathable, soft, and durable. 
Cotton immediately above your body moisture gives a comfortable sleep. 
Moreover, these Cotton sheets are very easy to wash and dry. And the quality of natural Cotton doesn't degrade with washing. 
2- Linen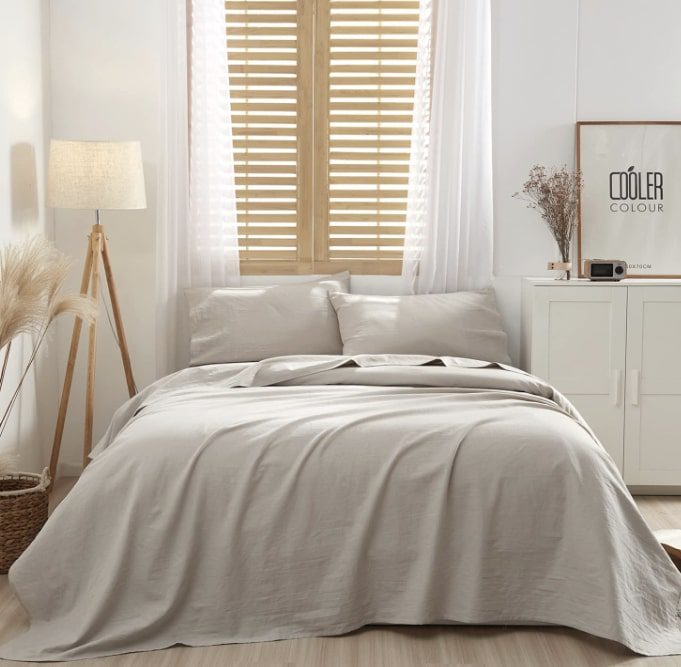 Linen is my favorite bedding fabric. Although this one is more expensive than other options, it's the best choice for a luxury bedding option. 
Linen is a highly breathable, cool, and soft fabric. The durability of this fabric is amazing and lasts longer than other fabrics. Linen is the top choice of many luxurious hotels and apartments. 
So, If you want a more cool and beachy feel on your bed, you should opt for Linen sheets. It's also environmentally friendly and easy to wash. 
3- Silk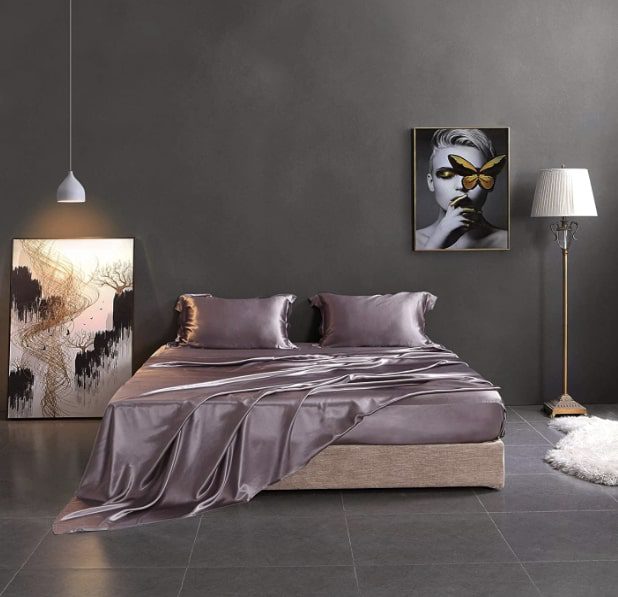 Here comes another alternative to microfiber sheets. Silk is also considered a luxurious bedding option. It's made of silkworms and premium fibers that feel much smoother, softer and cool. 
As silk sheets are soft, it's the best option for people with sensitive skin. The breathable nature of Silk makes it a cooler bedding option for hot days. 
But just like Linen, Silk is also an expensive bedding option. And you can't wash this fabric in the machine, and you have to wash it separately from other fabrics.
4- Flannel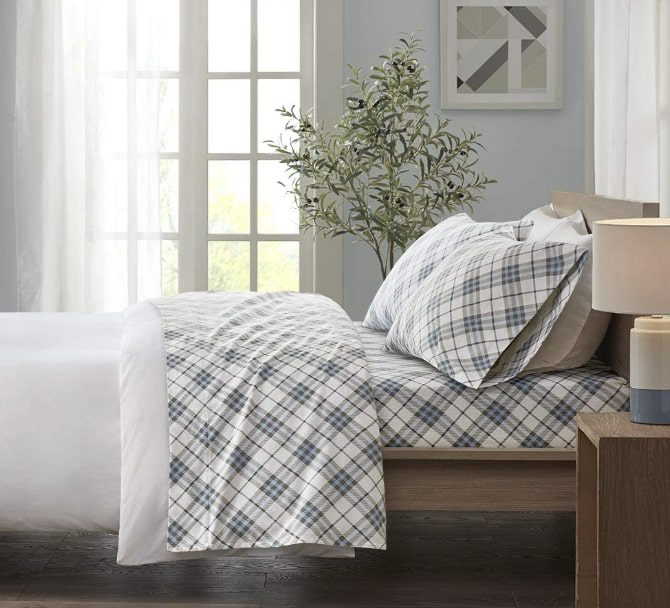 Flannel sheets are an inexpensive bedding option. Because of its warm nature, it's the best choice for the winter season. 
These sheets instantly make your bed warm and help you to sleep better. Secondly, this sheet is wrinkle-resistant, which is great for people who don't like the constant maintenance of their bedding. 
But Flannel sheets are rough, which might irritate sensitive skin. Flannel will also absorb sweat, which is not good for people who swear a lot. 
5- Bamboo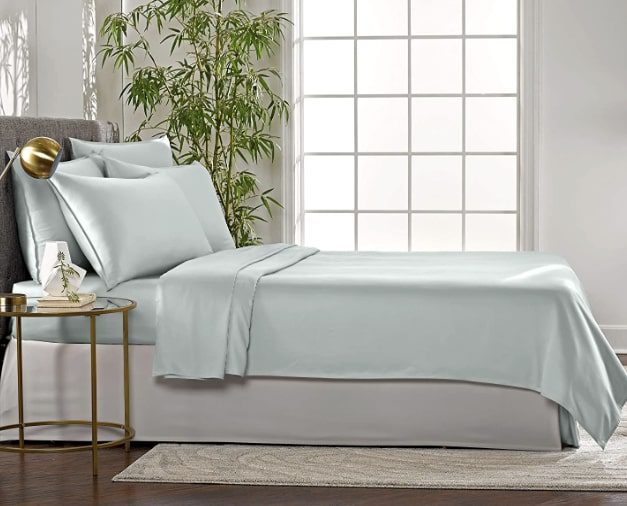 Unlike other bed sheet fabrics, Bamboo sheets are 100% safe for your skin. Bamboo sheets are made to the OEKO-TEX standard, meaning no harmful chemicals are in them that irritate. 
Another good trait of the Bamboo sheet is regulating your body temperature. This means it keeps you warm in winter and cools in summer. The breathable nature of this sheet makes it a more expensive sheet. 
Bamboo fabric is also durable and lasts longer than other bedding fabrics. 
FAQs:
Are microfiber sheets bleachable?
No, you can't use bleach for microfiber sheets as microfiber sheets are made of polyester, which is incompatible with bleach. If you use bleach on these sheets, it will destroy the lint and reduce the life span of the Microfiber sheet. 
What are microfiber sheets made from
Microfiber sheets are made of polyester, cellulose, and polyamides. All these materials are synthetic or man-made. Microfiber doesn't provide traits like Cotton or any other natural bedding fabric.
How to wash microfiber sheets?
You can wash Microfiber in a machine but make sure you don't put any other fabric with it. And don't use too hot water for washing; it will make the fabric useless. You can't use any fabric softeners or bleach for microfiber sheets.
How do microfiber sheets feel?
Microfiber sheets feel soft, but they become warmer after some time. These sheets are not breathable, which might create problems during the night. As there is no airflow or heat management in microfiber sheets, I prefer to use Cotton for normal use.
Hi there, I'm Ahmad Dastagir. I'm a home decor expert and know how to make a house more visually appealing. In terms of materials and colors, I am best at arranging physical items and objects, as well as selecting the floor covering, wall covering, ceilings and window coverings.