An evening rainstorm may create a soothing aura, but it can also precursor something undesirable if you live in a flood-prone zone. Flooding can happen any time in the year, but If your home's basement has a floor that is pliable to flooding mishaps, you don't need to worry about costly repairs. But if you don't install water-resistant flooring, then the flooring will call for replacement after a flood.
To overcome the damage caused by floods, there are many flooring options that fit your needs. Of all the floorings for basements, synthetic materials are the best because they do not decompose quickly: they are durable, water-resistant, and easy to replace. So you don't need to change the floor every time it experiences flooding.
This article will go through each option and factor to consider when you are choosing the best flooring for your basement and what replacements you should make after water-damaged flooring. 
Flooring Grades!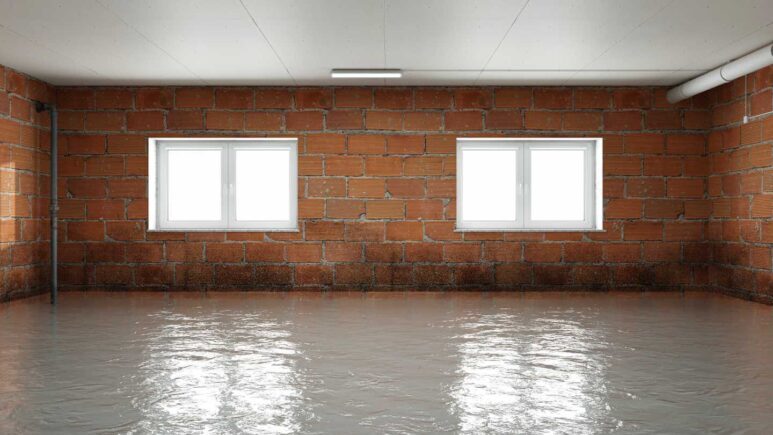 The different levels of your home, such as the basement, ground floor, and first floor, are referred to as grade levels. For example, when you walk into your home through the front door, that ground-level floor is known as "on grade" Every floor located above this ground level on grade is considered to be above grade, leaving the basement level to be commonly referred to as "below grade."
Below-Grade Flooring: A below-grade floor is constructed below the surface of the earth, called a basement or underground. It can range in depth from 4 to 30 inches. Since that it absorbs water from the earth and other sources, such a floor is subjected to high levels of moisture.
Flooring: On-Grade: The floor is at ground level and does not require basement footers for support. Such floors are less prone to moisture damage. Extreme weather conditions, on the other hand, pose a risk.
Flooring above grade: These are the floors that are built above ground level, such as upstairs flooring. Such floors are impervious to moisture from the ground. Notably, 30% of the indoor humidity is usually recommended to maintain floors in good condition.
Best Flooring Ideas For Basements That Floods!
The List of Flooring Materials for Flood-prone Areas to Prevent Water Damage is Here! Let's take a look at some of these types of floors. The more you'd know, the better it would be for your basement.
Carpet

Cork doesn't promote the growth of bacteria)

Concrete

Laminate

Engineered Hardwood

Ceramic Tiles (Porcelain, Luxury Vinyl Tiles)

Vinyl sheets

Rubber floors
1. Concrete Floors:
Concrete floors are the great and cheapest flooring option for areas where floods are bound to happen because they are made of porous material that absorbs water during a flood.
It is extremely strong and durable, and if properly installed and maintained, it can last a long time even if it experiences flooding. These floors are treated with epoxy or a waterproof sealant, making them a cheap and effective water-resistant solution for the basement.
Concrete may look plain and simple, but the color stains or paints applied under sealant enhance the waterproofing protection of your floor, and it adds design flair, making it look more attractive. So the concrete will have a more aesthetic look, providing a traditionally finished floor.
When the water level rises, it doesn't get stuck on the floor because concrete absorbs all the water, leaving your floor moisture-free. So there is no chance of mold growth.
And if there is no floor above the concrete, you don't need to replace the floor. Water would not damage it. The advantage of having such floors is that they are easy to clean, and they dry up quickly if exposed to water because they are water-resistant. Overall, this is the simplest and least difficult way to deal with a flooding problem.
2. Ceramic Tiles: 
Tiles are amongst the most water-resistant flooring types available on the market and can withstand floods without any damage. That is the reason they are most commonly used in the construction of swimming pools and washrooms.
Rooms with tile floors are very durable and impervious to water, which makes them resistant to mold and mildew. They don't allow water to stand because of the shiny polish on it.
Tiles provide a finished and attractive solution that will enhance the interior of your home while minimizing the damage caused by a flooded basement. They are also preferred because they are easy to clean, have many patterns and colors, and dry easily after flooding. 
As you know, ceramic tiles are poor insulators, so if you are thinking of installing underfloor heating, remember that tiles can crack and damage.
So this will call for the whole replacement of the cracked floor. However, after a flood, you should call in an expert to determine if the state of the subfloor and the tiles that are fixing adhesive are stable or not. But if PERMA (the epoxy powder) is loosened, then use sealant in between tiles. This will provide a protective impermeable barrier to block the passage of water into the subfloor.
Though this way requires a great investment because it is the most expensive way to deal with a flood-prone basement as it costs from tiles to labor. But they look great, enhance the floor's beauty, and do well against floods. So you would not need to replace the floor every time after floods.
One important thing to remember is that you should be aware of the source of water damage to your basement before using ceramic tiles because if water comes from underground, it will loosen the material, leaving the tiles uprooted. 
3. Vinyl Sheets:
Vinyl tiles are made of plastic and a non-organic flooring type. Luxury vinyl is the cheapest and most attractive alternative that comes with a waterproof adhesive that can withstand standing water for a while.
If flood water seams into it, it will cause mold growth in it, making it smell not good. For this, you can easily cut out the affected tiles and replace them. 
But if water doesn't get into the seams, the vinyl will not need replacement after a flood. Such floors are easy to clean and disinfect after a flood. This makes it ideal for use in flood-prone areas. 
Vinyl sheets come with various patterns and designs, and they can look like nearly any type of Hardwood, tile, or other substance that you want. So you can apply any interior décor theme to your basement using luxury vinyl tiles. Vinyl sheets resist moisture well because they are strong, flexible, and have synthetic formulations. 
They are also available in interlocking planks, which makes them easy to snap in place and take out in the event of a flood, which makes it easy for you to dry them out. They are ideal for basement floors that are vulnerable to flooding.
4. Engineered Hardwood Flooring:
Waterproof hardwood flooring is synthesized from natural Hardwood, pine, or bamboo, and technologists have enhanced it to make it impervious to liquid.
Engineered hardwood floors are very beneficial if installed in flood-prone areas because they can tolerate moisture well. They will not disappoint you when you install them in your basement! 
Some manufacturers make products that have a layer of real wood on top of stone polymer composite. Still, most of them must use one element, a highly protective finished layer that guards it against water and moisture. 
The advantages of hardwood flooring are that it looks good and luxurious, is versatile and authentic, and you will never see a pattern repeat on waterproof wood flooring. You can choose your favorite pattern from various designs, finishes, and widths. With waterproof flooring, you can relax, and no harm is done!
5. Rubber Floors:
Rubber flooring is a very gentle basement flooring option as it is soft on the feet and affordable. It is made up of synthetic material, and it provides the features that others don't, Softness and warmth.
They are best for the basement when used in the winter season because the material used in their production does not allow them to grow mold and mildew in them, and it can be removed entirely as they provide great coverage but taking them outside to dry in the event of a flood would be difficult to deal with. 
Rubber floors are also available in a variety of colors, designs, and thicknesses. It is inexpensive, and this is one of the major advantages of rubber flooring.
Rubber floors can be installed loosely with a removable adhesive, so they can be spared entirely if a flood happens. As they are available in tiles or planks, this also makes it easier for you to snap or remove in the event of a flood in order to allow the floor underneath to dry faster. You will need to take the flooring outside to dry and reinstall it.
6. Wood Plastic Composite Cores
WPCs are primarily a combination of wood fiber and plastic that makes the flooring completely waterproof. This vinyl floor also has a click-lock method, which results in rigid, impenetrable joints.
7. Stone Plastic Composite Cores
These consist of limestone mixed with stabilizers and PVC to increase the rigidity of the floor. SPCs have unrivalled durability while requiring little maintenance. They are completely waterproof and include a floating lock mechanism.
8. Hybrid
Hybrid vinyl is similar to SPCs in that both have constrictive cores and an inbuilt subfloor to counteract the solidity of the floor by providing additional cushion underfoot. Moreover, unlike SPCs, hybrid vinyl has a highly stain-resistant wear layer that strengthens its waterproof nature.
How To Make The Most Of Floating Floors In Basements?
A floating floor, as the title indicates, is a topcoat material that uses a click-lock technique and thus floats over the floor surface or underlayment without any glues under it. One of the finest flooring choices you can make is to install a waterproof floating floor in a flood-prone basement.
Aside from their low cost and ease of placement, floating floors can be removed easily to examine the moisture scenario beneath because they are not attached to the subfloor.
Such floor types are useful for concrete subfloors with a hard surface, making nail-down floors difficult to install. Some even have a design that allows air to pass from underneath them to aid in the drying of moisture.
Floating floors can be of any form, but the most common are laminate, luxury vinyl, and engineered hardwood. Each of these possible choices offers the undeniable comfort of floating floors, but if you don't know how to use them properly, you may miss out on the advantages.
That being said, depending on the flooring substance, here are some tips for using floating floors in basements.
Adequate preparation prior to installation: This includes cleaning and removing subfloor imperfections, as well as levelling the high and low points to improve stability.
Allow the flooring to settle before installing it: Think about leaving the flooring in the basement for 48 hours to allow it to adjust to the current conditions and ease placement.
Allow for future growth: This is true for the majority, if not all, types of floating floors. An expansion gap enables the floor to easily adjust to temperature shifts rather than conforming to pressure, which could cause severe damage.
Regularly clean the floor: This involves wiping up spills as soon as they happen, particularly with vinyl planks. For luxury vinyl and laminate floors, frequent wiping with a wet cloth to remove dust goes a long way. Take into account dry cleaning engineered hardwood floors by vacuuming or sweeping them.
The basement's climate is controlled: Basements experience regular peaks and troughs in moisture levels, which can cause irreparable harm to the floor, necessitating the need to climate control the space.
You can accomplish this by expanding the HVAC system, improving air circulation by opening access points, and installing heating systems or a fireplace if you plan to use the basement as a chill zone.
By following these guidelines, you can extend the life of your floor and fully enjoy the benefits it provides. More importantly, follow the manufacturer's instructions on how to use your particular floating floor form.
What Is The Most Durable Basement Flooring?
Overall, the most robust flooring substance for any below-grade space is one that is water resistant. As the most capable of adapting flooring type, I would suggest vinyl flooring. Vinyl is primarily composed of plastic, an inorganic material that can endure continuous moisture exposure.
Here are some more contributing factors why vinyl flooring is the most durable and robust basement flooring alternative:
Luxury vinyl is a type of floating floor: When trying to deal with a flood-prone basement, floating floors are the best option. You can easily remove the floor to inspect it for moisture penetration and make repairs if required.
It provides a warmer option: Some vinyl floors now include a glued underlayment that provides extra padding underfoot, which is useful in chilly basements with concrete subfloors.
Vinyl flooring is mostly made of synthetic materials: Vinyl floors are primarily made of PVC, which means that little to no humidity can damage the floor. Furthermore, synthetic materials inhibit the growth of mold and mildew beneath.
Some have an extra layer of protection on top: The protective layer prevents moisture penetration caused by accidental spills. It also increases the longevity of the floor by protecting it from scuffs and minor scrapes.
Vinyl floors can mimic the appearance of hardwood while also covering a range of layouts. It's perfect if you're on a limited budget because it doesn't require the services of a professional to install or remove the flooring.
The finish of grouted vinyl tile is comparable to that of ceramic tile but warmer. Because of its inorganic nanoparticles, it can also withstand high traffic basements.
When choosing a sturdy flooring alternative for your basement, avoid materials that are primarily composed of natural components. Wood, for example, has advantages but is particularly prone to moisture damage due to its porous nature and is thus unsuitable for basements.
Despite its outstanding aesthetic appeal, ceramic tile has poor insulation characteristics and is more expensive due to the need for professional installation.
Furthermore, because below-grade spaces frequently experience cold temperatures, ceramic tile is not an ideal choice. Although popular, epoxy flooring is cold and hard underfoot and necessitates additional cushioning in addition to a radiant source of heat.
Factors To Consider Then Choosing The Best Flooring For A Basement That Floods!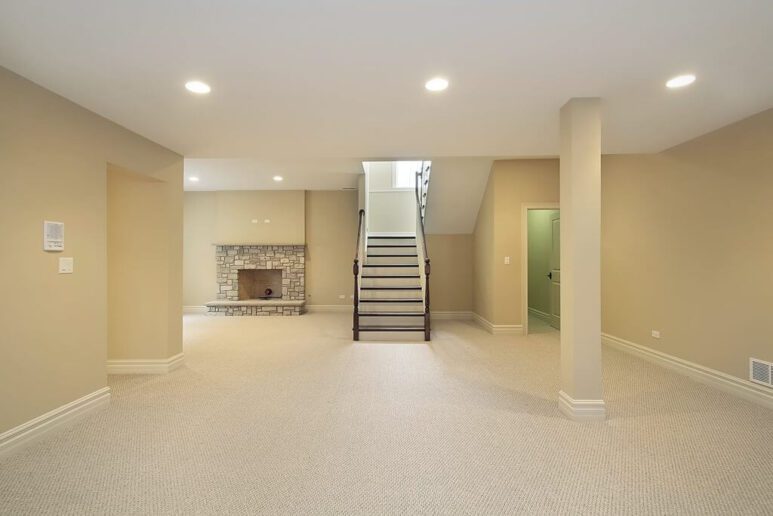 Flooding can happen at any time so if you live in a flood-prone area and when unusual weather patterns make the sky unload. Floods can affect the flooring of your house, especially the basement, if they ever occur. So, it is better to be safe by considering some elements when installing a floor for your basement.
You must also know the factor that is making your basement flooded; this can be poorly placed gutters, leaking pipes, or other factors because the nature of the problem might dictate which option is best for you. So here we are briefing those factors you should consider when selecting flooring type for your basement that floods:
What is the best flood-proof flooring material?

What does flood-resistant flooring look like?

Are there any precautionary measures you should take for your floor before a flood?

What would I do with my floor after a flood to restore it to its original condition?

How much does flood-proof flooring cost?

What are the best flooring options for flood-prone basements?
Choosing the floor while keeping in mind these factors would help you choose the best type for your space. 
What Does Flood Flooring Look Like?
It may be difficult to believe, but flood resistant flooring does not have to be unsightly. It can be as fashionable as any other type of residential, commercial, or athletic wood floors.
There is flood resilient carpet or flooring that appears like wood or stone, as well as classical black rubber gym flooring, thanks to the improvements in specialty flooring over the decades.
What Is The Feel Of Waterproof Flooring?
Whatever you want! You can find thick, solid flooring, plush carpet, and tiredness relieving or impact absorbing insulated floors at Greatmats that will last for years in flood-prone regions. Aside from concrete or stone, rubber flooring rolls slimmer than 1 inch will be the stiffest flooring. The great thing about plastics is that they can be manufactured in a wide range of softness and elasticity of demand.
What Precautions Should I Take When Installing Flood-Proof Flooring?
If at all possible, they should avoid using adhesives. This includes removing the flooring when it becomes wet and thoroughly dry both the surface flooring and the subflooring.
The flooded carpet, vinyl, plastic, or rubber flooring can then be replaced without fear of dust mites. If you want to stick your flood flooring to the subfloor, double-sided tape is your top choice. Humidity cured polyurethane glues are also readily accessible.
How Do I Dry Out My Flood-Proof Flooring After It Has Been Wet?
Most of the time, you'll want to remove the flooring, clean it, let it dry, and then reinstall it. Modular tiles or interlaced mats come in handy here. The suitable sizing allows for simple de-installation and re-installation.
Because it allows airflow underneath the the tiles, plastic raised flooring allows for faster re-installation. So, if your subfloor isn't totally dry, it still has a chance to dry after the elevated floor tiles are replaced.
Moisture will be trapped below the flat bottom tiles, rolls, or mats. It's always a good idea to let all elements dry completely before reinstalling them.
How Much Should I Budget For The Best Flooring For A Flooded Basement?
EVA foam tiles, button top rubber mats – crafted for horse stall wash bays – and tumbled rubber flooring are at the low end of the spectrum. These are available for less than $2 per square foot. High-end deck, pool, and entrance tiles, on the other hand, can cost up to $30 per square foot.
PVC floor tiles, interconnecting rubber tiles, and carpet adhered foam tiles begin at slightly more than $2 per square foot. The cost of polypropylene tiles and fake turf is around $3 per square foot.
The majority of raised floor tiles start at around $4 per square foot. These come with a plastic base and can have carpet or vinyl tops.
FAQ's

:
Can Mold Grow Under Vinyl Flooring In Concrete?
Although vinyl plank flooring is well-known to be waterproof, it does not mean that liquids can seep through the cracks, grooves, or edges and become trapped under the planks, allowing mold to grow underneath your floors.
Despite the fact that vinyl floors are water resistant, mold and mildew can grow if there is stagnant water around the edges, grooves, or under the floor.
It retains water and has air because it is porous. All you need to do is add mold spores, and you're done. Mold can grow anywhere there is moisture. We have a vinyl floor over a concrete slab.
What Kind Of Flooring Can You Put On A Concrete Basement Floor? 
You can put Hardwood over concrete before Putting the wrong flooring in your basement can have repercussions for your health. Mold and mildew love damp spaces and thrive on natural materials.
If moisture gets trapped in your flooring, it can cause rot and decay, and the more time you spend in your basement, the higher the chance it may damage your health.
What Is The Best Flood-Resistant Flooring Material?
Waterproof substances, such as polypropylene or PVC plastic, closed-cell foam, or vulcanized rubber, are the simplest answer.
Non-vulcanized rubber can also be used, but consider the fact that while it will not absorb water, if it is soaked for an extended period of time, the water will work its way into the small holes and will take longer to dry out. Treated wood is another ideal solution.
Conclusion:
Floods can cause damage to your home floors, especially your basement, and there are limited flooring options for these areas that protect your floors. 
With manufacturer's recommendation, consider floors that are water-resistant, durable, and can withstand water and dry quickly, such as concrete, ceramic tiles, and others. They would not damage the basement flooring, making it the best option for a basement that floods.