Most people using a Futon mattress complain that Futon is prone to deterioration, wears out pretty easily. 
That is why replacing it could be the solution to your problem. However, if you are on a tight budget, dislike wasting money, and live a sleek and modern lifestyle, adding a mattress topper to your Futon will undoubtedly increase its lifespan.
ZZA 2 to 3-inch mattress topper will be ideal for giving the Futon a few more years of service.
In this guide, we'll go over which mattress toppers can be used with your futon frame, stabilizing your Futon to use the mattress topper over it, and some futon comfort tips.
So, without further ado, let us begin!
Can I Use A Mattress Topper For A Futon?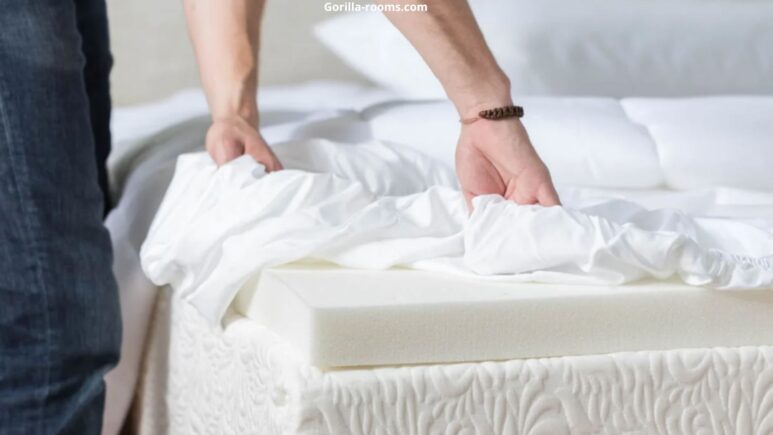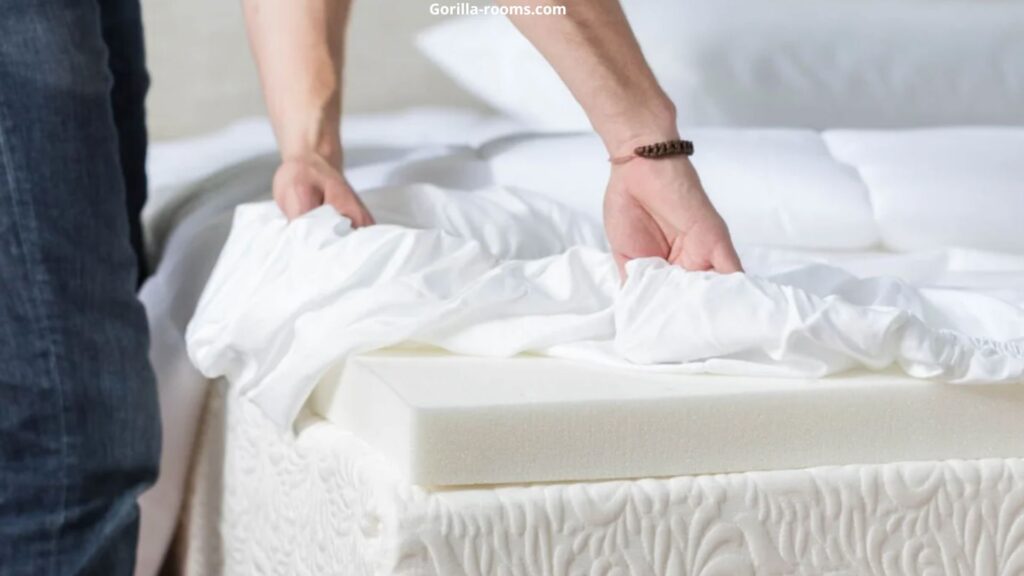 The simplest answer is that you can, and you should use a mattress topper on a futon. Toppers are made of memory foam that improves how your Futon incorporates and cradles your body. 
It can be used on a futon, but it is uncertain whether mattress toppers can be folded into the shape of the sofa along with the futon mattress. As a result, when switching from a bed to a sofa setup, you may have to remove them.
Additionally, A futon's lifespan can be extended by using a mattress topper. It will also give the Futon enough firmness and comfortability. 
A memory foam topper or a swirl mattress topper can be incredibly beneficial. It will be simple to fold and provide adequate softness for the Futon.
To keep things in balance, place your mattress topper inside the futon cover or overlay it on the top of the mattress, and then cover both of them, the futon mattress and the topper, with a bedsheet.
Does A Mattress Topper Work?
Yes. Mattress toppers are extremely useful. They help add an extra layer to your Futon, which helps to change the vibe of the futon mattress. 
Based on our research and survey results, we discovered that mattress toppers are highly beneficial to people who have mattresses that are either too firm or too soft.
In short, those who took part in the study assume that a mattress topper will help improve your level of comfort while sleeping. 
Furthermore, they aid in extending the life of the mattress. As a result, the bottom line is that mattress toppers truly work and are extremely effective.
What is a Mattress Topper, and What Are the Upsides?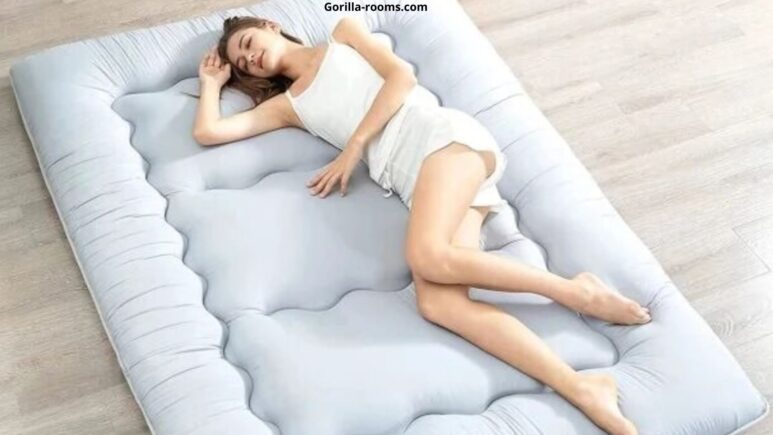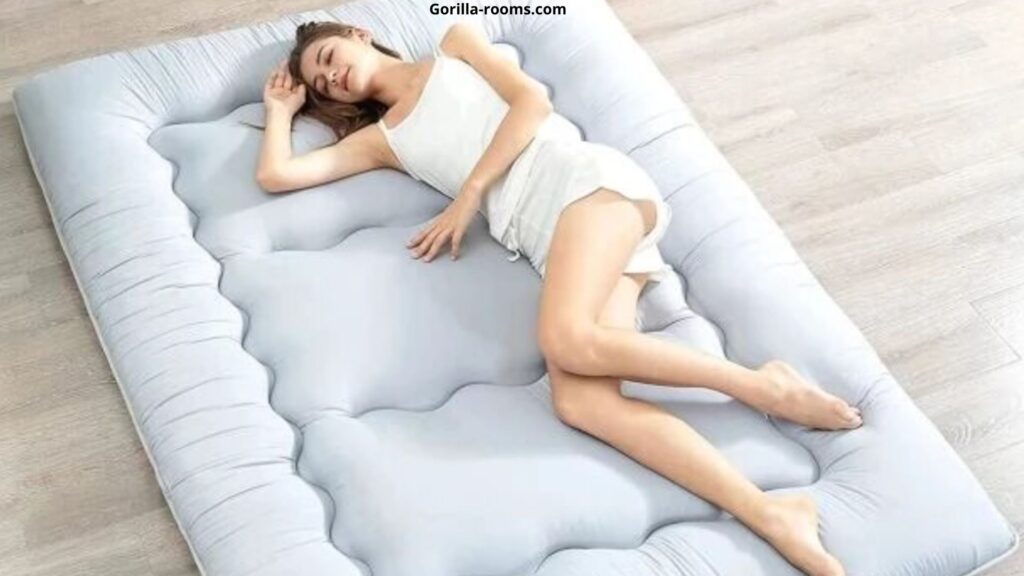 A mattress topper is an extra cushioning layer that sits on top of a futon mattress to improve comfort and extend its life. 
Mattress toppers provide additional cushioning and support, temperature regulation, motion isolation, and mattress safety, and that all make sure that you have a better night's sleep and longer mattress durability.
Choosing the best mattress topper can be difficult because there are so many options on the market. 
Sleeping on a futon without a mattress topper will end up causing the softer top components to condense under the body weight and wear out the mattress inside and out.  
The constant transition from a sofa to a bed, and vice versa, puts a strain on the mattress and damages it over time. 
As a result, trying to add a topper will cover the lumps and dents formed on the mattress while also protecting it from further damage and extending its lifespan.
A mattress topper will also form a barrier between the body and the Futon, preventing body sweat, dead skin transfer, bacteria, and spillages from reaching the mattress's core. 
What Size Mattress Topper Should I Get For My Futon?
Futons are pretty thin and quickly wear out. A mattress topper is required to add thickness and make it much more comfortable.
A 2-inch thick topper is a bare minimum you should consider when buying a topper. You should consider the weight of the person who will be sleeping on the mattress. Suppose a person weighs more than 170lb to 190lb; a topper of more than 3 inches is recommended.
Can a Memory Foam Mattress Topper Be Used On a Futon?
A memory foam mattress topper for a futon is an excellent choice. The memory foam will provide adequate support and fill in the gaps in the Futon's thickness. The memory foam would then make the Futon more comfortable.
Most of the memory foam mattress toppers in the market are gel-infused, which helps maintain a consistent temperature for a comfortable sleeping experience.
Combining a memory foam mattress topper and a futon will be gentle on your spine. It will provide adequate backbone support while sleeping.
Things To Look While Buying The Best Memory Foam Mattress Topper?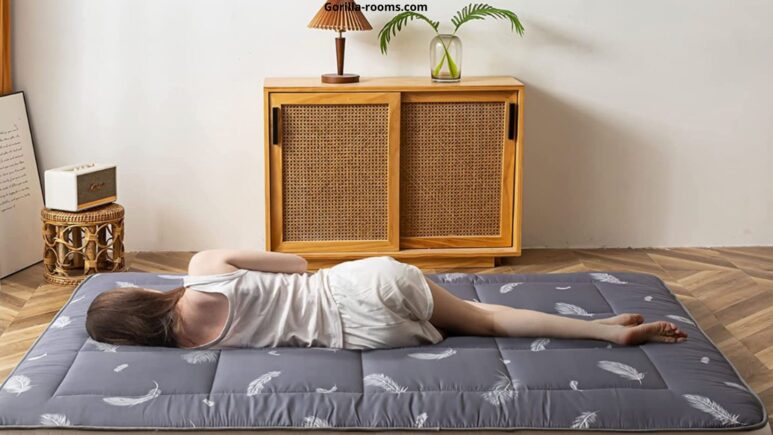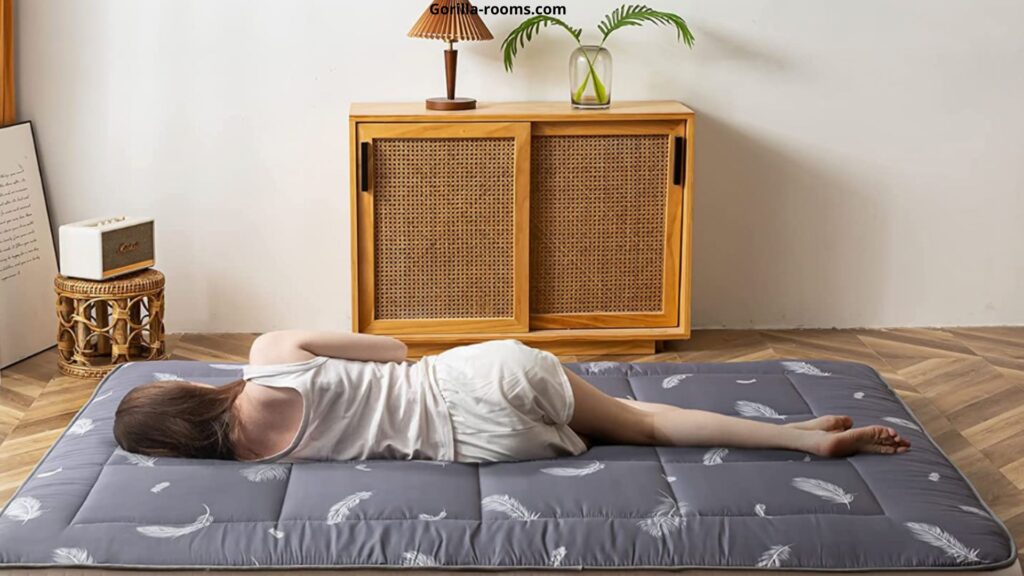 Consider cooling characteristics, types of memory foams and their benefits, and warranties when looking to buy a memory foam mattress topper.
Extra research can help you narrow down potential options and find a long-lasting memory foam mattress topper.
1- Cooling Capabilities
Overheating can occur with traditional memory foam mattress toppers. There are fewer air pockets in the dense structure, which restricts airflow.
Instead, opt for a cooling memory foam topper made of gel foam, plant oils, an advanced open-cell design, copper, or graphite.
These cooling materials are ideal for hot sleepers who want to avoid night sweats.
2- Gel Memory Foam
Gel Memory Foam Because gel memory foam disperses body heat, it's a popular additive for cooling foam. 
The gel is usually infused or swirled into the foam, and some brand names even use gel beads to absorb heat.
3- Plant-Based Memory Foam
Plant-Based Memory Foam makers replace a portion of the petroleum in the manufacturing process with plant-based oils. 
Plant oils absorb less heat from the body, so you don't wake up sweaty. Furthermore, the addition of plant oils reduces the odor of off-gassing.
4- Open-Cell Memory Foam Advanced
Even though standard open-cell memory foam includes air pockets, some makers inject more air into the material, resulting in larger air pockets. 
This innovative open-cell design improves airflow to improve body temperature regulation.
5- Memory Foam with Copper and Graphite Infusion
Copper and graphite are natural convection heat conductors that can help prevent night sweats when combined with memory foam.
Both materials absorb heat and conduct it away from the body, reducing heat preservation. Copper is also antibacterial, and graphite is naturally resistant to fire, replacing harsh chemicals such as formaldehyde.
What Is The Best Futon Mattress Topper?
When it comes to Futon mattress toppers, there are numerous options. You may come across various brands that offer varying levels of quality and specialization. 
With a small investment, you can upgrade your standard mattress to the level of luxury found in five-star hotels.
So, if you're looking for a comfortable topper, you can hope to find a wide range of models to meet various customer needs. 
We understand how difficult it can be to choose the right one from the many brands and models available. Below, we've reviewed the five best mattress toppers for futons to help you find the right product for you.
1) 3-inch Ventilated Gel Memory Foam Mattress Topper By LUCID
The LUCID 3-is one of the best futon mattress toppers available. This is because it is designed so that it will soften and come with therapeutic memory foam that aligns with your spine. 
This relieves pressure points and allows you to sleep more soundly than before. Furthermore, as previously stated, a good mattress topper must be breathable. This is true in the case of LUCID 3. 
The ventilated design of this mattress topper allows for superior airflow and temperature regulation. This means you can sleep more comfortably without worrying about getting too hot.
Unlike some mattress toppers, this topper is designed with a customizable feel. The topper's profiles have the same conforming feel to them. 
Moreover, the new scent of the foam is normal and should dissipate within 48 hours of opening it. This product also comes with a three-year warranty.
2) California King Weekender 2 inch Memory Foam Mattress Topper
This is another good option to consider if you are looking for a good mattress topper for your futon mattress. 
This mattress topper adds 2 inches of comfort while being neither thick nor thin. Essentially, the 2-inch characteristics of this mattress contribute to the correct balance of conforming softness.
This mattress topper also has a ventilated design for increased airflow. This increases airflow and improves breathability, allowing you to regulate your body temp while sleeping. 
The plush, supportive mattress topper contours to your body shape consistently, relieving pressure points and assisting you in aligning your spine.
As previously stated, safety is critical. This CertiPUR-US certified mattress topper ensures high-quality standards. This makes you confident that the topper is independent of potentially harmful substances.
3) Extra Thick Mattress Topper by Starcast Sleep Extra Solution
The Starcast is dedicated to creating high-quality product lines for the benefit of clients. This topper will add a layer of security, comfort, and softness to your mattress, extending its life. 
This topper also has a 2-inch thickness and reliable stitching, which helps to ensure a secure fit for your mattress. As a result, you will have a restful night's sleep.
They created his mattress topper out of high-quality Egyptian cotton fabric that is easy to clean. Furthermore, the fabric used to create this mattress topper is among the best globally. 
This ensures that you will no longer have sweaty nights and remain cool and dry throughout the night.
Furthermore, this mattress topper does not stink, and there is no risk of being exposed to harmful substances that could harm your health. As a result, this mattress topper is appropriate for adults, pregnant women, and small children.
Aside from these benefits, the mattress topper is simple to clean and dry. We recommend using a mattress shield with the mattress topper to extend its life.
4) 3-inch memory foam mattress topper by Edilly
The 3-inch Edilly memory foam mattress topper is made of gel-infused memory foam. In addition, it has 40D high-density aviation-grade memory foam and gel-infused beads. 
These features distinguish the topper and will assist you in maintaining a cooler, constant temperature compared to other toppers. Consequently, you will be able to improve the quality of your sleep.
This topper is also removable and washable, and it is equipped with an anti-slip mesh. This anti-slip mesh keeps the topper from sliding. It also has a metal zipper to remove it from your mattress and wash it easily.
This mattress topper comfortably complies with your body's curves, assisting you in relieving tension. Additionally, this allows for maximum airflow and a restful night's sleep.
The material used for the design of this topper is of the highest quality. It is rayon and has a polyester cover with the most up-to-date weaving technology. 
This feature provides you with the softest, most luxurious touch. Furthermore, this topper is Certi-Pur-US certified, which means it is free of all potentially harmful materials to your health. 
Furthermore, Mercury, formaldehyde, and all other heavy metals are included.
5) 3 inch Memory foam mattress topper by Tekamon
Another excellent option for your futon mattress is the Tekamon memory foam mattress topper. This is because it includes a 2-inch gel memory foam layer on the mattress's top layer.
Moreover, they infuse this mattress topper with temperature-regulating gel beads, which aid in preventing overheating. This design makes this mattress an excellent choice, and it provides you with the assurance of a comfy night's sleep, which will leave you feeling more energized.
Aside from that, the mattress topper's bamboo fiber bed cover includes a side 3D air layer. This improves the topper's permeability, moisture absorption, and soft touch. All of this contributes to a more restful night's sleep.
Furthermore, the topper has a detachable zipper, making it easy to remove from the mattress. Apart from that, the mattress topper is easy to wash, which helps to rejuvenate your mattress and makes it dustproof and non – allergenic.
This mattress topper's anti-skid feature is evenly distributed on the backside. This ensures that the mattress remains in place regardless of how the bed is flipped. The topper will not change or slide as a result of this.
Considerations When Selecting The Best Mattress Topper For A Futon
As previously stated, there is more to getting a futon mattress topper. This is because there are numerous mattress toppers on the market. Most of these mattress toppers do not meet the requirements for being a good mattress topper.
Consequently, it is critical to consider some factors to ensure that you get the best mattress topper for your futon mattress. Here are a few explanations:
1- Thickness
When looking for the best mattress topper for a futon mattress, one of the most important factors to consider is the thickness of your mattress topper. 
Although this is a personal preference, we have found that most futon mattresses work well with 4-inch toppers.
They create the 4-inch futon mattress topper by combining the stuffing, cover, and core. However, if you intend to use a memory foam topper, you may need to select one that is slightly thinner. Toppers made of poly fibers must be thick.
2- Breathability and size
Breathability and size are two important considerations.
It cannot be easy to find the ideal futon topper when it comes to size. This is because your mattress can be folded into a bed or couch. As a result, we believe that your topper should be slightly larger than the size of your mattress.
Breathability is also essential. This is significant because futon mattresses naturally absorb heat. That is why we recommend that you opt for gel-infused mattress toppers—this aids in removing heat from your body, allowing you to regulate your body temperature.
3- Safety
Like any item, your safety is essential. As a result, make certain that any item you purchase is CertiPUR-US certified. This aids in determining how secure the topper is. It is free of allergens and harmful substances like Mercury, formaldehyde, and any other heavy metal if it is certified.
4- Comfort
When selecting a topper, the priority should be comfort. Touch it, hold it, feel the texture, buy it, and appreciate it for a lifetime.
5- Quality
The build quality will have a significant impact on its durability. Examine the construction material, threads, and breathability.
6- Foldability
The Futon is well-known for its ability to be folded. As a result, the topper should be foldable. A stiff and unfoldable topper will only complicate matters
How Long Does a Futon Mattress Last?
The durability of any product is determined by the quality of its construction, use, and maintenance. A futon mattress can last anywhere from 4 to 9 years. 
The life expectancy of a futon mattress is primarily determined by how well it was constructed and how frequently it is used.
If you're using the futon mattress regularly and take good care of it, you can expect your futon mattress to last 6 to 7 years.
But If you only use it once in a while and keep it somewhere dry and safe, it could last for more than 9 years.
Difference Between a Futon Mattress And a Regular Mattress?
When you think of a normal mattress, the first thought that comes to mind is one with a spring attachment.
It is designed for a fixed bed configuration and cannot be folded or rolled up to store in a cupboard, which means that the portability is quite limited.
When the spring wears out, it tends to pop out, injuring and irritating you greatly. Bed bug infestations are extremely common. 
When it comes to futon mattresses it was created in Japan first. It folds easily or can be rolled up and stored in a closet. It is portable and lightweight.
You can indeed take it camping with you for a restful night's sleep. There is no spring added to the Futon, so the metal spring will not be injured even if it is worn out.
However, some futons now include an innerspring sandwiched between multiple layers of foam to increase comfort.
You can easily deal with a bug infestation and have it dried up in hours. It is both affordable and inexpensive.
Because it can be folded, a futon is portable and saves a lot of space. If you haven't already, try a futon. I hope you have a restful night's sleep.
How To Improve The Comfort Of A Futon
If you want a good night's sleep, the most important factor is your comfort level. If you discover that your mattress is sagging, learn how to fix a sagging futon mattress. Follow these tips to make your Futon more comfortable:
Tip 1: Add Slats To Your Mattress 
If the futon frame has large gaps between the slats, it's time to get your tools out of the toolbox. 
To add more support to your futon mattress, place slats in the large gaps between the existing slats. You may experience some sagging without these additional slats, making your futon bed experience less comfortable. These slats are separated by 1.6 inches.
Tip 2: Instead Of Slats, Use A Bunkie Board
Relative to Tip 1, adding a Bunkie board will enhance the support under your futon mattress, making the mattress more comfortable by eliminating unevenness and sagging.
Tip 3: Place Mattress Toppers On Top Of Your Futon Mattress
A mattress topper is a thick, generally fluffy, cushioned pad made of memory foam, latex, wool, or down feathers. 
You can improve the comfort and relaxation provided by your futon bed by adding a mattress topper. 
Tip 4: Sleep on Top Of Your Futon Mattress With A Thick Comforter
You can use a blanket as a topper for your futon bed. It isn't as effective as a mattress topper, but it is a simple, low-cost alternative.
Tip 5: Use The Proper Type Of Bed Sheet
Adding silk or satin bedsheets can also improve your comfort. Silk or satin bedding is a good choice if you want to sleep on something smooth. 
Cotton could be a good choice if you want to feel fresh and soft. Wool is a good choice if you want to experience extra warmth with a layer of mild cushioning. You can even go with a quilt for a more rustic look and feel.
Frequently Asked Questions
Can a Mattress Topper Correct a Slightly uneven Sofa Bed?
The mattress on the sofa bed deteriorates and loses shape over time, resulting in an uneven and lumpy mattress surface.
A mattress topper can make an uneven mattress more attire and revive a no more extended level sofa bed by covering the lumps and indentations, giving the mattress a steadier and newer feel. To fix a lumpy mattress, use a thicker mattress topper.
Is it possible to fold a memory foam mattress topper?
When not in use, a mattress topper should be stored. You can use a memory foam mattress topper several times if you fold it properly and store it in a vacuum bag. 
Continuously folding and unfolding a mattress topper, on the other hand, is not recommended because it damages the topper's integrity and structure.
What is the ideal thickness for a futon mattress?
The thickness of a futon mattress is determined by how it will be used and stored. If you consider a floor bed and rolling it up to store it in a closet, a thickness of 3 to 4 inches or less would be easy to roll up.
A 6-inch futon is ideal if you look for a mattress for a sofa or bed that can be folded three times. If the bed or sofa can only be folded twice, a mattress larger than 8 inches is recommended.
Conclusion 
I hope you now have a general idea of a mattress topper for a futon. A mattress topper will surely extend the life of your Futon by a few years.
Furthermore, It will adjust the softness and firmness of the mattress, making it more comfortable for anyone to sleep in.
Hi! I'm Mohsin Ali. With 5 years of experience, I strongly grip the home decor niche. On this blog, I share all my personal experience and thoughts that make your home exquisite.