A floating vanity table saves a lot of your space in the bedroom and keeps your floor clean. With a floating dressing table, you can easily manage and store your makeup items, perfume, flowers, makeup books etc. 
But unluckily, most people have small bedrooms and little space for a vanity table. So in such a situation, you should look for a small vanity table. A 20" to 30″ wide floating Vanity table fits perfectly in narrow rooms. 
Alternatively, you can also put a vanity table in the bathroom or any other area in your home. 
Here are the 9 best vanity tables you can use in small bedrooms. 
Best floating vanity table for small Bedroom
1- CHARMAID 2-in-1 Vanity Set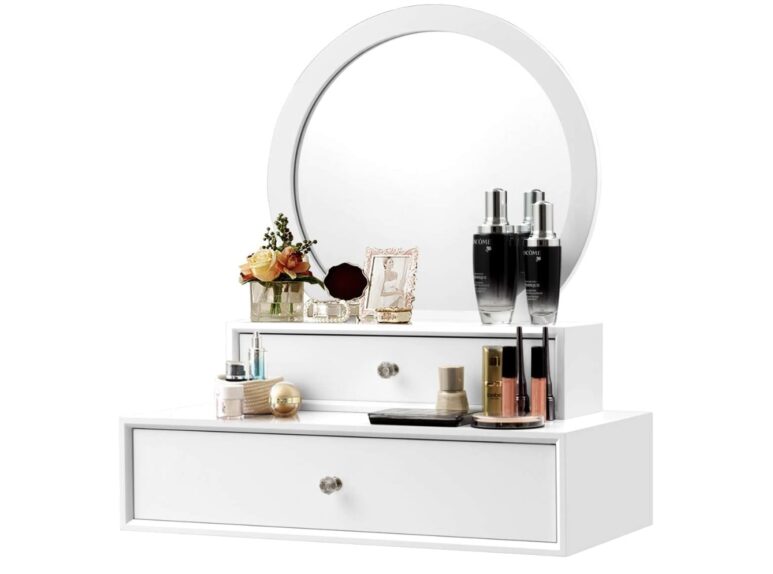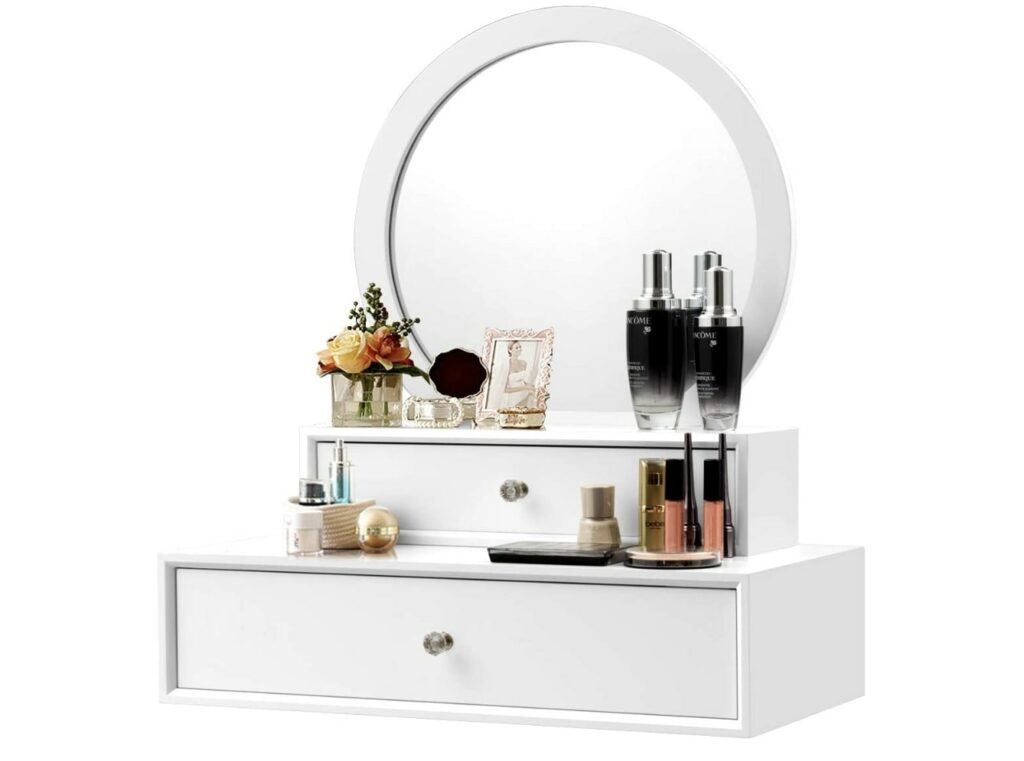 Specs:
| | |
| --- | --- |
| Material | Glass, Engineered Wood |
| Color | White |
| Drawers | 2 (Customizable) |
| Width | 20" |
If you have a space issue in your bedroom, then consider CHARMAID 2-in-1 vanity mirror. Because of its wall-mounted design, you can place it anywhere in your home. Or you can also place it on the tabletop to make the best floating vanity table. 
Moreover, two big drawers provide a lot of storage for your makeup items, and you can also place makeup stuff on the top of the drawers. It not only provides storage for makeup items but also has built-in storage for makeup queens.
This wall-mounted dressing table has a customizable drawer, and you can try various combinations to meet your storage criteria. 
2- Haotian FWT18-W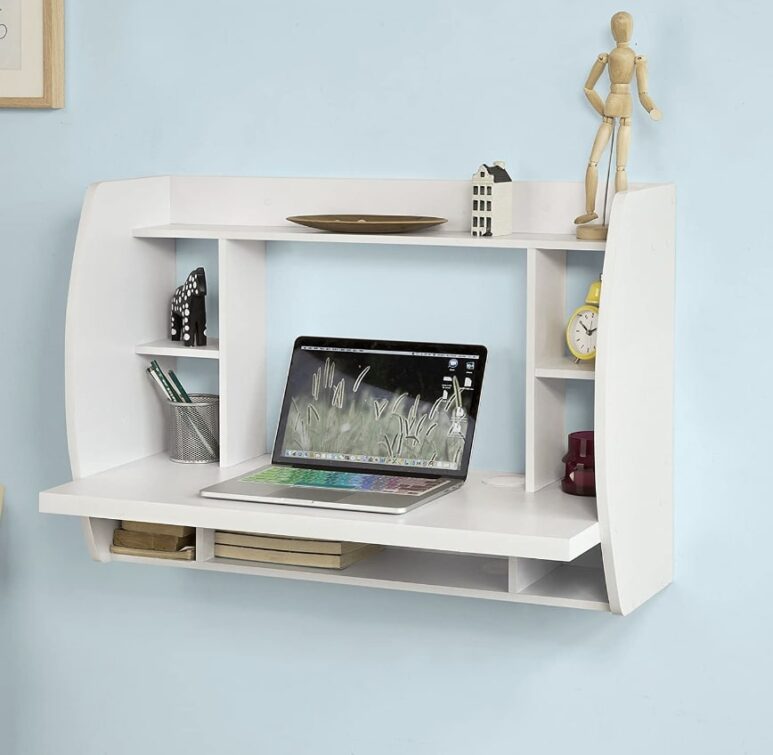 Specs:
| | |
| --- | --- |
| Material | Engineered Wood |
| Color | White |
| Drawers | 7 compartments |
| Width | 32.28" |
Here comes the best floating vanity table for small bedrooms. The Haotian floating vanity table is unique and gives plenty of storage space. Most people also use it as a computer vanity table. 
The shelf space is wider, and you can place a lot of stuff on it. 7 compartments allow you to easily manage makeup items, home decor, and more. The width of this storage self is 32.28", which is smaller and easily fits in your bedroom. 
Unfortunately, this is not a makeup table as there is no mirror, and a stool comes with it, so if you're looking for a makeup table, check other options on the list. 
3- Pmnianhua Floating Makeup Vanity Desk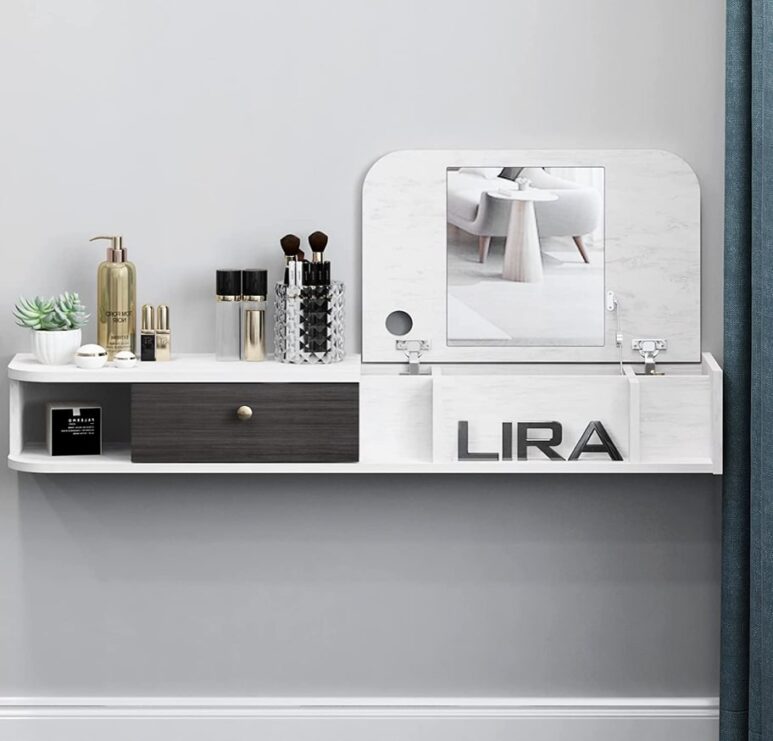 Specs:
| | |
| --- | --- |
| Material | Plywood board |
| Color | Grey white |
| Drawers | 1 drawer, 3 compartments |
| Dimensions | 50.39 x 9.37 x 7.24 inches |
One of the best floating dressing tables for a small bedroom is the Pmnianhua vanity set. This vanity table has a 2-in-1 design, and you can also transform it into a writing table or laptop desk. The Pmnianhua vanity table looks elegant and perfectly matches with bedroom design, and you can also put it in your bathroom. 
This floating dressing table has one large drawer and three compartments, so you can store a lot of stuff. Plus, on the shelf, you can place perfumes, makeup, decoration items etc. 
Pmnianhua wall-mounted dressing table is made with a durable plywood board that allows you to put a lot of stuff on it. The finishing seems smoother and waterproof, so you can easily clean it. 
4- Southern Enterprises Wall Mount Vanity Table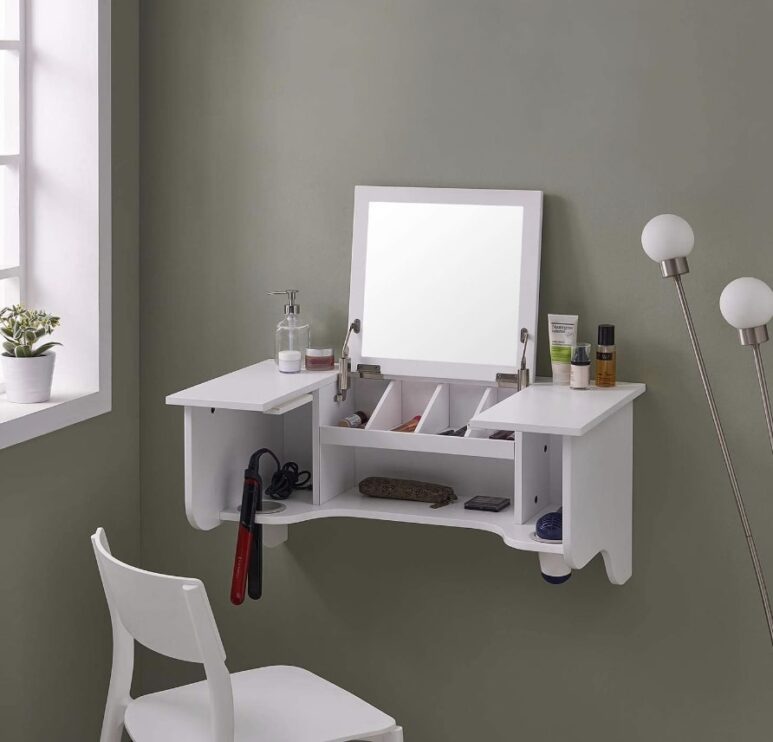 Specs:
| | |
| --- | --- |
| Material | Glass and metal |
| Color | White |
| Drawers | 4 storage bins, 3 compartments |
| Width | 31.75" |
If you're looking for a modern and small vanity table, look at Southern Enterprises Wall mount vanity table. The width of this floating vanity table is 18", which is a perfect choice for small spaces. 
This vanity table looks gorgeous and has a lot of space for storing your makeup items. It includes 4 storage bins and 3 big compartments. Plus, it comes with an adjustable mirror for easy makeup. You can also fold down the mirror, which gives you plenty of space to put extra stuff on it. 
5- TACIDON Floating Storage Shelf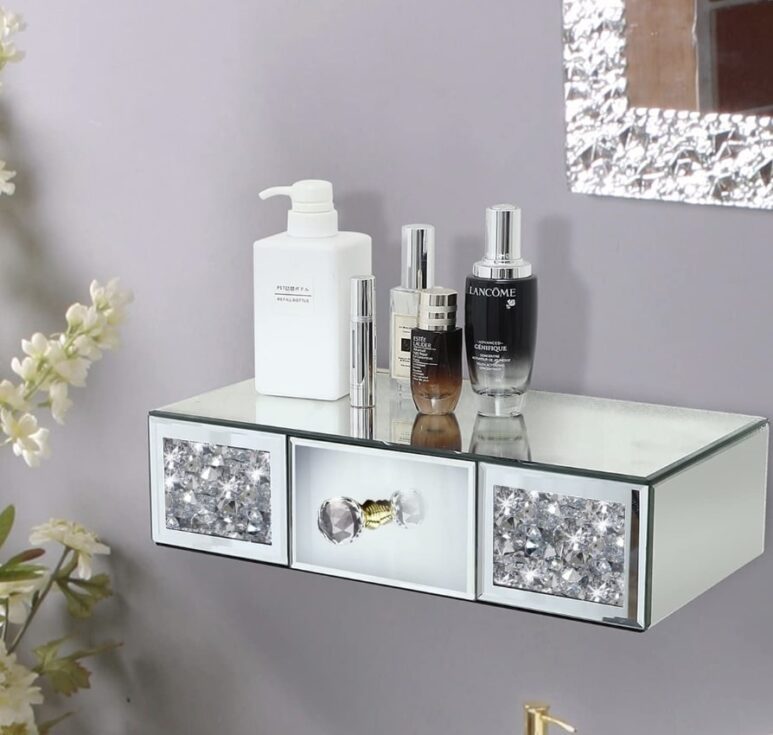 Specs:
| | |
| --- | --- |
| Material | shiny crystal diamonds and MDF |
| Color | Sliver |
| Drawers | 1 big drawer |
| Width | 8 inch |
TACIDON Floating shelf is one of the best-looking floating vanity shelves. It has a compact design and only 8" width making it perfect for small spaces. There is one big drawer in the middle, and both sides of the drawer are decorated with shiny diamonds. 
If you don't want to hang this beautiful floating shelf, you can place it on any vanity table for extra storage. Unluckily, this small floating vanity shelf doesn't have a lot of space to store makeup items, so if you're are makeup queen, it's not something made for you. 
6- Tangkula Floating Vanity Table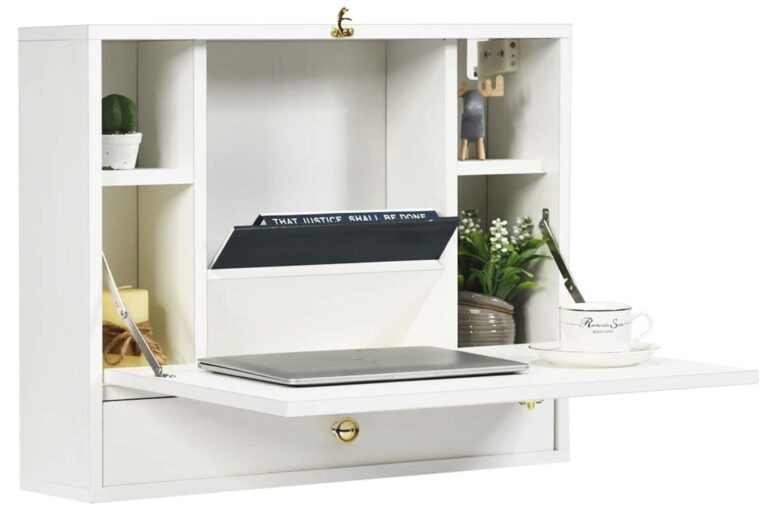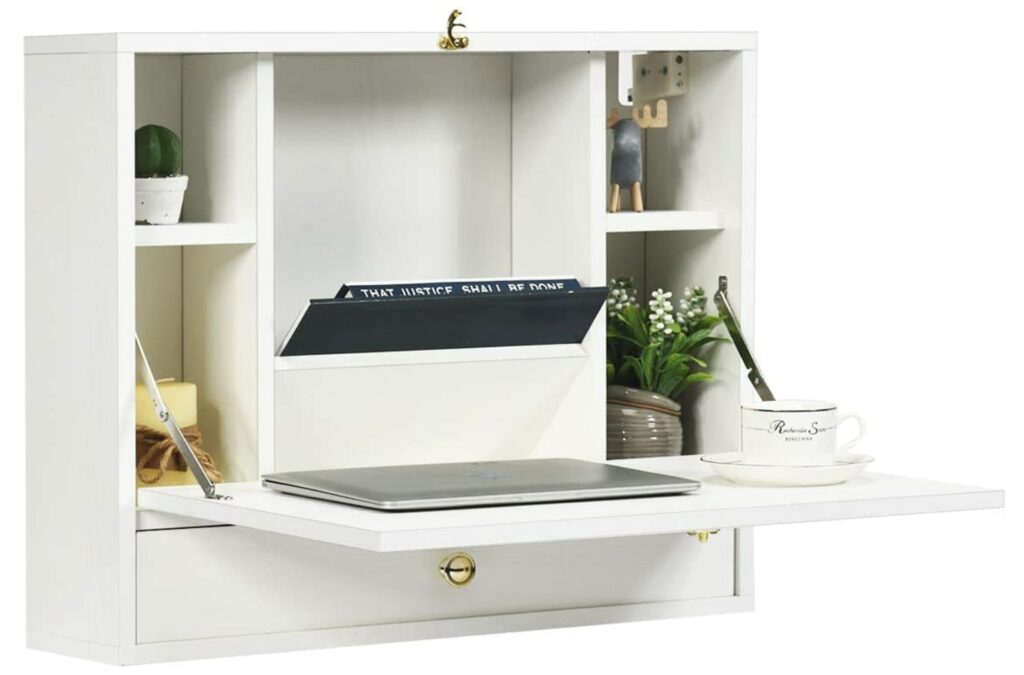 The Tangkula floating vanity table has a sturdy design and provides an efficient storage solution. Although small, the multiple storage compartments and foldable design make it the best floating vanity table for a small bedroom. 
Four large compartments store decorative items, potted plants, books, etc. A foldable shelf allows you to place your laptop on it. At the bottom, you will get a large drawer to store different items and makeup stuff. But unluckily, there is no mirror to come up with this floating dressing table, and you have to buy it separately. 
Tangkula Floating dressing table is recommended for computer enthusiasts because it also works as a computer table. This is not ideal for a makeup artist, but you can still store makeup stuff in a lower drawer.
7- Minimalist White Floating Dressing Table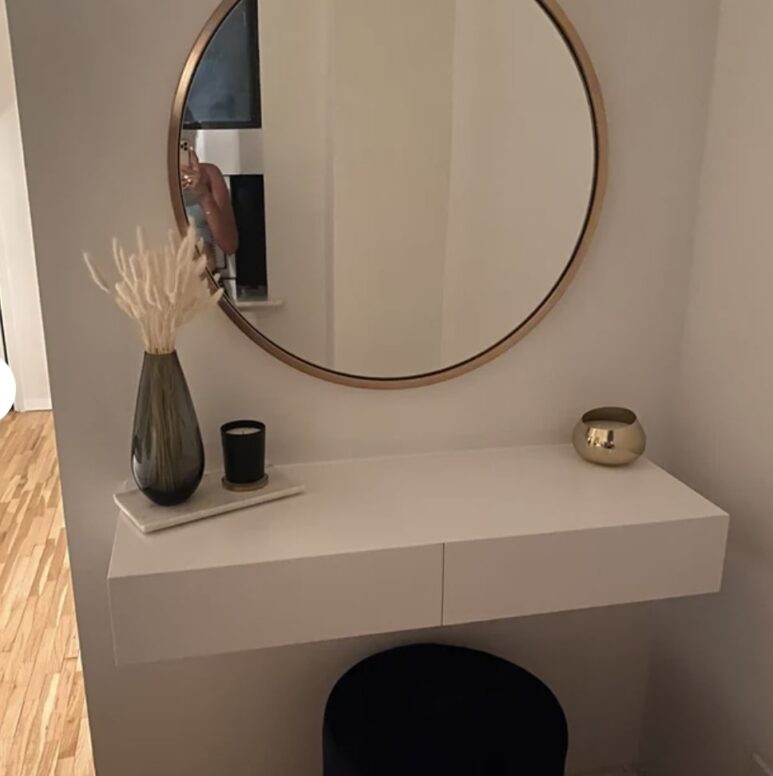 Specs:
| | |
| --- | --- |
| Material | American Walnut |
| Color | White |
| Drawers | 2 large drawers |
| Width | 28", 32". 38" |
If you're a fan of simplicity, then this floating dressing table is the best option for you. This vanity table has a minimalist and elegant design. The finishing seems very premium and adds extra beauty to your room. 
This floating dressing table is a perfect option for a makeup artist as it has two large drawers to store makeup items, perfumes, makeup books, and much more. Plus, you can also place decorative stuff and other makeup items on the top of the shelf. 
This floating vanity table is available in three different sizes; for small spaces, you should opt for a 28" table. 
8- Minimalist Floating Vanity Table With Walnut Drawers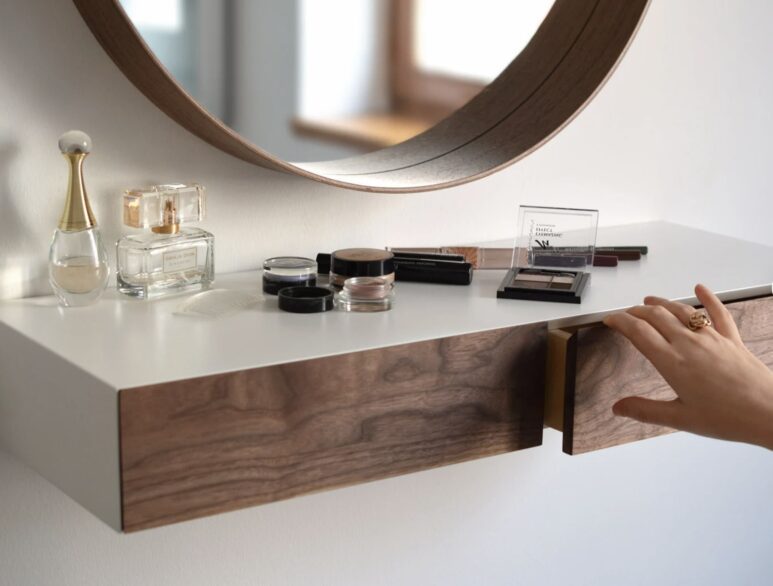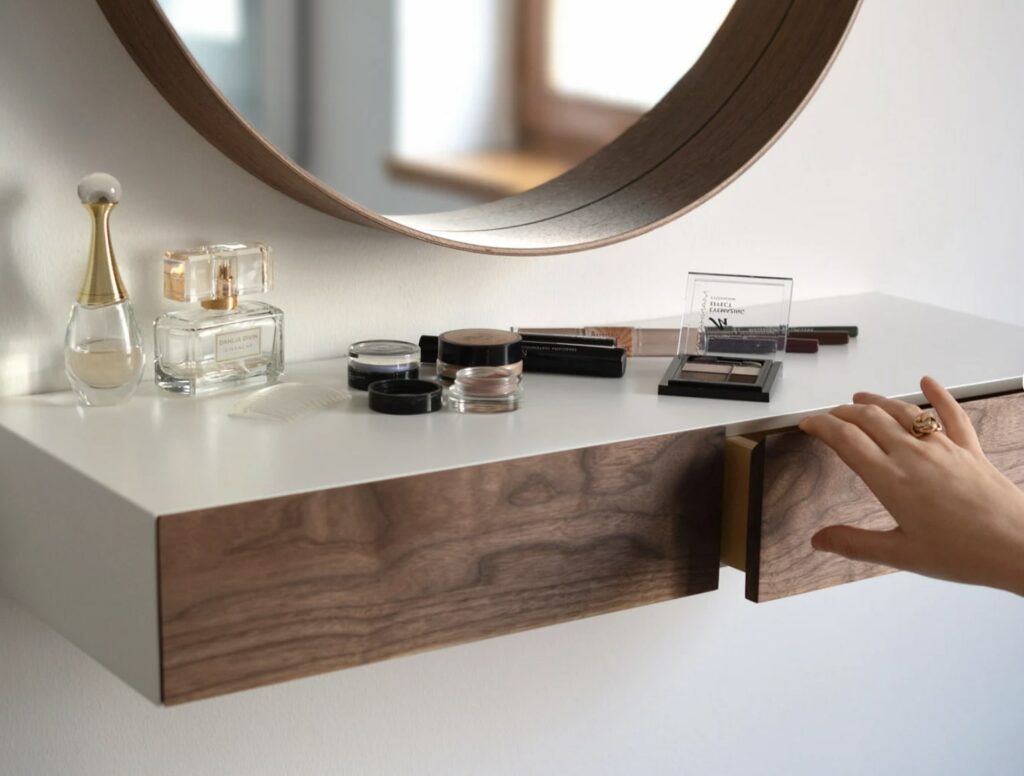 Specs
| | |
| --- | --- |
| Material | American Walnut |
| Color | White, brown |
| Drawers | 2 large drawers |
| Width | 28", 32". 38" |
Want to bring some natural feel to your small bedroom? Try this minimalist floating dressing table. It is made of plywood with a semi-gloss white finish, and the drawers are made with American walnut, giving a refreshing experience. It's similar to the previous vanity table, except it has brown drawers. 
This floating dressing table can be used in the bathroom to make them look beautiful. But it's ideal to use it in your bedroom. Just like the previous one, this vanity table has three different sizes. 
Guide To Buy Best Floating Vanity Table For Small Bedroom
Floating vanity tables come in different styles and shapes, and choosing the best for your bedroom is pretty challenging. Here are a few factors that you should consider before getting any floating dressing or vanity table. 
1- Size & Space
Before choosing any furniture for your bedroom, measure the space where you want to place the furniture. Floating dressing tables come in various sizes, so before choosing any, you must know whether it will fit in your room or not. 
Usually, for small bedrooms, you search between 20" – 30" width options. This size vanity table also fits perfectly in your bathroom. A small vanity table saves a lot of space and looks gorgeous. 
2- Durability 
The second important thing that you have to consider is durability. Generally, wooden floating vanity tables are durable, allowing you to place plenty of makeup stuff, decorative items, perfume etc. 
But still, you have to check the hinges, drawer rails, and wood quality. Some suppliers also mention how much weight their table can support, so you can make decisions according to your needs. 
3- Storage Option
In a floating vanity table, the storage option is a must-have thing. A greater storage option means you can easily manage your makeup items, makeup books, perfume, brushes, etc. Few vanity tables come with compartments that give extra freedom for management.  
4- Style & Look
When choosing the best floating vanity table, you must consider the style because not every vanity table matches your bedroom outfit. Floating shelves or vanity tables come in various styles; some look minimalist, while few are stylish, customizable, elegant, etc. 
7 Best Floating Vanity table Ideas:
Are you a fan of custom-made or handmade furniture? Or a DIY person with creative skills? 
So, instead of getting a vanity table from a store or online, you can use your creative mind to make one for your bedroom. Or you can hire any expert, giving you more freedom to add several drawers, customize styles, colors, and more. 
Here are some best floating dressing tables ideas that you can adopt. 
1- Vanity Table With Multiple Compartments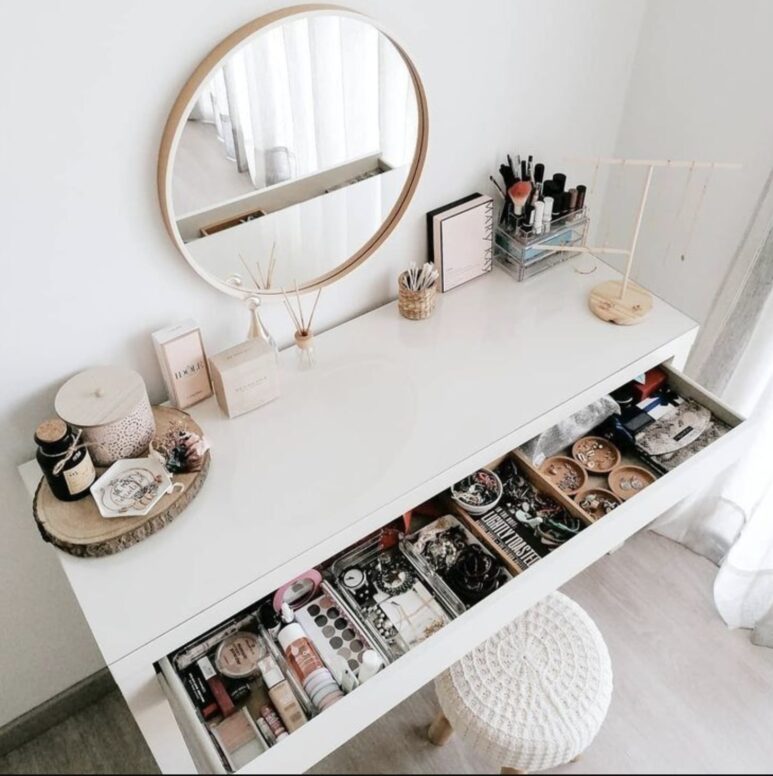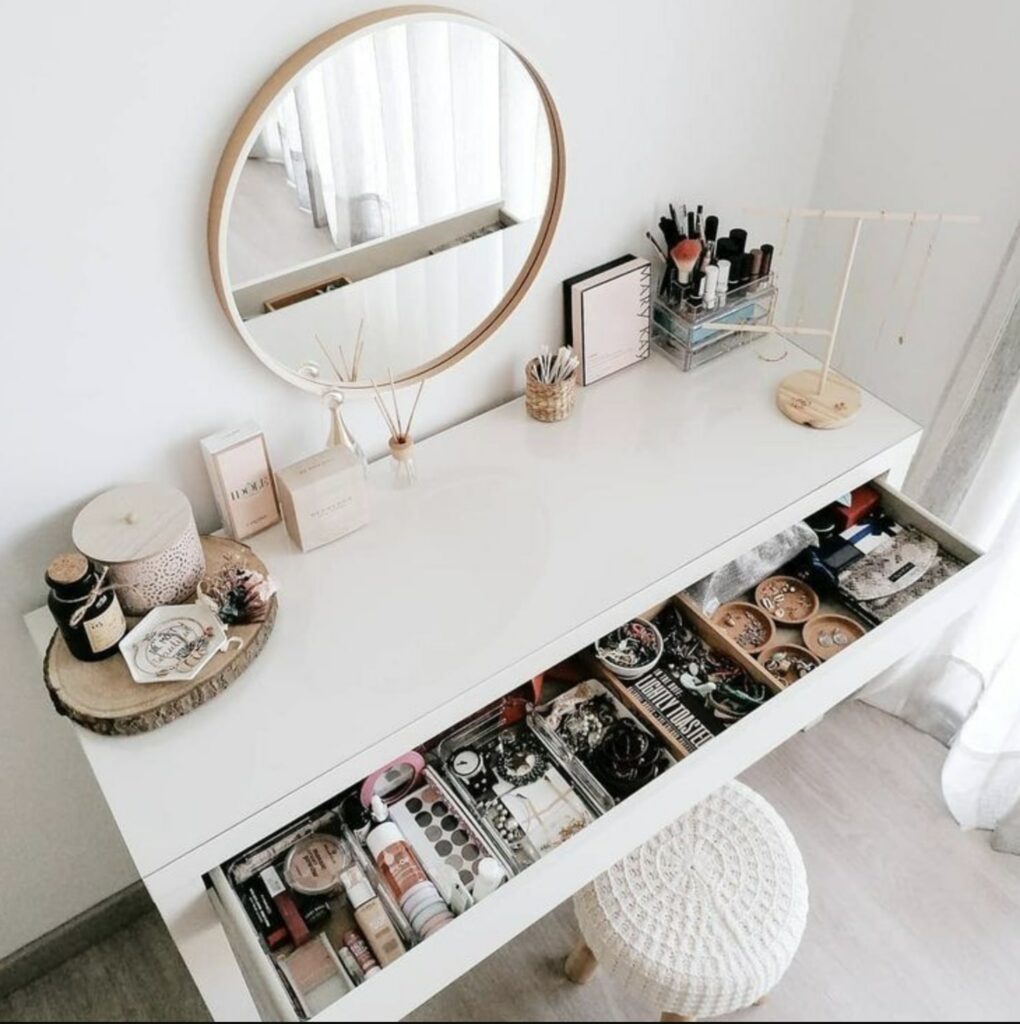 This one will be a good option if you have many makeup items and accessories. A large drawer with many compartments can help you easily mange your makeup items.
2- Small Size Floating Vanity Table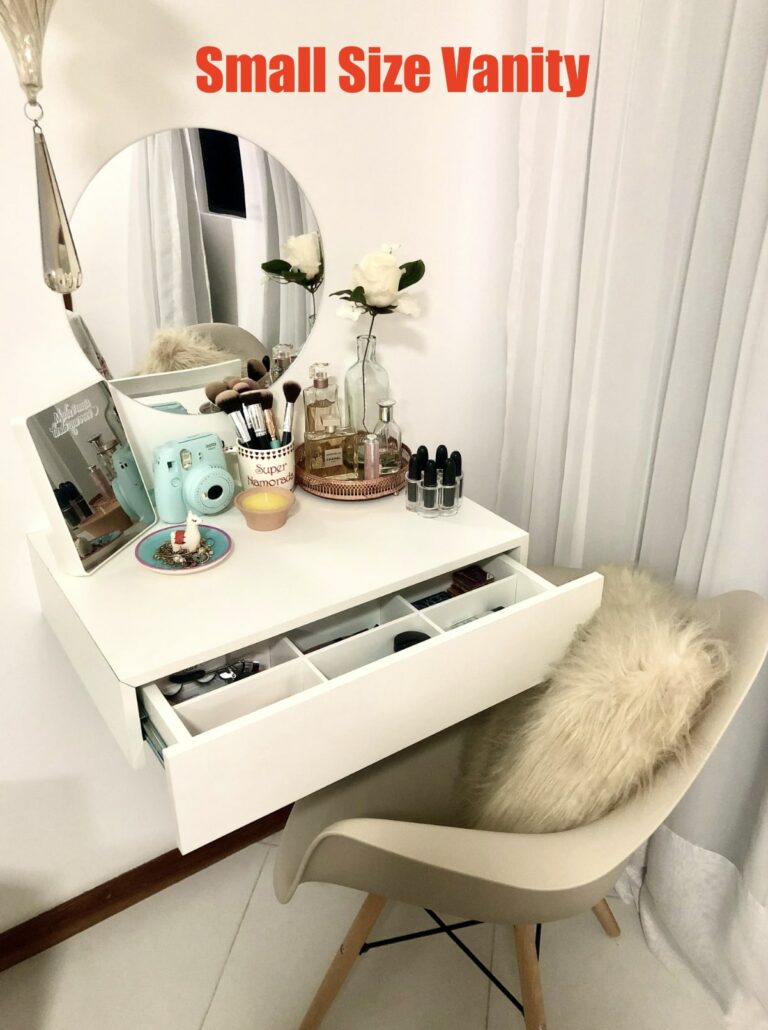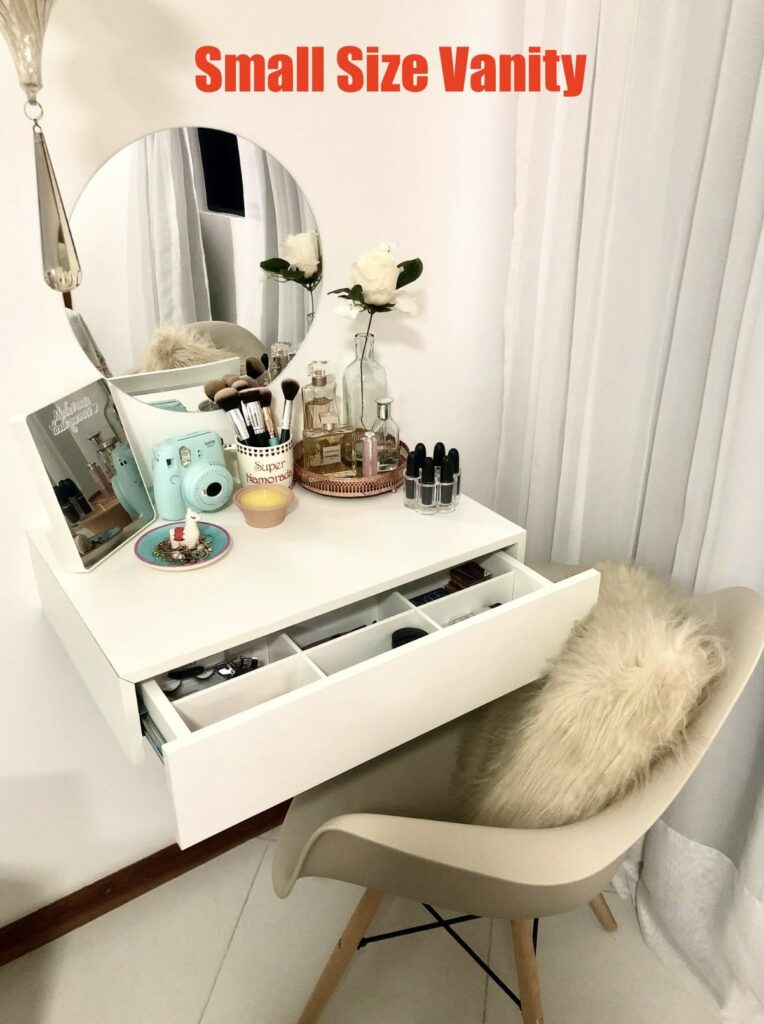 If there is less space in your room, but you need a lot of space, then you can opt for this design. Just make one drawer in the table but make it deeper and add many compartments to it.
3- Extra Space Vanity Table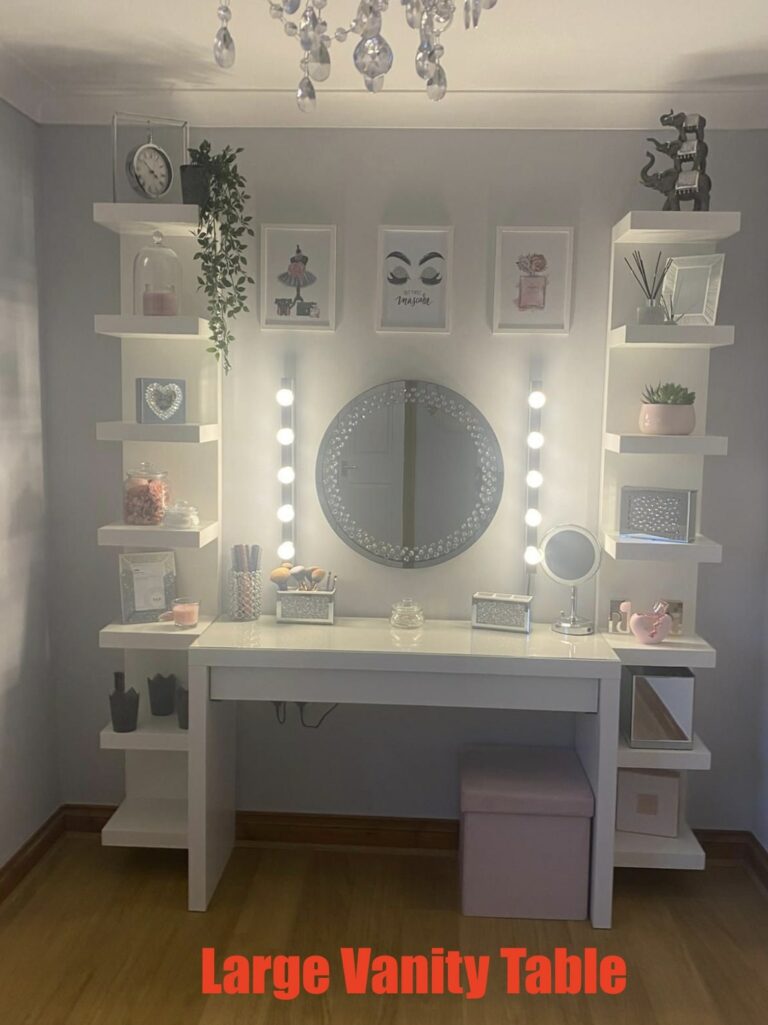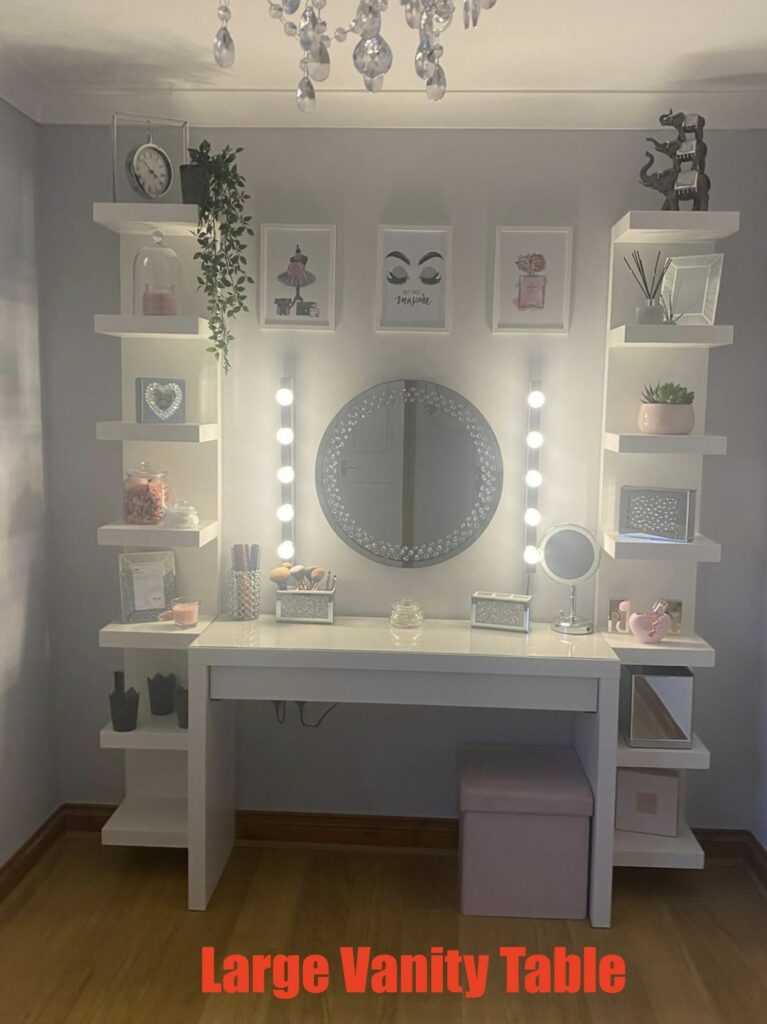 Are you are professional makeup artist? If yes, then you can go with this design. This setup also needs a lot of space in your bedroom. Make a 30″ width vanity table with one large drawer; on each side, create compartments for placing makeup items.
4- Elegant Looking Vanity Table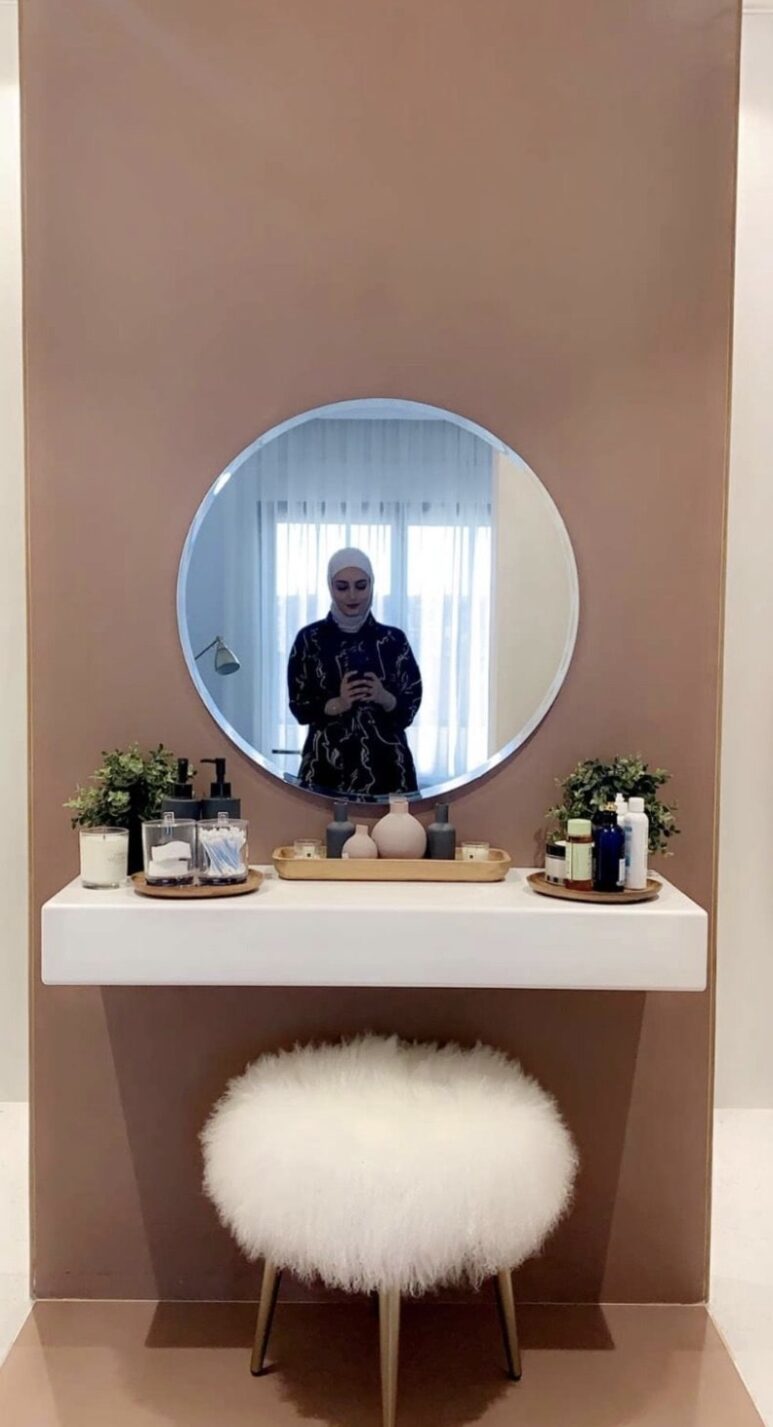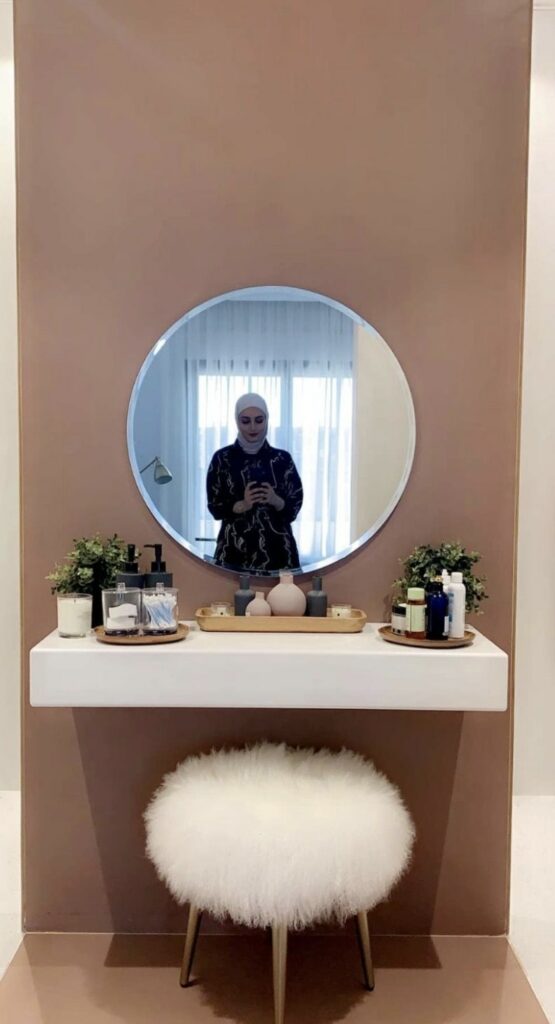 If you are a fan of minimalist design, just create a simple floating shelf. This design is perfect for small spaces.
5- Vanity With Large Mirror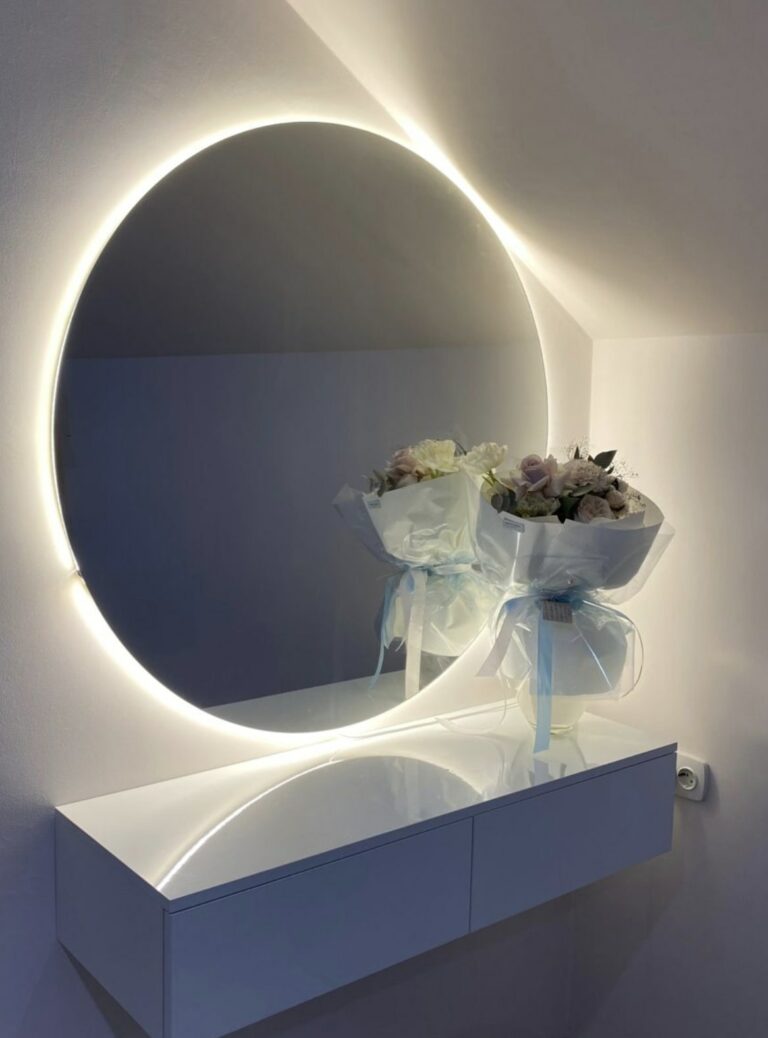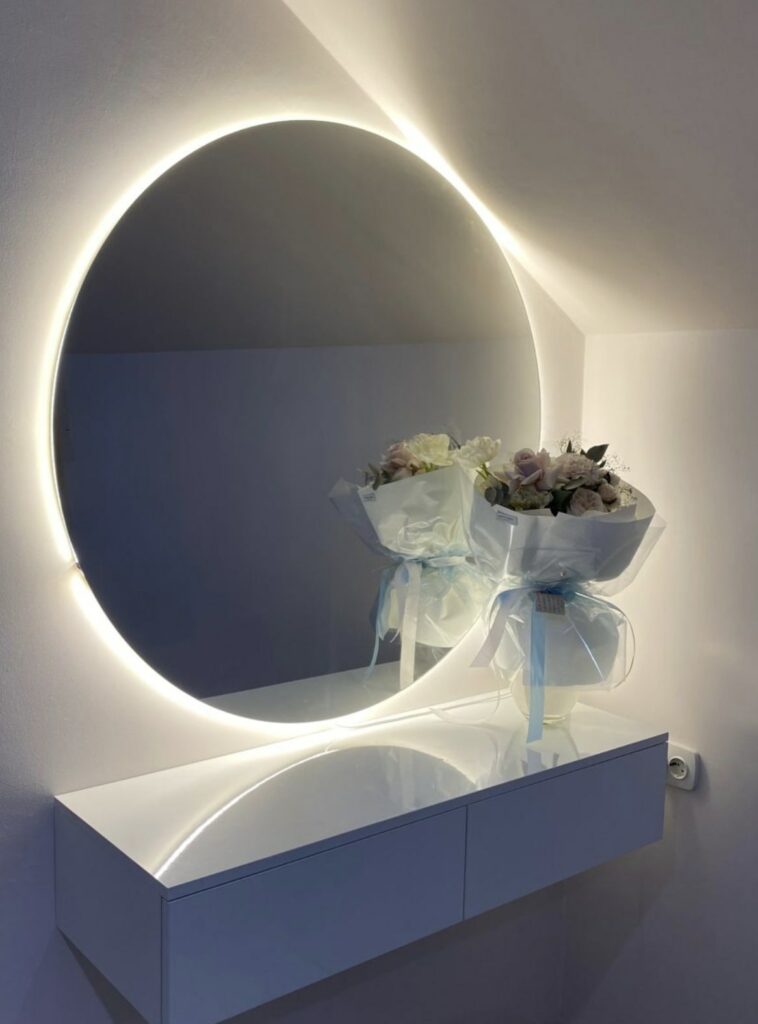 Want to give more professional touch to your bedroom? Try a simple design vanity table with a large circular or oval mirror. Also, install LEDs around the mirror for better makeup. Make sure to keep drawers deeper and make separate compartments in each drawer.
Hi there, I'm Ahmad Dastagir. I'm a home decor expert and know how to make a house more visually appealing. In terms of materials and colors, I am best at arranging physical items and objects, as well as selecting the floor covering, wall covering, ceilings and window coverings.