To make a linoleum floor with ground-in dirt shine again, you need not worry and use vinegar, baking soda, dish liquid, and warm water to clean it.
There are many floors; Linoleum floors are popular in homes and offices for their stylish look at affordable prices. It's easy to install, clean, and take off. 
Like other floors, the linoleum floor also ends up with ground-in dirt. But you don't need to stress, as we have stated down easy-to-follow steps that can work to make your linoleum floor look new again.
Cleaning a linoleum floor is easier than ordinary floors. But when it comes to linoleum floors with the ground in dirt, it is harder and more time-consuming. 
Despite being time-consuming and hard, here are some steps to deep clean the linoleum floors with the ground in dirt. 
Best Way To Clean Linoleum Floor With Ground-In Dirt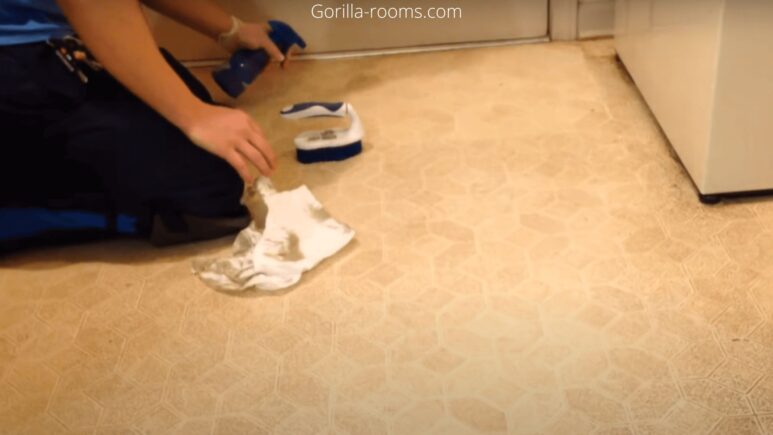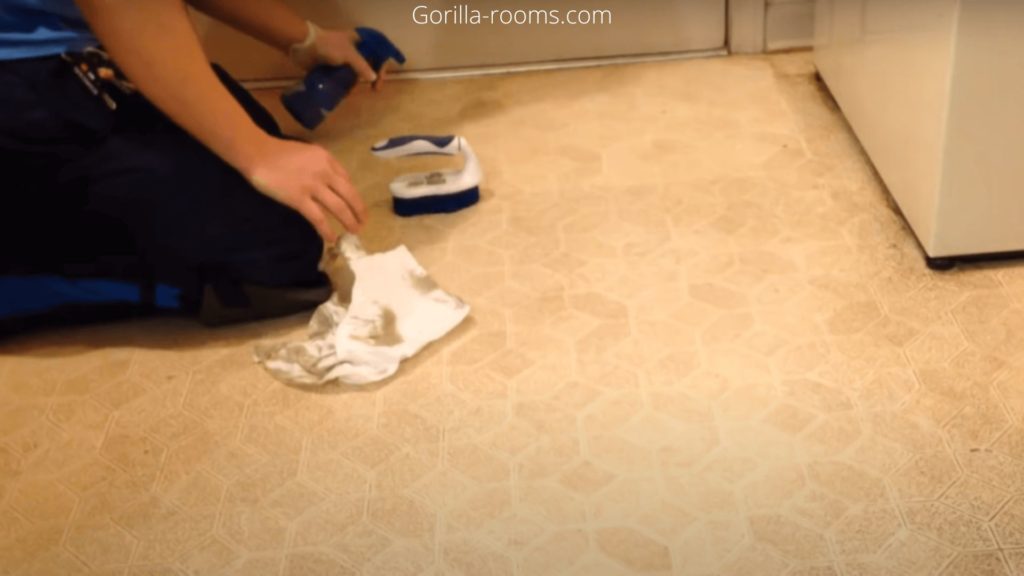 Cleaning the linoleum floor isn't too difficult with the ingredients/tools we have listed and discussed. Cleaning the floor with the prescribed cleaner is easier than this homemade technique, but it's too harmful to be used by ordinary people. 
With the help of vinegar, baking soda, warm water, and a liquid dishwasher, it is easier to clean floors. Here are three easy steps to follow after gathering the required ingredients for cleansing.
1- Dry Clean The Floor
The first step for making your linoleum floor look new is to cleanse out all the dirt above ground. 
By above ground, we mean that dirt can be cleaned or removed by a soft broom dry cleaning the whole floor, removing all dirt/debris. 
The next thing you need to do is vacuum the floor carefully to get rid of the remaining dirt above the floor. The first step requires you to cleanse out all the waste that could be done by broom and vacuum. 
2- Mixing Vinegar And Dish Washing Liquid In Water
After cleaning your linoleum floor with a soft broom and vacuum, it's time to use the cleansing ingredients. 
Firstly, get a gallon of warm water, a half cup of vinegar, and two tablespoons of the liquid dishwasher.
Mix vinegar and dishwashing liquid in warm water until you see bubbles. Lastly, arrange a cloth for mopping the floor.
Dip the cloth into the bubbly water and extract the excess water. Now mop the whole floor carefully. After mopping the floor, you need to wipe the floor with a soft dry cloth. 
Note: Don't forget to wear hand gloves while mixing the ingredients and mopping the floor.
3- Using Foamy Solution
The usual process will clean eighty percent of the area of the linoleum floor. The remaining 20 percent of dirt is ground-in dirt and firm stains.
To do this, you need to make a solution of half cup of vinegar, one cup of baking soda, and a half cup of warm water. 
Make sure you mix the solution nicely until all the lumps are gone. Then pour the solution directly to the ground in dirt or firm stains and leave it for 10-15 minutes. 
After 10-15 minutes, take a soft brush and scrub the dirty area. Scrub it until the dirt/stains are gone. 
After scrubbing, leave it for another 5 minutes. After five minutes, wipe it out with a soft cloth or a paper towel. You can also clean the area with clean water.
Other Ways To Cleanse The Linoleum Floors
Nothing is perfect, and if your linoleum floor is still dirty or the stains on your floor are more stubborn than you thought, you can try these simple steps to get rid of them. 
1- Use Lemon Juice
Ever thought of using lemon juice to clean your floor? Well, here it is. Mix the lemon juice with vinegar, and apply directly to the stains.
This solution is stronger than the previous one and is only used when the stains are not going away with the normal process. After applying directly to the stains, you can scrub with a brush to remove them.
 2- Using Vinegar And Soda Paste
Arrange baking soda and vinegar, and make a thick & foamy paste of them. Pour the paste on the stubborn stains and clean it thoroughly. The stains should've been cleaned now.
3- Shining Your Linoleum Floor
The last step you can follow is to buy baby oil, if it's not available in your house, and mix it with vinegar and warm water. 
A cupful of baby oil with one cup of vinegar and five gallons of warm water can help you to make your dirty linoleum floor shine again. Mix them all and use a cloth to mop the whole floor. It not only cleanses your floor but gives it a shining effect.
Frequently Asked Questions
How Is The Yellowish Linoleum Floor Cleaned?
To clean the yellowish linoleum floor, mix the vinegar with baking soda, make a thick paste, and apply it to the yellowish areas. You can also spray vinegar directly on the yellowish area and sprinkle soda to see the effect.
How Can The Linoleum Floor Look New Again?
To make it look new, you need to use coat wax or an ammonia solution. Apply to the linoleum floor with the ground in dirt and scrub it to see the final result. Lastly, clean the floor with a clean cloth or paper towel. 
Why Does My Floor Look So Dull?
Your floor looks dull because it has not been cleaned for a while. And if you have been cleaning your floor regularly, try cleaning it with vinegar, baking soda, dishwashing liquid, and warm water. 
You can also use the paste of baking soda and vinegar or vinegar and lime juice. Also, as stated above, do not scrub too hard. Use baby oil for shining on the floor.  
Conclusion 
Above mentioned steps and methods are proven for cleaning a linoleum floor with the ground in dirt. Even the firmest stains can be cleaned using the process carefully and correctly.
It is noted that linoleum floors are sensitive and can be worn out by moisture. To save your linoleum floor from this, wipe out all the water and keep it dry. 
The floor can wear out with heavy scrubbing. To prevent this, use a soft brush and scrub it gently. No floor cannot be cleansed or made like new until you take various measures to make it clean.
Hi there, I'm Ahmad Dastagir. I'm a home decor expert and know how to make a house more visually appealing. In terms of materials and colors, I am best at arranging physical items and objects, as well as selecting the floor covering, wall covering, ceilings and window coverings.