You may want to create more space for your room by removing useless furniture, as furniture takes vast space. Or you may be shifting to an apartment where there is no furniture. 
So in such a case, it is pretty challenging to decorate your living room without furniture, but it's not an impossible task. You can make your living room even more beautiful than a room overloaded with furniture by using simple tips and techniques.
In this guide, we will show you how you can easily decorate the living room without furniture.
So let's get started.
Related Posts:
Clean The Whole Living Room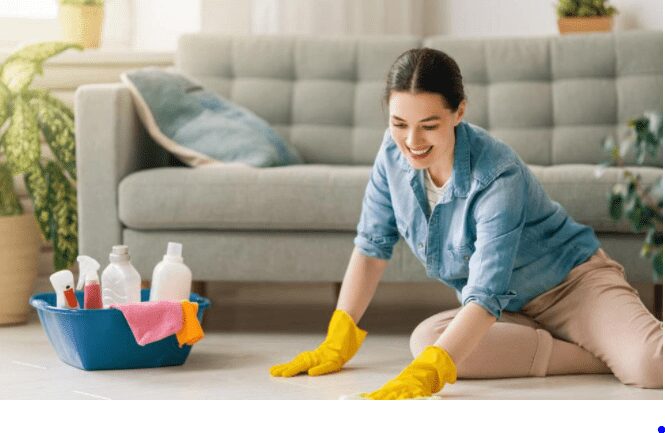 Firstly you need to clean your whole room, including windows, floor, walls, etc. Declutter your entire space, and firstly start from that region where you find more clutter. 
Always keep a trash basket at the corner of your room that will help you declutter your space quickly. If there is small trash, it will become difficult for you to clean, so you can use a Vacuum cleaner to perfectly swipe the whole room.
You should use the best floor cleaning liquid to clean your floor correctly. Now it's time to dust the windows, ventilators, mirrors, and other such things so that everything looks perfect and friendly.
Pick up dirty clothes and place them in a hamper. The majority of living rooms come with a built-in hamper, so it is too easy for those to manage clothes properly.
Never keep useless clothes in your living room that will create more cluttering.
Use Rug At The Center Of Your Room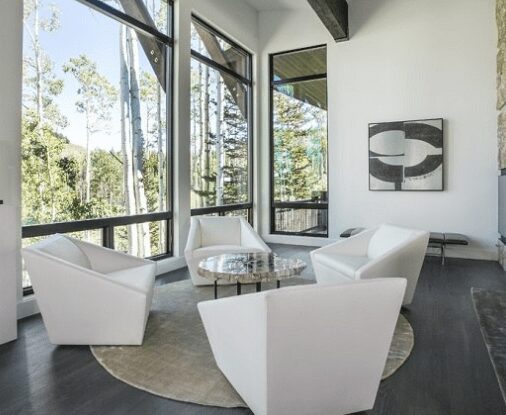 Rugs are the most traditional way to decorate every living room, and a room with a rug looks more beautiful and elegant. They work as an extra layer to protect your floor and also keep the room warm.
Even if there is no furniture in your room, only Run can helps you to decorate your living room. 
Remember that smaller rugs will appear cluttered and make your room look smaller. Especially never use a small rug in a room where there is no furniture.
At the same time, a large rug makes your space more luxurious and spacious.
Place the rug at the centre of the room and make sure to give equal spacing to all four sides from the walls. It's also necessary to choose a perfect rug for your living room.
If you have pets and kids running around, you need to pick a shaggy or wool rug rather than satin fivers.
Use Floor Lamps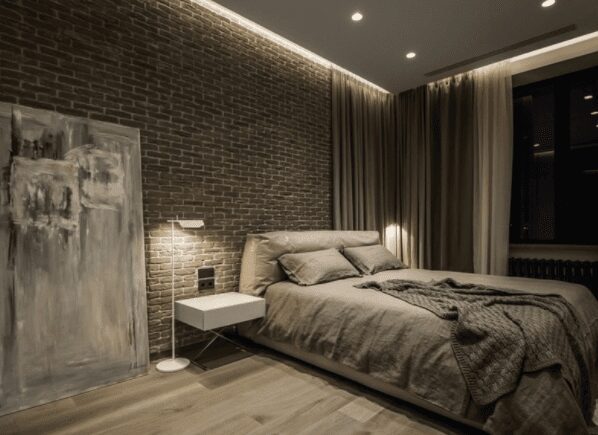 Floor lamps are another great item to decorate a living room, and these tall lamps spared a soft ambient light in the whole room that will create a magical atmosphere.
No doubt, the placement of the floor lamp can change the feel of any space. Many different floor lamps are available in the market, including; traditional lamps, torchiere lamps, tower lamps, down-bridge lamps, candelabra lamps, tree lamps, and beyond.
You need to choose the best one that matches your needs and environment.
Now it's time to choose the perfect location to place the lamp. For a room without furniture, the corners are the best option. But select that corner of the room near the switch so that it will not create wiring clutter.
Floor Cushions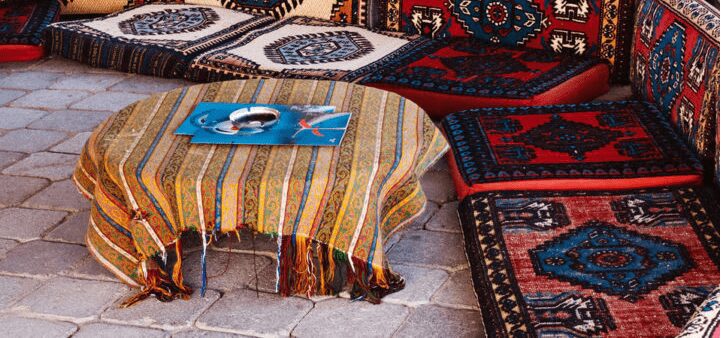 When it comes to functional accents, nothing is best and more versatile than floor seating. Pillows are the most comfortable items and floor seating and are also affordable as compared to couches and sofas. 
Floor cushions will give a unique and more natural look to your living room. Secondly, they help to create more space in a room and never spread clutter.
If you have a small room, then they will help you to decorate your seating. 
Now the main question is where to place these floor cushions? If you are using a rug in our living room, stop thinking and decorate them on the carpet.
If you want to make a traditional seating arrangement, arrange the cushions and walls with the front face towards the windows.
Use Swing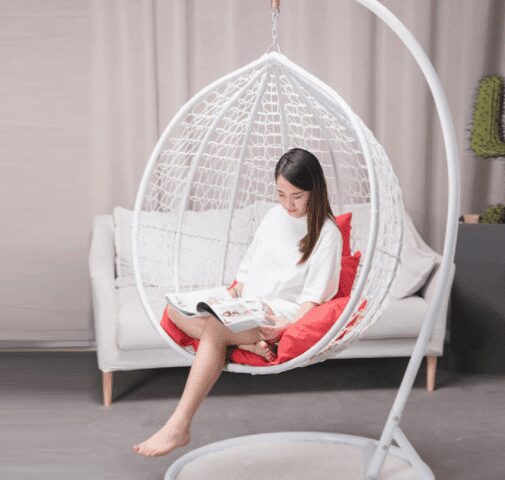 Swing reminds us of our childhood and is a convenient way to bring a little bit of outdoor fun to your home. Also, it is the best entertainment and fun source for kids.
There are a variety of indoor swings available, but you should pick hammock swing chairs.
Hammock swing chairs are easy to assemble, and you don't even need to drill holes into your roof. Secondly, these kinds of swings look more luxurious and comfortable as compared to traditional swings.
Always choose a ventilated spot for swing so that you can inhale fresh air from outside that makes you feel more comfortable.
Use Curtains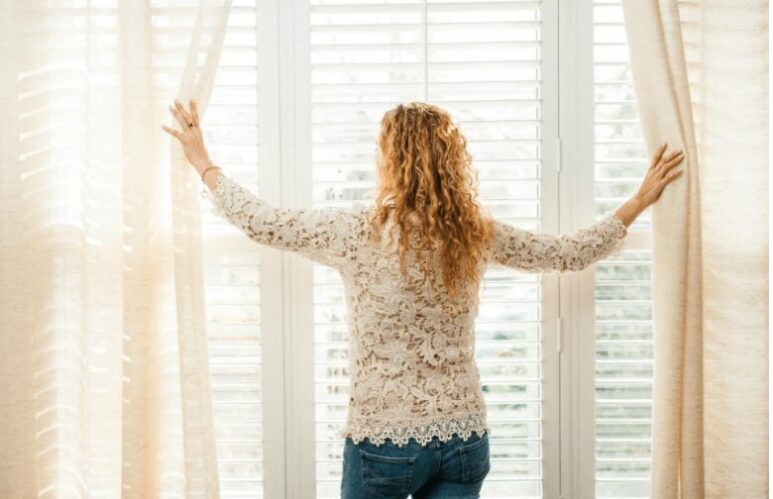 If you want to make your room look magical, then try to use curtains. Silk curtains are looking more premium as compared to cotton and other stuff. They will keep your room dark so you can enjoy your sleeping time. 
But it takes precision and care to hang a curtain properly, but with the proper techniques, it can be very simple to make your curtains professionally hung.
Before hanging a curtain, make sure to correctly measure the dimension of your specific and their area so that your curtains will hang equally.
Most people recommend hand curtains with the ring, as it's a very easy way and enables you to adjust curtains as per your need easily.
Lastly, try to use curtains that match your atmosphere colour. 
Use Plants In The Living Room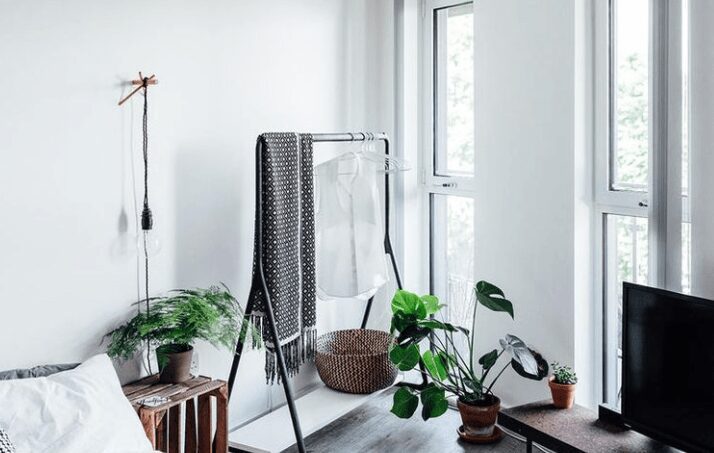 Having plans in the living room is rapidly growing and does not seem to be changing anytime. Plants are the best and natural way to decorate a room that has no furniture.
There are different kinds of plants available, including; snake plant, peace lily, aloe vera, ferns, areca palm, money plant, Indian basil, and more. Select the best one that meets the needs of your room's environment and size. 
You can place these plants at the corner of your room, on any table or shelves. Most plant lovers buy a separate frame to decorate plants in their rooms.
Use Chairs In Your Living Room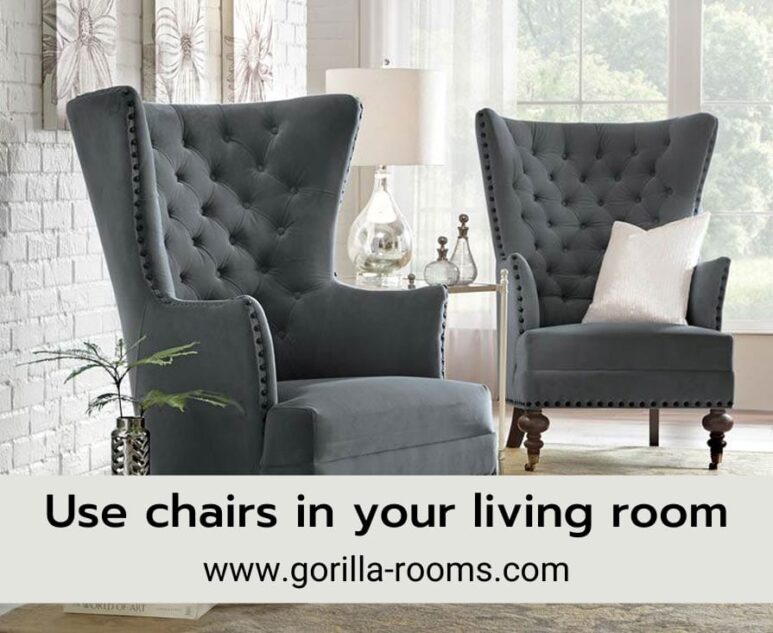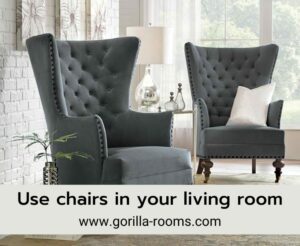 If you want to make your seating area more comfortable for the elderly, you must have comfy chairs. Instead of buying large sofas, you can pick a few chairs. 
Along with floor cushions, you can also place chairs. Make sure to use a rug in your seating area to make it more luxurious. There are different kinds of chairs available in the market, but floral chairs are the most comfortable. 
If you love entertainment with friends and family, placing chairs in the room is the best idea.
Usually, people use four chairs instead of sofas, which is also an affordable deal. A second significant advantage is that chairs make your room look wider than sofas that look like they create cluttering in small spaces. 
Use Small Table At Seating Area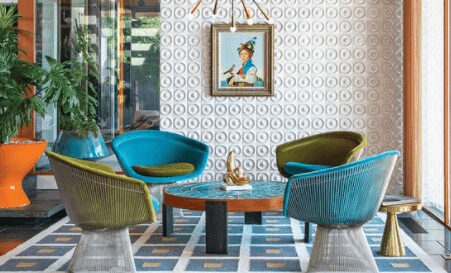 It's convenient to use a small table in the seating area, and this will help you decorate different daily use items like tissue paper, fruits, or some decoration times. Especially when you have a guest, this table will help you put a coffee or teacup. 
Most people use glass tables that give a more premium feel and are easy to clean. 
Final Words
Making a room well decorated without furniture is not a big deal. You can use the above-mentioned tips to increase the beauty of your room.
If you have anything in mind, kindly share it with us in the comment section. We will try to give your opinion on our list. Thanks 🙂
Video Guide
Hi there, I'm Ahmad Dastagir. I'm a home decor expert and know how to make a house more visually appealing. In terms of materials and colors, I am best at arranging physical items and objects, as well as selecting the floor covering, wall covering, ceilings and window coverings.