Water under laminate flooring can be dried or treated by removing the laminate flooring, drying each part of the floor, and reinstalling the laminate flooring again. 
Laminate flooring is popularly used for its portability, design, and ease of cleaning and changing. However, the lamination flooring can get issues under it. Water is an excellent issue for laminate flooring as it can help in the growth of mold and result in severe and costly problems that are not easy to treat. 
Ways To Dry Laminate Flooring With Water Under It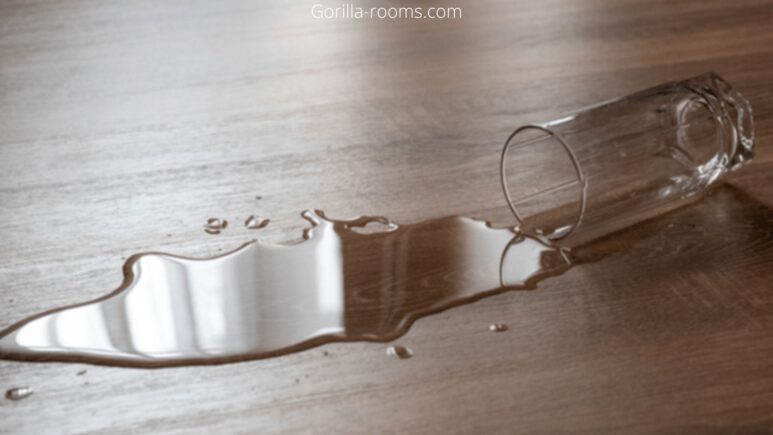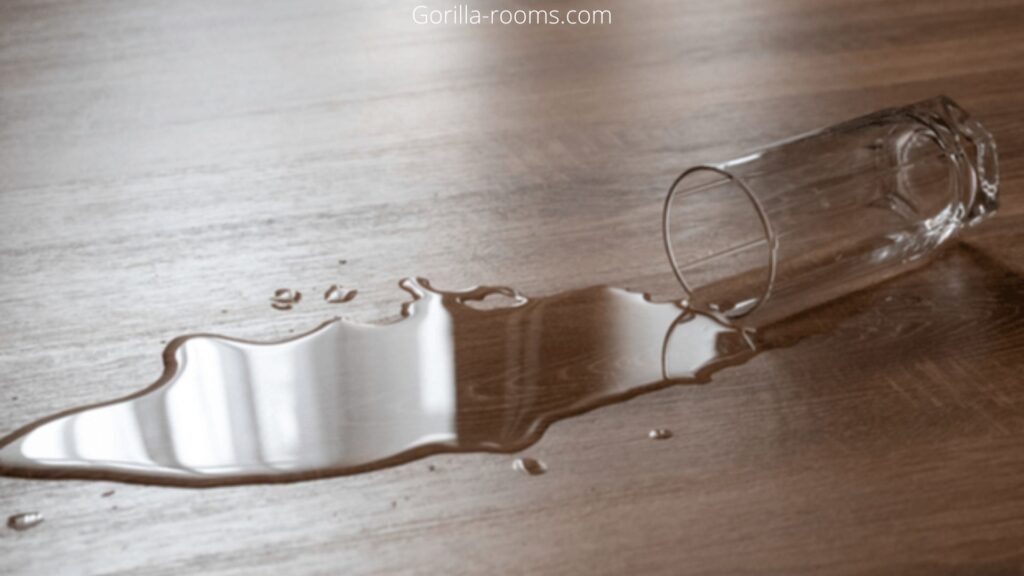 The question is how to treat and dry laminate the flooring with water under it. There are many ways a person can dry clean their laminate floors with water under them. 
1- Initial Cleaning
If there is any water above your laminate flooring, clean it quickly and make sure water enters the already wet floor. Take a dry cloth and soak all the water above your floor. Make sure not to push with material on the laminate flooring as it might result in water getting under the flooring. 
You can use a soft cloth to soak all the water and mop the water away. If the water level is high, you need a vacuum or a water pump to suck all the moisture. You can use as many clothes as you can. Just leave the fabric on the water spills and allow them to soak all the water. 
2- Using Large Fans 
It can be said that Fans or dehumidifiers can be used to make sure that all the water spills have dried above the laminate flooring. A dehumidifier works as it sucks all moisture from the surface and makes sure it is dry. 
Fans can help in the circulation of air in the room, and they accelerate the process of drying. They can also help battle mold and mildew caused by moisture and water.
3- Heating
Yes, heating your room or increasing the room's temperature can be suitable for the wet surface. It allows the water to dry or evaporate and any moisture to end. 
It can be done by closing your air conditioners and turning your air heaters on. Nowadays, air conditioners come with both the functionalities to heat the room, helping the floor to completely dry.
4- Removing Floorboards 
We are moving on to the next step. The task here is to remove the board. In other words, can the laminate floor sections. You need to remove the laminate floor section separately and carefully, so that dry sections remain dry and clean. 
5- Dry The Wet Floor 
After successfully removing the laminate flooring sections, you need to dry clean the floor. You would think about what to do with those laminate floor sections. You need to set them in a place away from water or where they can get moist. 
Clean the floor thoroughly and let it dry. You can use clothes or a water pump to suck the water away and help dry the floor. 
6- Cleaning The Underlayment 
Most of the laminate flooring has an underlayment to give your floor padding. You need to check if your laminate flooring has one or not. 
If there is any underlayment, you will be required to clean, remove and dry up any water or moist surface. 
7- Deep Cleaning The Underlayment. 
You'll need to remove any sticky or greasy surfaces. You need to mix dish soap with water and apply it to the surface to remove the dirty and greasy things and stickiness. 
After scrubbing it with the dish soap and water solution, you need to clean it with bleach and a cloth to ensure it's clean and dry. Cleaning with bleach helps battle any mildew or mold.
If your underlayment is damaged severely and can not be applied further, you'll have to get a new one to ensure good performance. 
8- Dry The Subfloor 
Once you have treated or replaced the underlayment, you need to clean and dry the subfloor. You need to clear the water and moisten if any. 
Make sure your cloth soaks in the water. You can use as many clothes as you need, but you need not push the wet area as it will allow the water to flow to the dry parts of the subfloor. 
9- Cleaning The Subfloor 
After drying out every possible wet place on the subfloor, you need to clean it with either freshwater or a solution of water and dish soap, depending on the spilled water type. 
If it's something other than water, you prefer to mix them. Dish soap with water and clean the subfloor, scrubbing any dirty areas with that solution.
Once you have done cleaning, you need to clean it with a dry cloth or mop it down to make it dry again. You can take the help of huge fans or heat to ensure that there is no moisture or wet place on your subfloor.
However, you can choose to clean your subfloor with a bleach solution. Bleach helps to battle the mold and mildew if there is any. It may be mild as there is water under the laminate flooring. 
10- Clean The Floorboards. 
Once you have cleaned your subfloor, you'll need to clean the floorboard the same way. Make a dishwasher soap and water solution and apply it to the floorboard to clean it. 
Scrub out any greasy or sticky areas or any dirt. Then clean the floorboard with a dry cloth and remove all the moisture and wetness. While cleaning your floorboard, you can see any damage on the floorboard. 
The signs of damage are bulging delamination, cupping, or severe warping. They dictate that your laminate flooring can not be used further, and you will have to invest in a new one. 
11- Set Down The Underlayment.
Once all the cleaning is done, you'll need to set down and carefully place the underlayment before placing the floorboard. It would be best to have no glue or adhesive as it can only be tapped and established. 
12- Reinstall Your Laminate Flooring 
Once the underlayment is placed correctly, whether new or old, you need to set or install the laminate flooring again, and you'll have a perfect, fresh, and free from wet and water laminate floor.
13- Prevention Of Wet Surface 
You can prevent wet surfaces by cleaning the floor with a dry cloth and mop daily. You can clean with a solution, too, scrubbing any dirt. However, make sure to dry it, or it may mold growth. You can stop letting pets pee on floors, spilling water or other liquids, and running with feet on the floor. 
You can also use a protective sheet to ensure water doesn't enter your floor or under your laminate flooring.
Can The Laminate Floor Water Damage Cause Mold?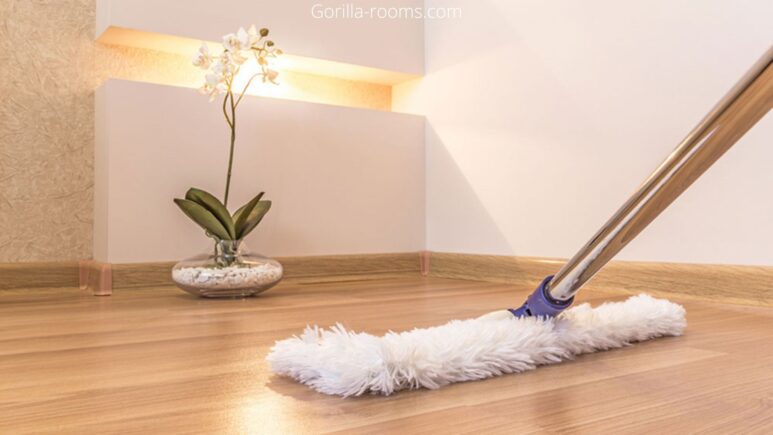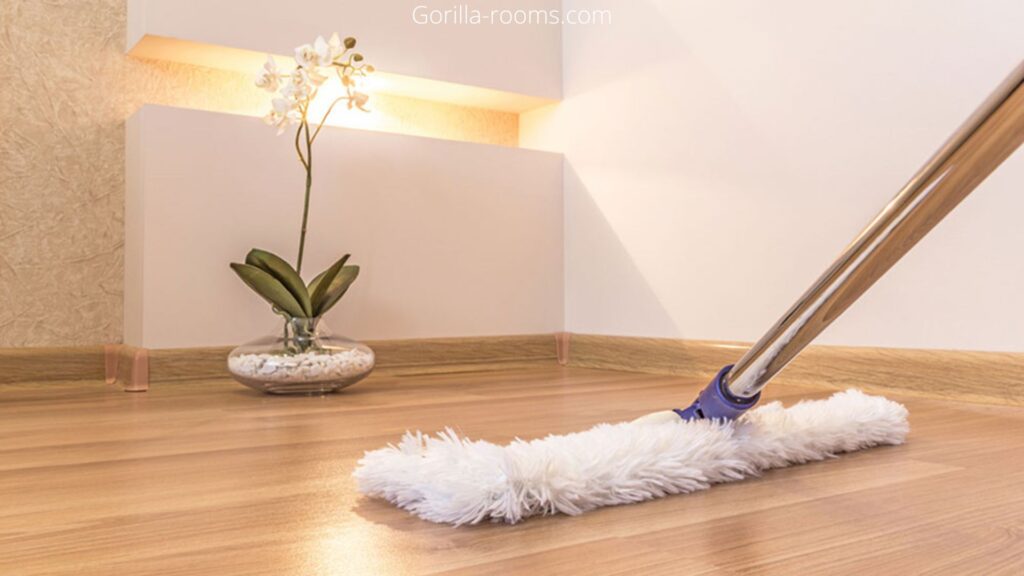 Yes, it can. Here are some of the signs of mold under your laminate flooring. 
Musty Smell
To get to know about signs of mold under your laminate flooring, firstly, you need to check if there is any musty or earthy smell coming from the corner of your floor.  
Fungus Area
Another sign of mold under your laminate flooring is that you can see green fungi spots with a solid earthly smell.  
Water Leaking
If water is leaking for some part of your floor, it might be because of mold growth under it. The leaking water is a sign of mold. 
Water leaking is a sign of mold as mold grows because of water, and for this cause, there must be water leaking from the area where there is mold. 
Cracking 
 If there are cracks under your laminate floors, it's a vital sign that it has been affected by mold and needs to be cleaned as soon as possible.
How Much Time Does it Take To Dry Clean The Laminate Flooring? 
It can take upto 12 to 36 hours. Also, it depends upon the size of the room, humidity in it, the temperature of the room, and how you tackle these problems. Also, the use of the right equipment is necessary too. 
The floorboards can take up to weeks to dry if you do not remove them and clear out the water or moisture under them. So it all depends on how you work, how accurately you follow the instructions, and work this out.
How Can I Get Rid Of Mold Under My Laminate Flooring? 
Here are some of the ways to treat decay under your laminate flooring. If you have identified and found mold under your laminating, here are some ways you can get rid of mold and make your flooring clean and clear again.
Cleaning The Affected Area  
Firstly, you need to vacuum or broom the affected area where mold is under the laminate floor. Remove all the dust & dirt and clean the whole affected area. 
Using Detergent And Water Solution.
Pour a detergent cup into a gallon of water and mix it to make a solution. Then apply this to affected areas and scrub to remove the mold. After cleansing, clean the water and all the mold mess. 
Using Rubbing Alcohol And Vinegar 
Mix the equal amount of water and white vinegar, rub Alcohol into a bucket, and scrub the affected area with the help of a brush. 
Rubbing Alcohol is a good enemy of mold; hence, it helps eliminate it. Scrub the area well and clean it with a cloth.
Remove The Laminate Flooring 
If you see mold-affected areas clearly, remove the floor lamination from that area and dispose of it. Suppose you see small patches of mold everywhere on the floor. It's better to remove the whole of it instead of removing a part of it. 
Because removing a portion of lamination when mold is everywhere can regrow and cause a mess. You can start withdrawing from the corner of the lamination to remove the center and other side corners. This way, it won't be challenging to remove.
Frequently Asked Questions 
What Is Laminate Flooring Water Damage? 
Laminate flooring water damage is damage caused to the lamination due to the surface being too moist, wet or some water there. The damage can result in getting you to mold under the laminate flooring and causing it to tear or have severe damages for which you need to invest in a new one.
What Is The Sign Of Water Under The Laminate Flooring?
Signs of water under your laminate flooring will be wet, moist, and have an earthy smell. And if there is mold, there will be a musty smell and green spots.
Conclusion 
In the end, We would like to address that laminate flooring is loved by all, as it is good to use, portable, easy to install, clean, and doesn't cost much in comparison to other flooring types. It is said that it's also famous for its design and simplicity. Well, it can be. However, almost all kinds of flooring incur the issue of water and mold. Laminate flooring is one of them. 
It can store water under it, and it takes about 2 to 3 weeks for the water to get dry if it isn't treated. We know that if it isn't treated, it can lead to mold or mildew, which is a more significant problem than this. 
Concluding this, laminate floors can be damaged by water, and treated too, with the process mentioned earlier and tricks. If the floor is severely damaged, it is useless now.