In this guide we will go through how you can exactly hang a swing in living room.
You might have seen swings in parks and gardens, and they are very easy to assemble in an open environment. But it is challenging to hand a swing in the living room or your TV launch. 
Everyone wants swing in his house, because kids are fond of this. Also they remind us of our childhood, which were very memorable days. 
The use of indoor swings offers a simple and convenient way to bring a little bit of outdoor fun to your home.
So if a kid is stubborn about having a swing in their room, this article is for you. Today we discussed some tips and techniques to hang an indoor swing perfectly.
How To Hang a Swing In Living Room
1- Decide Which Type Of Swing You Want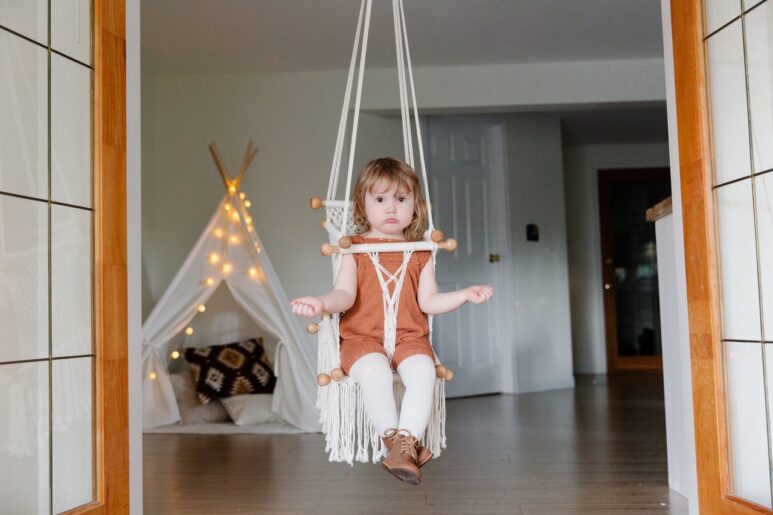 As there are dozens of swing types, and not everyone fits your outfit. Some swings are made for adults, few high back swings, belly swing, web swing, and beyond. If your swing is durable, then it can be used by anyone. 
I saw most people use Indoor swing chairs, which are easy to assemble and perfect for kids and ladies. But still, it is not durable to sustain the weight of an adult. 
On the other hand, wood tree swings are the most traditional piece with high durability. If your kids are in their teens, I recommend you install this swing in your home. I will mention how to install this one, but again it depends on your outfit and style.
Most people love to have a comfortable and soft seated swing. Hammock swing chairs are a perfect option for them.
You will get real comfortable on these types of swings, and these are also perfect for sleep. Their integration process is a little tricky, but I will explain it in the below article. 
2- Select a Location
It's time to choose a perfect location for swing, whether you want to place it in a TV launch, bedroom, nursery, or living room. 
Whatever your place will be, make sure to leave several feet between the swing and the wall to avoid hitting a wall. This will leave plenty of space around the swing, and you will be able to swing easily. 
Everyone wants a safety measurements. The swing mount may not support the weight of the swing if you do not find a solid joint, or worse-it will cause the ceiling to fall on the person sitting in the swing.
So you need to choose a spot where the swing can easily be mounted, and there is no risk of any damage. 
3- Install The Mount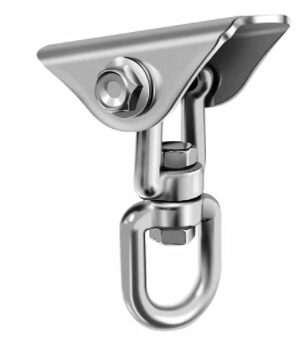 After selecting a perfect place, it is time to install a Mount. This is the most crucial part, and if the mount is strong, your swing will bear more weight. You need to pick solid and heavy meatal swing hangers that support your weight.
Usually, a swing should have an amount of 600 pounds or more. Now, how many holes should you drill to mount perfectly? So usually, it depends on your hand. In most cases, you tend to have four holes. 
But before installing the mount, you need to understand two ways to hang the swing; Pivot style and Swing style.
Pivot Style: This style allows you to rotate 360 degrees and drift smoothly as you relax. If you choose this hanging style, you will only need one anchor point. In general, hanging basket chairs are suspended from a single anchor point with a chain or rope.
Swing Style: In this case, your swing will allow you to sway back and forth. And in this style, you need to add two anchor points to your ceiling. Depending on your preference, you can hang it with or without a spreader bar. We recommend hanging your hammock chair swing style on a spreader bar if you want to hang it in a smaller space. A spreader bar reduces the span between two anchor points in this case.
In this way, you can hand wood tree swings that are perfect for your kids.
Note
If you have a drilling machine, the entire process will take up to 15 – 20 minutes to properly install the mount. Once your mount is installed, you are ready to hand a swing in it.
4- Hang the Swing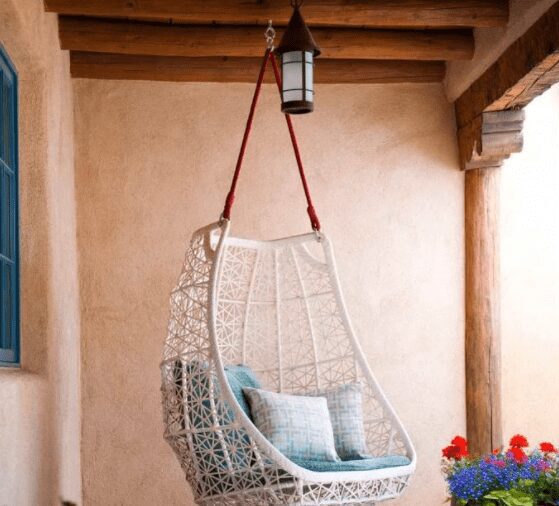 This is the last step, and it's too easy, but you need to consider a few important things here. Firstly make sure that the rope on both sides should be balanced to offer more stability. And you can easily swing back and forth.
Secondly, make sure that the ropes are tightly tied with the swing hanger, and there is no chance to break.
Note
Make sure that the swing is stable before sitting on it. Apply some downward pressure with both arms and see if it gives way.
5- Swing Without Roof
If you want to assemble a swing without too much effort, you can choose to hang chairs or sofas. Although this stuff is pretty expensive, you don't need to drill holes in the roof, tie ropes, etc. 
These swings are compatible with all types of environment, living room, TV lunch, backyards, guest room, etc.
And the majority of people use these types of swings because they also look beautiful.
Depending on a few things, these swings have different types and prices. Usually, most of them come with a solid stand, and a chair is a hand with that stand via a strong steel chain.
As compared to traditional wooden swings, these are comfortable and come with luxurious cushion seats. You can use chair swings to watch TVs, read, and they are also perfect for sleep.
6- Install A Swing Without Dirlling in Roof
Is it possible to hand a swing without drilling in the roof? Yes, you can also make a perfect hammock swing without drilling.
The reasons that don't allow you to drill into ceilings:
You may be living in a house where the roof is not capable of living.

Most of the people are renting a house, and owners won't approve drilling into ceilings.

You've got a new home, and you don't want to ruin the roof by drilling.

You don't want to buy extra tools for drilling.
You can use alternative way:
There are many other alternative options available for you, and the most recommended one is to use Hammock in such a room. 
The hammock stand is the most convenient and most accessible way to hand swing without drilling. But the majority of the hammocks already come with a heavy metal stand, or sometimes you need to purchase a stand separately. 
But before buying the stand separately, make sure that it is suitable for the size and type of Hammock you have.
Posts or Columns using hammock tree strap
And if you have posts or columns within your home, it's too easy to install a hammock without drilling. You need to purchase hammock tree straps that are pretty cheap. The hammock straps can support up to 2000lbs of weight.
7- Using Roof Beams
The other easiest wait to hang a hammock is by using the existing beams in your ceiling. You don't need to drill in this way, as you need hammock straps to handle it. But before using roof beams or rafters, make sure that they are in good condition and sustain your weight.
Also, you may have noticed a small issue with the distance between those rafters or beams. You need to have shafts that are appropriately spaced so the Hammock can adequately hang.
You don't need anything else besides the hammock and hammock strap kit. It is not necessary to have any special tools to hang a hammock this way; you can use the house's existing structure, and this hanging method can support a considerable amount of weight.
Final Words
Whether you want to drill or not but you can easily hand a swing in your living room. It's a pretty simple and easy job, and also it's not as expensive as we think. 
After going through the above article, I hope you can now pick a perfect swing for your living room that makes you more comfortable. 
FAQs
Is it okay to put a swing in the house?
This is perfectly OK, but it may necessitate some modifications. Unless your swing is suspended from an exposed beam, you'll need to install eye screws into a ceiling. The swing can then be mounted on these.
Without a drill, how do you place a swing?
Buying a hammock that comes with a stand is the easiest way to hang your hammock indoors without drilling. 
Is it possible to hang a swing from my pergola?
Whether or not our pergolas, pavilions, or arbours are sturdy enough to support a hammock or swing. Yes, they are, and we strongly advise anyone who enjoys swinging to invest in a hammock or swing.
Hi there, I'm Ahmad Dastagir. I'm a home decor expert and know how to make a house more visually appealing. In terms of materials and colors, I am best at arranging physical items and objects, as well as selecting the floor covering, wall covering, ceilings and window coverings.