Due to many reasons, carpet stairs are a norm these days. You might have noticed carpet on stairs at different places, i.e. at offices and homes etc. We all agree that it looks decorative and subtle.
But we also agree that stairs are a high traffic area. Due to this, the carpet on the stairs gets dirty quickly. You use stairs to get into your home, and thus all of the dust and dirt in your shoes stick to the carpet on the stairs.
Following this, you need to clean your carpet stairs regularly. Because if you don't, they will get weary and look old in no time.
We have discussed some practical ways to protect and clean your carpet. You can follow any of them which suits you and your budget to clean and protect your carpet and increase its lifespan.
Related Posts:
Why Put Carpet On Stairs?
Before moving towards the solutions of cleaning carpet stairs, you should at least know why you even need to put carpet on your stairs.
First of all, it entirely depends on you whether you want to put a carpet on the stairs or not. If you wish for every corner of your home to look well-decorated, then you must put a carpet on your stairs.
Besides decoration purposes, there are many more reasons for putting carpet on stairs. Let's have a look at them:
The first and most apparent reason for putting carpet on your stair is decoration. Make sure to choose your carpet in accordance with your house decor.
Carpets do not only decorate but also protect your stairs. Hard surfaces are difficult to walk on, along with increased rates of accidents. Carpets act as a cushion and give you a slight scratch instead of a bruise if you fall.
Carpets make the stairs easier to walk on, providing you with a comfortable feeling of walking.
Carpets also lessen the noise caused by walking on stairs.
Rugs or carpets on stairs add a nice color to your stairs, providing you with subtle and nice-looking stairs.
Simple Ways To Protect Carpet Stairs From Dirt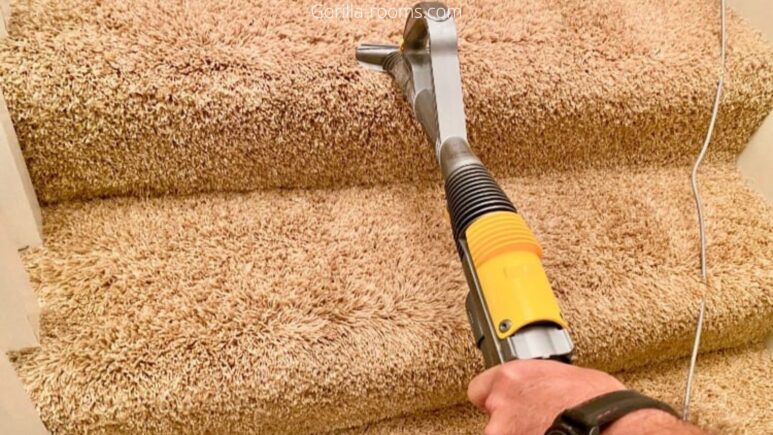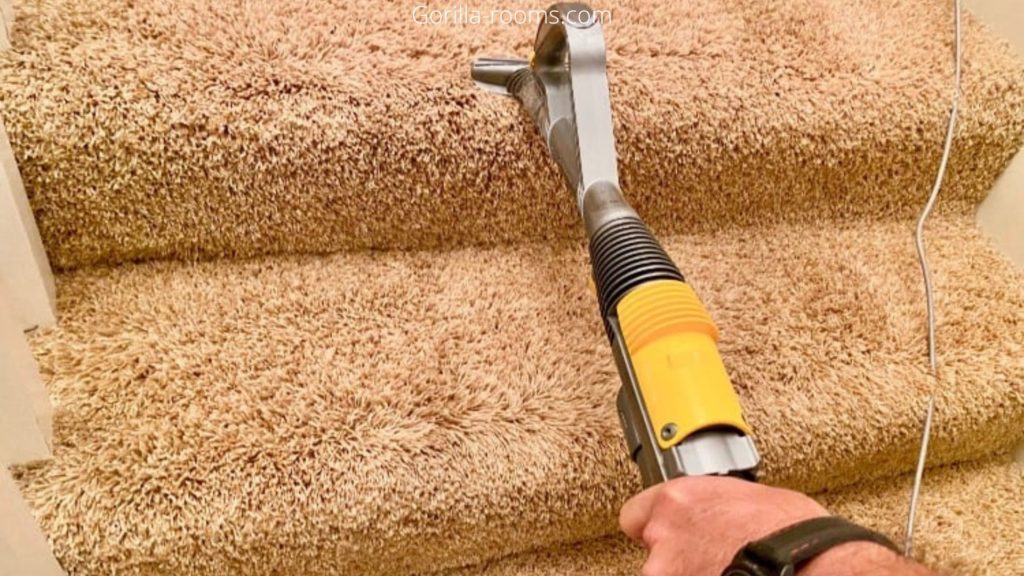 If you don't want the extra burden of deep cleaning your carpet stairs, you need to protect them from now on.
1- Clean The Spills
When you experience any spill on your carpet stair, clean it as soon as possible. You can put some tissue paper or sprinkle salt over the top of the spill. Doing this will not let the liquid be absorbed in the carpet.
If you leave the spill to dry and wash it after days, the spill may leave its stain on your carpet, which is very difficult to remove.
2- Vacuum Cleaners
Vacuum cleaners are a lifesaver when it comes to cleaning carpets. Whenever you are cleaning your carpet, you can clean your carpet stairs too. This way, it becomes a routine, and your carpet stairs are cleaned every day.
The best thing about vacuum cleaners is that they clean all types of dirt, i.e. debris, dust and gravel pieces. However, vacuum cleaners need to be the right size to clean carpet stairs.
If they are significantly big, they won't clean carpet stairs efficiently. So always buy a standard-size vacuum cleaner.
3- Steam Clean
Although it is a bit expensive cleaning method, it is very effective. Once you steam clean your carpets, you'll be shocked with the results because your carpet will look as good as new.
However, you can rent a steam cleaner from a local store, but it is not possible to clean your carpet stairs with a steam cleaner every day.
4- Use a Stiff Broom
Undoubtedly, cleaning with a stiff brush is an old method of cleaning. Though, It is not as effective as a vacuum cleaner and needs extra effort too. But it is all that people had in the past.
So, whenever a vacuum cleaner is not available or if you want to save electricity, grab a stiff broom and start cleaning your carpet stairs.
5- Use a Hand Scrub
Of course, you cannot clean the stains and spots on carpet stairs with a vacuum cleaner. So, to clean the spots and stains, you'll need to scrub your carpet stairs with a brush.
Shampooing your carpet stairs can be a good idea, but it will not work as effectively as stain removers.
All you have to do is, buy a stain remover and mix it with water. When it forms a foam, spread it on carpet stairs and scrub it with a brush. When it is washed, your carpet will feel like new.
Pro tip: vacuum your carpet while it's semi-wet to get the cleanest carpet!
6- Try a Vinyl Carpet Runner
A vinyl carpet runner not only adds beauty to your stairs but also reduces the chances of mishaps on your stairs. Vinyl carpet runners act as a barrier between the spill and carpet. It absorbs the spill and lets the carpet stay clean. A good vinyl runner will stick to your carpet and won't move.
7- Stair Treads Over The Carpet
Non-slip stair treads can prove to be a blessing when it comes to protecting your stair carpet. It not only protects the carpet from dirt but also does not let the carpet tear or wear.
It stands out among other carpet protectors because it is transparent and does not hide your carpet completely. They are available in 2 sizes, and the measurements are of typical sized stairs.
The installation of stair treads is effortless. All you have to do is grab a double-sided carpet tape for each stair tread. Stick it to the back of the stair tread; each stair tread should have at least four adhesives. Now press it on the stair so that it attaches firmly to it.
In the case of carpeted stairs, use carpet tacks. Make sure to use one tack in each corner and 3 in the centre.
8- Have a Professional Clean Your Carpet Stairs
No matter how much you take care of your carpet stairs, it would be best to still clean them once a year by some professional.
The expert you reach out to will clean the carpet with tools, i.e. steamers vacuum. The cleaning will ensure the removal of deep-seated dirt dust and prevent mould growth.
Not only that, but the lifespan of your carpet stairs will also increase, and your carpet will be left spotless.
You must know that the expert will charge you for cleaning your carpet. If you don't want to spend those extra pennies on carpet cleaners, you can try yourself.
More so, if you have some knowledge of carpet cleaning and have available tools too, you can clean your carpet by yourself, provided that you will need to put extra effort into it.
Conclusion
Your carpet stairs can need replacement soon after you buy them if you don't take care of them. But if you treat them well, they can last for months and even years.
Although, the lifespan of your carpet stairs does not wholly depend on your maintenance. The quality of the carpet that you purchase should also be good to last long.
Cleaning the spills immediately, vacuuming and mopping will keep your carpet new. A carpet runner and stair treads over your carpet can be suitable carpet protectors.
They add beauty to your stairs along with protecting your carpets. You only need to make sure that they stick well to the adhesives.
Cleaning your carpet by an expert can be a good idea. But remember that it will charge you extra money. You can do it by yourself if you have enough knowledge and tools.
I hope that the article gave you an idea of how to protect your carpet stairs from dirt and you are now able to clean and protect your precious rug.
Hi there, I'm Ahmad Dastagir. I'm a home decor expert and know how to make a house more visually appealing. In terms of materials and colors, I am best at arranging physical items and objects, as well as selecting the floor covering, wall covering, ceilings and window coverings.