It might be a troubling scenario for you to see heavy furniture sliding around across your vinyl floor and leaving terrible scratches. Especially when you're moving into a house or rearranging a room, the chances get multiplied.
PHN0cm9uZz4= Dragging and pushing furniture over vinyl flooring is a prime cause of damage to your vinyl tiles. You can protect vinyl plank flooring from heavy furniture by applying protective pads , using area rugs , or avoiding rolling chairs. 
These surefire ways will keep your vinyl flooring from wear and tear and help you maintain a luxury pixelated floor for a longer time. Why wait? Let's embark on the post.
5 Effective Ways to Protect Vinyl Plank Flooring From Heavy Furniture?
Before getting into the steps to protect your vinyl flooring from heavy furniture, you must plan your strategy regarding the flooring and furniture solution.
In case you have just moved to a new house and want to install vinyl flooring there. You can shift heavy items like the refrigerator and kitchen cabinet before installing the vinyl planks.
You must arrange the tools to shuffle the furniture to change the location or carry them out for repair in the future too. The following 5 effective steps will help you protect your vinyl tiling.
1- Use Felt Furniture Movers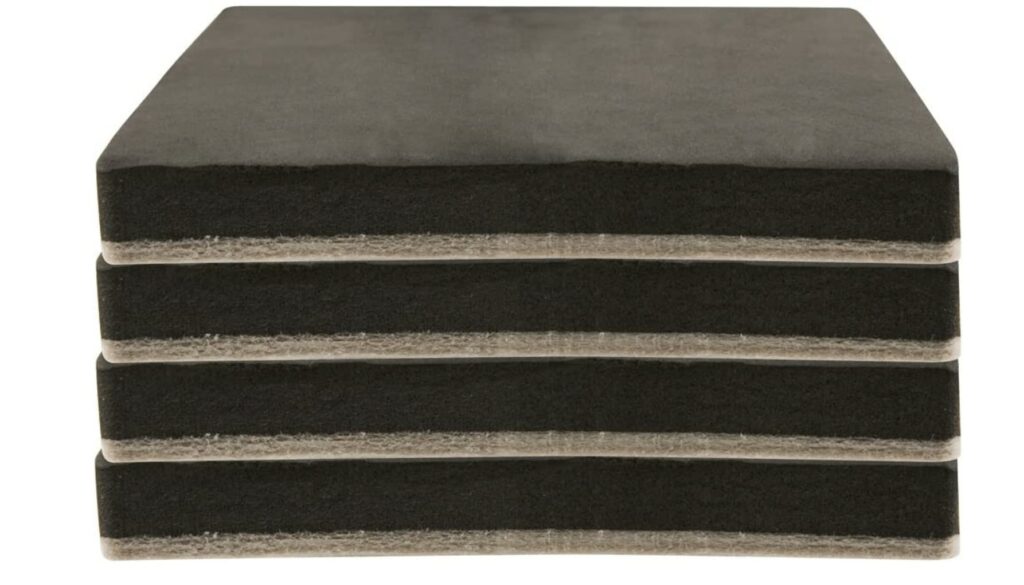 The major issue comes when you move your furniture from one place to another. You can deal with this using furniture movers to safely shift your appliance without damaging the vinyl flooring.
These furniture movers are made up of delicate fibers and wool, which gently slide over the floor carrying your heavy furniture.
2- Add a New Area Rug
Nothing can shield a vinyl floor better than a well-placed rug. Area rugs are great at protecting your vinyl floor from wear and tear. It also brings an extra dimension to your room. An area rug under the legs of your furniture will preclude scratches.
They could be a little expensive but worth enough to provide safety and extra cushioning to your vinyl flooring. Either in areas of heavy traffic or under the furniture legs, use non-slip rug pads to prevent slipping.
3- Use Heavy Duty Felt Pads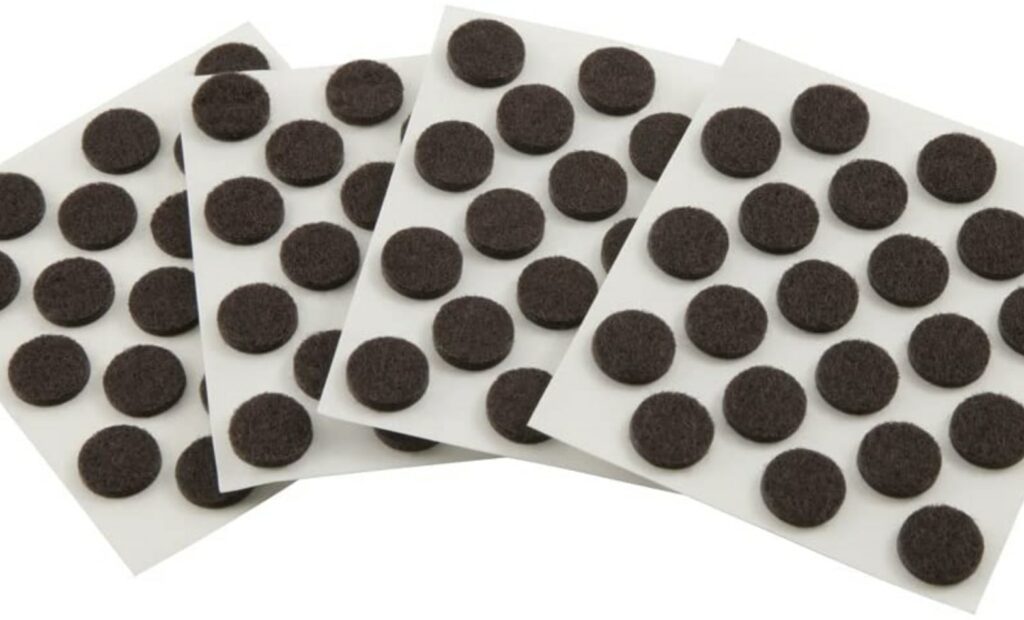 If an area rug does not fit into your home decor, use heavy-duty felt pads for the bottoms of your wooden legs. It will help your vinyl floor prevent scratching.
Using these felt pads is the easiest and most affordable way to protect your hardwood floor from the furniture. You can find these felt pads in any of your nearby stores or order on amazon to be shipped directly to your door.
These protective felt pads are less expensive and keep your flooring, stable for a long time against heavy furniture. They support heavy weight and avoid direct contact with the wooden legs with the floor surface. Ultimately, they reduce pressure from the vinyl tiles to break off the risk of wear and tear.
To use these self-adhesive pads:
Clean the chair legs to ensure they are free of dirt.
These pads come in various shapes and sizes. Cut them off to suit the furniture legs.
Unveil the protective shield and place them underneath the legs.
They are soft and quiet to make you fearless to freely move and drag the furniture on your vinyl floor. You can use these pads for all of your furniture, including chairs, stools, beds, couches, and tables. 
4- Never Drag the Naked Furniture Across the Vinyl Tiles
It is always accessible and painless dragging the furniture across the vinyl floor rather than putting in the effort to lift it. This effortless practice for you isn't a better choice for your vinyl floor at all. You may end up scratching and denting the vinyl tiles.
Call a leg-up to assist you with an appliance move and lift the furniture to the new location. It will help you avoid tearing up your vinyl flooring.
Conversely, you can use a rug under the furniture while moving, in case you don't have any helping hand at the time. The rug will work as a protective layer between the vinyl plank and the furniture leg.
5- Don't Use Rolling Chairs
If you have rolling furniture or chairs on your vinyl floors, stop using them. The constantly moving wheels under such chairs can cause dents and make cuts and scratches on vinyl tiles.
If it is necessary, put a protective rug or any other mat under the seating area to avoid being directly between the wheel and the floor. Some stoppers also come in quite handy in preventing the furniture from repeated movement.
6- Use Furniture Glides and Protectors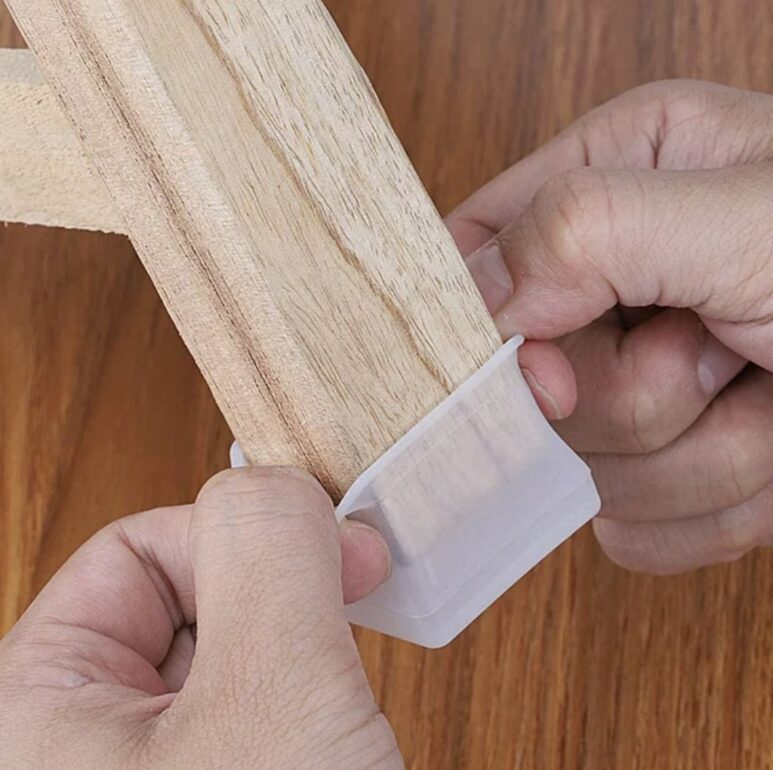 If you don't want to use furniture pads, you can rely on furniture gliders and protectors as an alternative. Furniture protectors distribute the weight of furniture evenly and provide the floor with extra cushioning.
The adhesive power of these protectors keeps them stuck to the furniture bottom and doesn't let the furniture move. Using furniture protectors, you can also perform safe movements without damaging the vinyl planks.
Generally, glides are flimsy-walled metal pins with a firm grip that works well with wooden furniture. The glide is set up by hammering its metal pin into the furniture's bottom.
Once you install and secure the grips, moving your furniture along the glides is fairly simple, and the glides are quite difficult to detach.
Final Words
Vinyl floors usually can't handle too much pressure and may get dents and scrapes upon facing heavy-weight items.
Here you get easy and affordable 5 effective ways to protect your vinyl flooring from heavy furniture for years to come. Do follow these steps before you scratch up your floors and spend much of your wallet on them. We'd love to hear which phase helped you protect your floor.
FAQs
How Much Weight Can Vinyl Plank Flooring Handle?
Ideally, it depends on the quality, plank thickness, and object weight resolution that how much weight a particular vinyl floor can handle. u003cbru003eGenerally, vinyl plank flooring can handle up to 500 pounds at a time without getting damaged. An average-quality vinyl plank can withstand 70-90 pounds per square foot. 
How Heavy Furniture Damages Vinyl Plank Flooring?
Putting heavy furniture causes physical stress on vinyl flooring, and it damages or triggers other factors to be effective. This is because, in hot climates or periods when the boards expand, heavy furniture presses against the bottom of the boards and thus hinders air dispersal.
Related Posts: