A rug under a bed gives an aesthetic look to your bedroom. It prevents your floor from staining and helps you create pathways in your bedroom and keep it warm in winter.
Sliding a rug under a heavy bed is not as easy as you think, especially if you're alone, lifting the bed might be difficult. 
But how can you make this task easy?
First, roll up the rug and place it towards the foot side of the bed. Now lift the bed and push the rolled rug under the bed. If the bed is heavy, lift one side, push the rug, and do the same step for the second side. Once the rolled rug comes under the bed, roll out the rug, and you're good to go.
Different Methods To Slide A Rug Under A Heavy Bed
There is not a single method that you can follow to put the rug under a heavy bed. If you have partner then it's easy to put rug.
But if you're alone, you can follow some creative methods for sliding a rug under a heavy bed.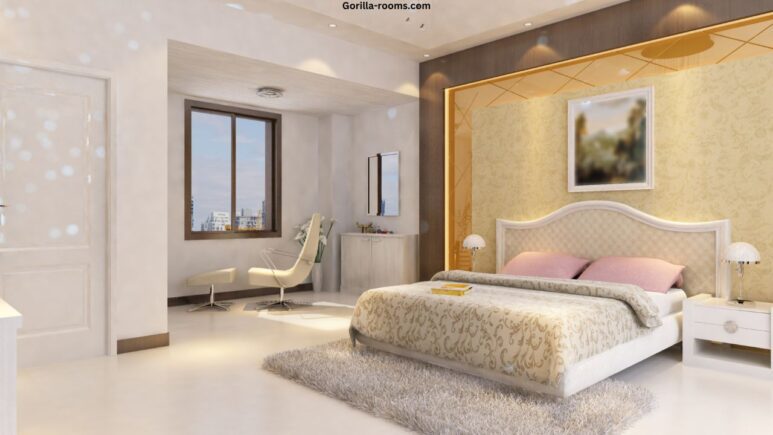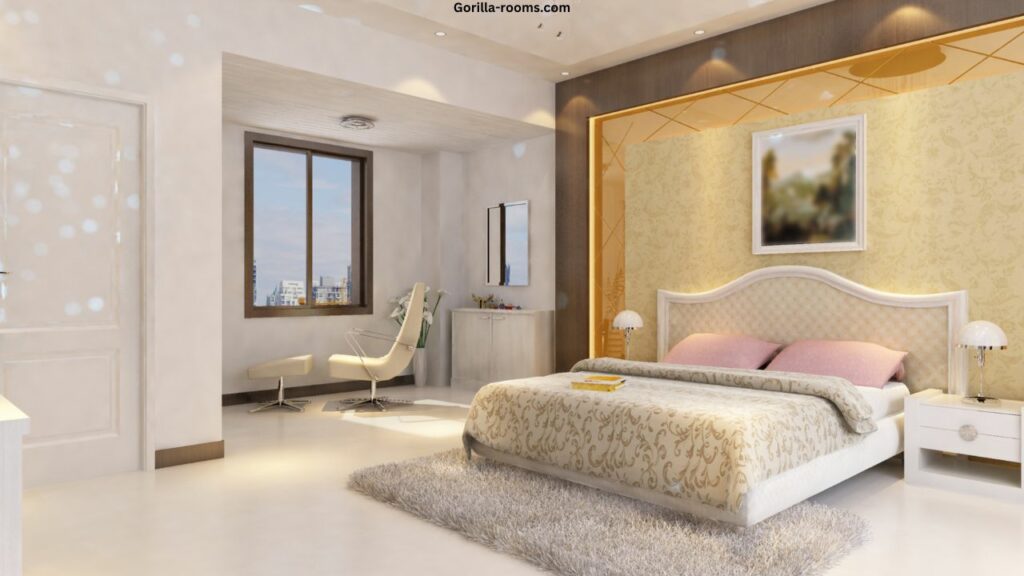 Method 1 (My Recommendation)
If you have a partner, you can easily put a rug under your bed. No matter if it's a king-size bed or a queen. 
So these are the steps to follow.
Roll up the rug.
Now put the roll under the bed.
Slightly lift the bed legs and pull out the rolled rug.
Roll out the rug and set it according to your preferences.
Method 2: Slide Rug Under Bed As a Solo Person
If you don't have a partner, the above methods are pretty difficult for you to put a rug under a heavy bed. But still, you can use your creative mind to do this task easily. 
First, you have to remove the mattress from the bed to lighten up somewhat. 
Now roll up the rug, place half the rug outside the bed, and the remaining rolled rug will go under the bed.
Now lift only one part of the bed with both hands and push the rolled rug under the bed with your foot. 
Then lift the bed from the middle and push the rug with your feet.
Lift the third corner of the bed and do the same thing. 
Once the rolled rug goes under the bed, roll it out and fix the edges, and you are good to go. 
Note: Most people place the rug under the entire bed, which looks wired. It's recommended to place it under half or a little more than half bed.
Method 3: Place Rug Under On-Ground Bed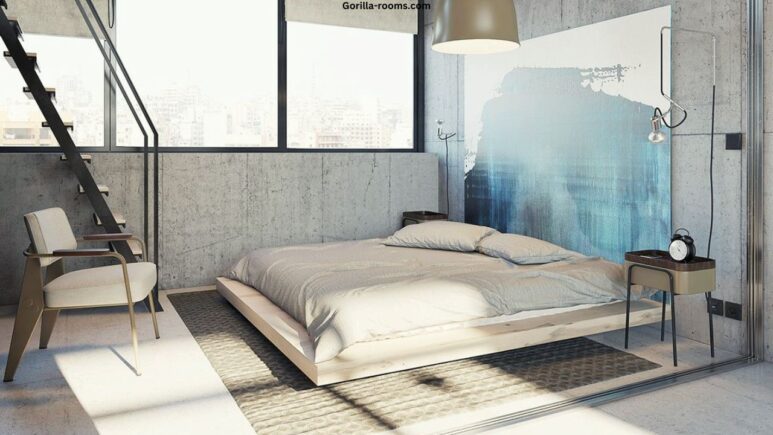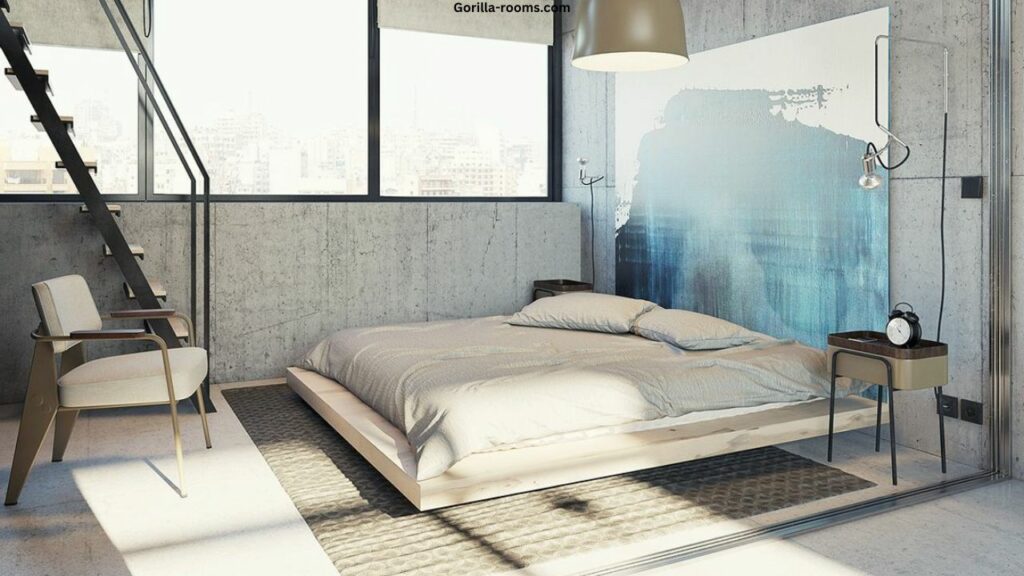 If you have an in-ground bed, then the process of placing a rug under it is simpler. The process is similar to previously mentioned methods except you have to lift heavy weight. But if you have a partner, it becomes really easy. 
The first step is to move the mattress from the bed. 
Then move the entire bed to another place; if you have a friend or partner, it is pretty easy. But if you're alone, break down the frame slightly and move the pieces. 
If you feel lifting the entire bed is difficult for you. Alternatively, you can stand it upright in its place. And then, gently slide it and place it against the wall. 
Now before placing the rug, keep the rug place clean or mop it. And then place the rug. 
Once the rug is placed, bring the bed back to its position. Slowly pull it down if it's in an upright position, and you are good to go.
Use a Bed Riser For the Safety Of the Rug
The heavy bed might damage your rug or carpet. And makes it imbalanced and leaves a permanent stain on it. So you must use a bed riser under your legs. 
The bed riser distributes the pressure on the rug, leaving no stains or damage. You can also use hard foam under your legs to maintain balance.
But only use a bed riser once you have put the rug under the bed. On Amazon, there are a lot of bed risers available. You can choose the best one that matches your bed color tune. 
Consider These Things Before Putting Rug Under Bed
Now you will be able to slide a rug under your bed. But before doing this, you must keep a few things in mind. 
Make sure the area under the bed is clean. If not, clean it with simple mopping or vacuuming because dust particles accumulate in rugs which will cause breathing problems.
Before choosing any rug, measure the bed size and then choose the rug according to bed sizing. Don't go for an extra large rug, as it can hide your floor and look weird.
If you want comfort, opt for a thick and high-quality rug. Like wool rugs are best for providing comfort and also keeping your room warm in winter.
The color of the rug also matters a lot. Pick a color that matches your room and floor color tune. I like to keep rugs simple and elegant; that's why I choose litter colors with a plain design. But you can choose patterns or bold color rugs according to your preference.
With the rug, never forget to buy a bed riser, as they will keep your rug safe from suppressed stains. 
Why Should You Use a Rug Under Bed?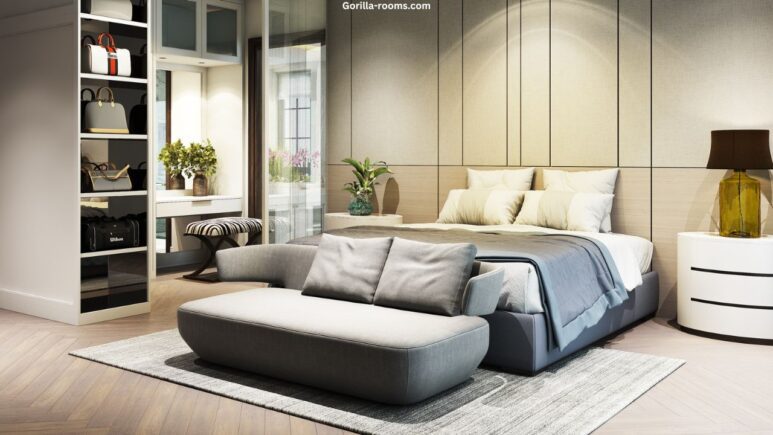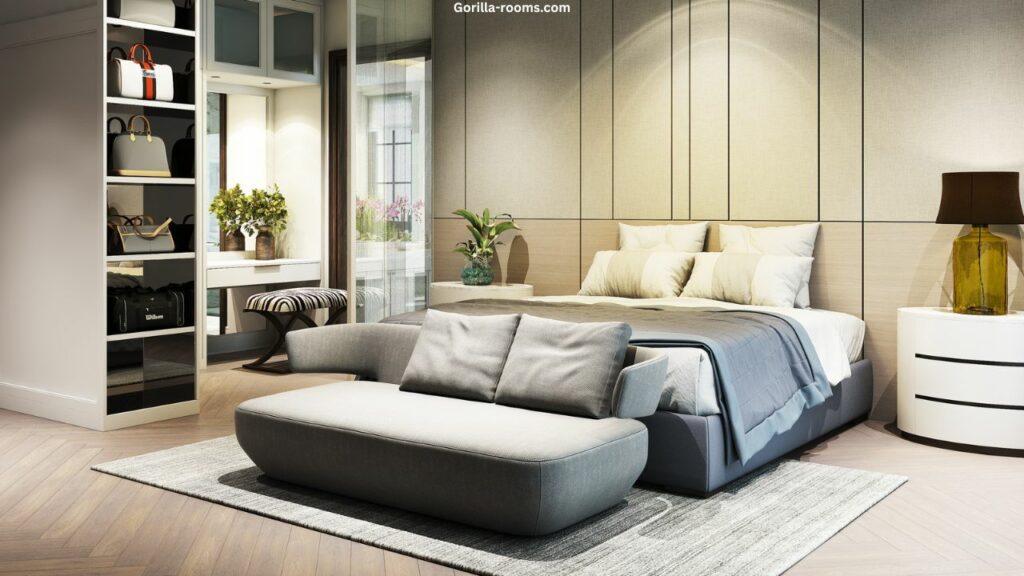 Most people used rugs beneath their beds, but why did they put rugs under the bed? So there are a few benefits of putting rugs beneath beds.
1- Protect Floors
Rugs on floors can protect them from damage, stains, and pets. Expensive floors need extra care, so you can put a rug on them for protection. 
Similarly, if your floor is damaged or has a permanent stain, you can hide that part by using a rug. It's very expensive to replace the floor so you can use a rug instead of replacing it.
2- Give an Aesthetic Look To Your Room
Rugs give a more pleasant look to your room. When you use the same color rug with the walls or furniture, it will increase the beauty of your bedroom. 
Rugs are a must-have thing if you want to make your room stylish and luxurious. You have seen in luxurious apartments where every bedroom has a rug. 
Rugs are available in different shapes and designs. Like if you're a creative person, you can choose rugs with unique patterns that will create a unique look in your bedroom. 
3- Keeps Your Room Warm 
During the holiday seasons, rugs give a big benefit. It keeps your room warm and maintains its temperature. And such an environment improves your sleep habits. 
The rugs made of wool are considered best for winter seasons, as they are thick and maintain room temperature. But wool rugs are expensive, and you must invest more to protect your kids in the winter.
4- Makes Room Breathable
Placing a rug under the bed will separate the bed area from the rest of the room. This means the bed area becomes the primary focal point. The separation between furniture and the focal point creates space and pathways. The more pathways in your bedroom, the more breathable it is. 
5- Reduce Noise
This is something that I love about rugs. Rugs are thick; that's why they absorb sound. 
If you have a hardwood floor in the room, they are noisy and disturb the room's environment, especially when you wear shoes or have kids in your home. 
So, rugs are recommended to avoid uneven noise in your bedroom and keep the environment calm. 
What Size Rug Is Best For Your Bed?
A right size rug under your bed gives a balanced and elegant look. But if the rug is too short or too big, it might look weird. So before getting a rug for your bedroom, you must know the exact size of the rug. 
Based on different bed sizes, we have mentioned rug sizes that fit your bed and look perfect.
What Rug Size Is Suitable For King Sized Bed?
Usually, the king bed comes in 76" x 80″ dimensions which are wider than the rest of other beds. So you need a larger rug that covers the whole width. The 9 x 12" rug fits perfectly under the king-size bed. If you don't get this size, you can opt for an 8′ x 10' rug. But never go for a smaller rug for a king bed; they will hide under the bed and waste your investment.
What Rug Size Is Suitable For Queen Sized Bed?
Queen-sized beds are similar to kings, except they are less wide. You can use an 8' x 10' rug for your Queen size bed. You can also put the rug vertically under the queen bed, especially if you have a 9 x 12" rug. So both of these sizes work perfectly for a Queen size bed.
What Rug Size Is Best For a Full-Sized Bed?
Full-size beds are smaller than Kind or Queen size beds. So you should choose a small rug; a 5" x 8" rug works great for full-size beds. Similarly, you can also use a rug horizontally under the bed; this way, the extra rug will be saved, and you can put a table on it.
FAQs:
Should a rug go horizontal or vertical under a bed?
It depends on your bed and rug sizes. If your rug is too small, you can place it vertically. But mostly, people place rugs horizontally under the bed; similarly, if your room is wider, than you can place the rug vertically and then put a table on it.
How much of the rug should be under the bed?
Generally, the rug under the bed should be equal on all four corners. So based on this point of view, you can place a rug under the bed. 
Why do you put a rug under a bed?
A rug under the bed makes your entire room look beautiful. It gives a soft and comfortable feel under your bed. Winder rugs maintain the temperature of your bedroom and keep it warm. Also, it saves your floors from stains and damage. 
Related Posts:
Best Rug Pads For Marble Floors
Hi there, I'm Ahmad Dastagir. I'm a home decor expert and know how to make a house more visually appealing. In terms of materials and colors, I am best at arranging physical items and objects, as well as selecting the floor covering, wall covering, ceilings and window coverings.