While painting your walls, you might be worried that freshly painted cabinets will be damaged while installing a new counter.
So yes, you should paint the walls before installing countertops. Before installing the counters, avoid painting, tiling, or wallpapering the area above the countertop.
You may have a tight space between your cabinets and countertop, but painting there isn't complex and can brighten up the entire kitchen.
In this article, we have discussed deeply how you can paint between your kitchen cabinets and countertop properly and how you can properly install your countertops.
The Best Way To Install Countertops (Tips And Recommendations)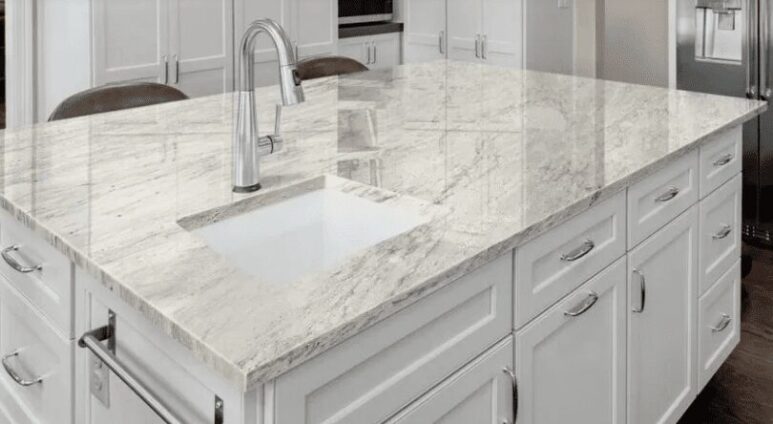 To help ensure a smooth countertop installation process, we have provided the following tips and recommendations.
1. Precautions
The installation of countertops is part of the construction process. Noise, dust, and general disruption of the room where they are being installed should be expected. 
If you are planning to live in the home during this process, plan accordingly to minimize disruptions. The majority of countertop installation projects (excluding backsplashes) will take several hours.
Keep children and pets away from the installation area for the safety of everyone involved. Also, when new cabinets or countertops are being installed, your plumber or electrician will need to disconnect and reconnect as necessary.
2. Cover Vents And Doorways
Cover open vents and doorways with plastic sheeting to minimize dust, or have your installation team take care of it for you. Cover carpets and furniture to reduce dust if the countertops are cut on-site.
Provide a clear path, both inside and outside, for the installers to move your countertops safely. You should also remove any artwork from the hallway walls.
3. Remove Things From Cabinets
Remove everything from upper and lower cabinets and all fragile items such as artwork, antiques, mirrors, and anything else of value before installation.
Floors, cabinets, and appliances are usually installed before countertops. This is true for both new construction projects.
Since countertops sit directly on cabinetry, the cabinets must be installed before all final measurements, fabrications, and installations are completed.
If a farmhouse sink or apron is used, that sink must be installed before the template is installed.
Make sure you have your sink, faucets, soap pumps, and cooktops ready for the measuring and template process. Installers need this information to make accurate cuts in your countertop.
4. Think About Backsplash (If Installed)
Verify that your countertop installer also installs backsplashes if a backsplash is being installed. Installing the backsplash may require a different contractor.
The backsplash must be installed before final measuring and installation to reach the bottom of upper cabinets, around a range hood, or to the base of a microwave.
5. Preparation
Before installing, all appliances such as ranges, refrigerators, dishwashers, and microwaves must be in place.
Once the countertops have been installed, and the final wall preparation can begin. Painting, tiling, or wallpapering areas above countertops is not recommended.
If you want to have a different countertop color on your island, you may want to consider it. Also, the seams are generally required due to slab sizes and variations in kitchen layouts. You should discuss the placement of these seams with your contractor.
How to Paint Between Kitchen Cabinets & a Countertop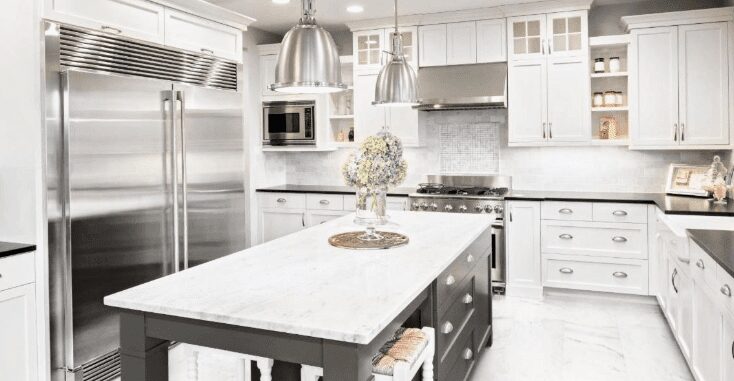 Updating and refreshing one element in your kitchen can simply and inexpensively give your cooking area a facelift. Here is the complete guide following which you can paint between kitchen cabinets and a countertop.
Choose Your Paint
It is essential to keep in mind that color is just the beginning. According to Better Homes and Gardens, titanium dioxide is more abundant in higher-end brands, which gives them better coverage.
For the wall above the countertop where food is prepared, the glossier the paint, the more durable and easy-to-clean it will be.
Prepare The Area
It is common for kitchen walls to be dirty, especially those above the stovetop or in food preparation areas. Use a degreaser or diluted trisodium phosphate-like cleaner to clean your wall thoroughly. 
Smooth the wall surface using 80-grit or 120-grit sandpaper. The area should be wiped dry with a shop cloth.
Protect Your Countertops
If you have a backsplash, be sure to cover its underside with plastic drop cloths and tape. 
The painter's tape can be applied directly into the gap between your countertop and the wall without damaging the countertop or leaving any residue behind.
Paint With Safely
The edges under the cabinets and above the countertop should be painted using a thin, angled brush and a wide, flat, putty knife. Putty knife held flat against the surface that needs to be protected. Paint along the edges of the putty knife.
The exact purpose can also be achieved with inexpensive plastic painting guides. The edges should be feathered toward the center: 
Once you get away from the edges of the countertop or underside of the cabinet, paint a thinner coat so there won't be thicker paint between the edge work and the middle of the surface when it dries.
User A Roller If Area Is Large
If the surface is large enough, you can use a small roller to apply an even coat of paint to the wall between the kitchen cabinets and countertops. 
Paint in a side-to-side motion parallel to the countertop, starting at the top and working your way down. Depending on how smooth or rough your backsplash is, choose the nap of your roller accordingly – the more uneven the surface, the thicker the nap should be.
Using a brush, use long, horizontal strokes with very light pressure to avoid visible brush strokes. Before applying a second coat, let the first coat dry completely. 
You should follow the manufacturer's advice regarding the drying times of different brands.
How to Use Oil Based Paint on Cabinets(Pro Tip)
It is also easy to clean and protects the cabinets when using oil-based paint.
As long as the painting is done correctly, the paint will also last longer and remain bright. Follow these steps to use oil-based paint on cabinets:
1. Use Sandpaper
First of all unscrew all of the cabinet handles, pulls, and decorative hardware from the back. Now using 100- or 120-grit sandpaper, lightly sand the cabinets. By doing so, the wood will be smoothed if it is unfinished, and the paint will adhere better if the cabinets have already been painted.
If the cabinets have been previously used or painted, clean them thoroughly with TSP cleaner. To ensure that the new coat of paint sticks, clean all the grease, dirt, grime, etc.
New cabinets should be wiped down with a damp cloth to remove dust or shavings. Them tape off all mouldings, trim, countertops, walls, and adjacent cabinets that you do not want to be coated.
2. Paint The Cabinets With An Oil-Based Primer
After following the above steps, you have to paint the cabinets with an oil-based primer using a natural-bristle brush. For oil-based paint to adhere correctly, the primer must be oil-based.
Also, allow the primer to dry for at least 24 hours. Primers containing oil takes longer to dry than those containing water.
Now use a natural-bristle brush to apply a coat of oil-based paint and let the first coat dry for about 24 hours.
3. Use 220-grit Sand Paper
Now, you have to use 220-grit sandpaper to remove drip marks or imperfections. Avoid damaging the paint by using a very gentle circular motion. In order to remove dust or sandpaper grit, wipe down the cabinets with a damp cloth.
4. Apply The Second Coat Of Oil-Based Paint
Using oil-based paint, apply a second coat and also the tape needs to be removed. Now allow the paint to dry completely for 24 hours. Also, keep in mind that all knobs, handles, pulls, and other hardware should be replaced.
Final Words
We hope that the above article will be valuable and helpful. After reading the article, we can expect that you should have cleared that you should not paint your walls before installing countertops.
Also, we hope that now you must be cleared about how you can paint between kitchen cabinets and a countertop. If you are using oil-based paint on the cabinets, our above pro tips can help you a lot in doing so.
Hi there, I'm Ahmad Dastagir. I'm a home decor expert and know how to make a house more visually appealing. In terms of materials and colors, I am best at arranging physical items and objects, as well as selecting the floor covering, wall covering, ceilings and window coverings.