Toilet paper dispensers can be installed anywhere in your home, and there are no restrictions or standards to follow. To decide where to put a toilet paper dispenser, you need to consider the layout of your bathroom and the needs of the individuals who will be using it regularly.
It is good to find the standard placement of a toilet paper dispenser for best results. So, where should a toilet paper dispenser is installed? To find out the best answer, read the full article below.
What is the Standard Placement of Toilet Paper Dispenser?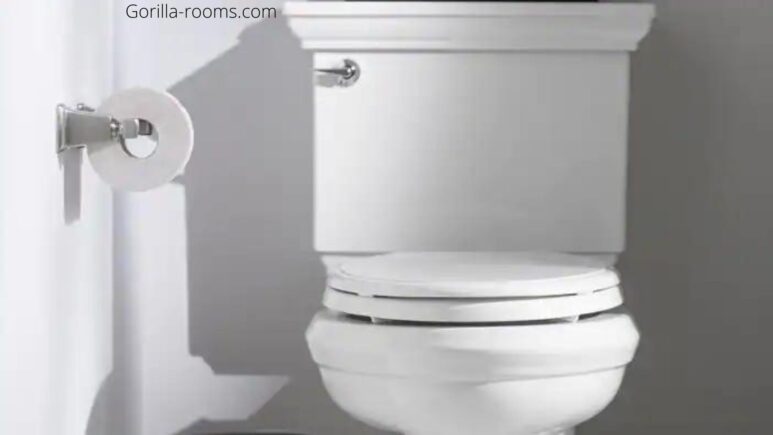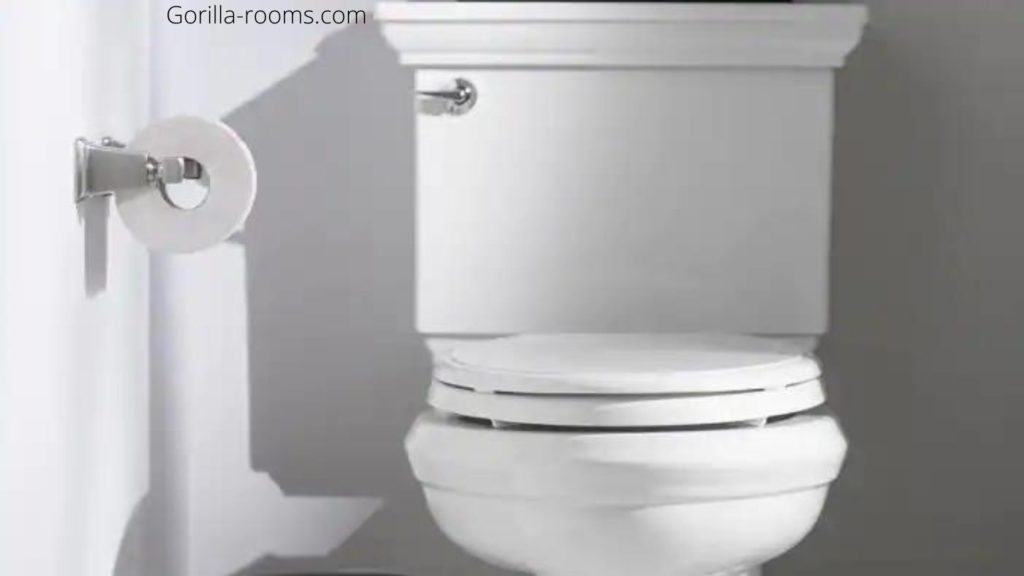 Even though the placement of a toilet paper holder may appear insignificant, the measurements must be accurate.
While seated on the toilet, every user should be able to access the toilet paper roll. Finding the best place to put a toilet paper holder isn't just about convenience but also safety and cleanliness.
You should install a toilet paper dispenser 8 to 12 inches away from your toilet for the best placement. For shorter users, such as kids, use 8 to 9 inches; on the other hand, for average to tall people, use 10 to 12 inches. However, the optimal height for a toilet paper holder is 26 inches from the floor.
There are exceptions to this rule in smaller bathrooms, where the toilet must be at least 15 inches from the wall on all sides.
Related Posts: 10 Best Bidet Converter Kits
Things to Consider For Toilet Paper Dispenser Placement
There are several factors to consider when building a bathroom and choosing where the toilet should be located. Once the toilet and vanity are in place, you can easily figure out the location of the toilet paper holder as well.
Some toilet paper holders are mounted to the wall next to the toilet, while others are placed on a movable stand. The movable stand determines the height of the toilet roll holder if the toilet is located far from a bathroom wall. In today's market, many toilet roll holders may be adjusted to fit the needs of various people using the restroom.
1- Toilet Paper Holder Height
After using the bathroom, there's nothing worse than being unable to find toilet paper. It is recommended by the National Kitchen and Bath Association that toilet paper dispensers should be placed 26 inches above the finished floor of a bathroom's toilet area, measured from the bottom to its vertical center.
If you have a standard-height toilet, which is less than 17 inches tall at the seat level, or a chair-height toilet between 17 and 19, this height is ideal.
However, you may modify this measurement according to the user's height. Americans with Disabilities Act (ADA) says that a paper towel dispenser must be at least 19 inches above the floor and no closer than 36 inches to the back wall.
As laws are closely observed in commercial settings, this is the most frequently employed distance. It's preferable to follow these ADA guidelines for those who may have a disability to make them feel more at ease.
2- Distance from Toilet
Another critical measurement for installing a tissue paper holder is to be placed eight to twelve inches in the center from the toilet to the facing wall. It is typically within reach of someone seated on the toilet and has an urgent need for toilet paper. Depending on the size of the users, this may vary slightly.
Consider the average height of your family members to optimize this measurement, such as:
For children and people with low stature: The TPD should be placed 8 to 10 inches from the bowl's front.
For taller members: Place the tissue paper dispenser 10 to 12 inches in front of the bowl.
3- Size of the Toilet Paper Holder
When it comes to the size of toilet paper holders, we may categorize them into different sizes based on the situation. If it is a public restroom, the toilet paper holder should be big, such as 12′′ * 16′′ (30*40 cm), to accommodate large rolls of toilet paper.
Remember: If the size of the tissue paper holder is too small, we may always have the issue that the paper could not be moved out smoothly, which is disappointing.
If the toilet paper holder is going to be utilized in the house, it doesn't have to be huge. In general, 20*16*6 cm is sufficient for this place. A toilet paper holder of this size can usually be used to store small rolls of toilet paper, which is enough for our everyday needs.
4- Proximity to the Vessel
Along with placing the toilet paper dispenser at a convenient height, you must ensure it is located adjacent to the toilet. If there is no wall near the toilet for fixed support, people should think about buying mobile support. They can leave it near the bathroom, where they can use it. As with the permanent support, the movable support must maintain a toilet paper height of 41–44 cm off the floor.
Types of Toilet Paper Dispenser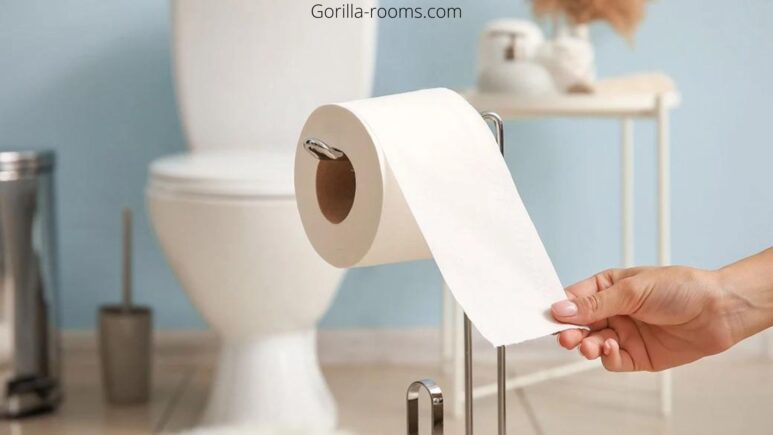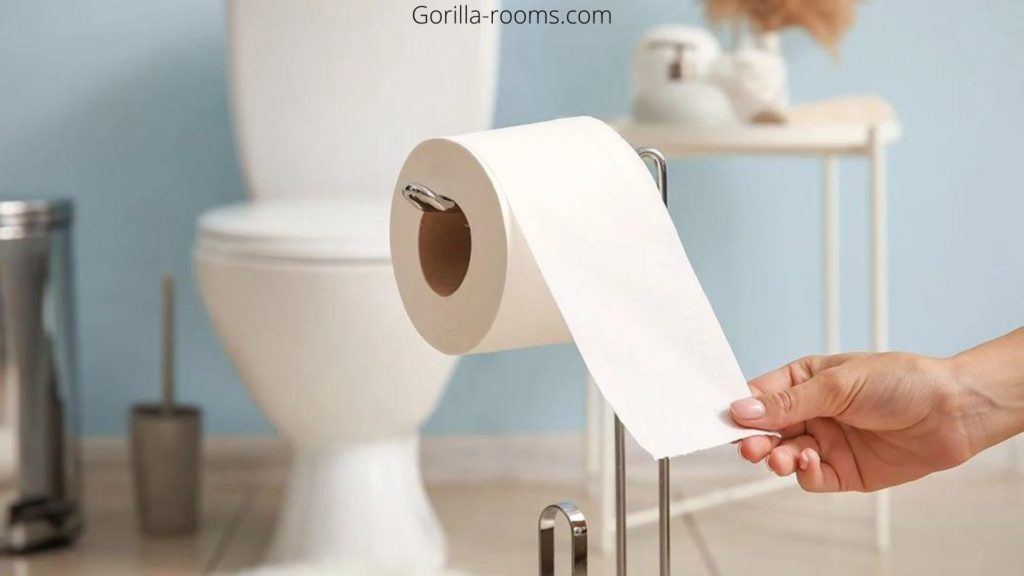 There are several types of toilet paper dispensers available in the market, so how do you know which one is best for you? This article will provide you with an overview of the various types of toilet paper holders to figure out which one is right for you.
Toilet tissue dispensers are available in three different styles: recessed, partition mounted, and surface mounted.
1- Recessed Toilet Paper Dispensers
If you have a small bathroom, a recessed toilet paper dispenser is the best option. They are small and must be placed during construction or remodeling.
2- Partition Mounted Toilet Paper Dispensers
Partition mounted toilet paper holder is another great option when space is an issue. It dispenses both toilet paper and disposable toilet seat covers. Located between the two toilet stalls, it serves both functions simultaneously.
3- Surface Mounted Toilet Paper Dispensers
Surface-mounted toilet paper dispensers are ideal for bathrooms with plenty of space. You can also hang them on the wall directly.
How to Install Toilet Paper Dispenser?
There are four techniques for placing toilet paper holders in the bathroom. These are:
1- Suction Cup
The most popular method of installing a toilet paper holder is a suction cup. However, we must utilize a high-quality suction cup to prevent the toilet paper holder from falling and damaging. Simultaneously, you may end up wasting more paper than you intended.
2- Hook
Next, we may utilize the hook to place a toilet paper holder on the wall firmly. However, the quality of the hook must be excellent.
3- Nail
It is the most secure method of installing the toilet paper holder on the wall.
4- Glue
Fixing the paper holder with glue is the quickest and easiest method. We may use the adhesive to secure the holder to the wall.
On Which Side of the Toilet Should the Paper Holder Be?
There is no strict rule about where a toilet paper holder should be placed in a bathroom or even which side of the toilet it should be on. The location has no influence on anyone's health (except for those who are disabled and require assistance); it's usually just a matter of space and comfort for the whole family.
Where to Place Toilet Paper Dispenser in a Small Bathroom?
If you have a tiny bathroom, you may not have many options for where to put your toilet paper holder.
However, you have some options to pick from, including wall-mounted and free-standing toilet paper holders so that you can choose one appropriate for you.
1- Mounting Options
The most common type of toilet paper holder is a wall-mounted toilet paper holder. Depending on your bathroom's style, you screw the toilet paper holder to the side of your bathroom cabinet or, in certain situations, the wall or bathtub.
2- Free-standing Options
There are numerous alternatives to a stationary toilet paper holder, such as a stainless steel toilet paper holder stand and dispenser. Because it doesn't take up a lot of space and can hold more than one roll of tissue, that's why it is the ideal option. It's perfect for placing in the corner of the bathroom.
A floor stand may not be ideal in some tiny bathrooms due to a lack of floor space. Decorative baskets that sit on the back of your toilet are another choice.
Final Thoughts
The toilet paper dispenser should be placed at the appropriate height and be conveniently accessible for optimal use. It's an essential aspect of the bathroom, enhancing the well-being and comfort of everyone who uses it.
The standard placement to mount your toiler paper holder on a wall is 8 inches to 12 inches from your toilet bowl. However, this can be adjusted depending on the height of the users and their level of comfort.
Hopefully, you found this article informative and helpful in finding the best location for installing a toilet paper dispenser. Please feel free to leave any recommendations or questions in the comments section below.
Thank you for reading!
Frequently Asked Questions (FAQs)
How to select the best toilet paper dispenser for your bathroom?
Before selecting any toilet paper holder for your washroom, it is necessary to evaluate the holder's material. Stainless steel and plastic are the best materials for a tissue paper dispenser. Because it will be installed in your bathroom, the holder must be made of water-resistant material to prevent it from being damaged.
What are the alternative ways to place a toilet paper dispenser in the bathroom?
In the bathroom, there are many different ways that toilet paper can be made accessible and easy to use. It can be arranged on a stand, in a basket next to the toilet, along the wall next to the toilet, or with the vanity close to the bathroom.
How do you remove a self adhesive toilet paper holder?
To remove the toilet paper holder, use a hair dryer or heat gun which loosen the adhesive holding the toilet paper holder in place and then remove it from its mounting on the wall. Once the ceramic and glue are heated, tap the handle of a putty knife until the blade glides easily behind the posts.
Precautions should be taken because this can occasionally cause damage to the surface on which it is adhering.
What can be used in place of toilet paper?
Rather than using toilet paper, try one of the following options:
Baby wipes
Napkins and tissues
Reusable cloth
Sanitary pads
Towels and sponge
Hi there, I'm Ahmad Dastagir. I'm a home decor expert and know how to make a house more visually appealing. In terms of materials and colors, I am best at arranging physical items and objects, as well as selecting the floor covering, wall covering, ceilings and window coverings.