Mold under laminate flooring can be dangerous for the floor and is unfriendly to your health.
Mold under your floors is hazardous for your house and your health. Be it under a hardwood floor or a laminate floor.
Many houses have laminated floors, and it's easy to find mold under them. If it's there, you can be in trouble. But don't worry; we have got your back. Here are some signs of mold. You can quickly identify if there is mold under your floors or not.
Signs Of Mold Under Laminate Flooring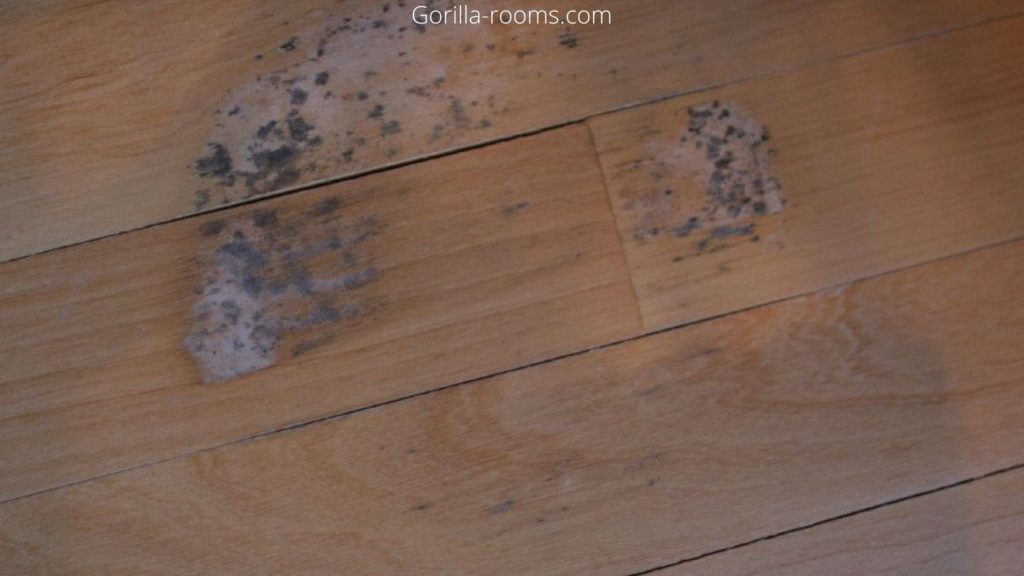 Some measures show whether the floor is infected by mold. Here are some signs which indicate the presence of mold.
Musty Smell
To get to know about signs of mold under your laminate flooring, firstly, you need to check if there is any musty or earthy smell coming from the corner of your floor.
Fungus Area
Another sign of mold under your laminate flooring is that you can see green fungi spots with a strong earthy smell.
Water Leaking
If water is leaking for some part of your floor, it might be because of mold growth under it. The leaking water is a sign of mold.
Water leaking is a sign of mold as mold grows because of water, and for this cause, there must be water leaking from the area where there is mold.
Cracking
If there are cracks under your laminate floors, it's a vital sign that it has been affected by mold and needs to be cleaned as soon as possible.
Ways To Get Rid Of Mold Under Laminate Flooring
If you have identified and found mold under your laminating, here are some ways you can get rid of mold and make your flooring clean and clear again.
1- Cleaning The Affected Area
Firstly, you need to vacuum or broom the affected area where mold is under the laminate floor. Remove all the dust & dirt and clean the whole affected area.
2- Using Detergent And Water Solution.
To do so, follow the steps below.
Pour a detergent cup into a gallon of water and mix it to make a solution.

Then apply this to affected areas and scrub to remove the mold.

After cleansing, clean the water and all the mold mess.
3- Using Rubbing Alcohol and Vinegar
Mix the equal amount of water and white vinegar, rub Alcohol into a bucket, and scrub the affected part with the help of a brush. Rubbing Alcohol is a good enemy of mold; hence, it helps eliminate it. Scrub the area well and clean it with a cloth.
4- Remove The Laminate Flooring
If you see small patches of mold everywhere on the floor, it's better to remove the whole of it instead of removing a part of it. Because removing a portion of lamination when mold is everywhere can regrow and cause a mess.
You can start removing from the corner of the lamination to remove the center and other side corners. This way, it won't be challenging to remove.
5- Treat With Borax
Borax is one of the best things to remove mold from your floors. It can be used for many types of floors. To use borax, you need to make a solution of borax.
Mix a cup of borax into a gallon of water and transfer it to a spray bottle. Spray the solution to the affected part and clean it with clear water. Make sure to dry it with a soft cloth or paper towel.
Prevention And Causes Of Mold Under Type Laminate Flooring.
The growth of mold can be because of any reason. Once mold has grown, it can be easily removed. But, prevention is always better than cure.
Causes
Mold is caused by too much moisture. If your floors are moist or wet, this might be a reason for the mold. Roaming around with wet feet, letting your pets pee on the floors, or spilling water or other liquid can cause mold growth.
Another cause of mold is when there is no proper cleaning of floors. When you mop your feet, you need to clean them again with a dry cloth; in other words, you need to dry clean your floor.
Prevention of Mold
You can prevent mold by cleaning the floor with floor cleaning liquid daily. However, make sure to dry it, or it may mold growth.
You can stop letting pets pee on floors, spilling water or other liquids, and running with feet on the floor. You can also use a protective sheet to ensure water doesn't enter your floor or under your laminate flooring.
Can I kill The Black Mold Under My Laminate Flooring Myself?
Yes, you can. You can easily use the tricks and tips mentioned above to clean and kill mold under laminate flooring on concrete. Using borax, vinegar, and other solutions is easy, and you can use them yourself to kill mold.
Conclusion
Mold is a threatening problem to your floors and your health. It can lead to severe problems. If you didn't prevent mold or didn't take early precautions, it can lead to worse situations.
All the techniques and tricks are mentioned on what causes mold, its prevention, and getting rid of it. Remember that mold prevention is better and cheaper than it's a cure, so read the signs of mold above, and if there are any in your house, do something quick.