Luxury vinyl floors are easy to clean; simple mopping on them will make them shiny. There are a lot of methods to clean Luxury Vinyl floors, but most people ask whether they can use Swiffer WetJet on Luxury Vinyl Floors.
So, you can use Swiffer WetJet on a luxury vinyl floor, and it's safe and effective for cleaning dirt from LVF. I have been using a Swiffer WetJet for 2 years, and it didn't cause any damage to the floor. But on stubborn stains, Swiffer Wetjet doesn't work efficiently.
In this article, I will share some of whether you should use a Swiffer WetJet for a luxury vinyl floor and how to use it effectively for stain cleaning. So keep on reading.
Can I Use a Swiffer WetJet On Luxury Vinyl Floors?
There is no issue in using Swiffer WetJet on luxury vinyl flooring. The Swiffer Wetjet comes with a soft pad which is non-abrasive and effectively cleans dust from Luxury vinyl floors.
The best part about Swiffer WetJet mops is they are really easy to use. Just grab the handle of a Swiffer WetJet and start mopping on LVF. It takes me 5 minutes to properly clean the vinyl floor and make it shine.
But is Swiffer WetJet effective for removing stubborn stains from luxury vinyl floors?
You can't remove stubborn stains from your LVF using dry pads of WetJet. For this purpose, you must use wet pads with Swiffer WetJet.
The good thing is you can also refill the tank of Swiffer with any other detergent or stain removal, but make sure that the detergent is safe for the vinyl floor.
How Swiffer WetJet Works On Vinyl Floors?
Swiffer offers many cleaning options, and it's one of the leading brands in the cleaning industry. The Swiffer WetJet is an all-in-one mopping system with two nozzles and a pad for mopping.
The Wetjet includes a quick dry solution that ejects from nozzles on the floor, and the pads help absorb the solution and clean the floor.
This mopping system is better than manual mopping because manual mopping requires a lot of force and scrubbing. But in the case of Wetjet, it works smoothly on luxury vinyl floors, and the thick pads absorb moisture efficiently.
Swiffer also offers other cleaning solutions that you can use in Wetjet to remove harsh stains. So you can refill the bottle of Wetjet with your desired detergent. But before trying a new detergent, test it on a small surface.
How To Clean Luxury Vinyl Flooring With Swiffer WetJet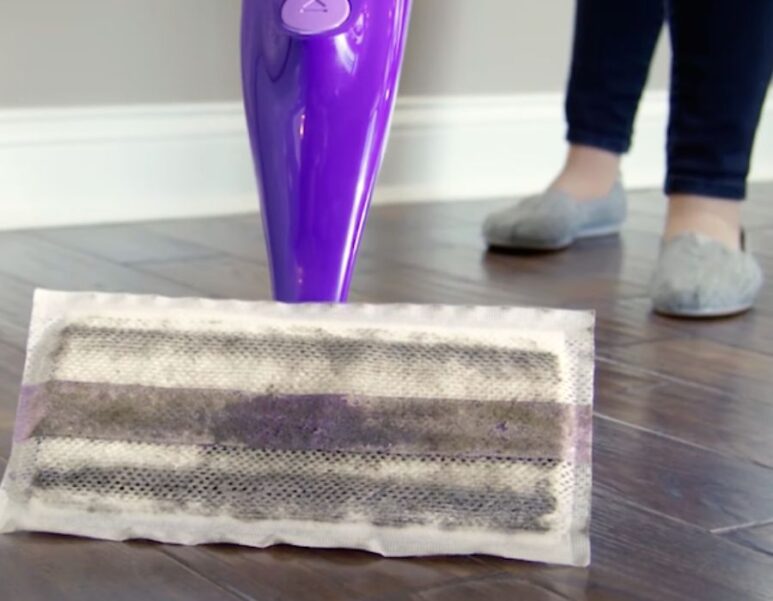 First, shake the blue bottle of cleaner thoroughly, then remove the cap.

After that, squeeze cleaner into the back of the WetJet reservoir.

Replace the cap on the blue bottle and shake until mixed thoroughly.

Activate WetJet by pressing firmly on top of the black button; make sure clean water is filling up in the solution tank first before squirting onto the floor to avoid overflowing.;

Spray back and forth over the floor until the area is saturated, then wait 60 seconds.

Using a clean white Swiffer cloth, mop the area until spotless and repeat steps 1-4 for the next flooring section.
Precautions To Use Swiffer WetJet On Luxury Vinyl Flooring
Vinyl floors are sensitive to moisture, so make sure the product is not left on for too long.

Ensure the floor is completely dry after cleaning before letting children or pets play on the floor.

Do not use abrasive cleaners that may scratch the surface of your vinyl floors, including Swiffer Sweeper wet cloths.

After using the Sweeper, always mop up excess liquid with a dry cloth or paper towel.

Swiffer wet jet also can be used on vinyl flooring as long as the surface is sealed.
Best Swiffer For Spot-Cleaning On Luxury Vinyl Floor
It's easy for kids or pets to leave a mess on your floor. For quick clean-ups, use Swiffer Wet Pads on luxury vinyl flooring. The thick, comfortable handles will help you scrub away tough grime from your floors.
Swiffer heavy duty Pads come in a variety of scents and sizes. The multi-surface cleaners work on tile, hardwood, and vinyl flooring. One pad can tackle multiple surfaces for less waste and cost, saving you time and money.
Throw it away once the pad is dirty and attach a new one. Be sure to grab two, so you can keep one in your cleaning station and another in the closet.
You can also use these pads to clean pets' hairs from vinyl floors.
Best Swiffer for Thorough-Cleaning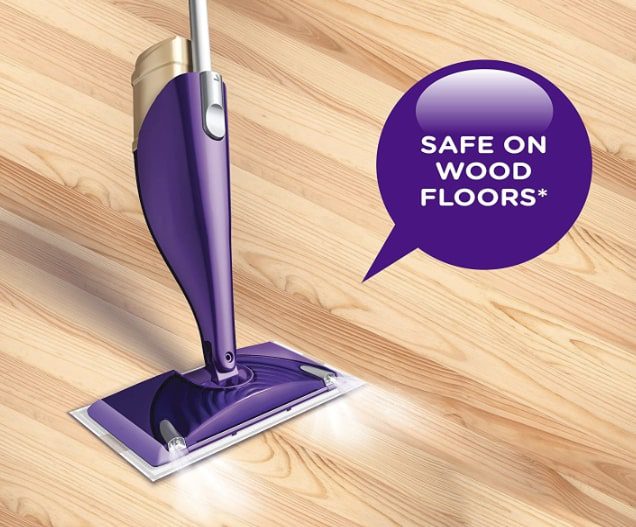 The best Swiffer for comprehensive cleaning is Swiffer WetJet Starter Kit. This item is usually available with six additional pads for a thorough cleaning, and this item will help remove thick messes and dried stains.
This Swiffer WetJet Starter Kit is also the best because this item is very easy to use. All you need to do is mix the provided solution with water and then mop your floor, and there's no towel or bucket required for this kind of product.
With the broad triangle-shaped head of the Swiffer WetJet Starter Kit, cleaning under furniture will become a breeze, and it is also ideal for cleaning tiles, vinyl, and smooth surfaces.
This product will also provide you with
Pros And Cons Of Swiffer WetJet For Luxury Vinyl Floor?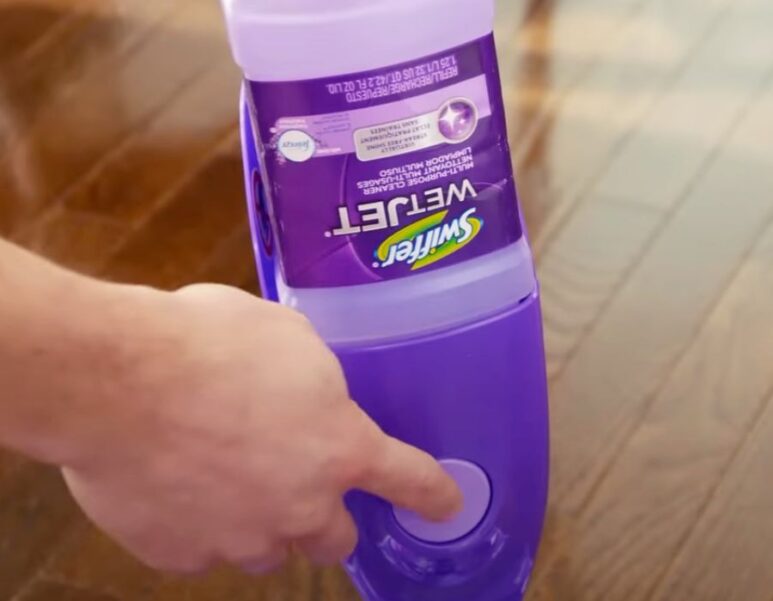 Every cleaning product has some negative and positive aspects. Similarly, Swiffer WetJet also comes with some drawbacks.
So before getting a Swiffer WetJet for your Luxury Vinyl floor, check its pros and cons.
Pros
Very easy to mop
Affordable price
Lightweight design
Disposable pads absorb water
Two nozzles to spray water
Say goodbye to filling heavy buckets
Long handle that prevents back pain
Cons
No residue build-up
You can't use the desire cleaning solution unless you have a separate sprayer
Expensive, with multiple parts 
Pads become dirty too quickly, and for the larger area you have to change them frequently
Alternative To Using Swiffer WeetJet On Vinyl Plank
Although Wetjet is the best mopping system for a luxury vinyl floor, it doesn't seem effective for removing stubborn stains. Also, with WestJet, you can't use your desired cleaning solution unless you have a separate sprayer.
So you can try different cleaning options for your vinyl flooring that make it shiny and remove stains.
Here are some of the best alternatives of Swiffer Wetjet that you can try on a luxury vinyl floor.
1- SAMSUNG Jetboat Mop
If you have a smart home, you should try this smart mop. With Samsung Jetboat, you don't need to worry about mopping; with just a one-button click, this smart gadget will mop your entire floor.
The best part is you can refill this with your desired solution, and the dual-spin technology efficiently cleans the floor.
SAMSUNG Jetbot Mop, Cordless Robot Floor Cleaner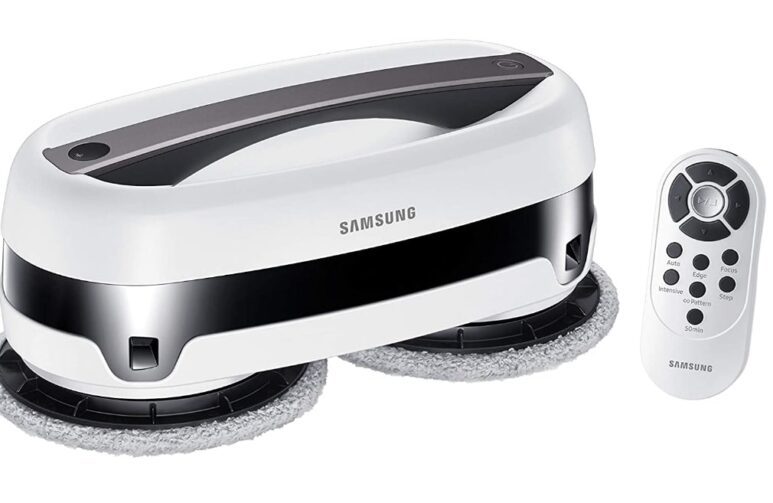 SIMPLICITY IN ACTION
DUAL SPIN TECHNOLOGY
AUTOMATIC WATER DISPENSER
SMART SYSTEM SENSOR:
SUPERIOR EDGE COVERAGE
LONG LASTING BATTERY LIFE
2- Aunt Fannie's Floor Cleaner Vinegar
Nothing is better than manual mopping; if you're young and like mopping your home, you should try manual cleaning.
You can use Aunt Fannie's Floor Cleaner Vinegar for manual cleaning, dilute this cleaner in water, and mop it with any microfiber cloth.
This cleaner will clean your luxury vinyl floor and spread a pleasant mist in your home.
Manual cleaning is also best for removing stains and making your floor shiny.
Aunt Fannie's Floor Cleaner Vinegar Wash Title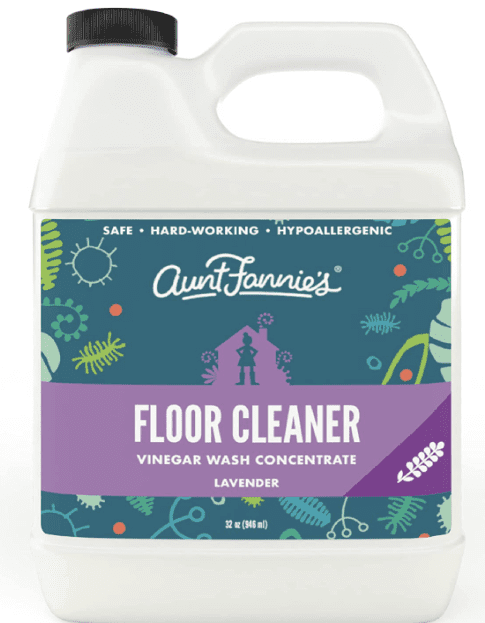 Sub Title
People-friendly
Pet-friendly
EWG Rated
Excellent fragnance
3- Hoover FloorMate Deluxe
This is another best alternative to Swiffer Wetjet. Hoover FloorMate Deluxe comes with many mopping modes and a powerful suction ability that absorbs a lot of water and dries the floor quickly.
Hoover FloorMate Deluxe Hard Floor Cleaner MachineTitle

Sub Title
Words well on hardwood floor
Dual tank technology
Wash dry mode
Fingertip control
Light weight
Wrap Up
You can use Swiffer WetJet on luxury vinyl floors; it saves and immediately cleans your floor. With WetJet, mopping is very simple and easy. Say goodbye to filling a bucket and manual mopping.
But for stain cleaning, Swiffer WetJet is not a recommended option.
I hope you're now clear about suing WetJet on luxury vinyl flooring. You can ask me in the comment section if you still have questions.
Related Posts: