Are you annoyed by continuously fixing your cover just after leaving your couch? I know it's frustrating to keep your couch cover in place continuously.
Instead of becoming annoyed, why don't you think of a solution? You can use pins or slipcover straps to provide a strong grip on couch covers and prevent them from sliding.
There are a lot of ways that you can follow to make couch covers firm and keep them in place. In this article, I will share some simple DIYs to keep couch covers in place. So let's get started!
12 Tips To Keep Couch Cover In Place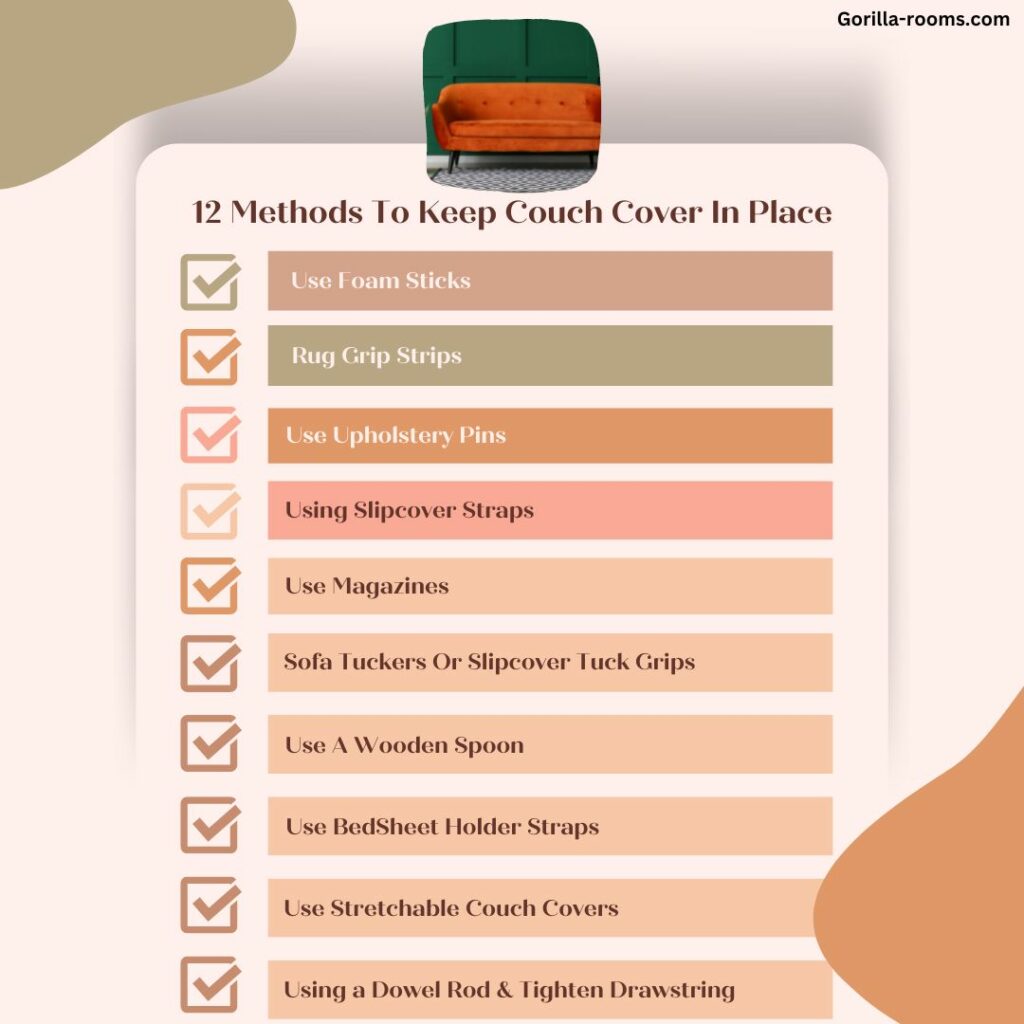 Couch coverings allow you to entirely transform the look of your furniture without having to spend a lot of money on refinishing.
While they can surprisingly change the look of your sofa or couch, they came with the significant drawback; their loose fabric tends to slide all over a sofa, shifting whenever someone sits or stands up.
Most people want to know how to keep couch cover in place; that's the reason we've compiled some mind-blowing tricks to help you out in dealing with this problem.
Let's have a look at it!
1- Use Foam Sticks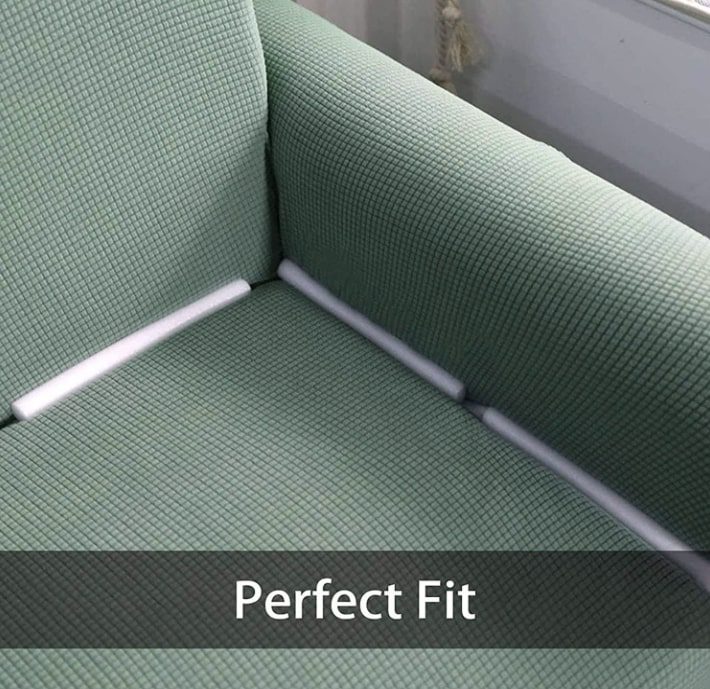 Foam inserts can be the best way to overcome the cover slipping problem. Some sofa covers have foam inserts that you place in the gap between the sofa's arm or back and the seating cushion.
Push the form insert firmly into the opening, and the cover will hold in place pretty well. But if your's haven't come with the foam insert, you can buy one from the store, and you are good to go.
2- Rug Grip Strips
Keeping the couch cover in place is challenging, especially on a leather couch. You can use rug grip strips if you are one with a leather couch and struggle to fix the couch cover issue.
These rug strips have very strong holding power, and mostly people use them under rugs to keep them in place. But you can also use these strips under sofa covers.
Just place rug strips under the couch covers and on the sides of the sofa, and they will firmly hold the couch cover. Install 5 to 6 rug strips on the small couch for maximum traction and firm grip. But it might vary based on your couch cover and the couch size.
Once you have installed the rug strips under the couch cover, you don't have to worry about the sliding of covers, even if you have pets or kids around you.
3- Use Upholstery Pins
Upholstery pins force the sofa cover to be in place, yet they can be a decorative addition to your cover. Putting them at the side of the sofa will not only keep the sofa cover from slipping or rolling but also add stylish vibes to it.
For this, You have to pull and stretch the cover for perfect fit and pin it up with the upholstery pins. Aside from this, they're great for bed skirts or any other saggy upholstery that needs to fit correctly and remain put.
4- Using Slipcover Straps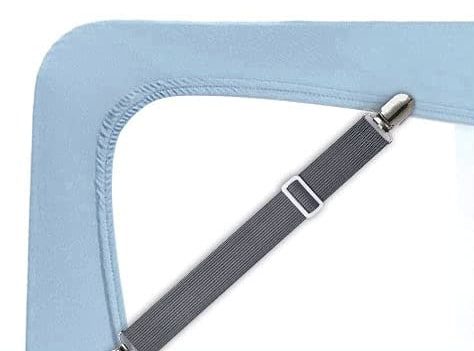 The straps are generally elasticated and flexible, and they keep the seat covers in place at the backrest and underneath the couch.
The straps holds the couch covers firmly so couch covers will never move. The safe cover straps are made of electric material, so you can easily adjust the couch covers according to your preferences.
Specially, these sofa cover straps help you a lot if you have pets and kits sitting around you on the couch.
5- Use Magazines
Couch covers can be held in place using anything that you can twist into a tube, such as newspaper or a rubber non-adhesive shelves liner.
Simply roll them and tie them into a tube using a rubber band or tap. Now press the magazines in between the empty space and adjust the fabric in shape.
Don't use old magazines or newspapers as they can leave ink and stain your couch covers.
6- Sofa Tuckers Or Slipcover Tuck Grips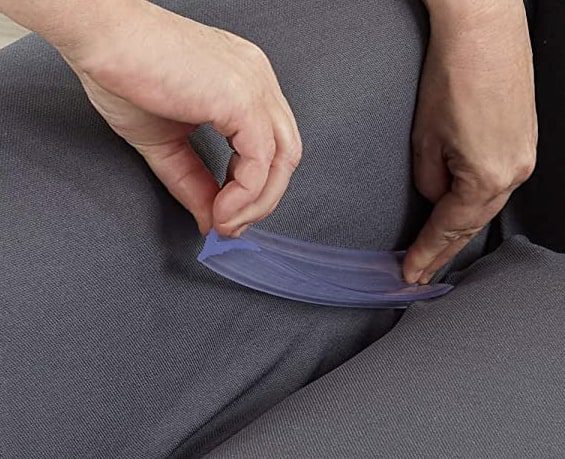 The slipcover strips, also known as sofa tuckers, work the same way as the foam inserts but are constructed of PVC. The slipcover tuckers come in various shapes and sizes, and you can buy the one that best fits you in a set.
Furthermore, they make it simple to keep couch covers and bed sheets in place and prevent them from sliding. This eliminates the untidiness of loose folds and creases on the chairs.
7- Use A Wooden Spoon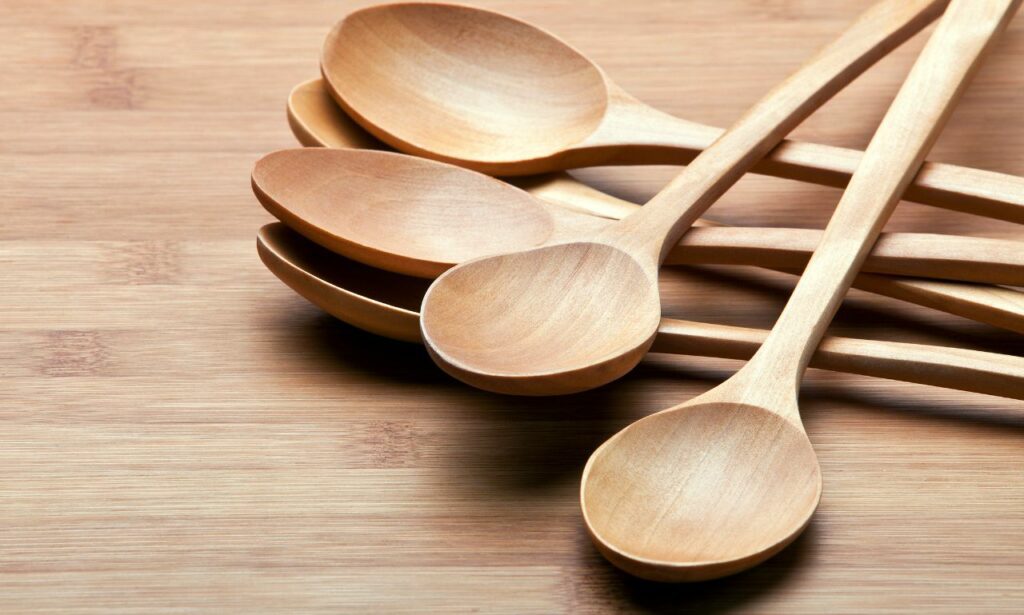 This is another effective DIY to keep the couch cover in place. First, align and fit the sofa cover by pushing excessive fabric at the back and arms. Now with the help of a wooden spoon, press the bunched fabric as deeply as you can.
Make sure to choose the back of the wooden spoon because it won't pull out the couch cover once you get it out.
Note: Before using a wooden spoon, make sure the couch cover fits perfectly; use your hands to push the edges into the creases, and then use a wooden spoon further push excessive fabric. In this way, the couch covers fit perfectly and wouldn't slip.
8- Use BedSheet Holder Straps
You can also use bedsheet holder straps to prevent couch covers from slipping, popping off, or bunching up at night.
You need four bedsheet holder straps for four corners. The bedsheet holder straps will only work if your couch has removable cushions. Otherwise, you can use foam sticks to hold couch covers.
9- Use Stretchable Couch Covers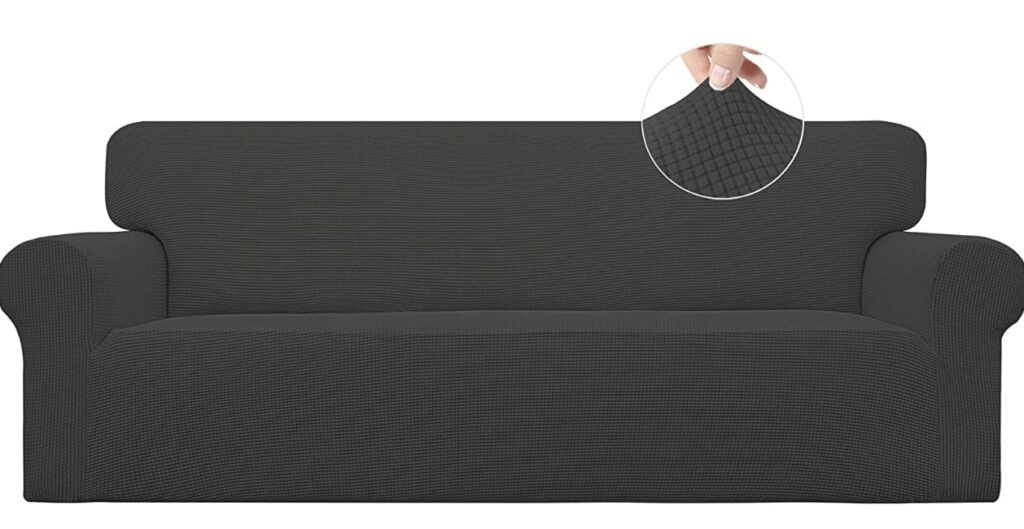 Instead of using simple fabric couch covers, use stretchable couch covers. These covers stay in place as compared to fabric covers. The more you tighten stretchable couch covers, the more they stay in place.
Stretchable couch covers are also easy to install, and some types are too soft and comfortable. To install stretchable couch covers firmly, push them into your arm and back as much as you. A few couch covers come with non-slip rods that provide extra traction against your weight.
10- Using a Dowel Rod
To drag down the tucked material and prevent slippage, you can also insert a dowel rod into the crack where the slipcover is tucked into the back of the row of couch cushions, pulling it down, so it is hidden from view. This one can be a simple trick to keep couch cover from slipping.
Related Posts: Best Couch Cushion Support For Sofa
12- Tighten Drawstring
Few couch covers come with drawstrings, and these types easily fit on your couch. Tightening the drawing string around the base will give good support to the cover and will never slide or keep it out of place.
If you're a DIY person, you can install drawstrings in your couch covers. Only you need an elastic string and some sewing skills. You ask any nearby tailor to install drawstrings in your covers.
12- Staple Gun
Last but not least, you can try a Staple gun; this is the more powerful solution for your couch covers that don't stay in place. First, fix the couch cover on the couch and staple one of the covers to the other one; you can also place a soft surface below the cover to prevent damage.
FAQ's
Conclusion
We've disclosed the best ways for keeping the couch cover in place in this article and answered frequently asked questions that can help you deal with the cover slippage.
We strive to give the best option for you at all times, so we did in this article. Follow the tricks shown above to keep your sofa cover in place. Stay connected with us to learn more about sofa covering!
Related Posts: