Are you annoyed by continuously fixing and straightening your cover just after leaving your couch? We understand how irritating it can be to do it again and again.
Instead of becoming annoyed, why don't we think of a solution? With this article, we'll unveil the best ways to cope with the problem of slippery couch covers. 
Couch covers are an inexpensive and effective method to refresh worn-out couches or protect them from stains, grime, and pet hair. However, the cover can slide or roll around, making the sofa, sofa, or armrest look scruffy.
You can follow the Simple DIYs we've listed in this article to deal with the scenario. Let's talk about these tricks and tips without further delay.
Related Posts!
Amazing Tricks To Keep Couch Cover In Place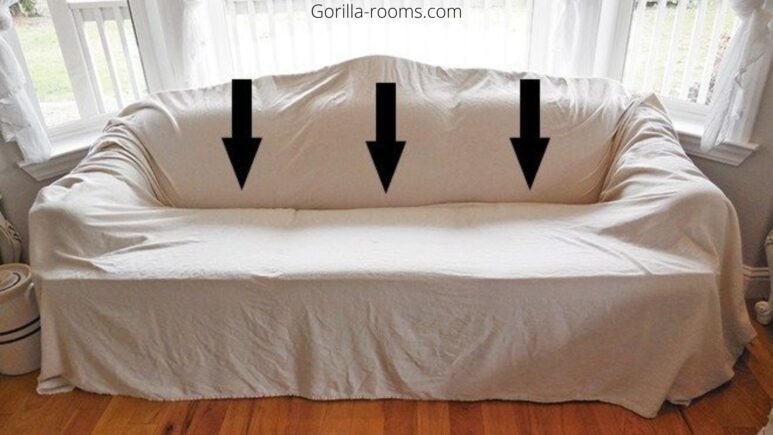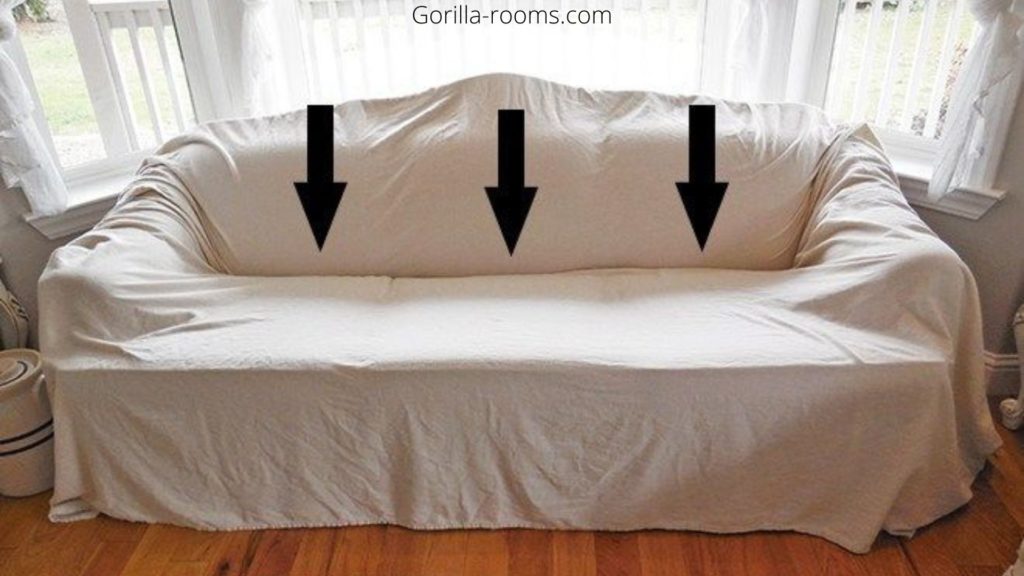 Couch coverings allow you to entirely transform the look of your furniture without having to spend a lot of money on refinishing. While they can surprisingly change the look of your sofa or couch, they came with the significant drawback; their loose fabric tends to slide all over a sofa, shifting whenever someone sits or stands up. 
Most people want to know how to keep couch cover in place; that's the reason we've compiled some mind-blowing tricks to help you out in dealing with this problem.
Let's have a look at it!
1- Insertion of foam
Foam inserts can be the best way to overcome the cover slipping problem. Some sofa covers have foam inserts that you place in the gap between the sofa's arm or back and the seating cushion. 
Push the form insert firmly into the opening, and the cover will hold in place pretty well. But if your's haven't come with the foam insert, you can buy one from the store, and you are good to go.
2- Non-skid rug padding
Slipcovers are challenging to keep on leather seats since they are so slippery. We were looking for the ideal answer and happily discovered that non-skid cushioning might significantly affect all of the cover's slipping issues.
If your slipcovers are slipping, consider using non-skid foam on the cushions, similar to under a rug. This will assist keep the coverings in place and prevent them from shifting.
3- Use upholstery pins
Upholstery pins force the sofa cover to be in place, yet they can be a decorative addition to your cover. Putting them at the side of the sofa will not only keep the sofa cover from slipping or rolling but also add stylish vibes to it. 
For this, You have to pull and stretch the cover to get a snig fit and pin it up with the upholstery pins. Aside from this, they're great for bed skirts or any other saggy upholstery that needs to fit correctly and remain put.
4- Using Slipcover straps
The straps are generally elasticated and flexible, and they keep the seat covers in place at the backrest and underneath the couch. Slipcovers might come attached with the cover by some of the brands, but if you don't have it, you may need to buy it. 
5- Use anything that you can roll to keep cover in place.
Seat covers can be held in place using anything that you can twist into a tube, such as newspaper or a rubber non-adhesive shelves liner. Simply roll it up and secure it in a tube with duct or masking tape. The cover will stay intact if you position the folded magazine tubes between the backrest and the seats and sides of the couch. 
6- Sofa tuckers or slipcover tuck grips
The slipcover strips, also known as sofa tuckers, work the same way as the foam inserts but are constructed of PVC. The slipcover tuckers come in various shapes and sizes, and you can buy the one that best fits you in a set.
Furthermore, they make it simple to keep seat coverings or other furniture coverings in position and keep them from rolling. This eliminates the untidiness of loose folds and creases on the chairs. 
7- Using a Dowel Rod
To drag down the tucked material and prevent slippage, you can also insert a dowel rod into the crack where the slipcover is tucked into the back of the row of seat cushions, pulling it down, so it is hidden from view. This one can be a simple trick to keep cover from rolling. 
FAQ's
What can I do to improve the fit of my couch covers?
The most accessible approach to improve the fit of your sofa cover is to sew it by yourself. There are universal sofa covers on the market, but because each piece of furniture is distinctive, sizing may not always be exact.
By measuring the sofa for a slipcover and applying the resulting proportions for your DIY cover, you should avoid using extra fabric that bunch up or overflows.
Make a few panels to match the form and design of your couch. Pieces for the backrest, seats, and armrests are usually required. Because they are customized for your sofa, they should fit tightly when putting them together without the use of ties or grips.
How to Keep Leather Sofa Covers in Place
Leather sofas can still be covered, and you can use grips to avoid slipping. Before you put the cover on, the grip strips just on the seat to keep it from falling. You can also use couch coverings with an adhesive underside to keep them in place on slick leather.
You can also cover the sofa with foam padding the same size as the cushions before attaching the cover. They will give your furniture some adhesion and fullness, preventing the coverings from slipping on the leather.
What Is The Best Way To Keep An Armchair Cover In Place?
If you deliberately place pins on armchair covers, they should stay there. When someone lays their arm on the chair's armrest, insert the pins at a hidden angle to ensure safety. Hook and loop tapes can also be used to secure armchair covers, depending on the fabric.
Are Stretch Sofa Covers Effective?
Because stretch sofa coverings are designed to fit all couch sizes, they are effective. It's not like all universal sofa covers would be of good quality. Remember that the cover should be long-lasting enough to prevent the couch from stains and scratches.
Conclusion
We've disclosed the best ways for keeping the couch cover in place in this article and answered frequently asked questions that can help you deal with the cover slippage.
We strive to give the best option for you at all times, so we did in this article. Follow the tricks shown above to keep your sofa cover in place. Stay connected with us to learn more about sofa covering!
Hi there, I'm Ahmad Dastagir. I'm a home decor expert and know how to make a house more visually appealing. In terms of materials and colors, I am best at arranging physical items and objects, as well as selecting the floor covering, wall covering, ceilings and window coverings.