Have you ever wondered how to make vinyl plank flooring shine? Vinyl plank flooring is an appealing and affordable alternative for those looking for a design on a fair budget. Vinyl flooring can last many years if cleaned regularly, even in a busy household.
Regular cleaning is a thing, but maintaining the shine of your vinyl floor is an art that requires expertise, effort, and the proper products. Stay with us if you want to figure out how to make the plank vinyl floor shine like new.
In this article, you'll learn how to make plank vinyl floor shine and keep it looking good for years to come. We also provide some tips on cleaning tools.
Things You Need To Make Vinyl Floors Shine
Shining vinyl flooring is a simple DIY project. If your floors don't have any difficult-to-remove stains or blemishes, you might not need to buy any new cleaning materials or polish. The tools you must get are listed below:
A soft, clean cloth or mop for dusting and cleaning the floor.
A vacuum cleaner with a soft brush attached used for cleaning the dirt and dust particles.
A mild detergent or floor cleaner is specifically designed for vinyl plank floors.
A bucket for mixing the cleaning solution.
A soft sponge or microfiber mop is used to apply the cleaning solution and remove dirt and stains.
A dry, clean cloth or mop for drying the floor after cleaning.
A polish or shine product specifically designed for use on vinyl plank floors.
How Can You Make Vinyl Floor Shine?
Keeping your vinyl flooring spotless and shining requires using the proper products and skills.
By employing a professional vinyl cleaner, you can make vinyl flooring shine. The cleaner will restore its lustre by removing the greasy filth and dark spots. You may substitute rubbing alcohol or diluted vinegar for specialized cleansers.
Make sure you pick a polish that is made particularly for vinyl flooring.
Step-by-Step Guide To Shine Vinyl floors
Keep vinyl flooring shining with these simple procedures.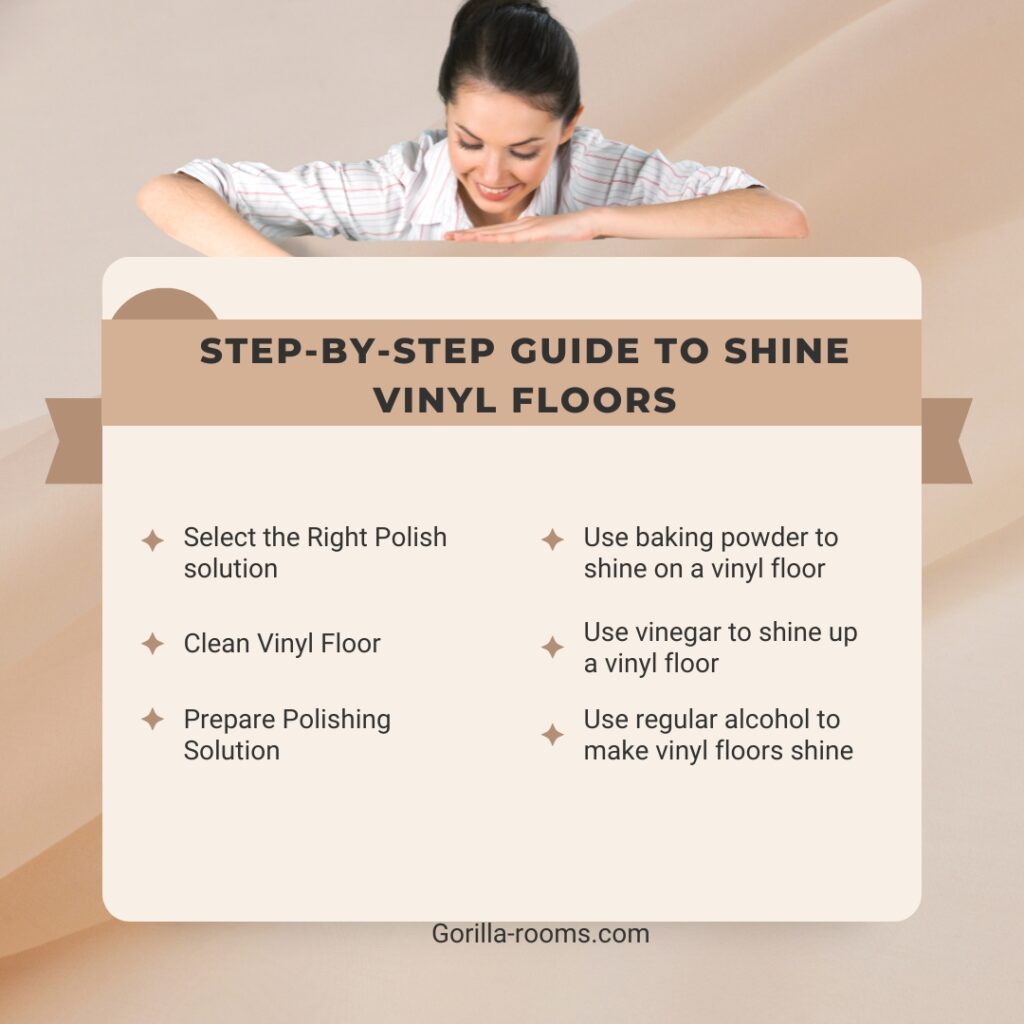 1. Select the Right Polish solution
Vinyl is durable, but severe chemicals may remove its protective wear layer. Vinyl may get unattractive scratches, spots, and dampness damage without the protective layer.
Gentle cleaning and polishing are ideal for vinyl flooring. You can clean and polish vinyl using pantry items. Commercial products may work, but they must be vinyl floor-specific.
Some products scrape the floor or leave a sticky residue. Therefore, use the proper product for vinyl floor shine.
2. Clean Vinyl Floor
Cleaning the floors before polishing is key. Start by cleaning the surface without the beater bars, which might eventually harm the vinyl's surface, and vacuum the surfaces as usual.
Water and a mop can remove most spots. Instead of wetting your mop, dampen it for a good clean. Avoid getting your vinyl flooring too wet since this might increase the chance of moisture damage.
Pour a few splashes of dishwashing soap into the vinegar and water mix to clean exceptionally dirty surfaces.
Mop again with vinegar and water to remove dirt. If you want to enhance the shine of vinyl flooring more, add a few drops of baby oil to the water and vinegar solution before mopping.
3. Prepare Polishing Solution
After cleaning your floor, prepare the polishing solution. Commercial vinyl polishing solutions provide excellent results. Follow these goods' directions for preparation and use.
If you want to use DIY methods for polishing vinyl floors, I suggest utilizing baking soda or vinegar to finish the task. Both of these options are effective.
4. Use Baking Powder To Shine On A Vinyl Floor
Follow these simple steps to make a solution of baking powder and water to polish vinyl floors:
Mix 3 litres of warm water with 4 tbsp of baking soda. Mix it well.
Apply it to the floor with a mop and let it stay for up to 10 minutes.
Clean the baking soda solution off the floor with a second damp mop. If you need to, rinse the floor again to get rid of any white residue.
Wait until the floor is dry to use it.
5- Use Vinegar For Plank Vinyl Floor's Shine
White vinegar is a great way to deodorize, clean, and disinfect floors. It will freshen your floors and make them shine. Here's how to make your floors shinny with vinegar.
Combine 1/2 cup of white vinegar, 1 tsp of liquid dish soap, 1 tbsp of mineral oil, and 4 litres of water. Mix everything well.
Wet a clean mop by dipping it into the solution. Then, apply the solution on the vinyl flooring.
Use a clean mop or the one you have, and use simple water to cleanse the floor.
Let the floor dry and polish it until it shines.
6. Use Regular Alcohol For Vinyl Floors Shine
The alcohol cuts through dust and removes tough stains, leaving your floors clean and shiny. This cleaning solution is great for making old vinyl floors shine again. Follow these steps to make a vinyl floor polish with alcohol:
Mix 1 litre of lukewarm water with 4 tbsp of household alcohol.
Put a clean mop into the mixture of alcohol and water.
Squeeze out any extra water, and then mop as usual.
Let your floor dry for a few minutes before you walk on it.
You can now enjoy floors that are clean and look great. With proper care, your vinyl will stay clean and shiny for longer.
Best Product to Make Vinyl Floor Shiny
Several products can be used to make a vinyl floor shiny. Some popular options include: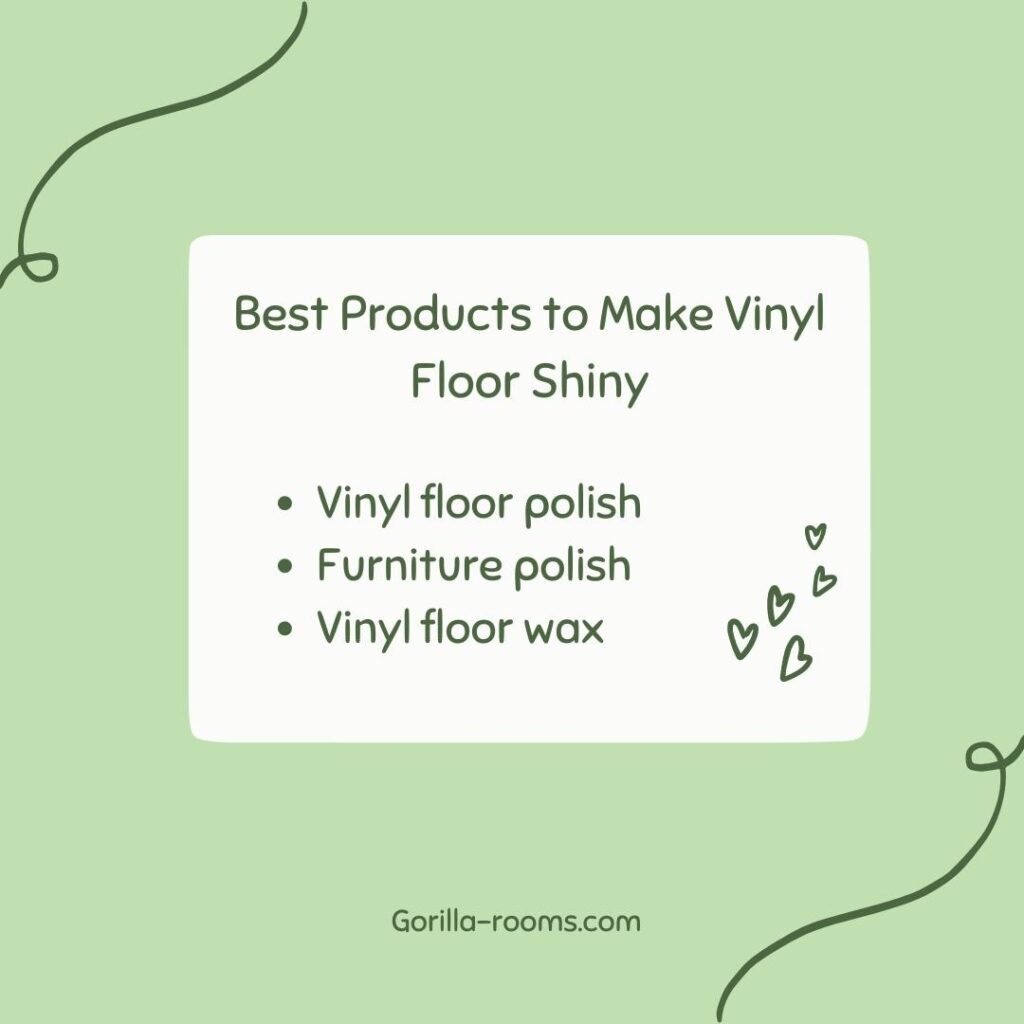 1- Vinyl Floor Polish
It is a liquid product applied to the floor's surface and then buffed to a shine. It protects the floor from scrapes and stains and helps to conceal flaws.
2- Furniture polish
Many furniture polishes can be used on vinyl floors to give them a shiny finish. Be sure to choose a safe product on vinyl and follow the manufacturer's instructions for application.
3- Vinyl Floor Wax
It is a solid product that is applied to the surface of the floor and then buffed to a shine. It helps to protect help to hide imperfections and make plank vinyl surface shinny and extremely smooth.
Tips To Keep The Vinyl Floor Shiny
It's time to maintain the sheen and shine after all that labor-intensive cleaning and polishing. Utilize a wax-free polish or floor sealant for the best results.
Vinyl has a polyurethane layer on top and cannot be waxed. Any wax cannot adhere to the surface because of this coating. So, the plaster will be difficult to remove unless you use a wax-free polish.
Use a polish without wax if your vinyl is anti-wax, and wipe the floor well before applying any polish to eliminate debris and dust. Instead of using a vacuum, we advise utilizing a broom.
Apply the vinyl with one or two thin coats of varnish. It will maintain the vinyl floor's shine for at least a year. For the best results, adhere to the wax container's instructions.
A Few More Cares Need To Keep The Floor Shiny
1- Keep The Dirt Out
Use floor mats to further keep dirt and filth off your floors. Rugs and floor mats are particularly important. Put them in high-traffic areas like the kitchen, entryway, and other appropriate spots.
To prevent scuff marks on the flooring and dirt from the outside, you may also refrain from wearing shoes inside. To preserve your flooring indoors, try wearing slippers.
2- Protect Floors From Furniture
Your flooring's lustre may be rapidly lost to scuffs and scratches. Keep heavy objects from sliding over the floor; this could scrape the top layer off and leave your flooring looking dull.
To carry a heavy object across the floor, try utilizing vinyl coasters, furniture cushioning, or any other kind of safety measure.
3- Consider a Urethane Coating
Urethane coatings are excellent substitutes for wax and are completely safe for vinyl flooring. Going this way has the advantage that it takes less care of you and lasts 10 times longer than polish.
Conclusion
Vinyl plank flooring is a popular, long-lasting, and low-maintenance option. For years to come, regular upkeep may keep your flooring appearing like new.
Vinyl floors must be thoroughly cleaned and polished at least twice a year to keep it looking like new and fresh.
You don't need to engage a professional if you detect a change in the lustre or shine. Simply polish your floor to make it seem better.
You may make vinyl flooring gleam by utilizing a professional (or DIY) cleaning or polishing the floor.
You must use the correct kind of floor cleaner and clean and vacuum the flooring at least once a week if you want the shine to endure longer.