The vinyl floor is 100% waterproof compared to laminate flooring, so dog pee can't ruin vinyl planks. But don't pee can cause many other problems like the smell, germs, bacterial infection for your kids, and leave stains on the floor.
Vinyl floors are not made from natural wood, which is plastic to resist damage. These floors are scratch-resistant and best for dogs and other pets.
Related Posts: Does Dog Urine Ruin Laminate Floor?
Will Dog Pee Has Any Effect On Vinyl Planks
The answer is no. In most cases, Vinyl planks are made of thick plastic and are waterproof, so they can't be damaged by urine.
But leaving urine stains may cause discoloration of the floor. Similarly, regular washing and cleaning of vinyl flooring also shorten its lifespan. 
So if you have a dog, you don't need to worry about it. Vinyl flooring is the best option. It is scratch-resistant; even if your dog has sharp nails, the floor can resist it.
But caution is still required. If your dog does pee on it, immediately clean the urine stains and don't leave it for a long time.
How To Clean Dog Pee From The Vinyl Planks
There are a lot of ways to clean dog pee from the Vinyl planks. But the most effective way is to use vinegar.
You can use a mixture of vinegar, water, and mild soap or dishwashing liquid.

Mix all these things and dip a rough cloth into the mixture.

Clean the urine stains with it and then wipe it with a clean cloth.

After cleaning, you can also use some perfume or air freshener to eliminate the odor.
This is the best and most convenient way to clean dog urine. But there are many detergents and cleaners available that quickly clean the pee in just a few seconds.
I use Rejuvenate luxury vinyl floor cleaner, and it's a fantastic item, and I strongly recommend it to my readers. The clean effectively cleans the stains in seconds and also eliminates the urine smell. It has a delightful smell that makes your floor fresh.
Rejuvenate spray not only removes dogs pee from the vinyl floor but also kills germs and bacteria that cause severe problems. If you have kids in your home, you must buy this cleaner.
Unlike other cleaners, this product doesn't leave residue on the floor. Similarly, it doesn't leave streaks and makes your floor look new.
Besides removing urine stains, you can also use this cleaner to remove black coffee stains, ketchup stains, or any other stain from a vinyl plank.
Related Post: How To Dry Water Under Vinyl Plank Flooring
Does Vinyl Floor Best For Dogs?
Vinyl floors are considered best for pets. Firstly, these floors are pretty affordable as compared to laminate floors. The estimated cost to install vinyl plank floors for 1000 sq ft is roughly $3000.
Secondly, these floors look more luxurious and durable. You can use vinyl flooring for a long time because it is waterproof and scratch-resistant.
They are also easy to clean and maintain; you only need to clean the vinyl floor once a week.
Best Floors For Dogs
Apart from vinyl plank floors, you can also install some other floors which are perfect for dogs.
1-

Bamboo Floors
Bamboo Floors are pretty complex and durable than hardwood flooring. These floors look more luxurious and are pretty expensive. Pure Bamboo floor is highly scratch-resistant and easy to clean, so it's best for pets and dogs.
2- Cork Floors
These floors consist of solid cork titles, and it looks similar to vinyl floors. These floors are affordable and very easy to clean.
3-

Laminate Floors
Laminate flooring looks like vinyl flooring. Laminate is a multi-layer synthetic flooring product. The layer of laminate flooring is made from melamine resin and fiberboard material.
Final Words
Dog's pee can't affect the Vinyl flooring because it's water-resistant and scratch-resistant. But it's crucial to immediately clean that pee, for that you can use vinegar or vinyl floor cleaner.
FaQs
How to protect vinyl floors from dog pee?
You can use vinegar to clean the dog's pee. It also eliminates the smell from the floor. Other than that, you can use Rejuvenate Vinyl Floor cleaner; it's a powerful cleaner that quickly removes the stains and odor of dog pee.
Which type of floor is best for dogs?
Vinyl floors and laminate floors are considered best for dogs. These floors are pretty durable and scratch-resistant; that's why they last for a long time. Secondly, you can easily clean these types of floors. The vinyl flooring option is pretty affordable as compared to the rest of the floors.
Can vinegar clean the dog's urine?
Vinegar contains an acetic acid that can remove any hard stain immediately. It's very convenient to use vinegar, water, and soap mixture to clean the dog's urine.
Related Post: Best Vinyl Floor Cleaning Machines?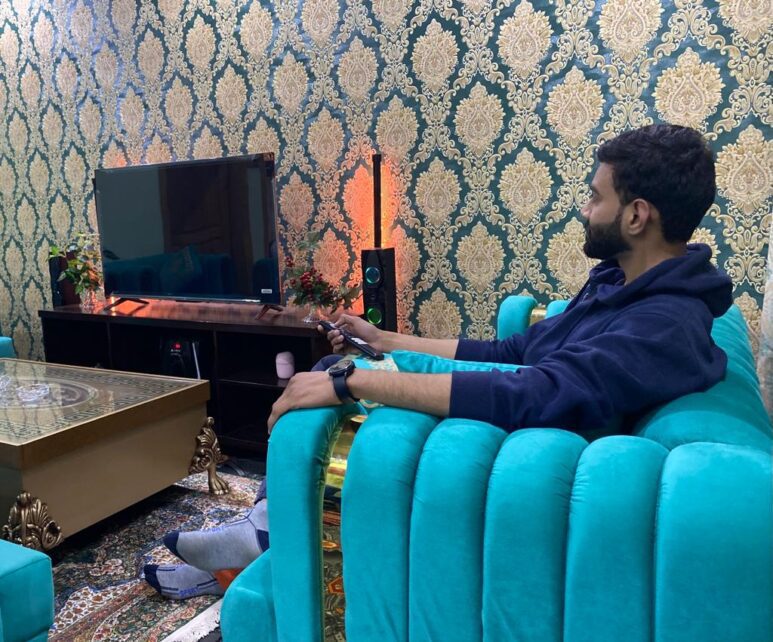 Ahmad Dastagir is the owner of Gorilla-Rooms.com, a platform dedicated to all things home related. With 5 years of experience in the home design industry, Ahmad has a wealth of knowledge and expertise to share. He has been involved in numerous home design projects and has a passion for staying ahead of the latest trends and sharing his insights through writing.