We all know how hard it is to keep our houses clean. Robots have come to the rescue!
The robot vacuum cleaners on the market are designed not just to clean, but also to help you stay organized.
But apart from looking for robot vacuums with Wi-Fi, look for the best robot vacuum without Wi-Fi, with which you don't have to worry about your phone being hacked or your Wi-Fi connection being compromised.
These top-rated models are easy to use, have a variety of smart features, and come with plenty of accessories that make your life easier.
So here we have listed some of the most known and best robot cleaners that can run without wifi. Also, a buying guide is created at the bottom to help you understand the product thoroughly, so you make a nice decision without any hassle!
Comparison Table – Best Robot Vaccum Without Wifi
| | | | | | |
| --- | --- | --- | --- | --- | --- |
| Sr.# | Product | Cleaning Time | Surface Recommendation | Best For | Bad For |
| 1. | Eufy RoboVac 11S | Up to 100 minutes | Carpet, Floor | Self-charging, quiet cleaner | Doesn't have an app |
| 2. | Proscenic M7 Pro | Up to 150 minutes | Carpets and Hard Floors | Automatically boosts suction to the max mode. | Can be loud |
| 3. | ILIFE V5s Pro | Up to 110 minutes | Hard Floor, Carpet | Robot Vacuum and Mop Combo | Mopping is moderate |
| 4. | Goovi 1600pa | Up to 120 minutes | Hard Floor, Wood, Carpet | Multiple cleaning modes and a pre-set vacuuming span | Doesn't support border strip |
| 5. | Enther C200 | Up to 120 minutes | Carpet and Hard Floor | HEPA Filter Dustbox | Constantly beeps loudly on low charging |
| 6. | iRobot Roomba 614 | Up to 60 minutes | Carpets, Floors, Tile | 3-Stage cleaning system & Patented Dirt Detect sensors | Runs on same places even after cleaning |
| 7. | ILIFE V3s Pro | Up to 90-100 minutes | Only Carpet | V3s Pro Robot Vacuum focuses on selecting hair without mess. | Cleaning pattern is not accurate as always |
| 8. | BISSELL EV675 | Up to 100 minutes | Floors and Carpet | Dirt Cup Capacity: 0.4 litres | No voice control |
| 9. | Robit R3000 | Up to 80 minutes | Carpets and Hard Floors | Collect all the dust, pet hairs, dirt and crumbs on the hard floor, carpets and rugs | Doesn't support magnetic strip |
Quick Pick – Best Robot Vacuum Without WiFi!
Running out of time? Don't Worry! Here are some quick picks for you to choose from the list below.
List Of 9 Best Robot Vacuums Without Wi-Fi
1- Eufy RoboVac 11S – Best Overall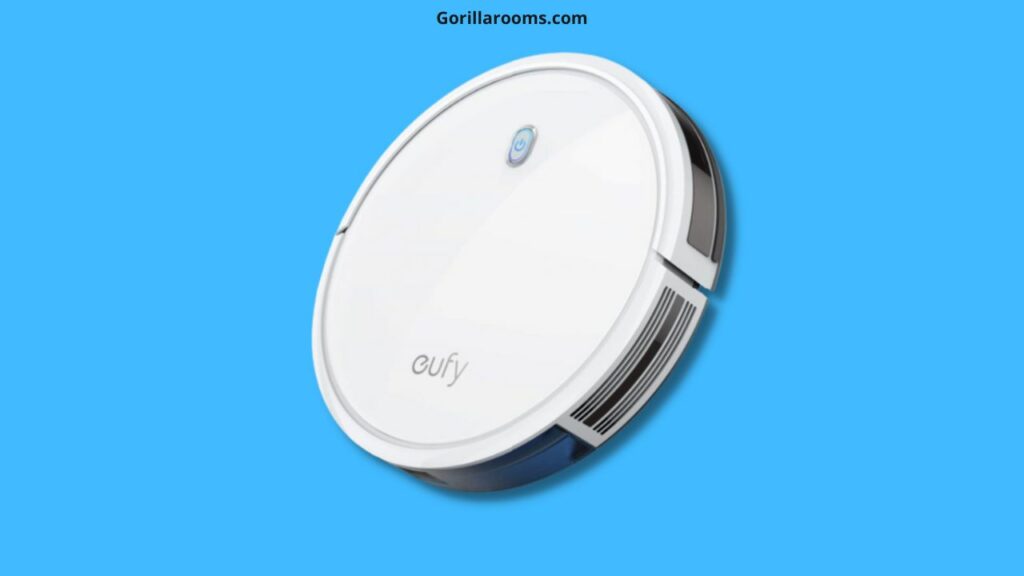 Key Specifications: Remote Control Type | 1300 Pascal Suction Power | 3-point Cleaning Method | BoostIQ Technology | Slim 2.85″ Robot Vacuum | 2AAA Batteries Included
The Eufy RoboVac 11S is an all-in-one, smart, and best robot vacuum without Wi-Fi that easily cleans your home.
It will work like your favorite cleaner as it has the ability to clean your home with strong suction and advanced sensors that detect dirt, dust, and debris. It also features an automatic clean mode, so you don't have to worry about cleaning your floors or stairs.
This easy-to-manage vacuum allows you to work smoothly on hard floors like tile, linoleum, and marble.
The Eufy RoboVac 11S comes with 4 side brushes and 5 cable ties, making cleaning various flooring easier.
Plus, it has a boost IQ technology that automatically increases suction power within 1.5 seconds when extra vacuuming strength is needed to get the best clean!
Pros
Cons
✅ Appealing and inexpensive.
✅ Strong suction capacity for such an undersized, slim vac.
✅ Work longer without noise.
✅ No wifi but a remote control.
✅ Lengthy battery vitality.
✅ Decent-sized dustbin.
❌ It Doesn't come with an app.
❌ Bounce map-reading isn't detailed.
Final Review!
If you're looking for a robot vacuum that has it all, look no further than the Eufy RoboVac 11S. This one is designed lightweight, easy to use, and clean, with remote control capabilities and an included cleaning tool.
2- Proscenic M7 Pro Robot Vacuum Cleaner – Runner Up!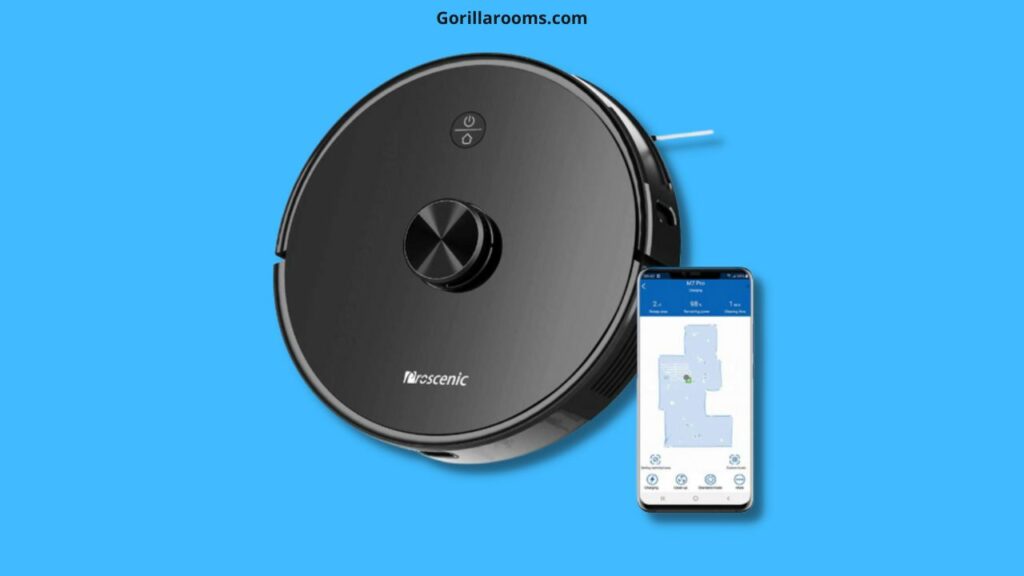 Key Specifications: Ultimate Whole House Laser Navigation | 2700Pa Powerful Suction | 5200mAh Lithium-Ion Battery | APP & Alexa Control Type | Multi Floor Mapping & Cleaning | Ideal for Pets, Hair & Carpets Deep Dusting
The Proscenic M7 Pro Robot Vacuum Cleaner is a revolutionary device that allows you to clean your home without having to get on your hands and knees.
It boasts an intelligent dust collector system that automatically removes dust from the vacuum robot's dust bin. The technology is advanced and provides a more thorough cleaning experience than other models in its class.
The vacuum has an upgraded laser navigation system that intelligently navigates and maps your home, providing you with the most thorough cleaning possible.
Pros
Cons
✅ Easy on pocket
✅ Slim and professional finish
✅ Brilliant laser mapping featrue
✅ Powerful suction performance
✅ Remote control, voice-driven and app managed
❌ Doesn't provide sufficient water to scrub the floor
❌ Can be a bit loud, even on quieter settings
❌ Design can be ordinary
Final Review!
The M7 Pro robotic vacuum boasts a high suction power of a max of 2700Pa, so it can pick up even large debris on hard floors. You can also use it to clean upholstery and carpets without worrying about damaging them by dragging its beater bar over them.
3- ILIFE V5s Pro Robot Vacuum Cleaner – Hard Worker!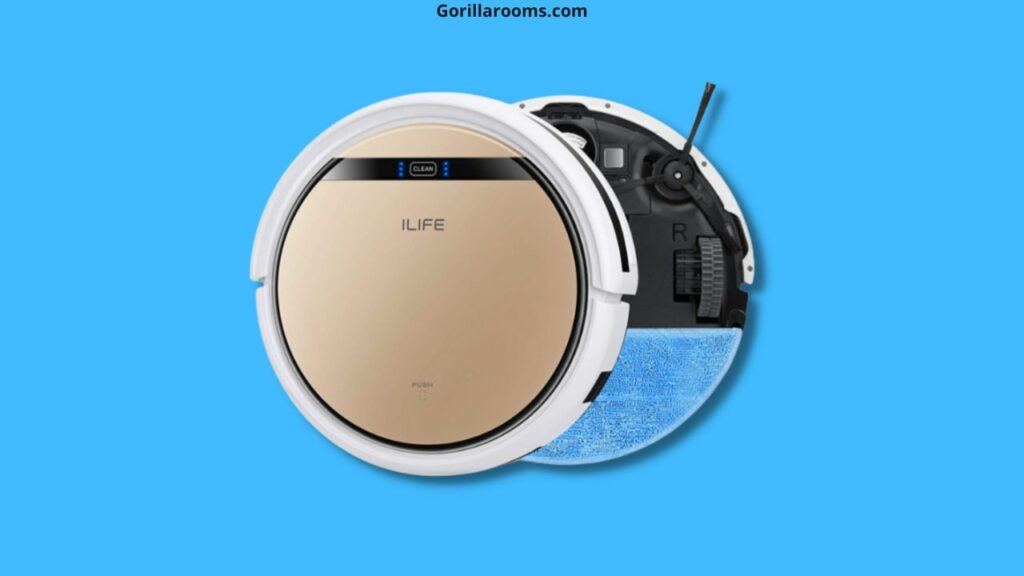 Key Specifications: Robot Vacuum and Mop Combo | Has 1 Remote Control $ 2 AAA Batteries | Surface Recommendation Hard Floor, Carpet | 12-Month Warranty | Super Quiet
The ILIFE V5s Pro robot vacuum is an automatic self-charging robot vacuum cleaner that works day or night. It is ideal for pet hair and hard floors.
One of the most attractive features of this robot cleaner is its vacuum and mop combination, so you can get both vacuuming and mopping jobs from a single device that couldn't disturb its mechanics due to water-work!
It also has a 360-degree rotating brush (1 Cleaning Brush and 2 Side Brushes) that sweeps up all the dirt and dust in your home.
The ILIFE V5s Pro is fully equipped with intelligent cleaning technology that enables it to clean every corner of your home without having to be moved around manually by you or anyone else in your house.
Pros
Cons
✅ Authentic due of mop+vacuum
✅ Available at a reasonable price
✅ Function quietly
✅ Carefully comes closer to obstacles
✅ Adorable layout
❌ Mopping element can be a bit unsatisfied
❌ Some waste may left uncatched into dustbin
Final Review!
With this powerful cleaner (which is a duo of vacuum and mop), you can keep your floors clean without having to spend hours scrubbing them yourself.
4- Goovi 1600pa Robot Vacuum Cleaner – Best Pet Hair Picker!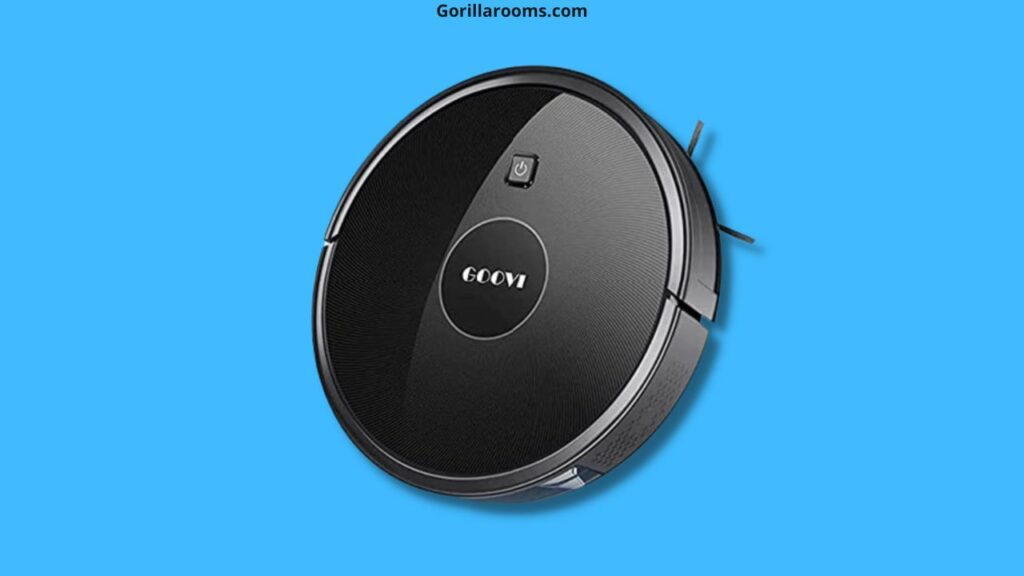 Key Specifications: 1600pa Of Intense Suction | Picks Up Pet Hair From Deep-Carpet | Surface Recommendation Hard Floor, Wood, Carpet, Floor | Automatically Gets On Charging-Base | Multiple Cleaning Modes And A Pre-Set Vacuuming Time
You don't have to be a slave to your dumb, human-powered vacuum cleaner anymore.
With the Goovi 1600pa Robot Vacuum Cleaner, you can finally stop wasting your time cleaning up after yourself and your dog.
This vacuum can detect whether or not there are any obstacles in its path, including pets and other people who might be in your way. If so, it will stop itself from moving forward—which saves on energy costs and allows for more thorough cleaning efforts!
It has self-charging capabilities that allow it to work for up to 10 hours on a single charge. This makes it perfect for those who don't want to use the same battery all day long, but still want their home cleaned efficiently by an autonomous device.
Pros
Cons
✅ Easy transitioning
✅ Quick and deep cleaning
✅ Run for an extended time ( Approximately 2 hours)
✅ Perfect for pet hair clearing from carpet
✅ Good fit for thin and low-pile rugs/mats
❌ Incidental navigation
❌ No border strip
❌ May not be perfect for big rooms (2000+ sq feet)
❌ May not be perfect for shag rugs
Final Review!
Pets shed hair all over the place! And with Goovi's 1200pa robotic vacuum cleaner, you won't have to worry about shedding hair or getting stuck under furniture – whether it's under the small space of sofa or under beds!
5- Enther Gyro Navigation Robot Vacuum (C200)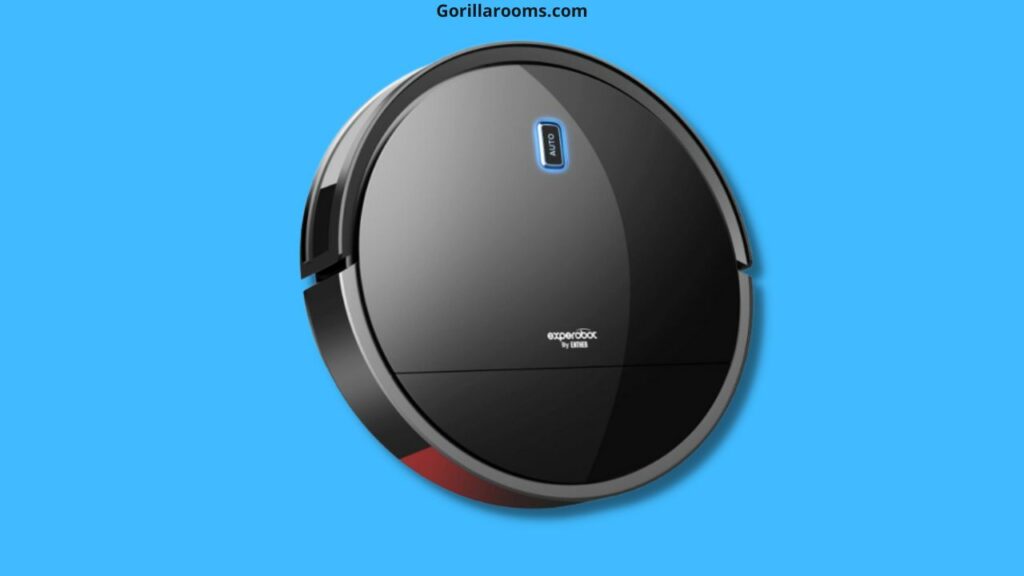 Key Specifications: Z-shape Route | Work For Up to 120 minutes | 2600mAh Super Long-lasting Battery Power | 2.89″ Super Slim Robot Vacuum | Has Self-Recharging Feature | 500ml HEPA Filter Dustbox
The Enther gyro navigation robot vacuum is a great choice for those who love clean floors but don't have time to get up and down the stairs. With its z-shape route, it can go over low-lying furniture without damaging it, and its 2600mAh battery lasts up to 120 minutes on one charge.
The 2.89″ super slim design makes it easy to store away, so you can stay organized when there's no one around.
The C200 comes with two different modes: auto and normal mode. Auto mode allows the robot to move around on its own, while normal mode helps you to clean your home with ease. In addition, it has six cleaning modes that include edge cleaning, max cleaning, and more.
Pros
Cons
✅ Sturdy & well-made cleaner
✅ Not super loud
✅ Obstacle-avoiding performance is perfect
✅ Clean all furry pets' mess deeply
❌ Cleaning from app is a bit undesigned
❌ Beeps often when the recharge is ended
Final Review!
For all those whose primary concern is to get a completely portable robot vacuum that can go above and below different furniture items and deep-clean, Enther C20 is for you!
6- iRobot Roomba 614 Robot Vacuum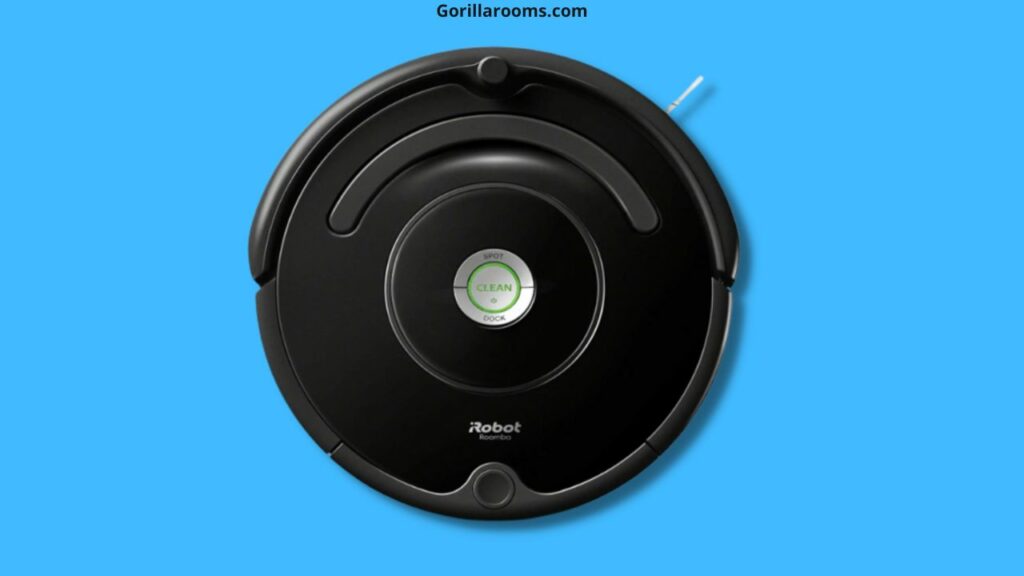 Key Specifications: Remote Control Vacuum Cleaner | 60 Minute Runtime | Powerful Performance | Dirt Detection Technology | Thorough Coverage Of Small Areas | Auto-Adjust Cleaning Head
As a family, you probably have some hard floors and carpeting in your house. If so, you know how much work it can be to keep them clean. The iRobot Roomba 614 Robot Vacuum is here to help!
The iRobot Roomba 614 Robot Vacuum is a powerful performance robot vacuum cleaner without wifi. It's simple to use, has great reviews, and comes at a very affordable price.
This robot vacuum cleaner has the power to get all of those stubborn spots on your floors and carpets, and it does it quickly. It has a 3-stage cleaning system that loosens, lifts, and suctions dirt and dust from hard floors and carpet.
It also has dual multi-surface brushes that are designed to clean up dirt in small spaces—which means it'll be able to clean up those spots that are usually left behind by other vacuums.
Pros
Cons
✅ Considerably quieter than most further Roomba versions
✅ Patented Dirt Detect technology
✅ Can discover most dirt and debris before they're a problem
✅ More recent object detection sensors prevent sudden drops
✅ Can even detect pollens
❌ Undersized dust bin can fill up fast
❌ Sometimes drives stools out of the place
❌ Runs over some places multiple times
Final Review!
So if you are deciding to purchase a robot vacuum cleaner that is remote control and has multiple adjustable features, and also comes at a reasonable price, you can go with iRobot Roomba 614, which has a cost-effective price tag; making it worth every penny!
7- ILIFE V3s Pro Robot Vacuum Cleaner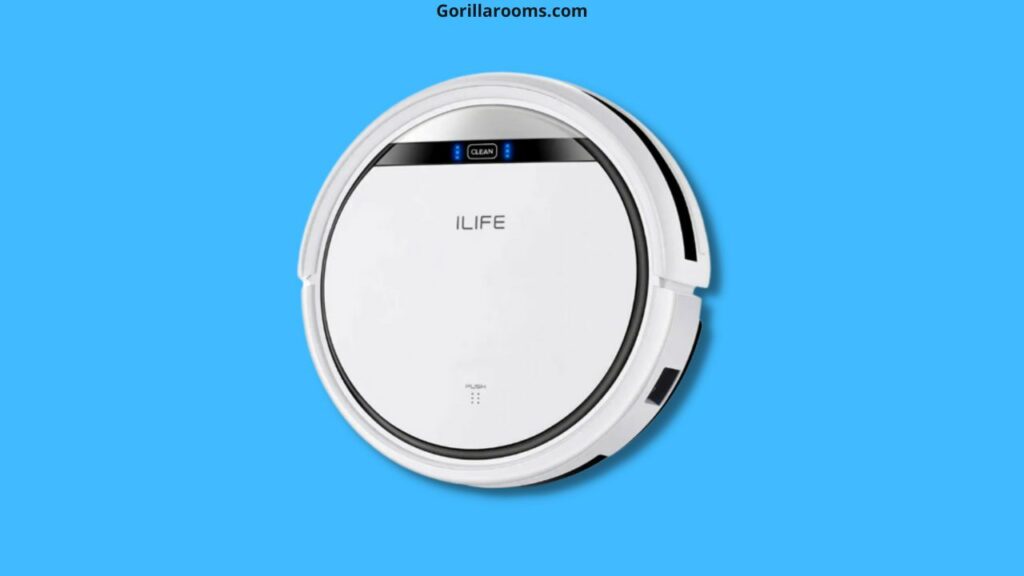 Key Specifications: Tangle-Free Suction | 90-100 Minutes Run | Slim Model | Automatic Self-Charging | 12-Month Warranty | Daily Schedule Cleaning | Ideal For Pet Hair | Anti-Dropping Sensors
This model has a slim design, allowing you to clean under furniture easily. It also has a tangle-free suction system that allows you to clean up pet hair quickly and efficiently.
It also has HEPA filtration technology that captures 99.9% of allergens, dust mites and pet dander. This means that you'll never have to worry about your allergies when using this vacuum!
The vacuum is however not suitable for hard floor cleaning and ideally used for carpet cleaning. You can set up the vacuum for daily cleaning using its built-in scheduler or schedule it for weekly cleaning if you'd like more time between cleanings than weekly.
Pros
Cons
✅ Exceptional pet-hair-cleaning version
✅ Improbable hardwood cleaning
✅ Pocket friendly
✅ Self-charging
✅ HEPPA filtration technology
❌ A bit Noisy
❌ Unsteady cleaning design
Final Review!
The automatic self-charging robotic vacuum cleaner is ideal for low-pile carpets, carpets under sofas and beds, and even for collecting long hair of pets from rugs and carpets!
8- BISSELL EV675 Robot Vacuum Cleaner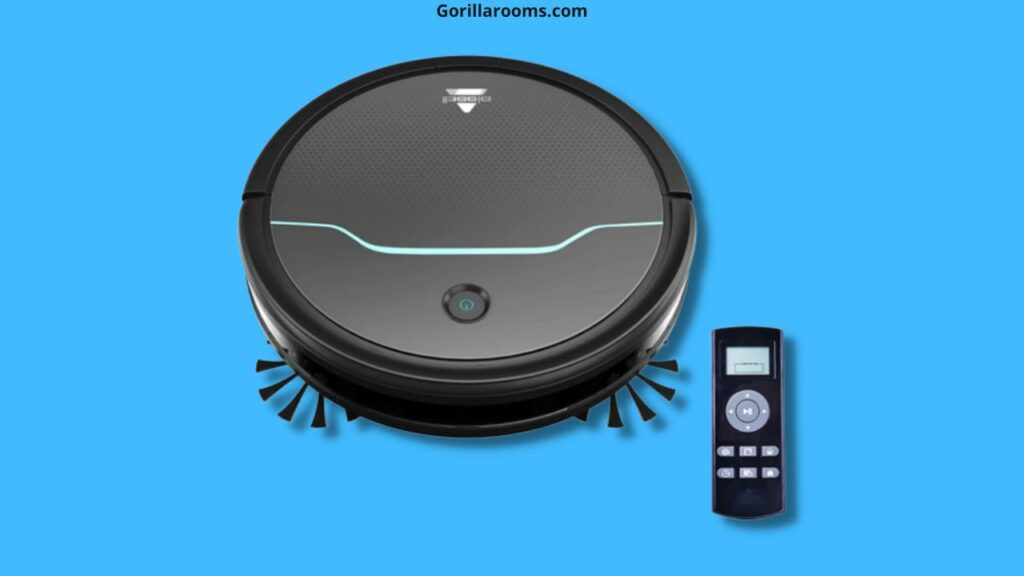 Key Specifications: Triple Action Cleaning System | Dual Edge Brushes | Dirt Cup Capacity: 0.4 Liters | Lithium-Ion Battery | Up To 100 Minutes Of Powerful Performance | Surface Recommendation Floors, Carpet, Floor
The Bissell EV675 comes with a schedule function, which allows you to set it up so that it cleans your home on a regular basis during certain hours of the day or week.
You can set it up so that it cleans your entire home once every two weeks or once per month. This is convenient if you have pets or young children who tend to leave behind messes on their own accord!
The Bissell EV675 robot vacuum cleaner also has an extra-large cyclone filter system that captures more dirt and dust than other models on the market today.
The large size means more surface area for this type of filter, giving it the ability to collect larger particles when compared with other models
Pros
Cons
✅ Easy to operate
✅ Auto-adjusting suction feature
✅ Multi-function remote management
✅ Adequate edge cleaning
✅ Has auto re-docking feature
✅ Capability to program cleaning periods
❌ Doesn't come with mobile app
❌ Doesn't support voice management
❌ Not okay with anything wider than low-pile rugs/mats
❌ Battery timing is a bit quick to run down
Final Review!
If you are looking for the type of robot vacuum cleaner without wifi that can clean your place even in your absence, then the Bissell EV675 is the device to consider.
9- Robit R3000 Robot Vacuum Cleaner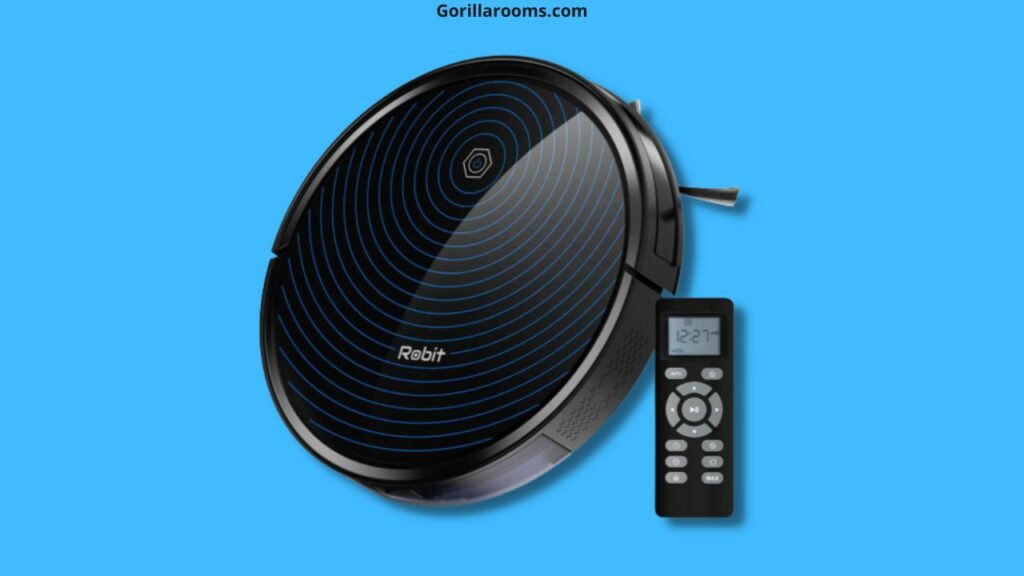 Key Specifications: High-Performance 2500pa Suction | Gyroscope | 2.8" Ultra Thin Body | Super Quiet Near Pets | Long-Lasting Battery | Self-Charging Robotic Vacuum Cleaner For Pet Hair, Hard Floors, Carpets
Last but not least, Robit R3000 is a durable and portable automatic appliance you would love to have at your home!
This robot vacuum cleaner has a built-in rechargeable battery that lasts up to 20 minutes on hard floors and carpets, and it comes with a charging dock so you can keep it charged up when you need it. It also includes an intelligent navigation system that helps to avoid obstacles, like furniture or pets.
This model uses 2500Pa suction to pick up pet hair and dirt from hard floors, as well as from carpets, rugs, furniture—even upholstery! Plus, it's super quiet so you don't have to worry about waking your family or guests with loud noises while cleaning.
The Robit R3000 has a slim design that makes it easy to maneuver around your home (and no more running into walls!). It also comes with an additional brush for vacuuming pet hair off of furniture and other surfaces. The remote control lets you adjust settings on the unit itself too!
Pros
Cons
✅ Reasonable cost
✅ 2500-Pascal suction strength
✅ Can automatically modify the suction intensity
✅ Good for low-profile cleaning
✅ Remote control functioning
✅ Observes a systematic cleaning design
❌ Doesn't have an intelligent mapping feature
❌ Brush is inclined to hair traps
❌ Doesn't a magnetic strip
Final Review!
With a self-charging robotic vacuum cleaner for pet hair, hard floors, carpets and carpets, this device has what it takes to get the job done!
How To Choose The Best Robot Vacuum Without Wifi – [Buying Guide]
Before you skip to the most important buying part of the best robot vacuum without Wifi, make sure you have understood which factors you should know about them. Once you have clear idea of these important factors, the buying process becomes even easier.
So, here are some elements you should check in the robot vacuum cleaner before stepping into the market!
1. Cleaning Power
The cleaning power of a robot vacuum is one of the most important things you should consider when purchasing one. How powerful does it need to be? What are its pros and cons?
The more powerful a cleaner, the better it will be at cleaning your floors. That said, there are two main factors that affect how strong a robot vacuum's suction can be:
A power source (battery or cordless)
Size/weight (smaller models tend to have weaker suction than larger ones)
Electric robot vacuums have the advantage in this category, as they usually have stronger suction than their battery-powered counterparts.
The smaller and lightest cleaners tend to be battery-powered, which means they can't pack as much power into their motors. On the other hand, electric models are often heavy and awkward to lug around.
2. Battery Life
You need to check the battery life of vacuum cleaner when choosing a robot vacuum. This is because it will determine how long you can use your robot vacuum without charging it again and what kind of capacity you get from it.
The best robot vacuums have batteries that last between 3-5 hours on a single charge, while the worst ones only last around 30 minutes or so.
The recharge time also varies greatly depending on which model you choose, but generally speaking they're all pretty fast at recharging their batteries too!
3. Sensors
One of the most important factors in choosing a robot vacuum is its sensor technology. A robot vacuum with lidar sensors, for example, can easily identify obstacles and furniture that might be in the way of its charging station or pathway.
Lidar sensors work by using laser beams to measure the distance between two points using reflected light. These sensors are very accurate and are used in many industrial applications where determining location is crucial (e.g., surveying).
IR sensors use infrared light instead of laser beams to detect objects close by and avoid collisions with them; they're also useful for detecting people in dark areas such as kitchens because they don't emit any heat like a normal camera would do when taking pictures at night time!
4. Brushes
Brushes determine the preciseness of a vacuum cleaner, and hence, it is one of the most important part of a robot vacuum. You'll want to choose a model with brushes that can clean your floor, including:
Hardwood floors. Soft brushes work best on hardwood floors because they don't scratch or damage the surface. Some models have an extra brush for hardwoods, while others have just one or two soft brushes that are good enough for most surfaces (but not all).
Carpets and rugs/mats/upholstery etc.. When picking out your robot vacuum, look for one with rubber bristles on its floor attachment so you can easily get rid of pet hair from your carpets and rugs/mats.
Many manufacturers include a brush attachment for carpets and rugs/mats etc.. A good vacuum will have a brush attachment, too. This will help you get all the dirt off your floors before vacuuming them, which makes it easier to clean up after.
5. Doot Sensors
Doot sensors are a great feature that can help your robot vacuum clean better. These are small devices, usually attached to the side of your robot's wand or base, that detect when an object is in its path and automatically stop what it's doing.
Doot sensors come in many different forms: some have lasers that activate if something gets too close, while others use infrared laser beams. Some models even have ultrasonic technology to detect obstacles up to 10 inches away from themselves!
The main benefit here is safety—you never have to worry about missing any important items on your floor again because they're detected by these devices right away (which means less work for you).
This also makes cleaning more efficient as there won't be any delays caused by having two separate systems working against each other during the cleanup time since everything operates together via one common purpose: keeping things safe while being productive at the same time.
6. Cleaner Bin Design
This will be your robot vacuum's main storage compartment, and it's important that it holds enough dirt or debris for your particular needs.
You'll also want to make sure that the bin is easy to empty when full—this may require a small ladder or some other means of accessing the top of your vacuum cleaner's body so that you can reach down into its internal cavity.
If there's one thing all owners agree on, though, it's this: emptying out robot vacuums should never take more than five minutes!
To ensure this happens as efficiently as possible (and without breaking any nails), look for bins with lids that open wide enough, so they don't get stuck when emptied out by themselves.
FAQs – Get More Answers Here!
Are Robot Vacuums Really Worth It?
The answer to this question depends on what you value most. u003cbru003eu003cbru003eIf you want your house to look clean and tidy all day, then a robot vacuum will probably not be able to get the job done. If you don't mind doing some work and want a vacuum that will keep your floors dirt-free and free of pet hair, then a robot vacuum might be right for you!u003cbru003eu003cbru003eThese machines have become extremely popular over the past few years because they are so versatile. They can clean carpet, tile floors, hardwood floors, upholstery, and more! u003cbru003eu003cbru003eInstead of having several different types of vacuum cleaners around the house, you can buy one machine that does it all!
What Are Self-Emptying Robot Vacuums?
A self-emptying robot vacuum uses sensors and cameras to map out your home and determine what areas need cleaning most often. u003cbru003eu003cbru003eThe machine then uses its arms to pick up dirt and dust, which it then deposits in a bin located underneath its body. This process is repeated over and over again until the area is free of dust and dirt.u003cbru003eu003cbru003eThis type of machine works best when you have a small home with low-traffic areas like bedrooms or bathrooms where pets live. It can also be used in large homes with high traffic areas like kitchens where people eat or open doors frequently.
How to use Roomba without Wifi?
You can use Roomba even without a wi-fi connection.u003cbru003eu003cbru003eAll you need to do is plug in the power cord and place your Roomba on the charging station. It will start charging automatically.u003cbru003eu003cbru003eOnce it's done, press the Start button on the remote control and remove the battery cover from your Roomba bin. Then place it inside the bin and close the lid. Your robot is ready for work!
Conclusion
If you're in the market for a new vacuum, you should consider how effective it is at removing dirt from your home or car before buying it. If you want to see if it will work for you, our list of best Robot Vacuum Without Wi-Fi above can help you decide whether this product is right for you!
We hope that you enjoyed our article. In this review, we have covered all of the pros and cons of these products. We also have provided a buyer's guide to help you find the right one for your needs.
So take your time and compare the products to find the best one that fits your need and your budget. This way, your hard-earned money is not going to waste!