Low bathroom ceilings have become a common design problem as more people live in apartments and spec houses.
Making your bathroom ceiling appear higher can be difficult, but a few tricks of the trade can assist.
Light colors on the ceiling help create the illusion of height. Vertical stripes or patterns are another way to make a ceiling appear higher. Also, hanging curtains near the ceiling will make the bathroom ceiling appear taller.
Take a look at these helpful tips for making your bathroom ceiling look higher, even if you have low ceilings.
Tips To Make The Bathroom Ceiling Look Higher
1- Elongate With Vertical Stripes
Taking a cue from fashion, vertical stripes are preferable to horizontal stripes because vertical stripes create the illusion of height.
Painting stripes on your walls is an excellent way to modernize a bathroom without breaking the bank. Stripes can be used to cover the walls of a bathroom as an accent wall.
The greater the contrast between the stripes' colors, the more significant the difference. Painting stripes on the wall is one of many options. Wallpaper and paneling also work nicely.
2- Use a Vertical Display
Even the 'loosest' vertically striped wallpaper will work because it directs the eye up and down the wall rather than across it, creating the illusion of height.
Combine a vertical stripe with woodwork painted to match the wallpaper – picking out the most prominent color will create a cohesive look for the room that will enhance space.
3- Hang Floor-to-Ceiling Curtains
Ensure that window treatments are hung as high as possible. Floor-to-ceiling curtains make a room appear more prominent, and the ceiling appears higher.
Installing your drapes from the ceiling to the floor directs your gaze upward, giving your brain the impression that the ceiling is higher.
The visual flow is broken when your curtains end just above the window, making the high ceilings appear lower.
4- Consider a Herringbone Ceiling Pattern
Herringbone floors are familiar to you. This is nearly the same thing, but for the ceiling instead. As a result, the effect of a herringbone ceiling can be unexpected.
This is a great way to add warmth to a room without using wood floors. It's finally time for the ceiling to shine.
5- Remove Crown Molding (or keep it very thin)
Molding is used to define the modest ceiling height and add extra detail, but this is the last thing you want in a room with low ceilings.
Thick molding for low ceilings is another way to make a bathroom look taller. This is because it takes up wall space, making your walls appear shorter than they are.
To reclaim that wall space, remove the thick crown molding or keep the crown molding proportional. This change will make the ceiling appear higher.
Avoid molding or choose a skinny style painted the same color as the ceiling.
Painting Tips to Make The Ceiling Look Higher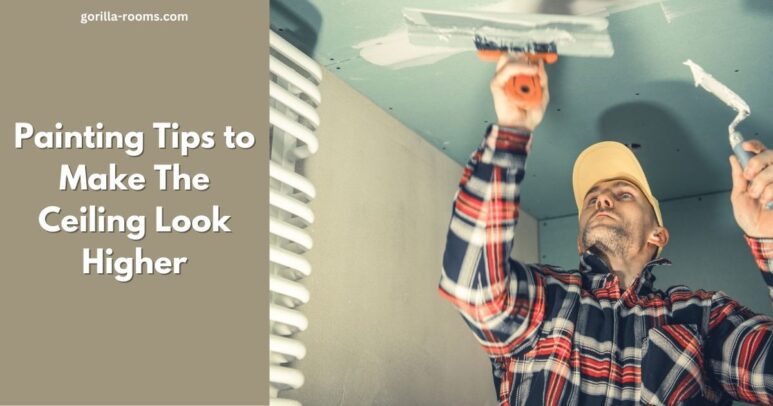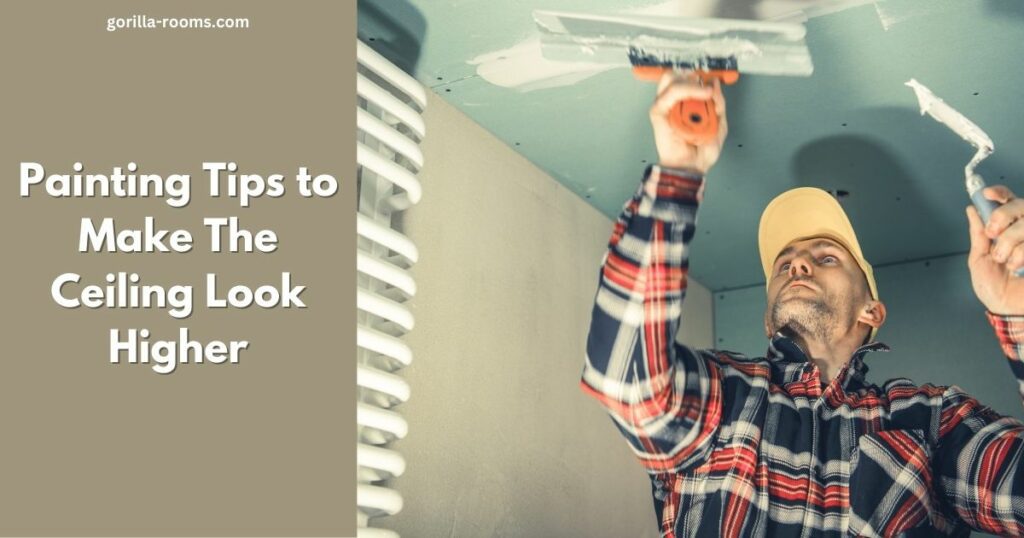 1- Choose a Lighter Color for the Ceiling
Painting is one of the most affordable ways to transform a space.
Light colors, preferably white, are always preferable in the bathroom with low ceilings. Make the ceiling a few shades lighter than the walls. Pale blue or aqua-colored ceilings create the illusion of distance and make ceilings appear taller.
Another optical trick is to paint the first two or three inches of the perimeter ceiling the same color as the walls to create the illusion of taller, higher walls.
2- Use a Matte Finish on The Ceiling
Another school of thought holds that a matte finish is best for making a ceiling "disappear," concealing flaws and faults in the ceiling while emphasizing the room.
Matte coatings have a more muted appearance, do not reflect light, and appear smoother than gloss surfaces. These coatings are short-lasting, but they're great for quick touch-ups.
A matte finish hides flaws while drawing attention away from them. While a glossy finish provides a shiny surface similar to a mirror, it may also reveal flaws.
3- Glossy Paint Finish for Ceiling
The best paint to use is gloss paint because its bouncing light off the ceiling creates visual height and makes the ceiling appear less static. Bouncing light off the ceiling creates visual height.
You can use the paint's finish to reflect light and color. Give your ceiling high gloss, as the more significant the gloss, the more reflective the surface.
Higher-gloss paints to make a room appear more spacious, but the effect is dramatic, so think carefully before deciding to use it on the walls. Most people prefer an eggshell or semi-gloss finish.
Lighting Tips to Help Make Your Ceiling Appear Higher
1- Use Recessed Lighting
Anything that protrudes from an already low ceiling, such as some ceiling lights, will make the entire ceiling feel lower and, consequently, the bathroom feels smaller.
Those are valuable inches lost. Install recessed lights instead, which take up space within the ceiling itself. You could also forego ceiling lights in favor of wall lighting.
2- Include Up-Lighting
Visual height is created by reflecting light off the ceiling. This effect can be achieved with sconces, cove lighting, and inexpensive torchieres. This cove lighting is an excellent method for bathrooms.
3- Keep Lighting Flush
Use flush-mounted lighting to keep the look clean in a modern home with a low ceiling height. This method will give the impression of more headroom.
4- Avoid Overhead Lights
Fans and ceiling or overhead lights should be avoided because they draw attention to the ceiling. Alternatively, choose clear or see-through fixtures to reduce visual clutter.
5- Install Skylights
Skylights bring more natural light into a space when the ceiling is low. Of course, numerous distinct design strategies can emerge around them, focusing on various elements of the décor or emphasizing specific aspects of the space.
How to Make a Small Bathroom Look Larger?
Small bathrooms are the norm rather than the exception. A small bathroom does not have to mean sacrificing style or functionality. You can make the most of your small bathroom with clever design ideas.
1- Choose Your Ceiling Color Carefully
Is there any natural light in your small bathroom? If so, that's fantastic, and you can be more creative with your paint color, but if not, everyone's first instinct is to reach for bright, white paint.
Similar to the earlier point about the high ceilings resist the urge to paint your windowless bathroom white. It will look dingy and dull in the end. Choose a color that isn't white and has a higher LRV (light reflective value).
Painting the ceiling the same color as the walls or even a darker color will visually elongate the ceiling height, making it appear taller.
2- Keep Things Open and Airy
Keep the more significant pieces visually lighter when designing a small space. Installing a vanity with open storage is an excellent way to make a small bathroom appear larger while also providing functionality.
Similarly, choose shower glass over a full tile enclosure when designing a shower. If you use a shower curtain, make it hang from floor to ceiling and leave it open when not in use. To make the room appear larger, keep things open and airy.
3- Run Your Tile Vertically Up the Wall
This looks great with smaller or medium-sized tiles. Instead of a horizontal running bond, install the tile in a vertical direction running up the wall.
The upward linear movement draws your attention to the ceiling, making the space appear taller and more prominent. It's a simple design trick that only requires a little forethought.
5- Get Rid of The Bathtub Idea
As much as we enjoy soaking after a long day, a small bathroom does not allow for a comfortable, freestanding tub. And, let's face it, the tubs built into and tucked into walls need to be bigger to be used comfortably.
Bathtubs are often too large or take up a lot of space in bathrooms and are thus not the best choice for smaller rooms.
Conclusion
We have discussed the best ways by following which you can easily make a low bathroom ceiling look higher without drilling holes or damaging the ceiling.
So, to make a bathroom ceiling look higher without knocking down any walls, give one of these methods a shot and see how it goes.
These tricks create the illusion that your roof is higher than it is. Also, these tricks can make a ceiling look higher, whether in one bathroom or throughout your home.
FAQs
What colors make ceilings look higher?
Paint the ceiling a lighter color than the walls, preferably white. Some argue that high-gloss paint is best because it reflects light and makes the ceiling appear less fixed and static, whereas others argue that a matte finish will help the ceiling blend in better.
Can you make a low ceiling look higher?
The first trick for a low-ceilinged room is to invest in one that is tall and narrow; the second trick is to hang it higher than usual – this will 'lift' your ceiling and instantly make it feel taller.
Why are people drawn to high ceilings?
Your home appears more spacious: Modest ceiling height can instantly make your home appear larger and more luxurious. The extra height makes even small rooms appear larger! Rooms with high ceilings also benefit from the ability to accommodate beautiful feature lighting, such as a chandelier.
Ayesha is a passionate writer who loves to write about home decor. With a keen eye for detail and a desire to improve homes, she experiments with new ideas and techniques to create beautiful and functional living spaces. Ayesha is a regular contributor to "Gorilla-Rooms.com", where she shares her thoughts and insights on all things related to home decor.