If you want to add a sense of luxury to your bathroom, painting your porcelain sink is an excellent option. Why spend hundreds on a whole new sink when you can just spend a few bucks to create the one you already have.
But can you actually paint a porcelain sink?
Yes, and it's easier than you might imagine. You can paint a porcelain sink for any purpose, whether to update the color or because the original is fading and needs polishing and touching up.
You don't need to engage a professional painter to do the task for you. All you need is a clean, dry sink, a high-quality paintbrush, and high-quality paint, and you're all set.
To learn how to do it yourself, keep reading.
What Are Porcelain Sinks?
Porcelain sinks are built from exceptionally hard, non-porous clay that can resist very high temperatures. While solid porcelain sinks do exist, most porcelain sinks are really fabricated from steel, iron, or other metals and then coated with porcelain.
Compared to other kinds of sinks, such as those made of stainless steel or granite, porcelain sinks tend to be in the more affordable price range. They are also simpler to install and keep up with overall.
Can You Paint Porcelain Sinks?
Yes, you can paint porcelain sinks. You should use epoxy paint specifically crafted for painting porcelain. Before you can paint the sink, you'll need to sand it down.
Painting your sink is surprisingly simple. In other words, it's a simple and effortless task. Choosing a new color and design for your sink is required to give it a completely new appearance.
If painting the sink is the greatest option for making it more practical and aesthetically pleasing, then it should be painted.
Unless the paint isn't a good match for the surface, there's nothing stopping a homeowner from giving the sink a new coat of paint. But it's important to remember that different sink materials and surfaces necessitate various paint types.
How To Paint a Porcelain Sink -A Step-by-Step Guide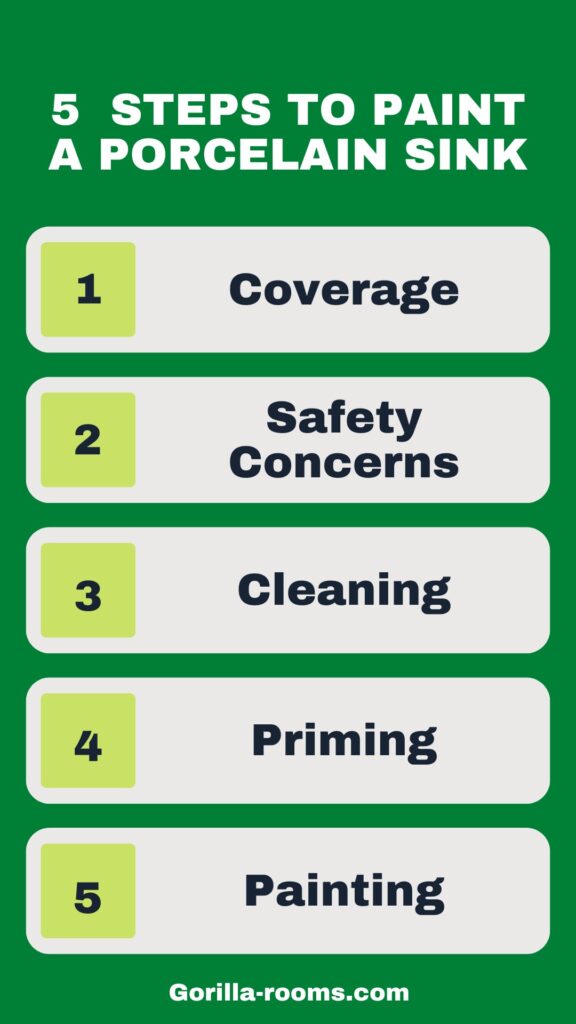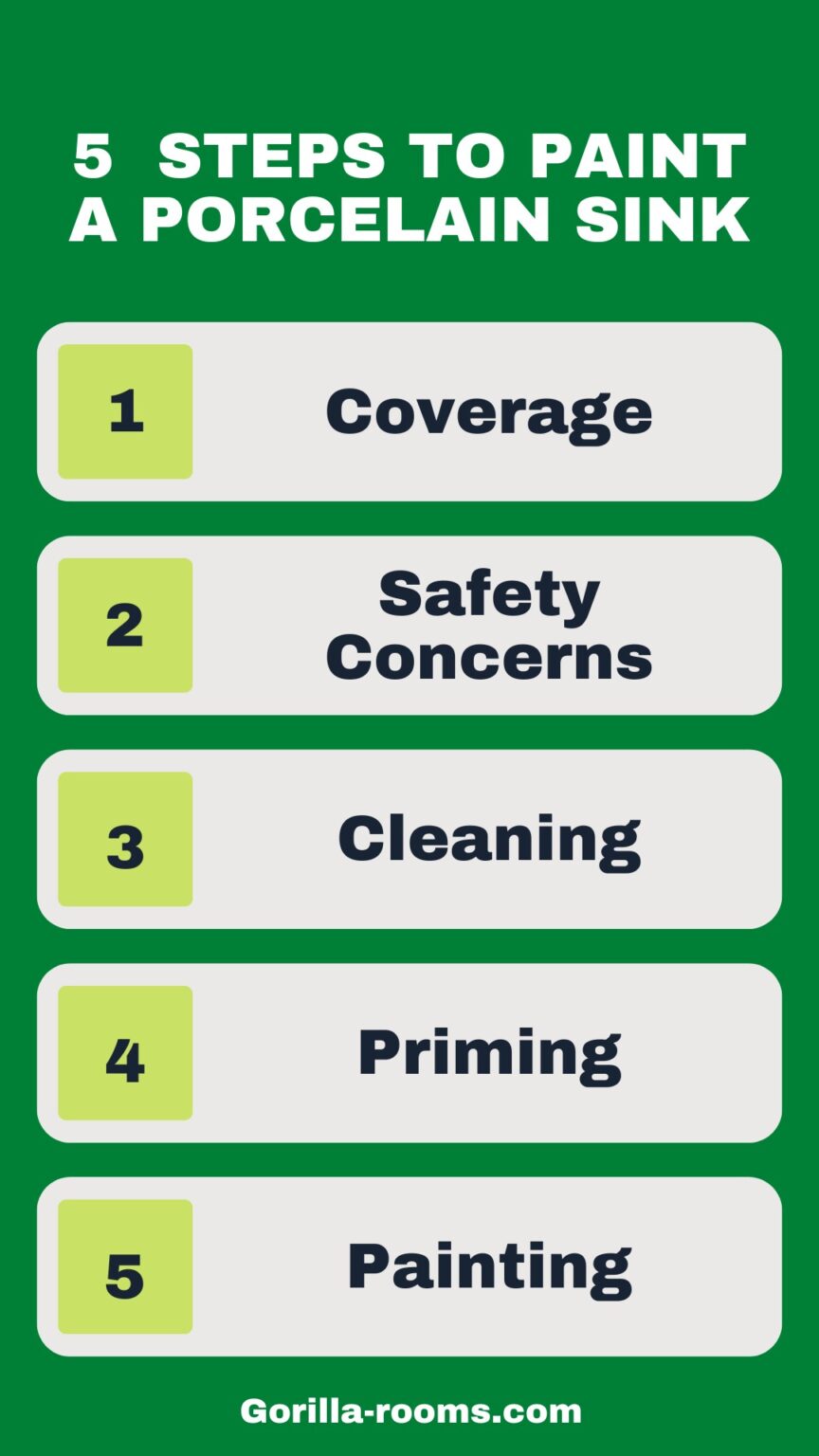 1. Coverage
The first and most crucial step in minimizing clean-up time and protecting your things from unexpected damage is to seal off as much of the adjacent area as possible before initiating any work.
A sheet over the floor, a cloth over the counters, and a swath of fabric across the walls are all necessities.
You should make every effort to leave as little of a mess as possible in the area around you and try to do as much as possible to accomplish this.
Paint is made to adhere, particularly the paints used for this project, so it is far simpler to avoid the mess they may produce than to clean it up.
2. Safety Concerns
When painting a sink, spray paint is the method of choice for the greatest results; nevertheless, the paint fumes may damage your health. Ventilation is a crucial first step for your security.
Wearing gloves and a mask is important because the paint is potentially dangerous, and certain primers and other chemicals are required to clean the sinks.
The ideal method to do this task, if possible, is outdoors. Though you'll still need to wear protective gear like a mask and gloves, you won't have to worry about leaving open windows or covering other surfaces.
However, it's not always worth taking a sink apart, conducting the work outdoors, and then putting it back together again after it's dry.
3. Cleaning
The essential step in the correct procedure is cleaning the sink as completely as possible to remove any leftover spots and soap scum.
Any standard tile cleaner will suffice, but after that, it's best to wash the surface off with something like isopropyl alcohol to remove any trace of cleaner before painting.
4. Priming
Before applying a fresh coat of paint, porcelain may need to be sanded with sandpaper (often about 150 grit), although this varies based on the kind of porcelain you use or the sort of primer you are applying.
Follow the care instructions for your paint brand to see whether this step is required. A bonding agent or primer is the first step in the actual process.
In many cases, you may save money by purchasing the primer and paint you need together. Many coats of primer may be required if the desired color is significantly different from the original, particularly if the intended color is not a variation of white.
5. Painting
The next step is to paint the sink itself. Spray paint is recommended, but if you must use a spray gun with another kind of paint, take special care to properly set up the paint and the gun.
When painting, it's important to note which places you've covered with each layer since if you miss a coat in a certain region; it will be quite evident as it dries (depending on the color choice).
Spray painting an item like a sink requires many thin applications for the best effects; at least three coats are recommended.
And when you complete a coat, give it at least 15 minutes to dry before applying another.
Once you're satisfied with the paint coverage, it's time to let it dry.
Do not be hasty; failing to wait for the sink to dry between coats might significantly extend the painting process.
If available, a heating bulb may speed up this step significantly.
Things To Consider Before Painting Porcelain Sinks
There are several things to remember when painting a porcelain sink, even though they are a great complement to any bathroom.
Before doing anything else, check that the sink is clean and clear of any filth or debris.
The next step is to use sandpaper with a coarse grit to sand down the sink's surface to produce a smooth finish to which the paint can adhere.
After sanding the sink, you will need to apply a primer made specifically for porcelain surfaces.
At long last, give the sink a coat of paint using a brush or roller that is made specifically for porcelain painting.
Before using the sink, ensure that the paint is fully dried.
What Paint Should You Use For A Porcelain Sink?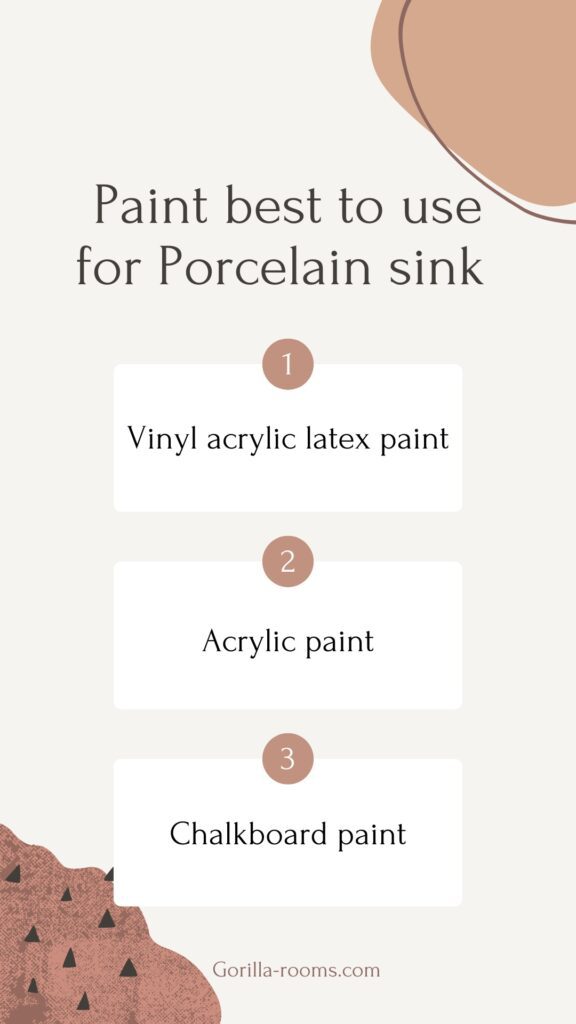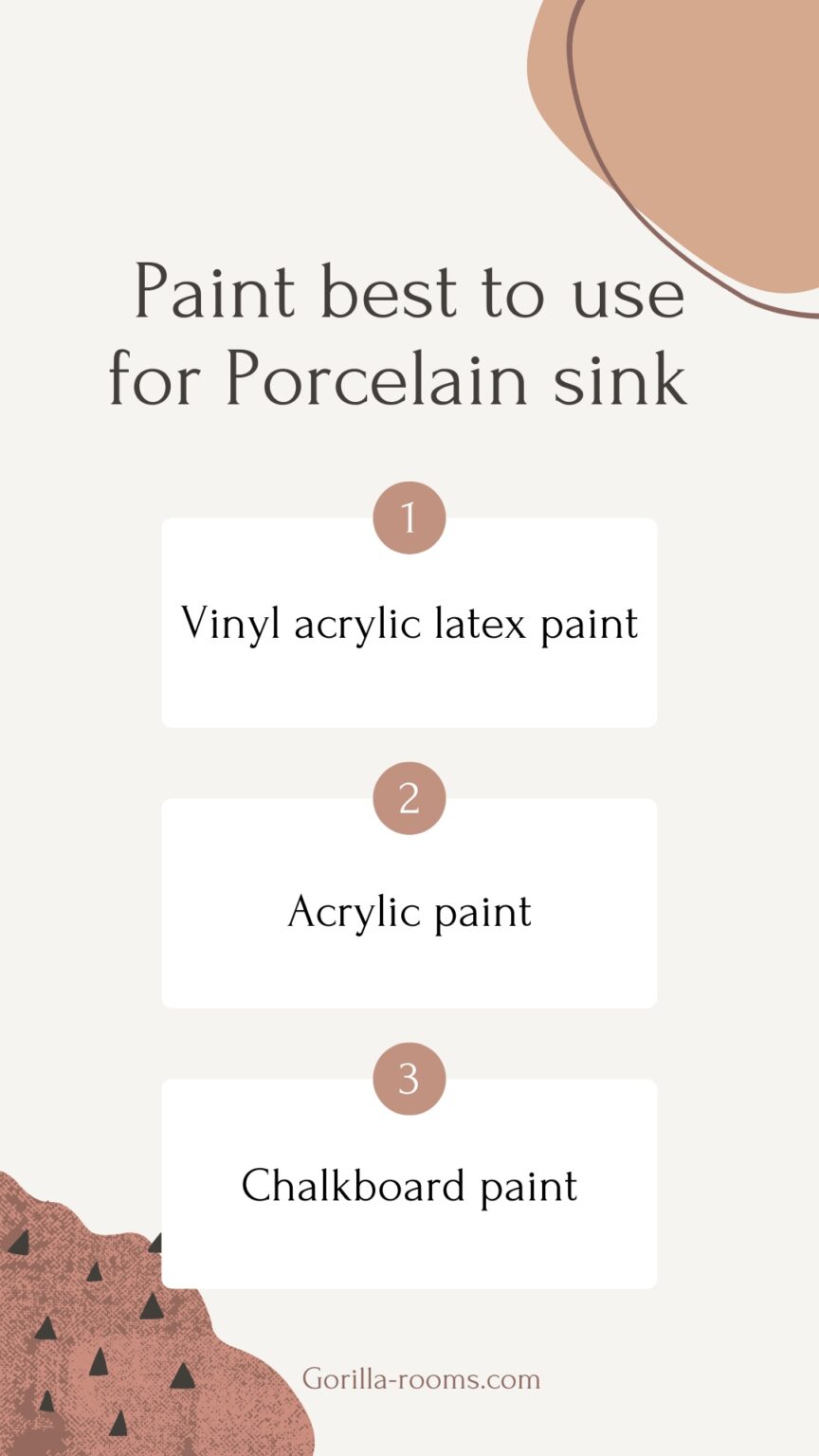 Epoxy paint, enamel paint, or acrylic latex paint are the three types of paint that are most suitable for painting porcelain sinks.
Make sure you save some of the paint you use for touch-ups in case you need them after completing the job. It doesn't matter what color paint you use.
1- Vinyl acrylic latex paint
This kind of paint is long-lasting and has excellent resistance to cracking and peeling, both of which may occur over time. Porcelain, whether glazed or unglazed, may benefit from its application.
2- Acrylic paint
Porcelain sinks may also be painted with acrylic paint, which is another alternative. It is resilient and resistant to chipping and peeling. On the other hand, it does not take nearly as much effort to write on as blackboard paint does.
3- Chalkboard Paint
Chalkboard paint may be applied to any kind of porcelain, but it works particularly well on unglazed porcelain. This is because unglazed porcelain has a more porous surface. It works well for jotting down notes or sketching drawings.
The appearance of these paints may be very close to that of newly washed porcelain, making them an excellent choice for remodeling the bathroom.
These paints are also ideal options because they're not porous, meaning that water cannot combine with them; they are resilient to damage caused by chemicals and are better susceptible to scratches and damages than paints that are comparable to them.
What Is The Best Paint For Porcelain Sinks?
Paint won't stick to a sink simply because it's been applied. For example, ordinary paints will neither give your sink a rustic aspect nor refresh its overall appeal.
Porcelain sinks must be painted with either epoxy or enamel paint. Enamel paint creates a glossy, durable, and simple-to-clean surface.
Epoxy paint is more long-lasting and resilient. Painting a porcelain sink requires special paint that won't crack or peel under normal usage.
Conclusion
Porcelain sinks are an appealing addition to any kitchen or bathroom since they are present in a range of elegant styles and are simple to maintain. A porcelain sink will last a long time and be simple to clean.
This article explains the proper method for painting a porcelain sink. It's not tough; If you follow this guide to the point, you'll have a fantastic time and create something really remarkable.
FAQS
Is painting a ceramic sink even possible?
However, you cannot refinish the sink with regular paint since it has been sealed. You will need to acquire paint with an epoxy foundation to get a surface that is glossy and durable after it has dried.
In order to ensure that the paint will cling to the surface effectively, the surface must be thoroughly prepared before applying the paint.
Can you use any paint on porcelain?
Painting a porcelain sink is frequently a more practical and cost-effective option for replacing it than purchasing a new one. This is due to the resilient nature of porcelain as well as its aesthetic qualities it has.
Related Posts:
Can You Paint Carbon Fiber?
Difference Between Ceiling Paint And Trim Paint?