Painting windows can be an easy and affordable way to add a splash of color in any home – but do acrylic paints work the same way on windows as they do on other surfaces like walls or canvases?
You can paint a window with Acrylic paint. In fact, it can be your first choice because of the fascinating look and comparatively having more characteristics all in all.
In this guide, we'll break down the steps involved in painting your windows with acrylic paint and help you decide whether or not this process is right for your needs. Read on to learn more about transforming your space with painted glass!
How To Paint A Window With Acrylic Paint?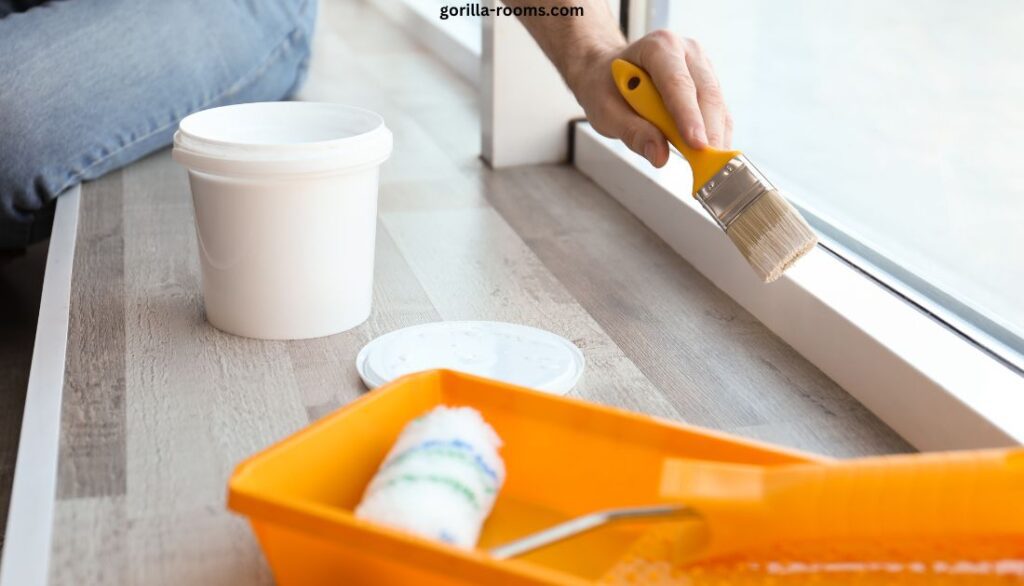 Painting a window with acrylic paint is a project that, when done properly and with the correct materials, can be fulfilling and worthwhile.To perform the task and get the results in the best possible way, there are some important precautionary steps to be taken..
Step 1:
Firstly, you should choose the appropriate acrylic paint for your materials. As windows may face outside elements, pick paints with added durability or sealers to protect the paint over time.
Step 2:
Before applying any color to your window, you need to start with a clean, dry surface. Using soap or rubbing alcohol, wipe down the frames and glass of the window, then let it dry completely before painting.
Step 3:
To ensure that your painting job is of high quality, use paints formulated with glossy or semi-gloss finishes that are made for glass and metal surfaces. This will make sure that your colored window lasts longer and won't chip away.
Step 4:
A great way to jumpstart your project is by priming the frames first with a primer designed for wood or metal before starting with acrylic paint. When applying the paint, use gentle strokes and blend them together.
Step 5:
Additionally, cover every corner and crevice to ensure even coats. Also, tape off the parts you want to keep unpainted (such as handles).
Step 6:
It's best to wait an hour between coats in order to get a consistent finish; thus, some patience is necessary when it comes to this task. Once you have done two or three coats, it is time to seal it with a clear coat spray varnish meant for outdoor surfaces, as this will increase durability.
Related Post: Can You Paint A Plastic Bathtub?
Advantages Of Using Acrylic Paint On Window
There are some magnificent advantages of using acrylic paint on windows that compel us to use this object to enhance the mesmerizing beauty of windows and make the home lively.
Acrylic paints are really adorable for the people of aesthetic sense as many enchanting and captivating patterns, designs, and effects may be created by using glass windows, especially at the outside, and can be enthralling.
It is long-lasting and more durable than Tempera paint or washable window paint.
It is semi-permanent as you can remove it with a blade, a knife, or using alcohol whenever you wish to have a change, or you can even make it permanent too by painting a sealer over it.
Acrylic paint dries really fast, almost within 15 to 25 minutes which allows you to complete the task in a very short time.
It is almost nontoxic, so it is not dangerous for your family members and pets. It is a great quality in paint, particularly in a house where young kids roam.
Acrylic paint is more affordable and economical than other type of paints.
Regarding the resisting power against the heat, Acrylic paint offers amazing results regarding the resisting power against heat.
Acrylic paint has a normal process to maintain and clean almost for 4 to 5 years, and that is really a reasonable period for paint.
It is glossy by nature that makes your window really attractive, and they can glow at night, but at the same time, even if you don't like glossy, you may use the matte medium too, according to your own choice.
Acrylic paint is mostly stuck to the glass of the window without a primer.
Related Posts: Can You Paint Porcelain Sinks?
What Are Some Tips For Painting A Window?
Follow these tips to meet the challenges that you may face in painting windows with acrylic paints.
1- Make Spray Bottles
Keep soap and water in a spray bottle to continuously clean your hands and other body again and again during your work to deal with the issue, as Acrylic paint is not easy to clean after you have painted your object.
2- Branded Paint
Paint of good brands should have opted for as Acrylic paint of every kind is not suited to the glass of windows. So you need to find the best quality of paint to avoid the problem, and for the remedy of this problem, you must be well aware of the varieties.
4- Proper Mixing
Mix glossy and matte paint in suitable quantities; otherwise, it is not going to give you the result that you are looking for or thinking of, as Acrylic paint gives a different look and feeling when you have finished painting your object.
6- Use Spandrel
Spandrel should be used, which is a specially designed acrylic paint for glass though it is expensive comparatively.
Acrylic paint, in most of the cases, does not perform well or does not stay longer without the paint heated well, or the surface should be very well primed or at least medium primed to get the best possible result.
Conclusion
There is no paint that properly sticks to the window glass in a way that may be considered as perfect or at least near the word by competency.
The best possible paint that may perform reasonably well on window glass is acrylic paint because, for a transparent glass like window glass, it is acknowledged as a better choice, so it becomes our automatic first choice.
So, apply the glass medium, get the best brand product of acrylic paint, and get painted by a well-experienced painter acrylic paint can definitely be used as the best possible choice for window glass.
Related Posts: