Smaller desks may lead to poor posture and cause lower back pain. So you should make your desk taller to adjust your posture.
Or may be your computer chair is taller, and you want to balance the height of your desk.
To create a comfortable working environment, you should adjust your desk according to your comfort zone.
There are a lot of methods to make your desk taller, and it's not a difficult job. In just a few minutes, you can do it yourself; let's have a look.
How To Make a Desk Taller With In Minutes
1-

Use Table Riser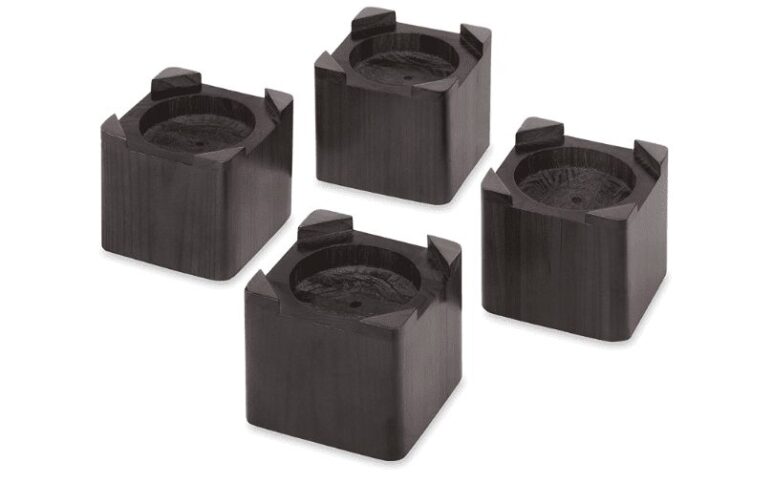 Using a table riser is one of the cheapest and convenient ways to give height to your desk. Adjusting the desk only takes a few minutes.
These table risers come in different designs, shapes, and colors placed under the desk's feet to give height.
The main advantage of using a table riser is that it can't add permanent height to your desk; you can easily remove their risers anytime. You can also paint the riser that matches your table color.
But you can't buy a random table riser. Before picking a riser, you must calculate the height of your table and the other height you want. In the market there you will get different sizes of table risers.
If you want to increase your table height by four inches, you should buy a 4-inch table riser. Some of the risers are adjustable; you can further increase their height by simply adding more stacks.
Secondly, if your desk has heavyweight or you have placed some heavy item on it, then pick a more durable and robust table riser made up of wood or metal.
Plastic table risers are cheap, but these risers are only best for low-weight tables/desks. Also, their life in Spain is not too much.
And lastly, you should look for a smooth base table riser which is friendly for carpets and rugs. 
We recommend using Whitemore table risers. These are more durable and have a solid smooth base. These are made of natural and robust wood that perfectly fits every outfit.
2-

Use Wood Extension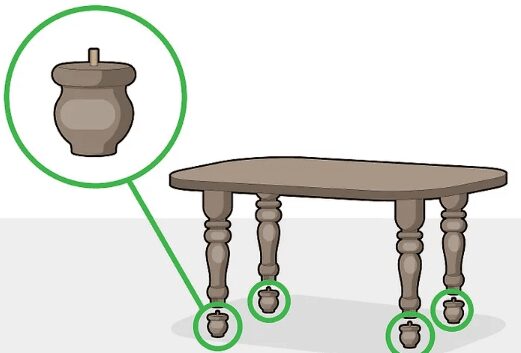 This is something that makes your desk more stable and adds extra height. But for this purpose, you should have a small drill machine.
And this one is another affordable way to give extra height to the desk. You have to follow different steps to implement this method perfectly.
Step 1:

Buy a wood extension that can perfectly match the width of your table legs. These wood pieces are available at any thrift or hardware store. You can also buy them from amazon.

Step 2:

Now, take the driller and turn your desk upside down to make holes in each leg. This one is only the difficult step where you have to be careful. Don't hurt yourself, and don't over drill the legs. For your ease, you can firstly mark holes on the legs and then start drilling.

Step 3:

Start drilling and make sure each hole must be at least 0.25″ deep. Now your holes are ready; next, you have to place tee nuts in these holes. You can use a hammer to fix these nuts in holes.

Step 4:

The last step uses hanger bolts to place the wooden pieces in the holes. Tighten them firmly with a screwdriver and make sure they are adequately fit for their position.
3-

Use Bun Feet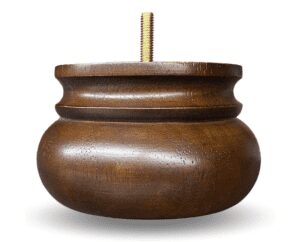 Bun feet are one of the most traditional ways to give height to furniture. These feet are available in round shape and can increase the height of your desk from 4 inches to 10 inches.
You can easily remove these feet when needed. They give extra stability to your desk and also bear a lot of weight.
Installing these bun feet isn't a difficult job. It takes a few minutes to install them properly. You must buy four Bun feet for all of your table legs, and they are available at any hardware store or online store.
How To Install Bun Feet:
Turn your desk upside down and make holes in all the legs using a drill machine.

Holes should have 0.25″ diameter, so that bun feet can easily screw in them.

Now fix these bun feet into these holes for all four legs.

To make a matching outfit, you can color these feet.
4-

Use Table Top Riser

If you don't have a driller machine or want to make holes in your table, this is a perfect method to make the desk taller.
Tabletops are the surfaces that are placed on the top of the table to lift height. And these surfaces are available in different sizes, shapes, and colors.
But you can't buy any size and shape; before making a purchase, check your table's width, then buy tabletop according to that width.
Most of the tabletop is adjustable, and you can also remove them when not needed. These come with a memory function where you can store a lot of stuff, just like a regular standing desk.
If you want to invest in a table riser, we recommend you buy Cloud Nine Electric Standing Desk. Because of its durable body, it can lift weight up to 90 lbs.
You can quickly up and down this riser and adjust it according to your comfort zone.
5-

Replace All The Four Legs
Most of the desk comes with interchangeable legs so can replace them with taller ones at any time.
This is a long-lasting and more professional way to increase the height of the desk.
Plus, this method makes your table look fresh and new. But this method is pretty expensive as compared to the rest of the methods.
First, you have to remove the old logs with the help of an Allen key or screwdriver.
Then again, using a screwdriver, you can install new legs. You can buy these legs from any furniture store or online store.
6-

Use Adjustable Desk
If you are a serious gamer or work for hours in front of a desk, you should buy adjustable desks.
These automatic desks use electric motors, and you can adjust their heights by simply pressing buttons.
You can go to any sitting position you want in just a few seconds. This will allow you to maintain your posture and enhance productivity by offering extra comfort.
Generally, these desks come with a height of 28″ (lowest) to 47″ (highest).
These automatic desks offer various features like memory buttons and a solid wood tabletop. If you are interested in these adjustable desks, we recommend you buy a Fezibo standing desk.
What Should Be The Ideal Desk Height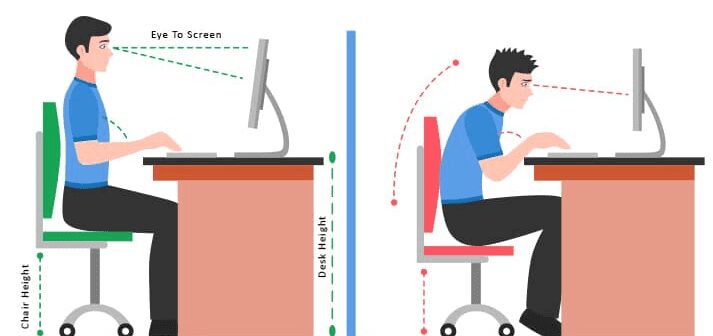 The correct answer is; it depends on your height and chair height too. And secondly, your comfort zone isn't only dependent on desk height but also on your elbow posture, back posture, footrest, forehead angle, etc.
You can see in the above picture these angles are considered to be ideal for the best posture.
In the first place, make sure your elbows are not stressed. You must bend your elbow about 70-130 degrees to make them comfortable while working.
Now uplift the monitor a little bit to reduce slouching and increase productivity. According to the research, working in front of computers with a bowed head decreases productivity, and working with a straight head will increase productivity.
Apart from this, make sure that your chair height is enough to make a 90-degree angle between your legs and the ground. And according to that angle, you can adjust the table's height.
Getting an adjustable desk will help you avoid repetitive stress injuries due to long periods of sitting.
Final Words
Making a desk taller is not a difficult task you can follow above mentioned methods to increase desk height. In that way, you can fix your posture by adjusting the table height accordingly.
I hope this article will help you to get some valuable ideas. And if you have any quire or pictures in your mind, don't forget to ask in the comment section.
FAQs