In this guide we will discuss how you can make your room brighter at night.
Most people don't like the darkness in their rooms at night. It's crucial for a nursery or a child's room to integrate an excellent dim light set up at night because It's essential for safety.
Secondly, you may stumble if your room is full of darkness. A little Illumination in a room will make it more comfortable, especially for zzz.
There are a lot of ways to illuminate your living room at night. Among them, some methods are expensive, and some are affordable.
So Let's Have a Look!
How to Make Room Brighter At Night?
1- Use LED Lightning Behind Frames
The easiest and most affordable way to light up your room at night. You can easily integrate LED lights behind your frames or artwork. There are different colors available, but I prefer you to use light colors as light colors look more luxurious.
There are different types of lights available for this purpose, including; Track lights, wall washers, picture lights, Ceiling-mounted accent lights.
Among all of them, Track-lighting systems are much cleaner and give a minimalist look than the tracks of decades past.
According to Russell
Track-lighting systems provide many advantages over ceiling-mounted accent lights when fitted with suitable lamps. They're pretty easy to integrate, for one, and offer high future flexibility.
If you have large artwork, I suggest you use picture lights. They cover the whole back area of your frame. And looks more beautiful at night, spreading dim neon all from all sides of the artwork.
2- Use Fairy Lights in Room
Somewhat lights are not just for Christmas; you can also use these in your home to spread soft light. Especially for the children 's room, these lights are perfect for lowering the dark at night.
You can place it under a shelf or wall cabinets to spread some illumination or to create a little ambience at night.
The purpose of string lights isn't simply to add light. These lights are an easy way to introduce colors, making an impact turned on or off. This is one of the easiest children's room ideas.
There is no need to purchase embellished lights. You can make your own by cutting or folding paper, then sticking it to a plain string of fairy lights. This way, you can customize the look and color scheme to your liking.
You can create a quirky lighting setup on the wall or above your bed by wrapping lights around a metal heart or a star. This will give a more relaxing feel at night.
3- Use Candles To Reduce Dark
Using candles is the most traditional and easy way to reduce the darkness. You don't need to put in extra hard work. Burn a few candles, and it will spread a pretty cool light in your room.
You can also use candles with fragrance, so when it burns, the fragrance spreads into the room.
There are two main types of wax: vegetable wax and mineral wax. Among them, mineral wax lasts longer, and it may stay for the whole night. You can place these small lightning sources on your side tables or decorate them on the wall. 
4- Use Neon Signs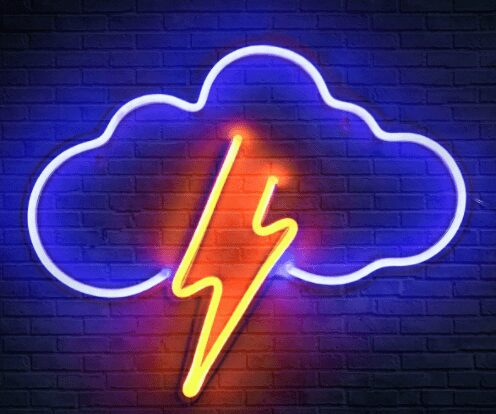 This is another relatively easy way to lighten your room at night. You don't need to put extra hard work into the setup. Hand a neon sign on a wall, and it will spread a cold light. I have blue neon strips integrated on the roof of my studio and with a computer table.
At night it gives a charming and sexy feel. Neon lights cool the eyes as there are no harmful blue rays in them, and it smoothly diffuses into the room.
Most people use neon lights to spell out specific words to create a unique environment in their room. But In a nursery or a child room, you can use different cartoons or signs that attract them.
Another most common use for neon-style lights is to use them for different items. Like I use it under my computer desk that looks so elegant and enhances the beauty of a room. If there are some showcases in the room, you can use neon lights around them as well.
Using this method is one of the simplest and most affordable ways to decorate and brighten your room at night.
5- LED Plugin Night Lights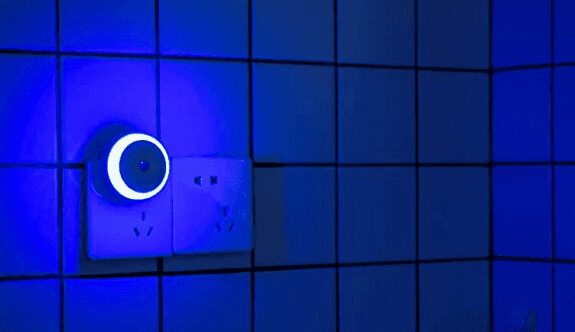 Everyone is aware of the LED plugin, a most usable and straightforward way to spread soft light into a room. You can buy a couple of LED plugins for under $10, which is most affordable compared to other methods.
Most LED Plugs come with advanced sensors that detect night light and turn on automatically and dim off as the room brightness. And you don't need to turn it off/on manually.
It provides enough illumination (60 lumens) to keep your family safe when walking through the hallway or bathroom at night.
There are different colors available, but the most useful is the moonlight color that gives a natural feel. Blue colors are also most famous and provide an extra comfortable feel at night.
Apart from the room, you can also use these light sensors in your hallway, bathroom, stairway, kitchen, nursery, toilet, etc., because these are so easy to integrate.
6- 3D Lamps
Lamps are the most traditional way to Lighten your room at night, but most lamps are too expensive and brittle. These old lamps are now replaced with 3D lamps or illusion lamps that look more beautiful.
These lights are perfect for kids' rooms because they love colorful 3D lights. Most of the 3D lamps come with a remote so that you can also change their color.
These magical lights are available in different shapes like the moon, star, love sign, cartoons, animals, etc. And I'm sure your kids will love it.
I bought a Himalayan salt lamp for my computer table, and now I'm also using it at night, and it looks beautiful. The salt lamps are also available on amazon. It comes in seven different colors, and you can control it via remote.
7- Night Light Projector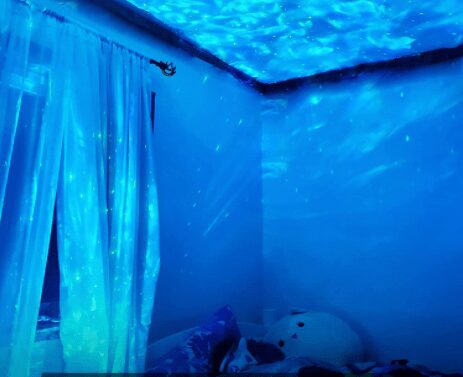 This is a device that projects lights on the ceiling and makes some amazing patterns. Especially if you want to lighten your kid's room, this is a perfect thing.
Most of these light projector comes with built-in Bluetooth speakers. Apart from a night, you use them at night parties, birthday functions etc.
You can change the lighting colors and adjust via remote. The brightness and light rotation speed is also adjusted via remote. I love the start pattern that looks like a virtual sky.
There are a lot of amazing patterns available. You can choose anyone according to your kid's choice.
You don't need to fit these lists into your walls or any other place. Just turn on the power button and adjust them as per your need. These portable projection lights are really easy and simple to use.
8- Fibre Night Lamp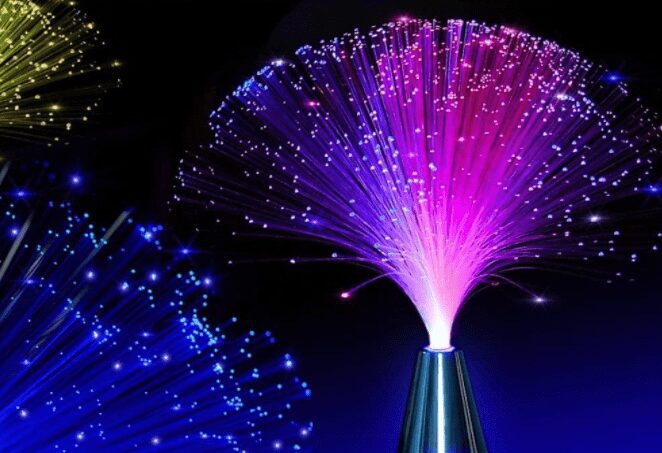 As compared to the rest of the lamps, these look elegant and has very low power consumption. You can also use these lamps in your kid's room because kids also love this gadget.
Like portable projector night lights, Fiber night lamps also have different color patterns, and you can adjust them too from a remote. By default, their brightness is too low. You can increase it via remote.
Compared to the rest of the methods, this one is more affordable, as you can buy two pieces of Fiber Night Lamp for just $15. I'm personally using this one in my mother's room, and she is really satisfied with it.
9- Multi-Color Curtain Lights
No doubt you will be using Curtin in your room, but you can decorate them with Multi-color Curtain lights. These lights look very pretty at night and available in different colors.
You probably feel surprised to hear about it because the Curtain light is a unique way to lighten your home at night. Like the last two lights, these are also controlled remotely, and you can change their color too.
Most people use them in different functions and parties because of their sexy and luxurious look.
You can turn on the waterfall flow of light to bring a more impressive feel. There are different lighting flows available you can choose according to your choice.
Final Words
To avoid stumbling, you must use any lighting source at night. Above mentioned methods are very popular to brighten your room at night. You can use any lightning source to spread little light in your room.
FAQS
How can I naturally brighten my room?
A strong accent wall and a palette of daring hues, such as this design by Mary McDonald, can enliven and brighten a space. High-gloss paint color is one of the finest ways to bring more light into a room, and the ceiling is the ideal place to try out this design option.
What is the best way to lighten a room with a dark wall?
Add light-colored artwork or tall light-colored furniture to brighten a space with dark walls. The light hues will help to lighten the room by covering some of the darkness. Consider adding a fireplace surround and tall baseboards, as well as dazzling white crown molding and other millwork.
How do I brighten a room when there isn't any natural light?
1- Use Artificial Lighting in Your Home.u003cbru003e2- Artificial Lighting Ideas for Your Home.u003cbru003e3- Change the color of your walls. u003cbru003e4- Don't over clutter your floors.u003cbru003e5- In the corner, place an oversized lamp.u003cbru003e6- Invest in a Mirror u003cbru003e7- It's critical to have lighting that can be adjusted.