You can follow our simple 8 ways to decorate your living room with the front door in the middle.
Houses are made on different architectural designs and models, and you need to decorate your house according to its design.
Most people are confused in decorating their homes and apartment; mainly, it's pretty tricky to decorate a living room with the front door in the middle.
No doubt, average rooms are pretty easy to decorate, but when you have a front door in the middle, you need to consider few things during decoration.
Let get right into the article!
How To Decorate A Living Room With Front Door In The Middle?
1- Choose Two Spaces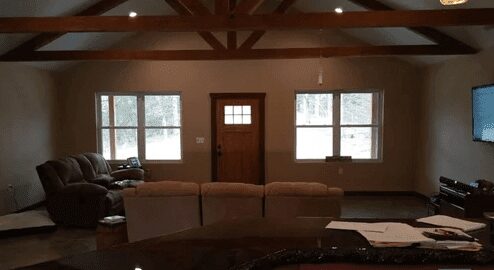 First of all, you need to select the best side for living on either side of the room, and it will help you perfectly decorate your room in a short time.
How can you choose the best part of your room?
Now you might be confused about which part of the room you should select. We recommend you choose that section which is near to ventilation. You need to put your bed on that side; you will feel more comfortable at night in this environment.
Now you have one for living and sleeping while the other is free, and you can use it for reading purposes, as a sitting room, gaming room, or whatever you want.
We will show you how to decorate the other side of the living room with a showcase, bookshelf, couches, rug etc. So that both spaces look more comfortable and luxurious.
2- Sofa Placement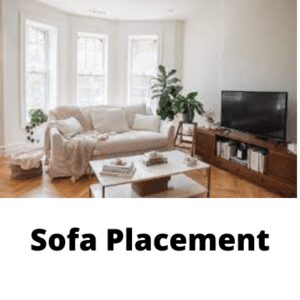 Now it's time to place sofas. If you have a large sofa, it will cover a large area, and you can't remember it in that part of the room where you put the bed.
Instead, you need to place your large sofa second part. In another part of a room, you need to place your sofas perpendicular to the doorway so that the back of the sofa create an entryway feel.
In this way, it will keep your living room area separate from the main door. You can make it better by putting a rug under your couch that gives a more luxurious feel.
i
f you have a small one or two-seat coach, you can also put it on the foot side of your bed and place a rug under it. Similarly, small couches can also be placed in other sections of your room.
3- Use A Runner Rug
To direct traffic, place a runner rug directly in front of the door. As a result of the automatic separation between the left and right sides of the door, anyone who walks in won't step into the seating area.
Also, the rug's long shape suggests a hallway. And you should buy the exact rug you have placed under your couch or bed that creates a contrasting look and feels more luxurious.
4- Use Swing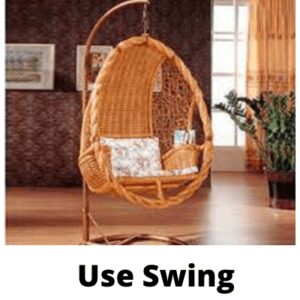 Swings are the most fantastic thing which reminds us of our childhood, and everyone wants to have a swing in their room.
To decorate a room with the front door in the middle, you can use a swing to give a different look to the room.
Now, where do you need to put the swing? We suggest you put the swing on that side where you have plenty of free space.
This will easily swing and wouldn't touch will walls. So I think the room with the second part (without bed) is perfect for inserting a swing. We have written a complete guide to insert a swing in the living room. You can also check it here.
5- Where to Place Mirror?
You will feel difficulty finding the right place to place a mirror in such a room. But mirrors make any space appear more prominent and broader.
We suggest you place the mirror right after your door, so they will feel the vast space when one enters the room.
And a large mirror will visually extend that small space into the living room area.
It also allows you to check your makeup and hairstyle to make sure you're looking perfect before stepping out.
6- Use Bookshelves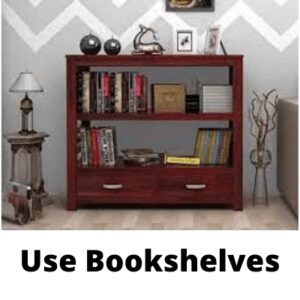 Bookshelf does not make your room look luxurious but also show off your stuff in an organized way.
Everyone needs an extra shelf space to decorate their favorite items, so you should use a narrow open bookcase that will be perfect for your room.
A thick and closed bookcase will defeat the purpose. You can decorate different items on it, but remember that keep it light with few books and other decorative items like frames, vases, figurines or toys etc.
You should place the bookcase in the second part of the room (Without a bed) next to your doorstep along with the wall. In addition to creating the illusion of an entryway, an open shelf next to the door can also be used to store handbags or keys.
7- Build a Pony Wall
Suppose the front door of your living room is positioned at the end of the living room, not the middle.
In this scenario, it should make a pony wall. This pony wall (low wall) divide your living room and create a clear entryway. You anyone come from outside, quickly enter the room.
You can make it more beautiful with a great area rug or runner to increase the illusion of an entryway.
8- Use Wall Decoration Shelf
Walls are the most crucial part while decorating your room. You can't ignore them. In nowadays, simple painted walls are not considered exciting and beautiful.
To enhance the beauty of your walls, you can use a wooden wall decoration shelf. These not only store or showcase your favourite items but also improve the beauty of your walls.
So you can use these wooden shelves for your TV wall or any other wall of your room.
You can place candles, different toys, decoration items, or any other thing on these shelves. You can make them further beautiful by simply putting items that color matches your rug or bedsheet colour.
9- Where To Place TV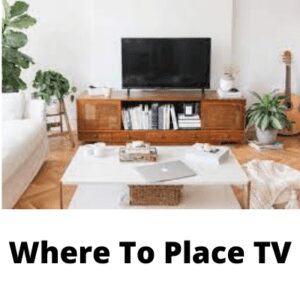 If your room has a built-in TV wall, then you need to adjust your TV to that. But most of the traditional rooms don't have a TV wall so in that case, where should you place the TV?
You need to find a comfortable area, but it doesn't have to be a doorway. Most people-centred TV with a couch, in this case, the distraction will take away from the conversation.
It also helps you to put your TV on a swivel mount. And you can easily view your TV with maximum viewing, and it can extend out from the wall and rotate right or left.
How To Layout a Living Room with a Fireplace?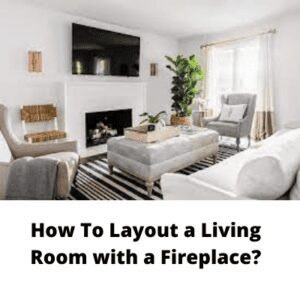 A fireplace will make a living room more exciting and allows you to enjoy napping around it.
In winter, it will keep you warm, and everyone likes it as paradise, and sometimes it will act as the aesthetic backdrop for your space.
Simple Fireplace Layout
With this layout, furniture will remain away from the surrounding fireplace at the center of the room, making the fireplace a centerpiece.
This layout is simple and easy to decorate. The space between the walls and furniture can place an office desk, reading nook, shelves, bar cart, floor lamps, or any other thing. 
I recommend this layout for those people who want more entertainment and napping etc. You can add further seating like small couches, stools, kids' chairs, etc., to host more guests.
To enhance the layout further, you can also add a rug under the sofas that make your room look more luxurious and comfortable.
 Hang a Swing In Living Room
If you have a fireplace at the corner of the room, it is pretty challenging to decorate your room perfectly, but it's not an impossible task.
You should place the TV on the wall as the focal point next to the fireplace, the palace couches facing the TV with a floral or rocking chair by the fireplace.
Secondly, you can also make your fireplace a focal point if you don't want to place a TV here. You need to arrange your couch to face the fireplace and then place armchairs on the sides.
Conversational Layout
For more social people and large families, this layout is recommended. You need to place your couch facing the fireplace and a pair of accent chairs facing the sofa.
With this layout, you can make the best eye contact and heart-to-heart conversation.
play games on Xbox
You can play games on Xbox with your friends or family and have a lot of fun together. If you want to make the circle large, add a few stools and move the chairs to face the fireplace.
Forget the Fireplace
This layout is perfect for summer days when you aren't using a fireplace. In this case, your sofas will face away from the fireplace, and this layout will maximize the space in the living room and keep the fireplace out of our conversation.
Now you have plenty of areas to place tables or bookshelves, and this layout will make your space functional and look more expansive.
Best Ways To Layout Furniture For A Room With Front Door At The Middle
Numerous arrangements can be made for furniture, but the arrangement may become trickly for a room with a front door in the middle. You need to use your brain to make the best arrangements efficiently. But you can follow a few tips to make your room more luxurious.
Choose Focal Point
Start by choosing a focal point in your living room. Some rooms come with a prominent focal point like a fireplace, but you need to create your own with a media or TV unit in other spaces. 
Now place your main seating facing the focal point and set up the other seating furniture around it. You can make your doors and windows a focal point in summer and place your searing facing the windows.
Try To Keep Furniture Away From Walls
If you want to make more space in your room, try to keep furniture away from walls. It's never a good idea to place yours against walls, and this leaves an awkward space at the center.
Depending upon your size, your living room gives your pieces some breathing room from the walls by a couple of feet.
Place Table Near Seating
To serve your guests warmly, there should be a table at the center of your seating area that will enhance the beauty of your room. Or you can place side tables near seating, but make sure that side tables should have the same height as the armrests of the seating. This will help you and your guest to pick up a cup of coffee from the table quickly.
Add Rug
To increase the beauty of your room and give it some extra look, you should use a soft rug. You can place the carpet at the center of your seating area or under the bed.
But make sure that the rug should extend a few inches beyond the furniture. If your living room is carpeted, make it cosier by adding a thicker accent run on top.
Final Words
Although it is tricky to decorate your living room with the front door in the middle, it's not an impossible task. Several techniques can be used to align everything perfectly.
Don't make your room awkward by adding tons of furniture. Only place a few necessary items in the room. It will naturally look gorgeous and attractive.