It doesn't take much imagination to figure out that the right plants could really transform your home and make it look fabulous. Plants have got a personality, and you can grow them in, letting those purifying air freshen up your interior.
Indoor plants are a natural green therapy to blow away your stress and purify the air in your room. They create a pleasing effect with a natural touch to cozy up your decor. 
So dress up the blank nooks and corners of your room with lovely green petals.
I've covered you up with 7 unique ideas to decorate your living room with indoor plants.
What Types of Plants Can You Use For Your Indoors?
Indoor plants come in a variety of shapes, colors, and combinations. You would probably be looking for a plant that suits your idea and the living room's layout. There are certain types of indoor plants which you can use to decorate your living room.
1- Low-light Indoor plants
Low-light plants don't need much exposure to sunlight. You can grow them in the shaded blanks of your living room. Pothos, snake plants, and spider plants are some examples of low-light indoor plants.
2- Air-purifying Indoor plants
You can use English Ivy, ferns, lady palm, and Chinese evergreen plants as air-purifying plants.
3- Hanging Indoor plants
Creepers, Pothos, and English Ivy are some of the hanging indoor plants.
4- Succulents
Consider using Zebra haworthia, Echeveria, and Lace aloe as indoor palms. If you're living in a relatively cold climate, palms won't be much handy to grow in your living room.
7 Innovative Ideas to Decorate Your Living Room with Indoor Plants
You can come up with unlimited ideas to decorate your living room with indoor plants. Here's a plentiful list of 7 ideas and indoor plants to use in them.
1- In Glass Cases On Shelves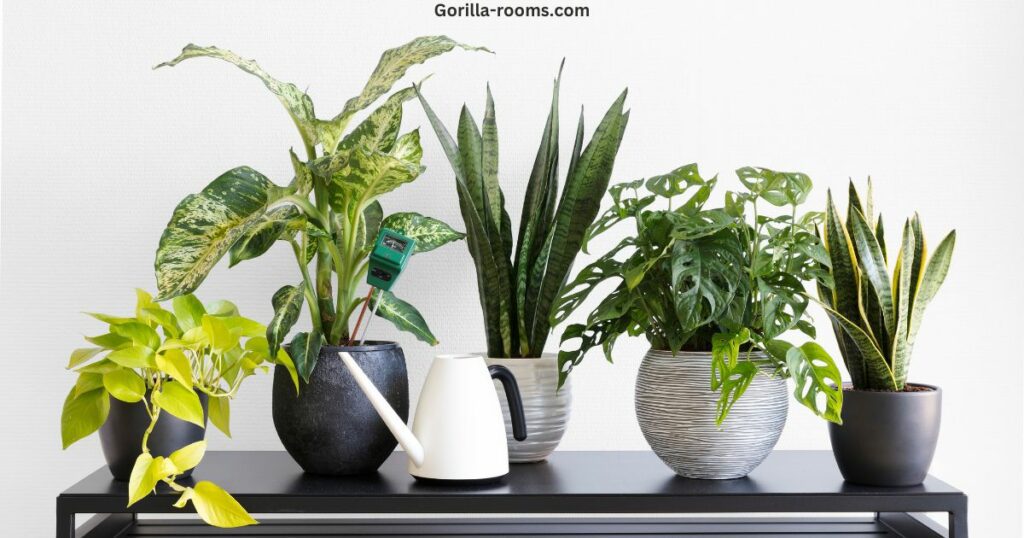 If you love small indoor plants, you should pick glass cases as their planters and keep them on shelves. The cupboards and cabinets look better filled up with crystal clear sheeny objects. You can create different innovative designs to organize them on the shelves.
Indoor plants of varying colors, including green and pink, would add to the beauty of the wardrobes in your living room. You can opt for stylish glass cases instead of thick Chinese vases.
Plants to Use In Glass Cases
Use the bushy foliage of Watermelon Peperomia as a centerpiece on your shelf.
The terrarium will look damn pretty in the glass case.
The wide leaves of the Arrowhead Plant grow faster in a glass jar.
The spider plant is famously known as the vase plant.
2- Hanging Plants In a Nook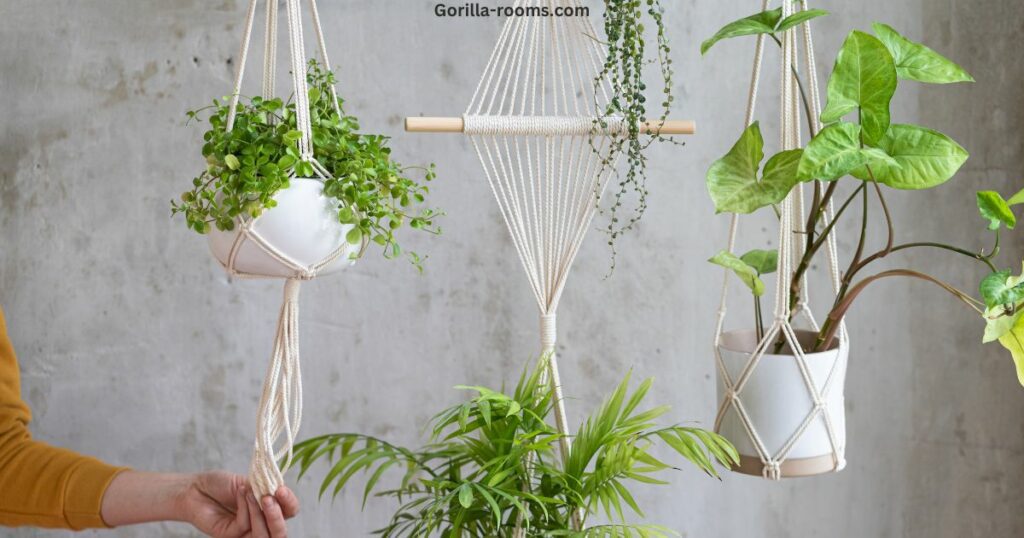 Drooping plants in different hooks and nooks of your living room is one of the typical decor segments. You can take some long branches or green shoots and hang them on certain heights with a shared thread to the ceiling. Or use macrame hangers to hang them up to the roof.
This bobbing display is easy to take care of and maintain for longer. It would give your living room a natural touch and purify the indoor air.
You can hang plants in matching pots to your indoor appliances for additional variety. It would present a rhythmic view of the space in your living room.
Which Hanging Plants to Use
Creeper and bushy foliage furnish the hanging pots.
You can hang up some ivy branches on the divider of your room.
The long vines of Pothos look incredible in hanging pots or draping down a bookshelf.
English Ivy is ideal for hanging pots in the moderate light of summer and the bright light of spring and winter.
3- Collection of Potted Plants in a Corner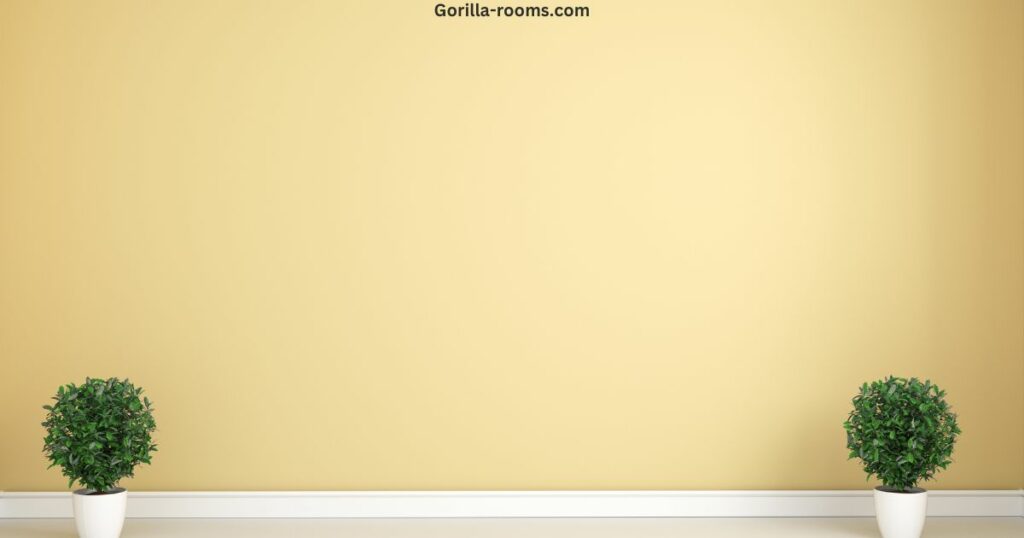 There are always some blank spaces like dull corners in a living room waiting to be filled up. If you also have an empty reading nook, a naked top of a bench, or any emptiness on the floor, you can turn them into small indoor gardens or mini jungles by accumulating a collection of potted plants.
You can use different pretty ceramic or customized potting and a variety of plants in them. Or just pick up the plants with leaves of different shades to add texture. It could be a mix-up of longer and shorter plants to give a poetic touch to your indoors.
Which Plants to Use In the Collection?
Use the Palm plant as a prime member of this cluster.
Add a pot of Monstera plant with its stylish leaves.
Little multicolored petals of Succulents and round Cacti will add up to the beauty of this assemblage.
Begonia and Coleus will bring a variety of colors to the collection.
4- Branched Plants In Glassy Pots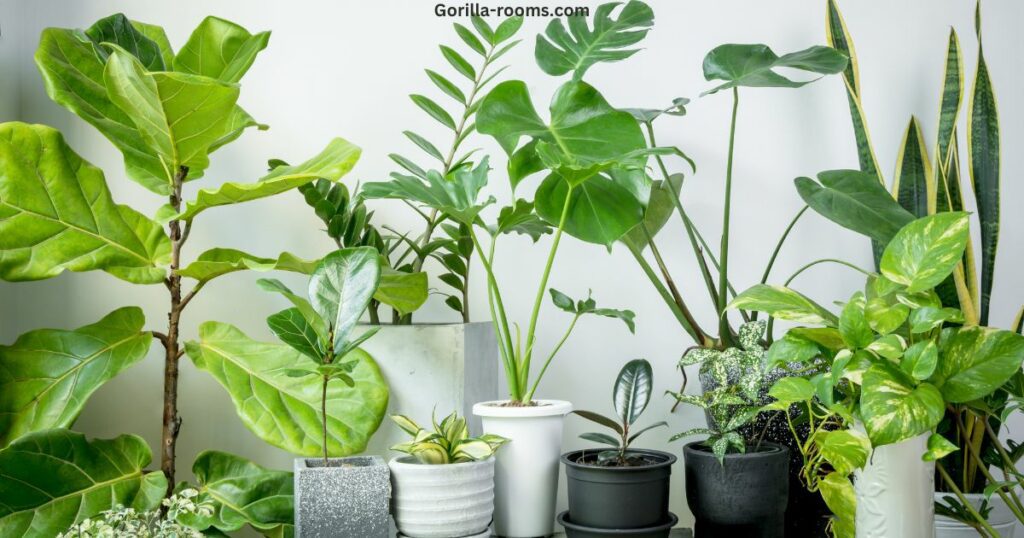 Tall draws seek attention instantly. Putting a single green shoot of a plant in a glass vase could embellish your bedsides and table tops. It would present a mini tree scenery to decorate the living room with indoor plants.
Ideally, these tall shoots look better off at floor pots, but you can also keep them in a window or beside your seating. It depends on your windows' layout and your bed's location. These long branches shooting up from the clear vases will look brilliant.
Which Branched Plants to Use
The flexible stem of English Ivy will be quite charming in a glass pot.
Use a Cordyline branch in tall narrow vases of glass.
Use Alii Ficus to add a leafy accent to your living room.
5- Use Shelves And Windows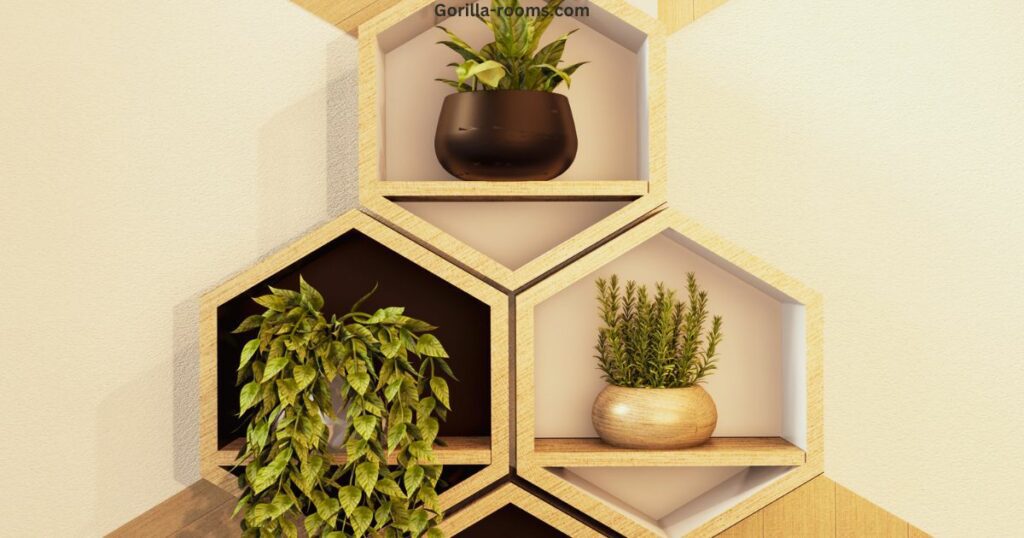 What about using your shelves and windows for medium-sized indoor plants? If you have little floating shelves with molded edges or some spacings behind windows, you can fill them with indoor plants to decorate your living room.
For the plants needing more light, like snake plants, you can put them in the windows. It would also help you maintain privacy behind the window.
Which Plants to Use In the Shelves and Windows?
Succulents are a perfect choice for your shelves and windows.
The pointed ends of Snake plants are quite popular to use on open shelves to help filter indoor air.
Use Cactus in china pots.
6- A Solo Leafy Green Next to The Seating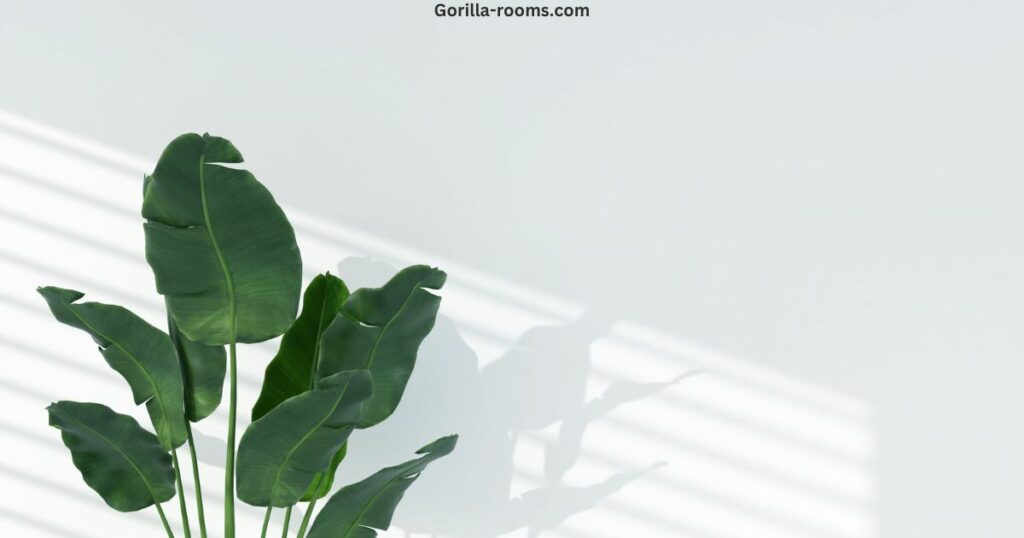 A large pot with a leafy green next to the sofa will look pretty good. Conversely, it could be a small vase on a bench where you sit to read your favorite magazine or take a coffee sip. This is a traditional style of decorating your sitting fonts.
You can also pair up two distinctive varieties of indoor plants to bring patterns to the solo pot. It will dress up the space and pour fresh air into the living room.
Which Plants to Use in a Solo Pot?
Areca palm and Parlor palm plants can be solo plants in large china pots.
Put a Monstera plant in a place exposed to bright light.
Use a Flaunt plant with a variety of multicolored petals.
You can pair up bushy plants with leafy ones and put them in a large single pot.
7- Make a Combo of Plants and Arts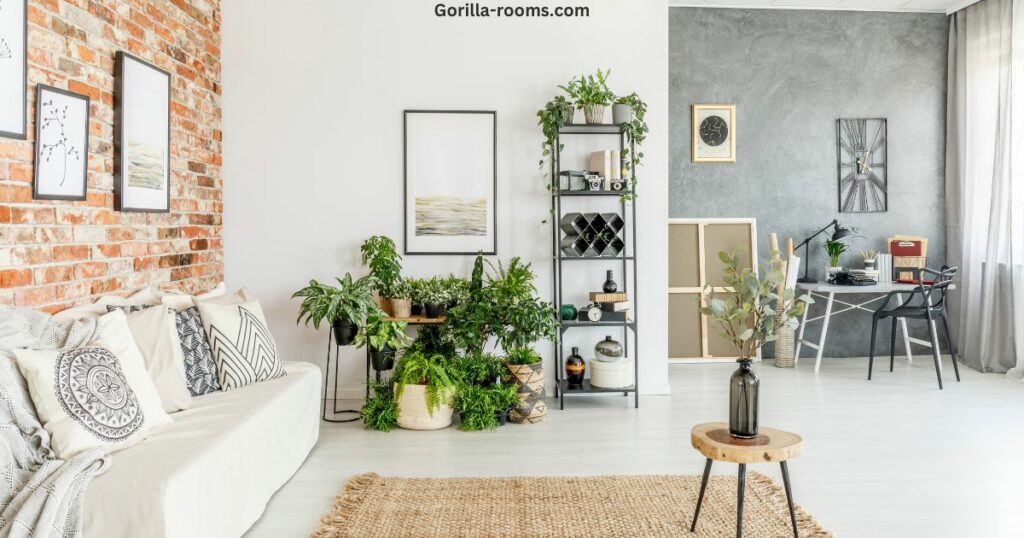 If you have the artistry and paintings on your walls, you must go for a combo of plants matching those art hangings on your room walls. They would be perfect companions to embellish the fences in your living room.
This might be matching colors or painted plants and flowers on the walls. Using an uncut mirror in a room full of natural and artistic taste will create an unbelievable scenery in your living room.
Which Plants to Use in This Idea?
Anthurium can match your heart-shaped red and pink flowers on the paintings.
The waxy leaves of Fiddle-leaf Fig fit the artistic interior.
What to Buy for Decorating With Plants?
You can use thick Chinese and stylish pots for indoor flooring plants. In comparison, glass cases look brilliant for your tables and shelves. You can also get clay vases as traditional pots for keeping plants and flowers.
You can use your table, desks, and cabinets to keep the plant vases. You might consider purchasing a plant stand or rack to layer your space if you don't have enough surface to display your indoor plants.
For hanging plants, consider buying macrame and bamboo to bring a bohemian feel to your decorations. They aren't less than the means of decoration like plants.
Conclusion
Make these 7 unique decoration ideas beneficial for you! The living room is the main focal point of most homes, so having it tastefully decorated will make everyone happy __ especially you!
Put a cluster of plants in an empty corner, a single tall shoot near your bed, and a series of Succulents and Cactus on your shelves __ and make them appealing enough to catch visitors' eyes when they're over for dinner. 
We shall be delighted to know about the idea and plants you used in your home decor!
Related Posts:
Do Indoor Plants Need Humidifiers?
How To Attach A Flower Box To Brick?
How Long Do Artificial Grass Last?