Thuma beds are famous because of their durable design and strong bed frame. Because of its unique design, the Thuma bed takes 5 – 15 minutes to assemble, and you don't need any tools to assemble it. Also, these beds last longer as compared to other beds.
But Thuma beds are pretty expensive because of their high quality. So you can consider Thuma bed alternatives that offer similar durability and reliability at a low price. Let's check them one by one.
How You Can Choose the Best Thuma Bed Alternatives
The market is flooded with different bed frames, so it's challenging for you to choose a bed that rivals the Thuma bed. So you must consider a few factors before selecting alternatives for the Thuma bed.
It should be durable and made with a heavy-duty material.
More slats will give more sturdiness; you choose bed frames with maximum slats.
The bed frame should be deeper so that matter can easily sit in it and don't move.
It will be good if the bed frame comes with a headboard.
The bed frame shouldn't need a box spring.
The bed parts are easy to assemble.
7 Best Thuma Bed Alternatives
1- ZINUS Alexis Deluxe Wood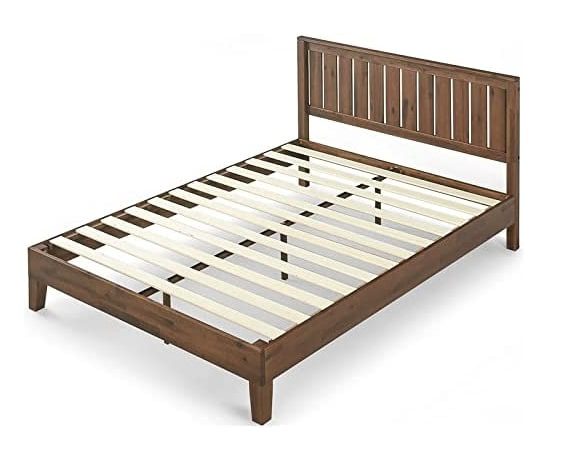 This bed frame is made with a durable wood and steel interior frame. The thicker legs provide extra stability and support. ZINUS Alexis bed frame has similar traits to the Thuma bed in style and sturdiness.
Because of the durable wooden bed slats, it can support 700 lbs of weight. Assembling is also relatively easy, and a small guidebook will help you assemble the bed in less than an hour.
Moreover, this deluxe wooden bed frame comes with 5 years of warranty, so you can return or replace any part in case of damage. Lastly, this bed is the best alternative to a Thuma bed and is available at a low price.
2- Acacia Emery Wood Platform Bed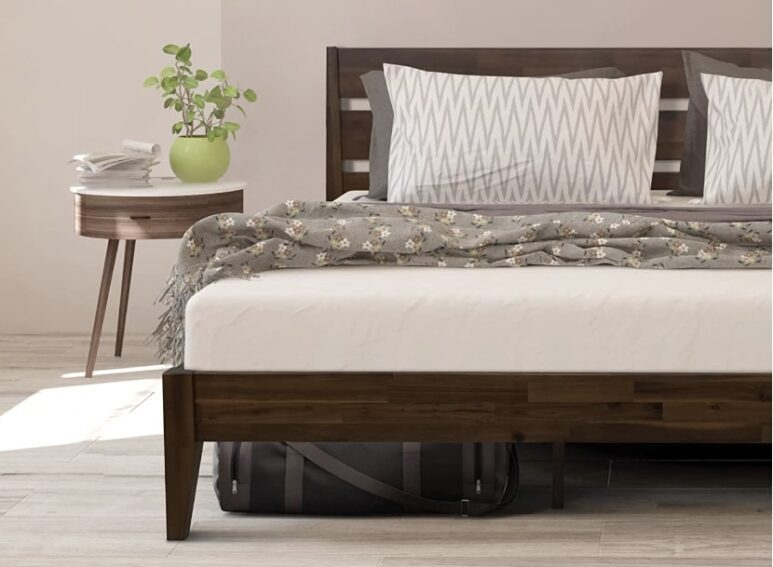 This elegant-looking bed comes with a 14″ standard profile bed frame. Acacia Emery bed comes with solid Acacia wood material that supports up to 800 lbs.
The bed is available in a chocolate color that looks more elegant and matches the hardwood floors. Because of its non-toxic and odorless finish, this bed frame is more environmentally friendly.
Unlike other bed frames, this one offers positioned slats with padded tapes to ensure comfort and safety. The matter never slips or moves on this bed frame. So if you want a simple, minimalist-looking bed frame that rivals the Thuma bed in durability, you should have Acacia Emery Bed.
3- Allewie Bed Frame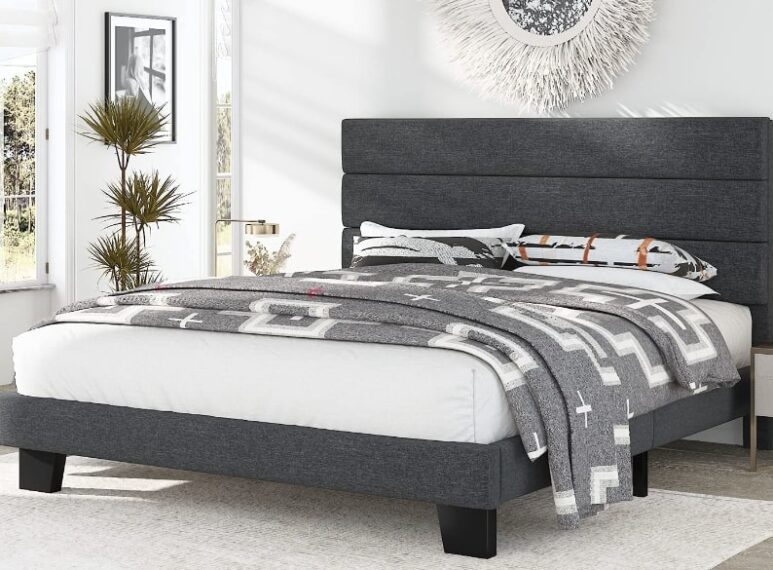 One of the best thuma bed alternatives is the Allewie bed frame, and it comes with a modern design that makes your bedroom attractive.
This is not a wood bed frame, Instead it is made with strong alloy steel that can support up to 800 pounds weight. And the slats are made of wood that never lets your mattress slide or moves during the night.
The bed also provides four drawers to store blankets, clothes, and other stuff. Similarly, there is also an adjustable headboard, and you can adjust it according to your mattress height.
The headboard is upholstered in linen fabric with a button-tufted style that gives a luxurious look to the bed.
Moreover, Allewie bed frames are easy to assemble with simple tools, and you don't need any power tools. All the assembling nuts, bolts, and other stuff are in a box.
4- Einfach Full Bed Frame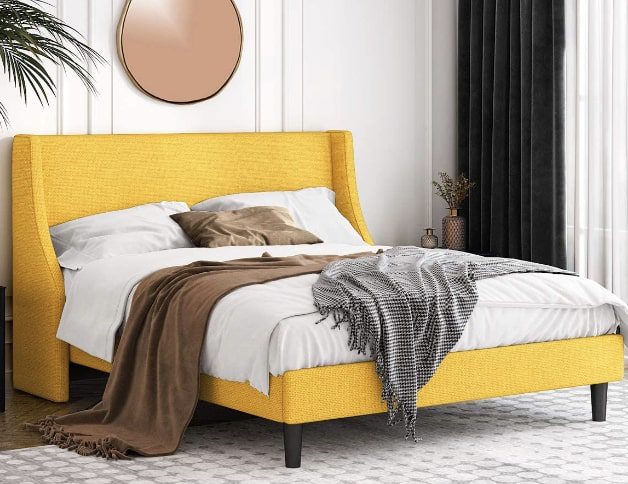 If you want a unique design bed, look at Einfach full bed. It comes with a wingback headboard that gives a modern touch to your bedroom. The bed frame is constructed with durable metal and wooden slats.
For maximum weight capacity, there are center-supported legs it can support up to 900 pounds of weight.
The Einfach bed comes in five different colors, including; Orange-red, light gray, green, yellow, and dark gray. You can choose the one that suits your bedroom outfit and design.
You don't need a box spring and a mattress held easily on the slats. This stylish bed frame is the perfect option for modern rooms and the best alternative to the Thuma bed.
5- Lexington Platform Bed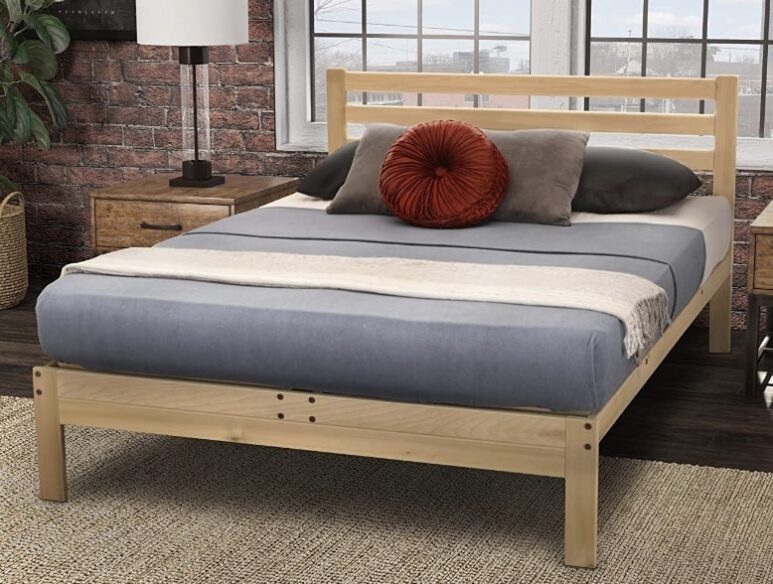 Here comes another simple wooden bed that rivals the Thuma bed in sturdiness and style. The frame is made of smooth wood and can't move or squeak. Because of the well-engineered wooden slats, the mattress doesn't move around.
This bed looks simple and gives a mid-modern wood look that feels natural and pleasant. The bed is too easy to assemble; you will get all the bolts, nuts, and guide for quick assembling.
If you find that the wood is rough and doesn't match your bedroom style, you can spray it with a stain finish, and then it will give a more luxurious look.
6- Classic Wood Platform Bed Frame By Mellow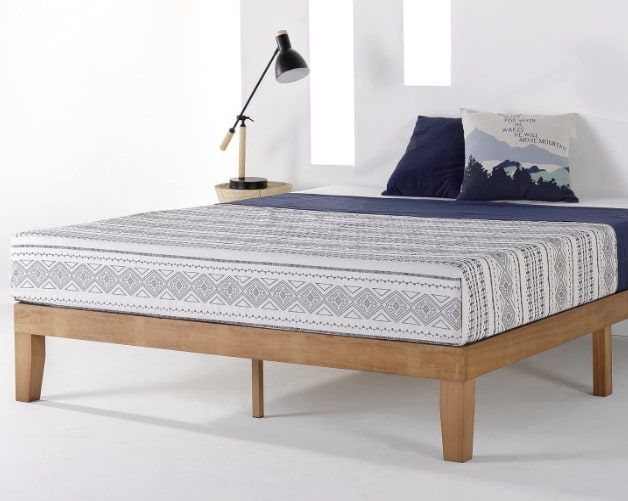 If you want more affordable Thuma bed alternatives, go for a Mellow wood bed frame. This bed has center support made of metal with 3 legs, so it's sturdy and doesn't move from its place.
The bed frame and wooden slats seem much more durable and can hold weight up to 1,500 pounds; that's why it's a perfect option for heavy people. Plus, a non-slip tape on a wooden slat provides extra stability, and you don't need an extra box spring.
Although the bed has all the traits of a Thuma bed, you will miss the headboard with this bed frame. But still, in this price range, this one is the best Thuma bed alternative.
7- SHA CERLIN Queen Size Platform Bed Frame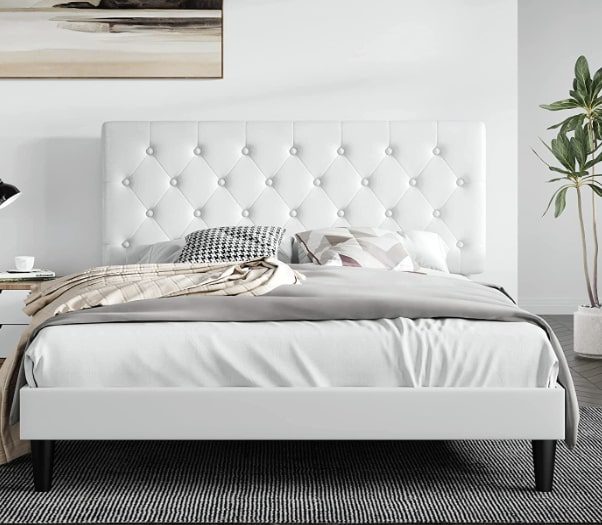 Do you want a more sleek and modern-looking bed that is durable, like a Thuma bed? If yes, you must read the traits of the SHA CERLIN bed frame. This nice-looking bed has a strong natural wood board and high-quality wooden stats that provide stability.
The primary worth-it thing in the bed frame is an adjustable Diamond headboard with a soft edge and premium cushioning. The headboard is made of faux leather, which gives a better feel.
This modern-looking bed can hold up to 800 lbs of weight and doesn't need a box spring.
Moreover, under-bed storage allows you to store different daily used stuff to save space in your room.
FAQs
How long does Thuma's bed last?
Thuma beds are one of the most durable beds on the market. These beds have a lifetime warranty and last for as long as needed. That's why Thuma beds are more expensive than ordinary bed frames.
How much does the Thuma bed cost?
Thuma beds are made with premium wood and last longer; these bed frames are expensive. The small twin-size Thuma bed frame costs you $695, and prices go up to $995 for a California king bed frame.
Final Advice
If you find that Thuma beds are out of budget for you, you don't need to worry about it. I have mentioned several best Thuma bed alternatives that provide similar features at an affordable price.
If you want a more durable bed with a long-lasting life, then you can opt for the ZINUS Alexis bed frame, Acacia Emery Platform bed frame, or Lexington platform bed are the best options available.