It's not a big deal to convert your living room into a temporary bedroom. You might take this action because of guests, or you have a small space.
But don't worry, you need to do little creative work to make your living room a temporary bedroom.
Similarly, small living spaces can create privacy issues, so turning them into a bedroom may be a good idea for you. We have gathered some of the pro tips that will help you to make your favourite arrangement.
So let's have a look.
Turn a Living Room Into a Temporary Bedroom
1- Start With The Basics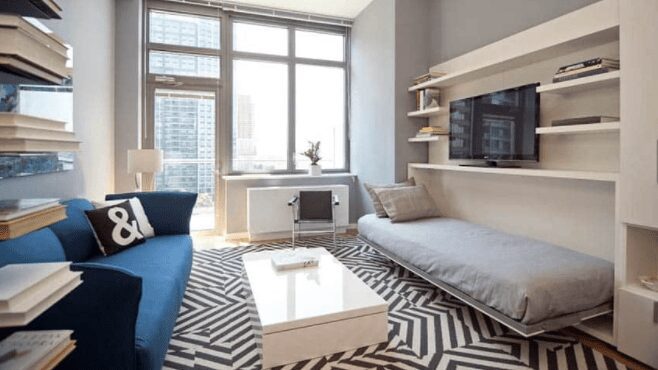 If you are learning to turn a living room into a temporary bedroom, then you should start with basics and need to understand and know the properties of your bedroom and house, what how they look like.
The things that you must know about your house and bedroom are:
What are the measurements of your bedroom and house?
What is the layout of your bedroom house?
Is there already furniture in your home?
Are there any strengths or weaknesses in your room and house?
Undoubtedly, turning your living room into a bedroom will cost, so it will be better to develop a budget for this project. Planning your budget for any project is the backbone of your project.
So you have to keep in mind of:
Make a budget of what new stuff, furniture or decoration pieces that you are going to buy?
Are you going to select the furniture or any other stuff for your bedroom yourself or consult any house interior designer? So, you also have to make a budget for a house interior designer if you consult.
Behind the successful completion of any project, there is mastermind planning which makes the project successful. So, always start with the basics information about your room and house and do perfect planning.
2- Let The Sunshine In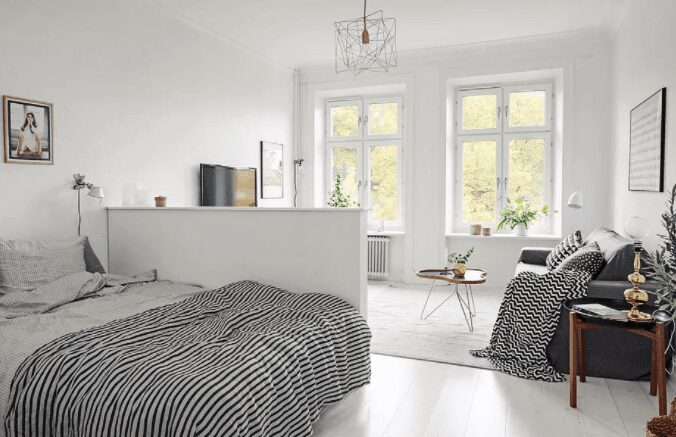 Sunlight is essential for us, as our body produces Vitamin D when exposed to sunlight. So, you have to make sure that the design in which sunlight has a way of entering the room.
Whether your room has large windows or small windows, the important thing is the entering of sunshine.
Your room is in the opposite direction of the sunlight in some situations, so a sliding glass room divider is your smart go-to-design.
You can choose room dividers with glass panels in aluminium frames, which is now quite popular due to its affordable price and easy installation.
Additionally, you can choose between ready-made or custom-built styles. Room dividers made of glass have many advantages:
It will make your home more natural by bringing in more light

It will cause sunlight exposure which is suitable for a healthy life.

It reduces the use of harsh artificial lights.

In addition to creating privacy, it also adds elegance and style to the room Elegant, fashion and modern

It is also a space saver.
3- A Trick To Enlarge The Space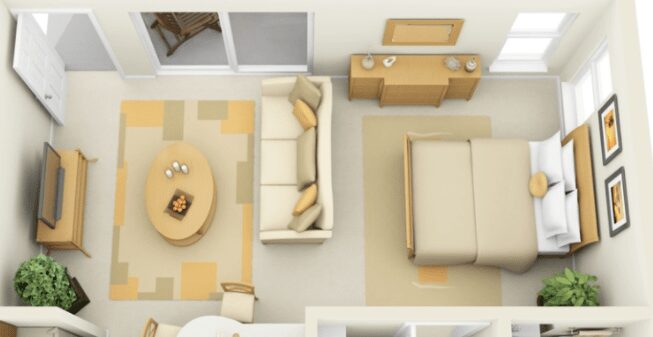 Nowadays, ample space in the bedroom has become a requirement and the top priority of everybody.
Today, people of all ages are living small and alone. It's important to enlarge the living room for small homeowners who use the room as a bedroom.
To make your bedroom space enlarge, the coordination of the wall and the floor is highly recommended.
Although it may seem strange, we usually separate floor and wall with colours that contrast. It makes sense, however. In addition to being aesthetically pleasing, it gives the illusion that the room is more extensive.
You can also use airy and light fabrics. Window treatments, bed skirts, and tablecloths can be made using these fabrics. To keep the look simple, choose soft floral vines or stripes instead of plain colours.
4- Try Room Dividers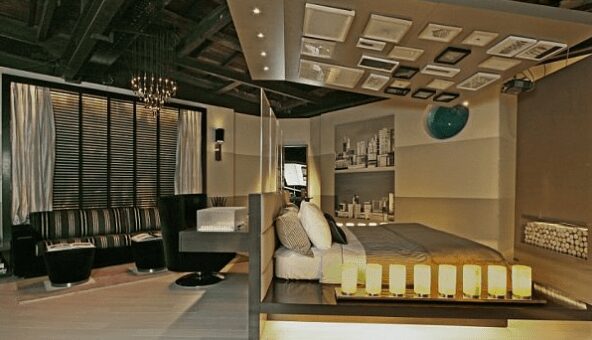 This is one of the easiest and convenient ways, and if you have a large space, you can convert it to a bedroom by using a room divider.
In this way you have two spaces, one can be used as a living room and the other as a bedroom.
There are different types of dividers available in the market. Our best and most recommended way is to use a folding sheep divider.
By this method, you don't need to hire an expert to install it, just pick it from the market and adjust it according to your need.
The second way is also best and most useable; you may use curtains to divide your room. But to install your curtain, you need to drill a hole in the wall and then place a rod in support brackets, which I think may be tricky for some people.
But if you try the second method, it will give you the results of your hard work.
The curtains look more beautiful in your room as compared to the folding sheets. Other than that, you can also use bookshelves to separate your living room. Not just that, you can also try these methods too;
Custom and built-in desk combo

Slatted wood screen

Beautiful draperies suspended from the ceiling

Sliding doors
A temporary half wall

Slatted wood screen
5- Use Sofa Beds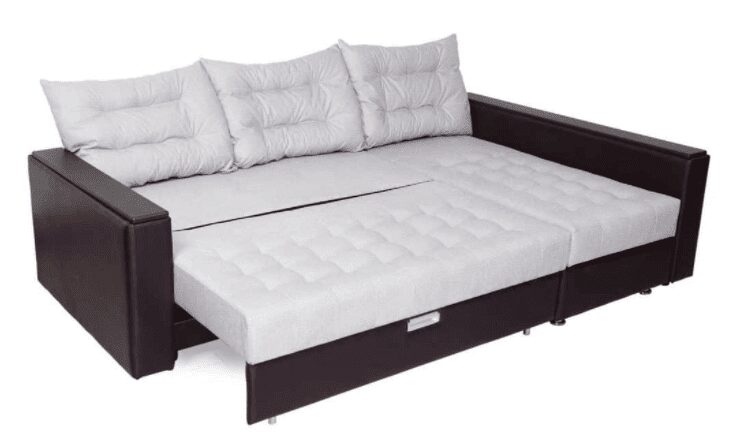 This is my best method, I have used this method in my drawing-room, and it's the easiest way to turn your living room into a temporary bedroom.
The sofa bed has dual functionality. It works like a couch as well as a bed. So instead of buying sofa and beds separately, you can buy a single sofa-bed to save your money.
Also, when you open them, they are wider as compared to normal beds and more comfortable. And a few sofa beds come with built-in storage, so you don't need to buy separate items for storage.
It takes up to seconds to convert it into a bed and from a bed into a sofa.
If you have a small space or you are living in a rented apartment, then this is the best way for you because it will save your money and also save time to decorate items.
6- Couch Arrangement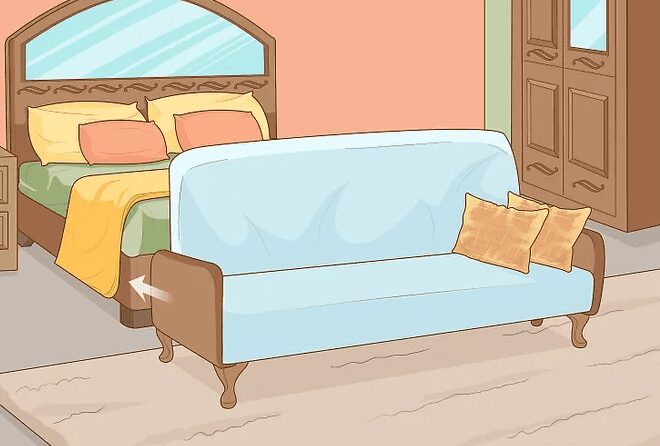 If you have a small space available, then you should read this section. You need to do some creative things with couches to set them perfectly in a small space.
Our suggestion is; you should place the back of the couch against the foot side of your bed. This will create enough space in your bedroom and also clear pathways towards your bed. You can make it more effective by using a rug under the couch and a bed.
But this can't be possible if you have a large couch as it will block the pathways and look awkward. Make sure your couch size width must be equal to smaller than your bed width.
7- Consider The Simple Lifestyle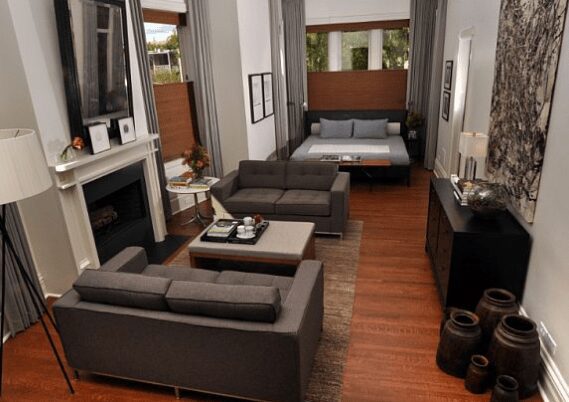 For a small space or a rented apartment, you should consider a simple minimalist design. There are a lot of ways to arrange your furniture in a simple way, but make sure to use fewer decoration items.
For a temporary living room, this is very important because later on, you can again turn your bedroom into a living room.
Before arranging your furniture, make a list of all the items, now choose the 5 most important ones and neglect all others. It's not possible to transform your drawing room into a living room with a lot of furniture.
And if you already place all the furniture in your temporary living room, then see which thing makes a barrier in pathways. Now rearrange that item or remove it from your new living room.
Tip: Always choose furniture which is designed for small spaces.
8- Wall matters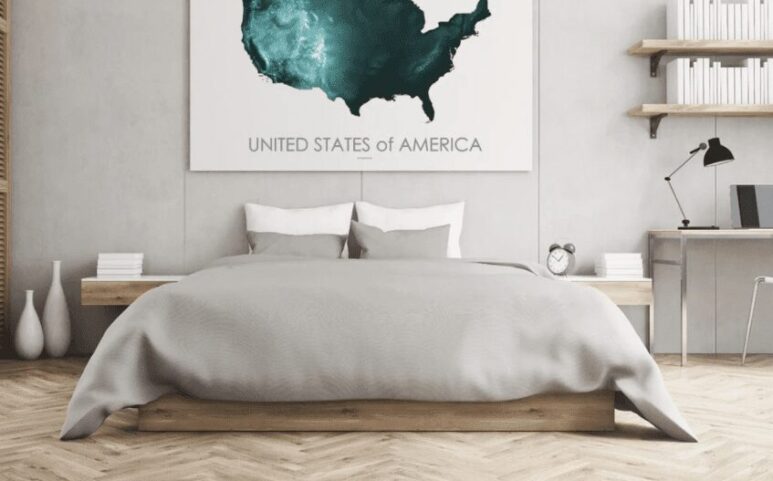 Wall decorating is the most important thing in order to decorate your room and to design the tones of the walls. In case you want a separation in a single room, and you are not using any room divider, so you can use some decoration pieces and ornaments on your room wall in order to make your bedroom attractive.
In the decoration of the walls, painting colour is the first step and is the simplest way to decorate your room walls. You can use different types of colours on your wall in order to complete the project of your beautiful bedroom.
If you are using a room divider, then the physical stands and ornaments will take up much space in your room. Instead of using room dividers, you can use this way which is more simple than the room divider and also most affordable.
9- Don't Allow Furniture To Take Up Much Space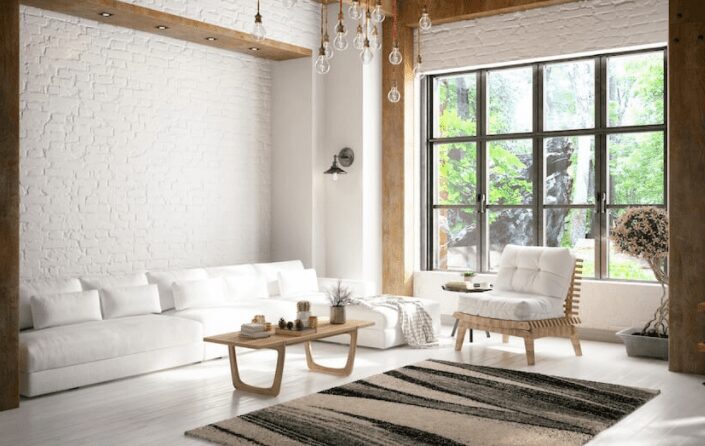 A perfect and beautiful bedroom is always simple and equipped with less furniture. Always keep in mind that anything that takes a larger space in your bedroom will not be perfect and suitable for your dream bedroom and will be a hurdle in the completion of your project.
Always buy stands and furniture that took smaller space and fit in every corner of your bedroom. Also, prefer to buy lighter furniture so that it will be easy for you to change their position.
The market is full of that furniture which is perfect and suitable for small spaces. Smaller furniture will give an amazing and beautiful look to your bedroom.
10- Use Built-in Trundle Bed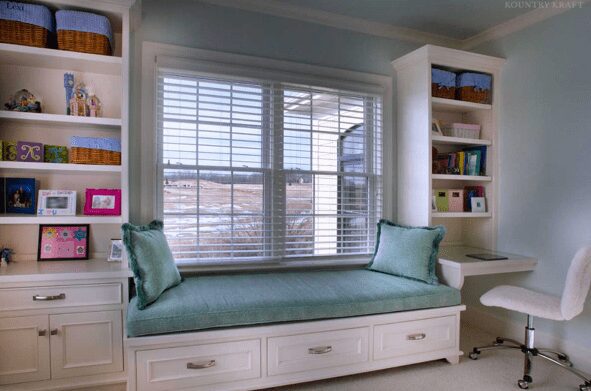 Less furniture in the room means a more attractive and beautiful bedroom. In order to save the space of your bedroom, always buy furniture which is multi-functional.
If you are looking for a multi-functional bed that can also act as a sofa, so you can buy the built-in trundle bed. This bed takes small space and also saves the space of the sofa in your bedroom.
In addition, the bed has a hidden full-size trundle bed, which you can partially extend during the day to be a couch, and pull out fully to be a bed at night and gives you extreme comfort.
Final Words
Turning your living room into a temporary bedroom isn't a difficult job; you can follow these steps to make your get ready your bedroom. With a little more creative mind, you can do more better things. Please mention in the comment what extra creativity you have in mind?
Related Post: