Cleaning a microfiber couch can be quite complex and challenging. Microfiber upholstery is a popular option for houses with children and pets Because of its exceptional stain resistance.
When managed properly, microfiber couches may outlast other fabric alternatives by years, but it's crucial to know how to clean the couch in the event of spills or stains.
The Bissell Little Green machines are excellent for cleaning microfiber couches since it functions as a little wet vacuum cleaner, spraying liquid over the surface and sucking it back up.
If you wish to maintain your microfiber sofa looking and feeling like new, try these easy steps for cleaning a microfiber couch with a green machine.
How To Use A Green Machine To Clean Microfiber Couch-steps
1- Getting Ready to Clean
All Bissell Little Green machines are designed to be used with a mixture of water and Green cleaning solution. Pull the water/solution tank from the base unit and fill it with hot tap water to the labeled water line.
The tank labeled "water", or "formula" will always contain a water supply. Fill the rest of the tank up to the mark with the Little Green formula.
2- Pre-treating Tough Stains
After filling the tank with cleaning solution and water, you can pre-treat the stains and dries-on spills to increase the efficiency of your Little Green Machine.
Unwind the Green Machine's cable and nozzle before plugging it in and turning it on. Attach the proper spot-cleaning device to the flex hose's end.
After that, hold the instrument a few inches above the stain and then press the hose's trigger to spray the stain with the cleaning solution. Wait five minutes before moving forward.
3- Cleaning Spots and Stains
Choose the most appropriate cleaning tool, such as the triangle-shaped tool for cleaning the edges of the couch. Connect the tool to the flex nozzle, then place it over the desired cleaning area.
While pulling the cleaning device toward you, push the trigger on the hose to spray the cleaning solution and then release it. Repetition is required for extremely dirty areas.
Remove the dirt and debris with a brush while using a cleaning machine. Move the machine toward you as often as required to absorb the moisture from the surface you're cleaning. If the area still seems filthy, you may clean it again.
Related Post: How To Dry A Wet Couch Fast?
4- Post-cleaning Machine Care
Switch the Green Machine's power off, remove the cable, and then pour the dirty-water container into a sink after cleaning.
If you are cleaning a big area, you may be required to drain the tank throughout the cleaning process.
After cleaning the tank, connect it to the base unit.
Wrap the cable around the cord stand, detach the cleaning device from the flex hose, and then roll the flex hose back onto the Green Machine's holder.
Other Ways To Clean a Microfiber Couch
1- Rubbing Alcohol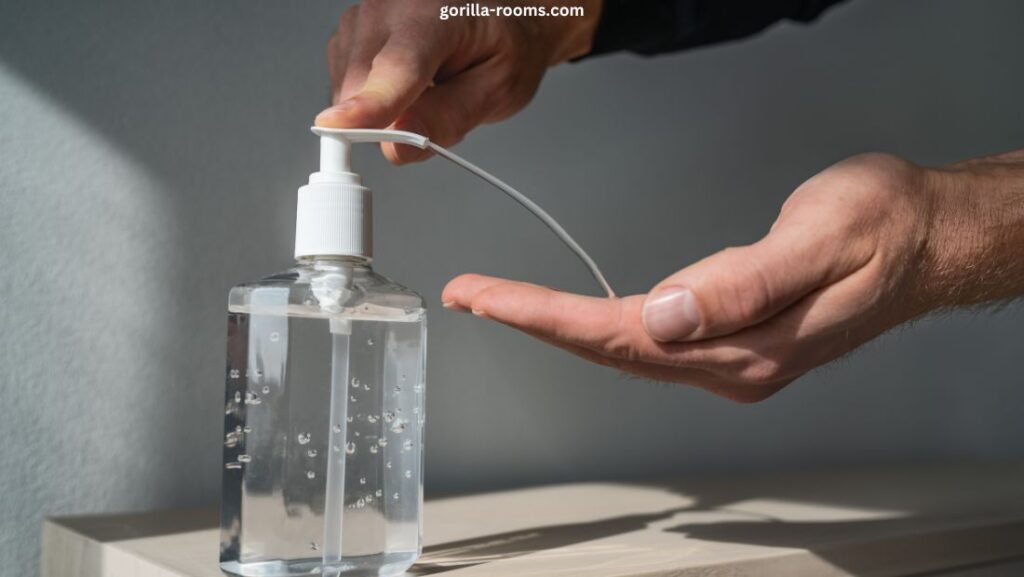 Although microfiber couches are water-repellent by design, immediate action to spills is still necessary to avoid visible watermarks.
Fill a sprayer with rubbing alcohol, softly mist the spot, and then wipe with a white sponge to eliminate stains and watermarks.
Let the alcohol dry naturally or hasten the procedure with a cool-setting hair dryer. After the area has dried, scrub it with a dry nylon-bristled brush.
2- Vacuuming and Brushing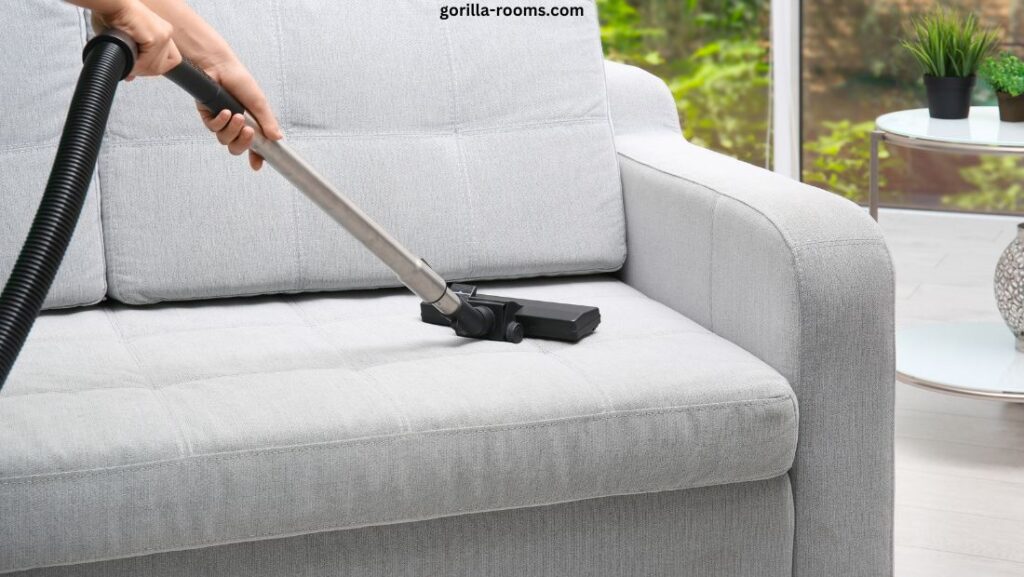 Your microfiber couch will last longer and look better if you vacuum it once a week.
The compact stitching of tightly packed microfibers prevents dirt and irritants from permeating the fabric, but this does not imply that microfiber furniture does not need frequent vacuuming.
Use a bristled furniture brush to remove debris while also brushing the top of the microfiber to maintain its softness. Use a soft, nylon-bristled scrubbing brush if you like to clean microfiber on days when you do not vacuum.
3- Soap Suds
If your microfiber sofa is water-resistant, clean it with soap suds. In a big bowl, combine a substantial amount of dish soap with warm water to create suds.
To clean the sofa, avoid getting any water on your clean white towel or dye-free sponge, and instead, use the suds to gently scrub in circular motions.
Remove the foam with a dry clean towel. Work in stages to prevent the sofa from soaking in excessive water. After thoroughly cleaning the sofa, use a nylon-bristled brush to blend and soften the fabric's nap.
How Long Does It Takes To Clean Microfiber Couch With Green Machine?
On average, it will take between 2 to 4 hours for cleaned couches, carpets, and upholstery to dry.
Microfiber is simpler to clean than other velvety fabrics, and it is so stain-resistant that it can be cleaned and dried within a few hours if anything is spilt on it.
After washing the couch and furniture, you must allow them to dry. Several variables might speed up or slow down the drying process, making each situation unique.
Nonetheless ,it is recommended to wait 4-6 hours before resting on your couch. To accelerate the drying process, you must run a fan and enhance air circulation.
Which Green Machine Is Best For Couch Cleaning?
If you're looking for a lightweight upholstery and couch cleaner that removes stains effectively, go no further than the top recommendation, the Bissell Little Green Portable Carpet and Bissell Little Green ProHeat Machine. Both are portable and simple to use, even in narrow spaces.
1- Bissell Little Green Portable Carpet Cleaner
It is one of the lightest vacuums tested, yet it cleans upholstery and carpets well.
In addition to its excellent performance in our stain removal, experts advise this cleaner for cleaning upholstery, vehicle interiors, drapes, and other cushioned surfaces.
Features
Eliminates Spots and Stains. Just lift them up to remove stains off carpets, furniture, car interiors, and more.
Powerful Suction and Spray. Remove stubborn pet stains with a powerful spray and vacuum.
Formula and Tools Provided. Packaged with a 3 "Kit includes an 8-ounce sample amount of Spot & Stain Remover with Febreze Freshness formula, a Tough Stain Tool, and a HydroRinseTM Self-Cleaning Hose Tool.
BISSELL Little Green Multi-Purpose Portable Carpet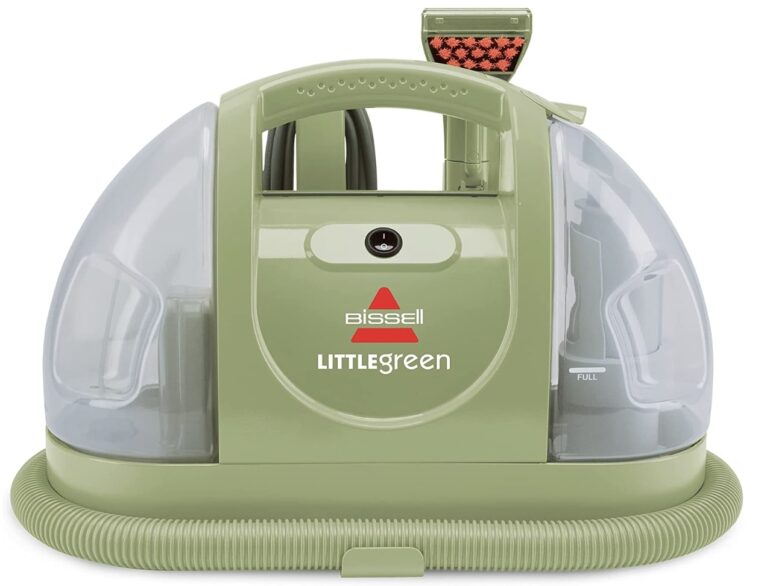 Trial-Size Formula
HydroRinse Self-Cleaning Tool
3″ Tough Stain Tool
Every Purchase Saves Pets
2- Bissell Little Green ProHeat Machine
The Bissell Little Green Pro-Heat is a tiny and lightweight, portable carpet cleaner and upholstery that uses Oxy powder to eradicate difficult spots and stains for good.
When spot cleaning carpets, couches, stairs, mats, car interiors, and any other soft surface wherever stains appear, the heatwave technology helps maintain constant water temperature.
In addition to a sample amount of our pro oxy spot and spot couch and carpet cleaning solution, this package includes three specialist tools: a 3-in-1 stair tool, a 3″ difficult stain tool, and a hydro rinse self-cleaning tool.
Features
Compact size, lightweight construction, and hassle-free tank filling and draining. Extreme portability and minimal size. Easy to pack up and move from one spot to another, it is ideal for use on stains that need frequent relocation.
The Hydro Rinse self-cleaning hose tool flushes off dirt, debris, and residual odors from the hose after each use.
Bissell Little Green ProHeat Machine – Upholstery Steam Cleaner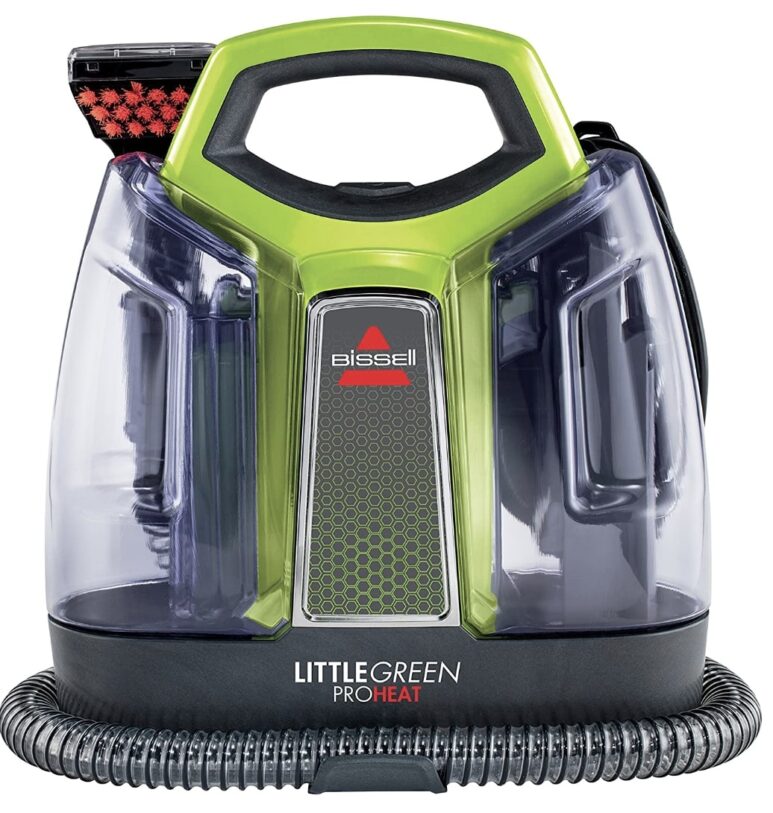 Heatwave technology 
3in Tough Stain Tool
Trial Formula included
Excellent Suction Power
Conclusion
That's All! Protect your microfiber couch from future stains by spraying it with a fabric protector after you've cleaned it. Use and maintenance affect the duration of protection.
The Bissell Little Green is worth the investment because of its portability and user-friendliness. Many happy customers attest to the effectiveness of this portable carpet cleaner in eliminating unsightly couch stains. To get the best results, adhere to the steps exactly as they are outlined in the guide.
Related Posts:
Tips To Remove Water Stains From Polyester Couch?