Today's article will go through how you can remove disgusting dark water stains from Laminate flooring.
Black marks destroy the natural aesthetics of laminate flooring. There are several causes of water spots on laminate flooring, including too much cleaner or mineral deposits in the water.
Remember, water spots are only temporary stains; they are not permanent. Acetone or light scraping can be used to remove them. However, it's always best to remove stains with soap, vinegar, and water.
So let's find out some best methods to deal with dark stains!
Related Posts: Does Dog Urine Ruin Laminate Floor?
How To Deal With Dark Water Stains From Laminate Flooring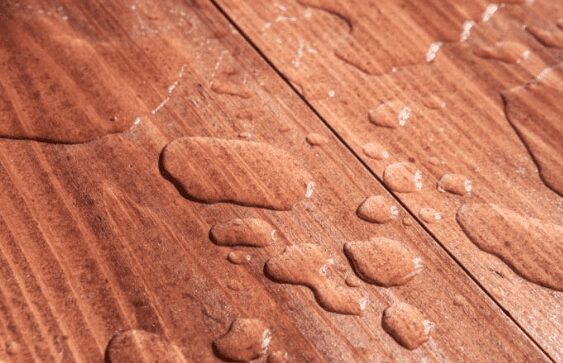 You can follow these steps to remove dark water stains from your laminate flooring:
1- Clean The Spot
Rub the stained area with fine steel wool soaked in mineral spirits. As an alternative, you can soak it in lemon oil.
You may wish to apply enough oil to prevent the floor from scratching so that the mineral spirits can dry.
Mineral spirit can ruin your floor wax and finish if used excessively. To avoid scratching the laminate floor, rub gently.
You can use guardsman watermark remover cloth and pine-sol to remove small amounts of black sediment from the floor.
2- Sand The Black Marks
Your laminate floor can be sanded until the stain disappears if it hasn't been sealed, finished, or polished. You must scrape off the staining layer from the surface of the floor.
Work back and forth with the brush until all stains are removed. Using the best vacuum machine or wiping the floor clean will remove dust from the floor.
The polished, sealed, and finished floors can also be sanded to remove the black stain. Sandpaper should be rubbed in the direction of the wood grain.
Steel wool can be used to blend the edges of the sanded area with the original finish. The area is polished, lacquered, or waxed to match the existing finish or a new stain.
Tip: If you want to remove stains from a large floor surface area and maintain a uniform pattern, use a belt sander.
3- Bleach The Stain
If black stains on laminate floors are stubborn, wood bleach might be the solution. These products are formulated to lighten laminate floors and remove stains and blemishes in the process.
You Can Use

Bleaching Agents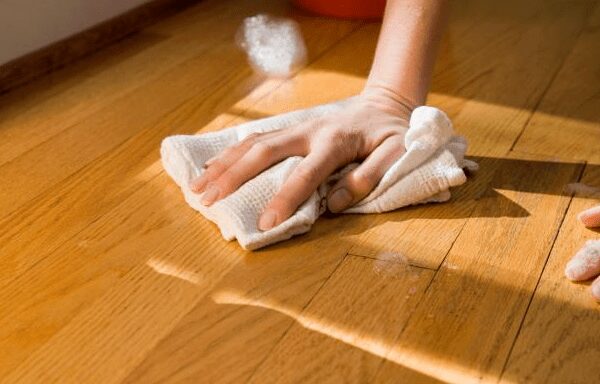 There are some amazing products available to remove the dark stain from your laminate floor, you can use the following bleaching agents.
Note: Take precautions to avoid getting the chemicals on your skin and make sure there is adequate ventilation in the room. When using bleaching agents, safety is of the utmost importance.
Chlorine
Bleaching agents containing chlorine are best suited for removing ink stains, blood, food, and other related colors. They also have incredible sanitizing power.
White Vinegar
Vinegar is an effective cleaning agent. Besides deodorizing, it is also a good disinfectant. It is suitable for stain and odor removal on hardwood floors.
Mix one cup of white vinegar with one cup of warm water in a bucket. Scrub the stained area gently until the stain disappears. After cleaning the floor, pat it dry.
Note: Use white vinegar in the spray bottle and don't let it sit as it can harm laminate flooring.
Hydrogen Peroxide
Your wood floor can be cleaned with hydrogen peroxide to remove dark stains and lingering odors. Put hydrogen peroxide on a clean cloth.
The solution should sit on the stain for at least 8 hours or longer until it removes it.
Cleansing with hydrogen peroxide is an effective and safe solution that is safe for humans and pets.
Tip: When bleaching your stained section, finish the floor by sanding and staining.
Baking Soda
In addition to vinegar, baking soda removes stains very effectively. Combine the vinegar and baking soda to form a paste.
To restore the stained areas, apply the paste and let it dry completely. Wipe the paste with a soft or microfiber cloth. This should help you remove a black stain from your floor.
Note
Don't rub baking soda aggressively, as it can damage your laminate flooring due to its highly acidic nature.
Oxalic Acid
Oxalic acid is the best treatment for stubborn old discolorations on hardwood floors, such as black water and rust stains.
Before you sand and refinish your floor, use a neutralizer to create a protective layer on the surface.
Stain The Spot
Use fine-grit sandpaper to first sand the bleached area. Make sure your laminate flooring is cleaned by using your best vacuum cleaner.
Now apply the appropriate stain with a rag. You can wipe the excess stain away after it has sat for about 15 minutes.
Apply New Finish
Following the completion of the drying process, apply polyurethane. Alternatively, you can use your favorite wax to the treated area.
Tip
Continue to finish your flooring with the same product that you used for the other part. Alternatively, you may have to refinish the entire floor to avoid discolorations and color patches.
How To Clean Laminate Flooring With Hydrogen Peroxide
For white marks and black stains, hydrogen peroxide is an effective stain remover. However, will hydrogen peroxide damage laminate flooring?
The cleaning power of hydrogen peroxide cannot be overstated. The product is safe for kids, pets, and laminate flooring when used cautiously.
You can sanitize your floor with hydrogen peroxide, which is antibacterial, antiviral, and antifungal.
Hydrogen peroxide has a bleaching effect that removes surface dirt and stubborn pet mud, dirt and restores their appearance. A hydrogen peroxide formula that is too strong may whiten your dark floor finish.
To remove stubborn dark streaks from the floor, follow these steps.
Put a little hydrogen peroxide in a plastic container or basin.

You can also use soft microfiber or cotton wool. Put it in the hydrogen peroxide

Put the soaked cloth or cotton wool on the white marks and allow it to soak in the wood for a few hours to bleach out the stain completely.

If any hydrogen peroxide is left on the cloth, wipe it up with a clean, dry cloth after 4-6 minutes. Allow it to air dry or pat it dry.
Precautions To Prevent Laminate Flooring From Water Stains
Keeping laminate flooring free of dark spots is an easy thing to do and can save you money. Keep your floor clean by following these tips.
Any liquid spill should be cleaned or mopped as soon as possible.
For hardwood floors, use recommended cleaning products. Choose the best vacuum cleaner and hardwood mop for hardwood floors.
Make sure you get the best rug to protect the susceptible areas.
Leg pads can be purchased or put on furniture.
Mopping with a damp cloth should always be avoided at all costs.
Occasionally check for molds and mildew and remove them as soon as they appear.
Final Words
After reading the above article, we hope that now you must remove black water stains from your laminate flooring.
Moreover, we have discussed the proper method that you can use to remove dark water stains while using oxalic acid. Additionally, take these precautions to prevent dark water stains in the future.
How much does a laminate floor repair cost?
Repairing a laminate floor costs on average $841, ranging from $321 to $1,364. You can, however, pay up to $3,000. The price of the floorboards, their location, the type of damage, and the total size of the damaged area are all cost factors.