Best tiles for shower floors not only add beauty to your bathroom but also make your bathroom floor slip-resistant.
Before choosing any tile for the shower floor, you should consider that it must be a slip-resistant surface. Similarly, it should be durable and easy to clean.
I have worked on many bathroom design projects, so I can help you find some of the best shower floor tiles.
So let's get started!
12 Best Tile For Shower Floors
1- Glazed Porcelain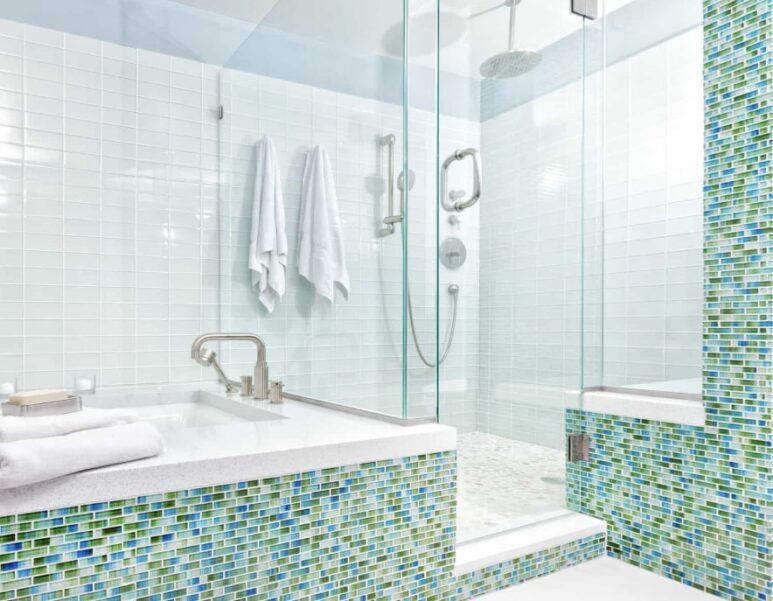 Firstly I'm starting with Glazed Porcelain tile because I have the same tile in my bathroom. Porcelain tiles are easy to clean and maintain, that's why it's the best option for shower floors.
Glazed porcelain tiles are durable and have scratch-resistant surfaces. The finish of the tile looks shiny and adds beauty to your bathroom. Similarly, the water-resistant surface makes it the best shower floor and moist environments.
2- Natural Stone Tiles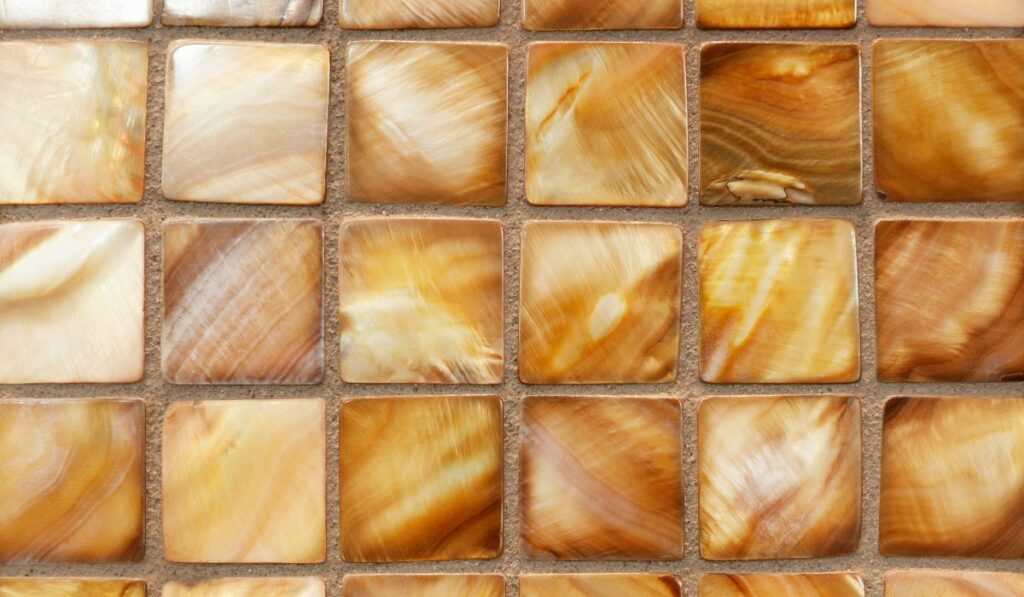 Natural stone tiles are the best option for shower floors because they have a non-slip surface. These tiles give a classical look to your bathroom. In natural stone tiles, Granite is the most usable tile because of its durability and texture surface.
I like the texture of stone tiles for the shower floor because they feel more relaxing under the feet.
3- Glass Tiles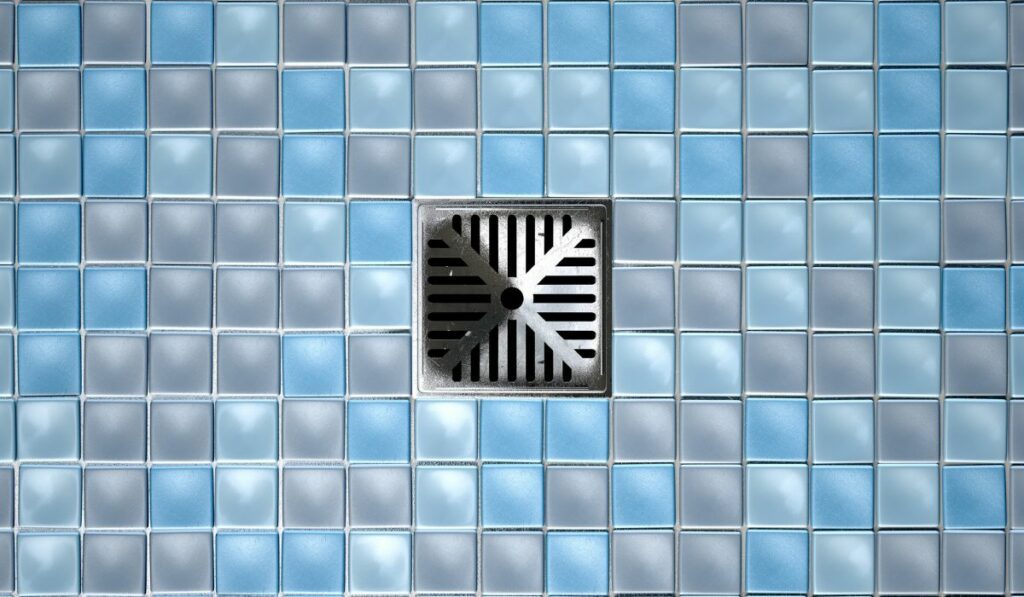 If you want a more modern look, then Glass tiles are the best option for the shower floor. The rest of the traits of these tiles are similar to other tiles mentioned in the list. But what forces you to go for Glass tiles is their transparent look.
If you're using Glass tile, make sure to opt for small-size pieces because their grunt joints make them slip-resistant.
4- Granite Shower Tile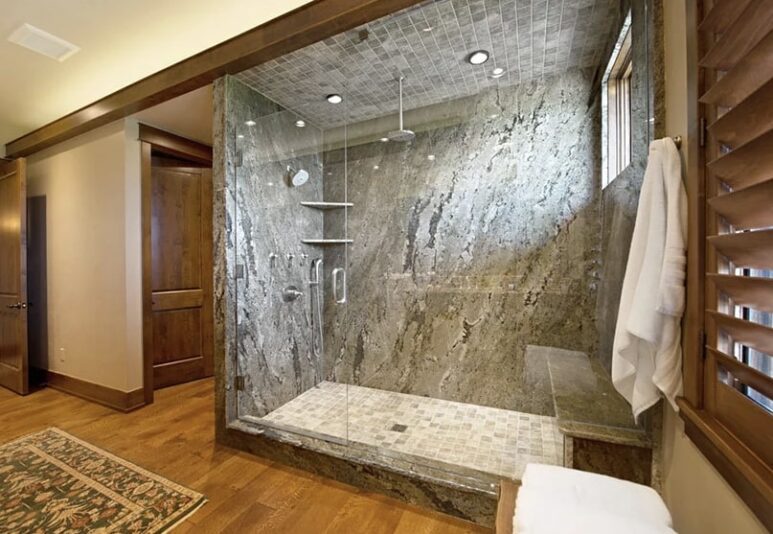 One of the most trendy shower floor ideas is Granite tile. This time is made of rock; that's why it gives a more natural look to your shower. The aesthetic look of Granite makes your bathroom look more elegant.
For the shower floor, it's recommended to use Granite tile without polishing. Because you polish granite tiles, their finishing becomes too smooth, which can cause slipping.
5- Pebble Tile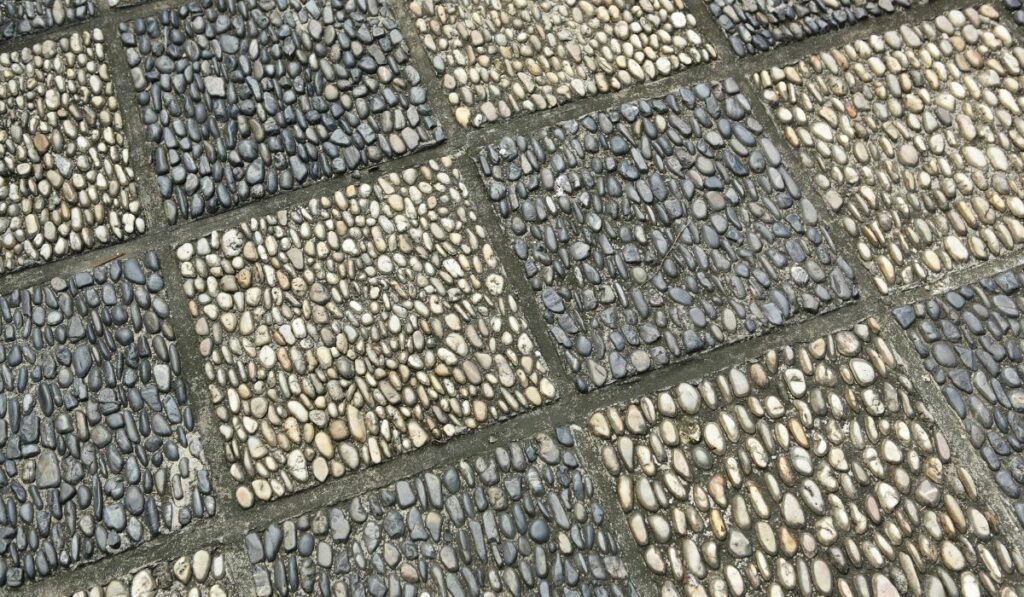 When it comes to choosing affordable tiles for the shower floor, Pebble tiles are the first to consider. Besides their affordable price, these tiles give a beach-like feel. Pebble tiles are available in different colors, but lighter colors look more gorgeous.
Similarly, if your major concern is a non-slippery floor, you should go for Pebble tiles. These tiles never slip even though they become wet. This is why you may have seen it around the pools.
6- Blue Glass Tile Shower Floor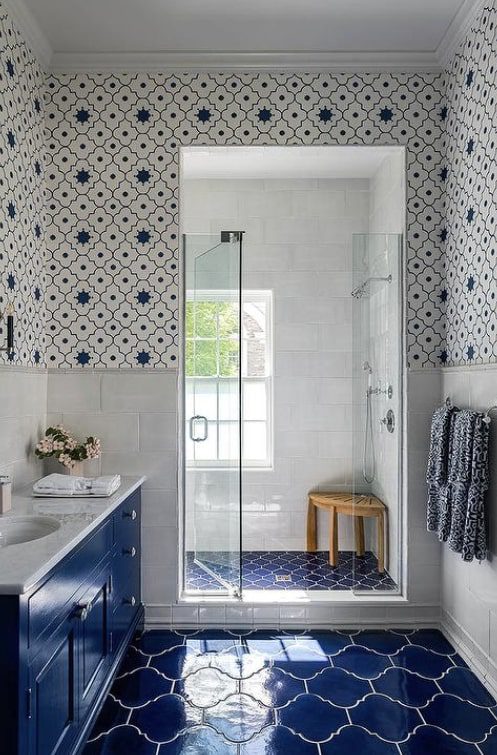 Blue Glass tiles are mostly used in swimming pools and are the best choice for shower floors. Instead of using large brick pieces, you should use small square pieces of blue glass tiles because they add more beauty to your bathroom.
When Blue glass tiles are wet, they look more beautiful and reflect light giving you a satisfying feel. People who love water, beaches, or swimming pools should go for Blue Glass tiles.
7- Black Marble Shower Tile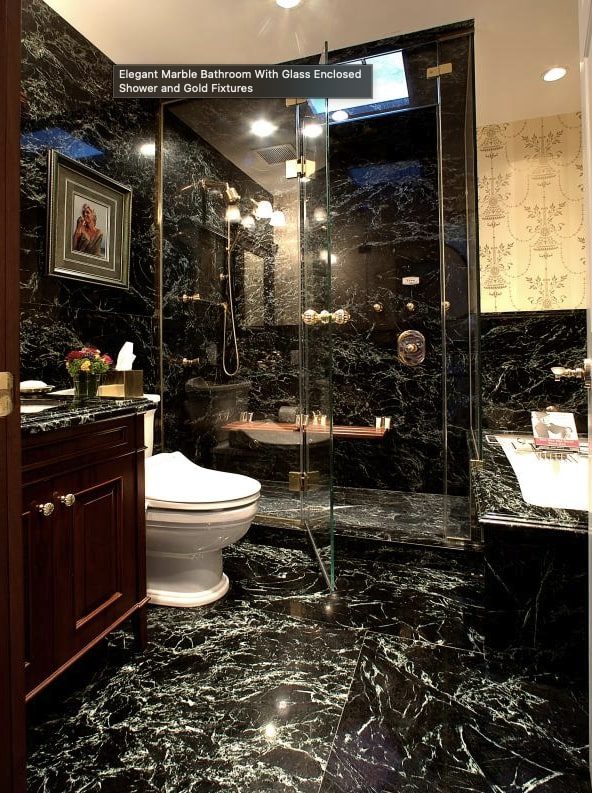 Black marble is the sign of a luxury bathroom. These tiles create a unique experience and a big contrast with the other part of the bathroom. Also, it's too easy to clean compared to other shower floor tiles on the list.
Black marble is not only stain-resistant but also durable and lasts longer. Although these tiles are a little expensive but it's a one-time investment. Such tiles last for 15 – 20 years, but if you take extra care, they might last longer.
8- Quarry Tile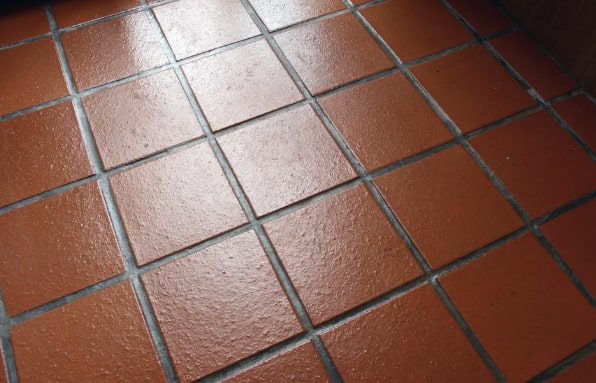 Some people like to give a traditional look to their shower floor. So quarry tiles are the perfect choice for them. This one is affordable but extremely durable, unlike marble or glass floors. Quarry tile is made of clay and shade, similar to cretic tile.
Quarry tiles are mostly available in brown color. People use it for outdoor purposes, but you can also use it in the shower floor, bathroom, mudrooms, entryways, etc.
9- Grey Marble For Showering Floor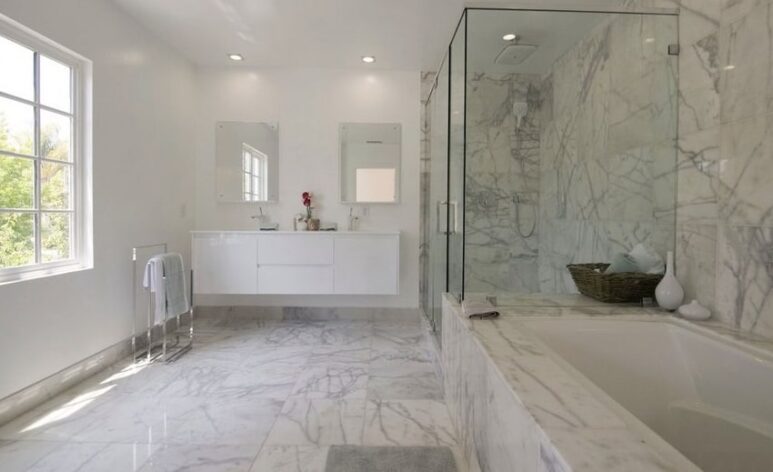 Regarding soft color tiles, nothing is better than Grey marble tile. Grey marble matches any bathroom design and gives a more premium feel. In one of our bathrooms, we have grey tiles with black shades that give a romantic look and feel light to the eyes.
For maximum traction against slip, it's recommended to use smaller-scale grey marble. Grey marble comes in different designs and shades. You can choose them according to your desire. This tile is 100% waterproof and stain-resistant.
10- Hexagon Shower Floor Tile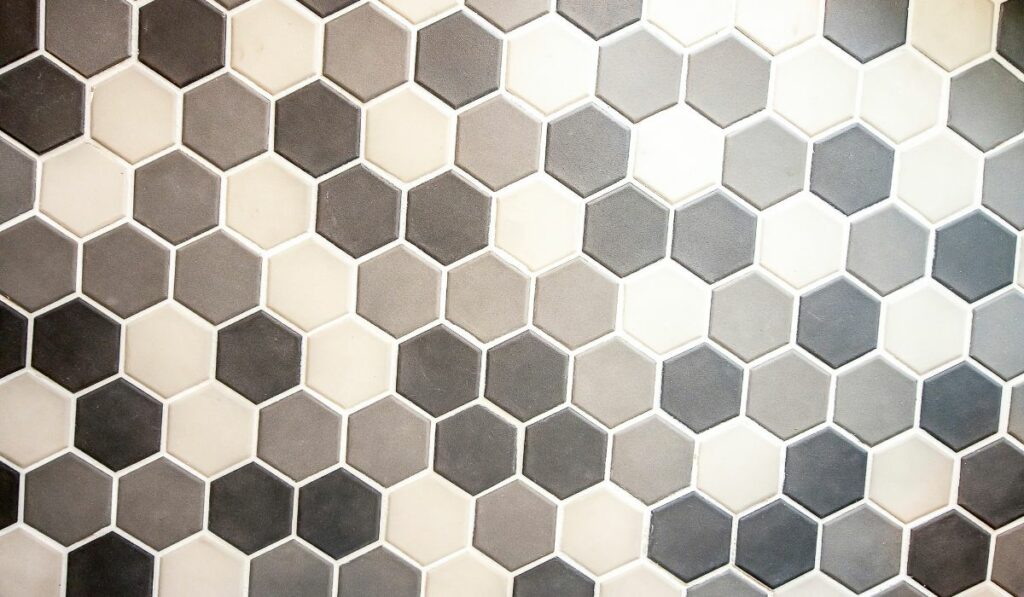 When creating uniqueness in your bathroom, Hexagon shower Floor tiles are considered first. The combination of hexagons gives a more pleasant look. These tiles are more trendy nowadays, so their prices are a little higher compared to normal porcelain and marble tiles.
The plus point is Hexagon tiles are non-slip because of the irregular grout pattern. You should use small hexagons because they look not only beautiful to look beautiful and give maximum traction against slip.
11- Penny Round Tile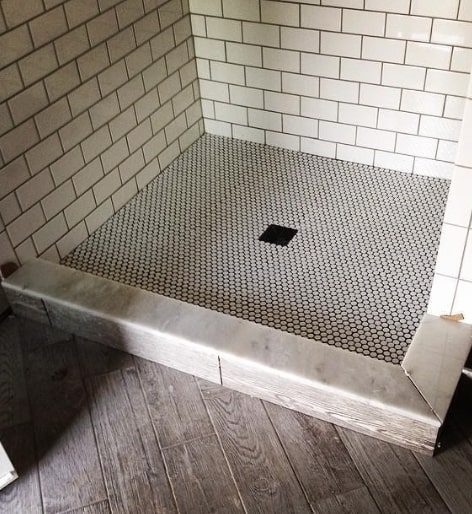 Penny round tile was out of trend for some time, but now, home designers are focusing on it again. This tile is best for shower floors because of the friction from many grout joints. Penny round tile is not common, which may be an advantage because it gives a unique look.
The Penny round tiles have different colors that make a very good contrast with a softer or lighter color. If you're a DIY person, you can easily install penny tiles, which will also save you a lot of investment.
12- Herringbone Tile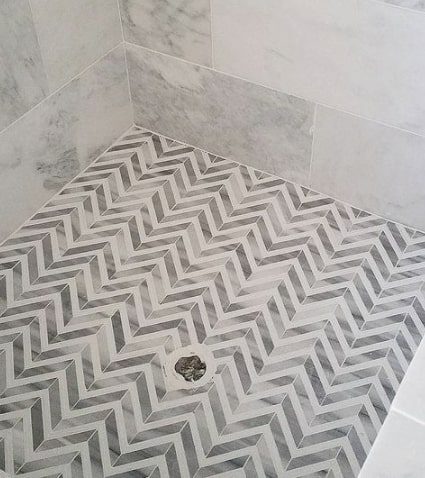 After Penny Round tile, Herringbone tile is another unique option that you can use for the shower floor. Most people use Herringbone tile for bathroom walls, but you can also use it for shower flooring.
For creative people, the Herringbone pattern seems a good option and gives an eye-catching look. Most importantly, the Herringbone pattern gives maximum tracking to avoid slipping.
Guide To But Best Tile For Shower Floors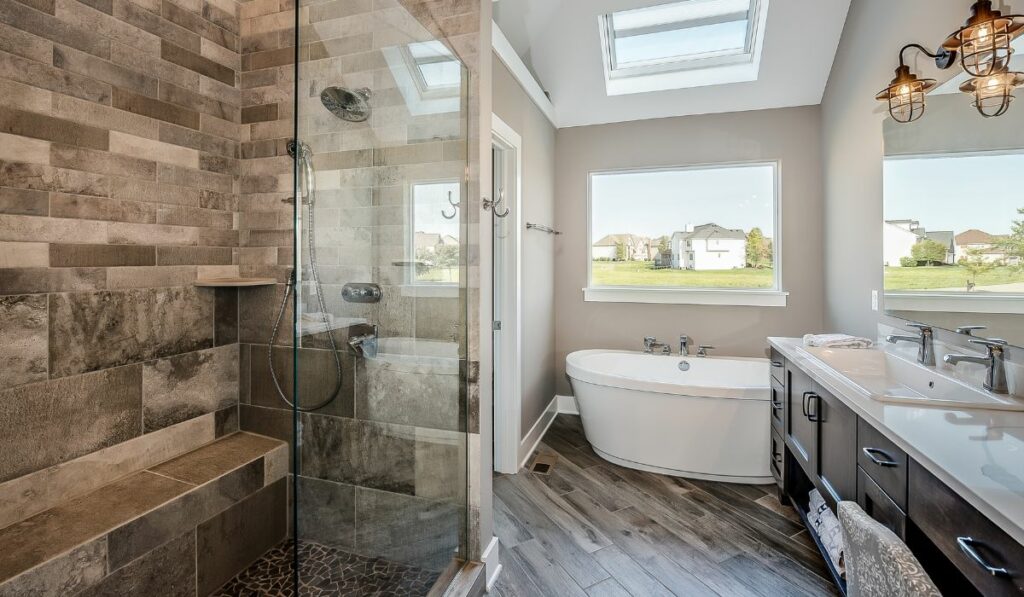 Before choosing shower tile, consider a few factors to get the best deal.
1- Slip Resistant
When choosing a tile for the shower floor, your priority should be safety. The shower area mostly remains wet, so there are high chances of slipping. But several tiles give you maximum tracking against slipping.
Most experts recommend using small tiles to increase traction, or you can use traction-bearing patterns to avoid slipping.
2- Budget
There are numerous types of shower floor tiles available in the market, from $5 sqft to over $40 soft. So before choosing any tile, you should decide your budget. But there is no doubt that the more you invest, the better quality tile you get.
If you want to go for glass tiles, they cost you around $20 to $50 per square foot. Whereas ceramic tile is too cheap, it will cost you between $1 to $7, but ceramic tile is not much long-lasting and durable.
3- Adopt the Style
If you're creative or DIY, you should go for a tile that matches your bathroom's nature. You shouldn't go for white color shower floor tiles if you have black wall tiles. I know the color selection is challenging, but you have to give it time to select the best match.
Secondly, the sky's the limit when it comes to tile style. You must consider whether you want an aesthetic look, a minimalist design, or a classical look. Based on your feelings, you can easily choose the tile style.
The third thing is tile patterns. Again, different patterns are available, like Hexagon, pebble style, herringbone, circular, and more. But always remember to choose patterns that give traction to your feet.
4- Cleaning And Maintenance
The shower floor requires constantly cleaning, especially if you're taking a hot shower. Because if the shower floor or wall remains wet, the humidity increases, which might cause different problems like mildew or mold.
So if you hate cleaning, you should have ceramic or porcelain tiles with polished surfaces. But to make them non-slip, use small-size tiles with loads of grout.
Similarly, you can also use Hexagon tiles, glass tiles, or other mosaic tiles; these are also easy to clean. But the stone tile is pretty difficult to clean.
5- Durability
It's also mandatory to choose a durable tile that lasts longer. A few tiles are very brittle, and their replacement also costs you a lot of money.
Instead of ceramic tiles, porcelain tiles are durable, especially Glazed porcelain. Although porcelain tiles are more expensive than ceramic tiles, your one-time investment lasts for 20 – 25 years.
FAQs
Can Shower Floor Tiles on Shower Walls?
No, because shower floor tiles have high traction against slip, whereas you can polish shower wall tiles for a luxurious look. Although the design of shower floor and wall tiles can be the same, the grouting, polishing, and cutting might be different. 
Is porcelain tile better than ceramic tile for the shower floor?
Yes, porcelain tile is considered best for shower floors because of its durability and waterproof nature. These tiles are best for wet and most environments like shower floors. At the same time, ceramic tiles are water resistant but not fully waterproof. 
Can I use ceramic tile in a shower?
Ceramic tiles are an affordable option for shower flooring. They are also durable and last longer. Another good thing about ceramic tiles is their slip-resistant surface, making them the perfect option for shower floors. 
What tile size is best for the shower floor?
For shower floors, it's usually recommended to use smaller tiles to maximize the traction against slip. You can use 4×4 tiles or 2×2 subway tiles.=
10 Amazing Shower Floor Ideas For Your Bathroom
1- Give A Different Look With Mosaic Tile?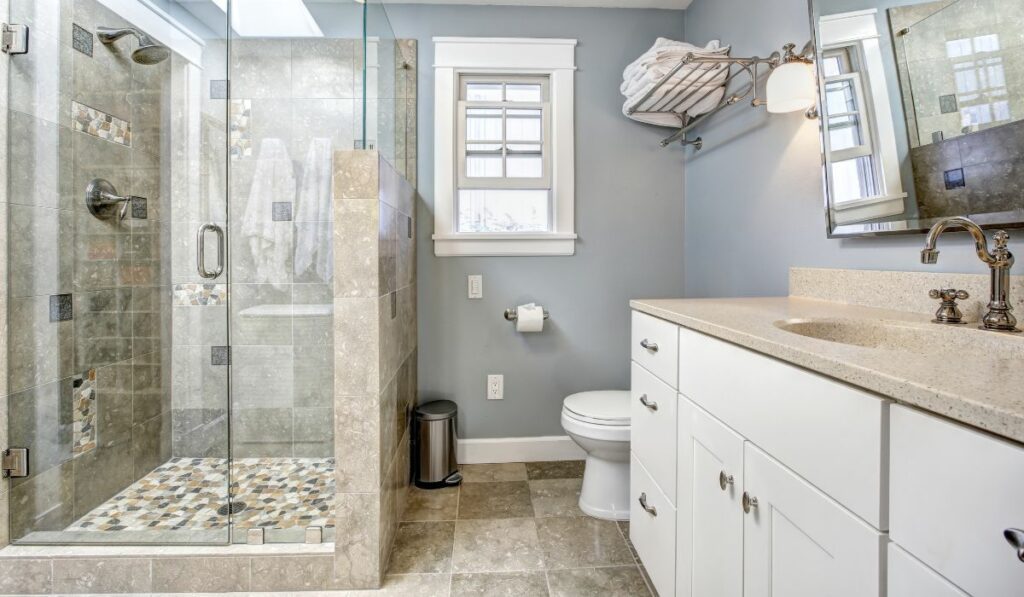 You can use mosaic tile to create a unique feel in your shower. The mosaic tile looks perfect for every type of wall tile.
2- Give Minimalist Touch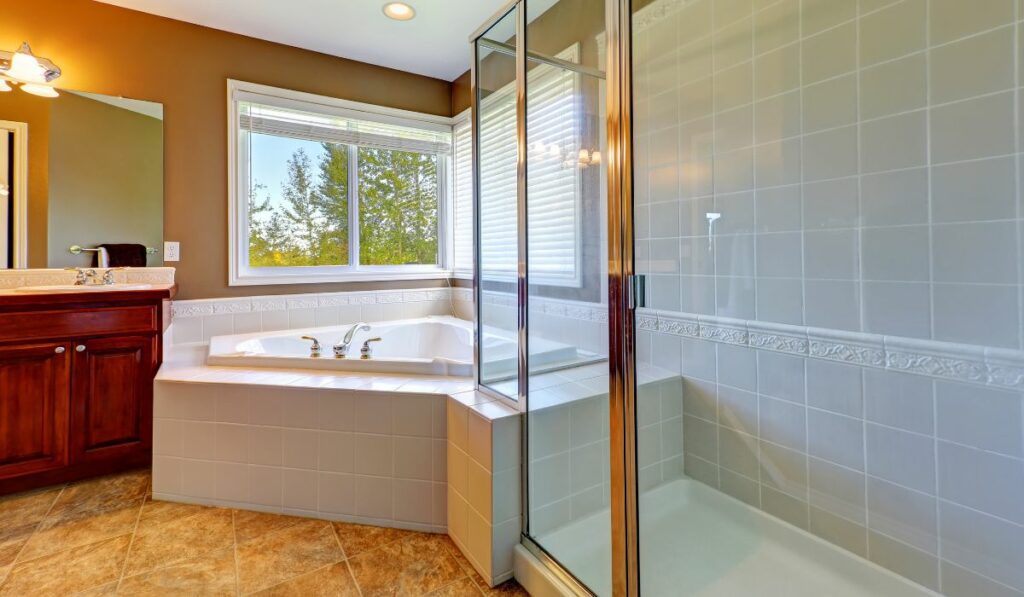 With light color ceramic tile, you can give a luxury touch to your shower floor. These tiles look perfect with soft color shower walls. You can also polish these tiles for a better look.
3- Aesthetic Style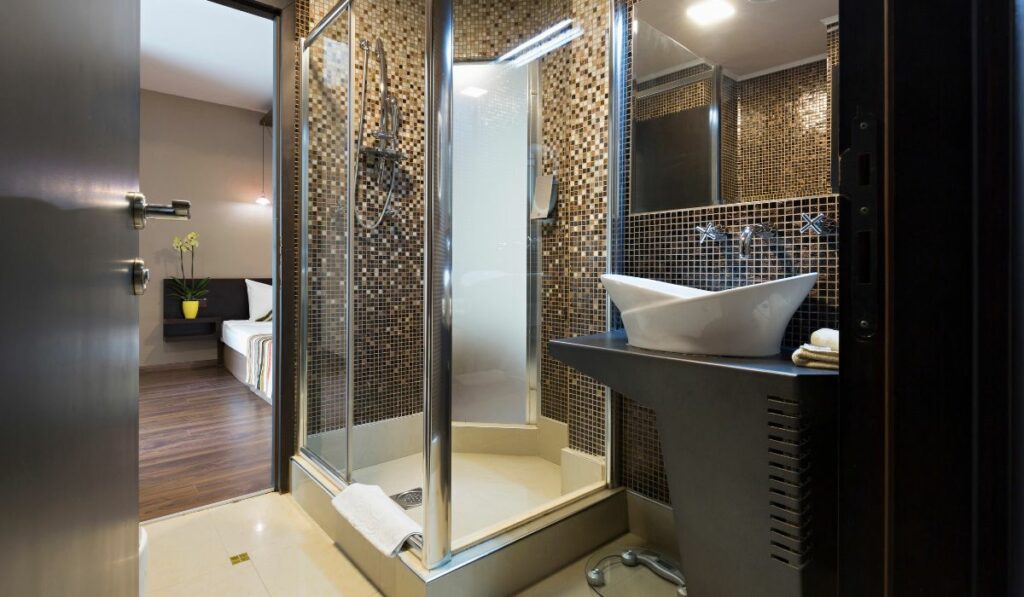 With the polish porcelain you can give elegant look to shower. Howerver, to add extra beauty, mosaic wall tiles are recommended.
4- Mosaic With Marble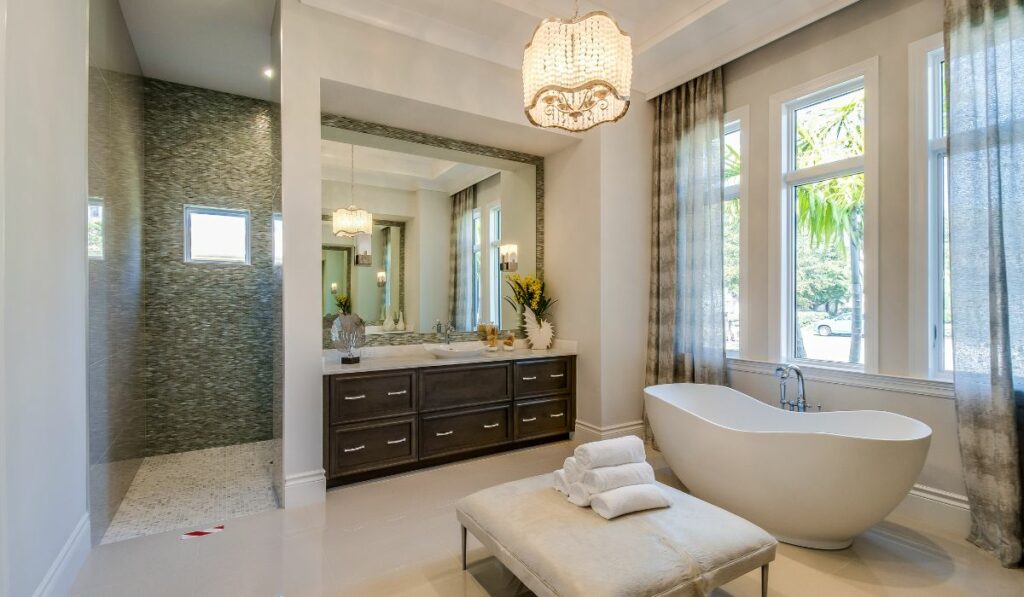 Here is another amazing mosaic pattern design for extra foot traction. Also, it gives a comfortable feel under your foot.
5- Try Unique Patterns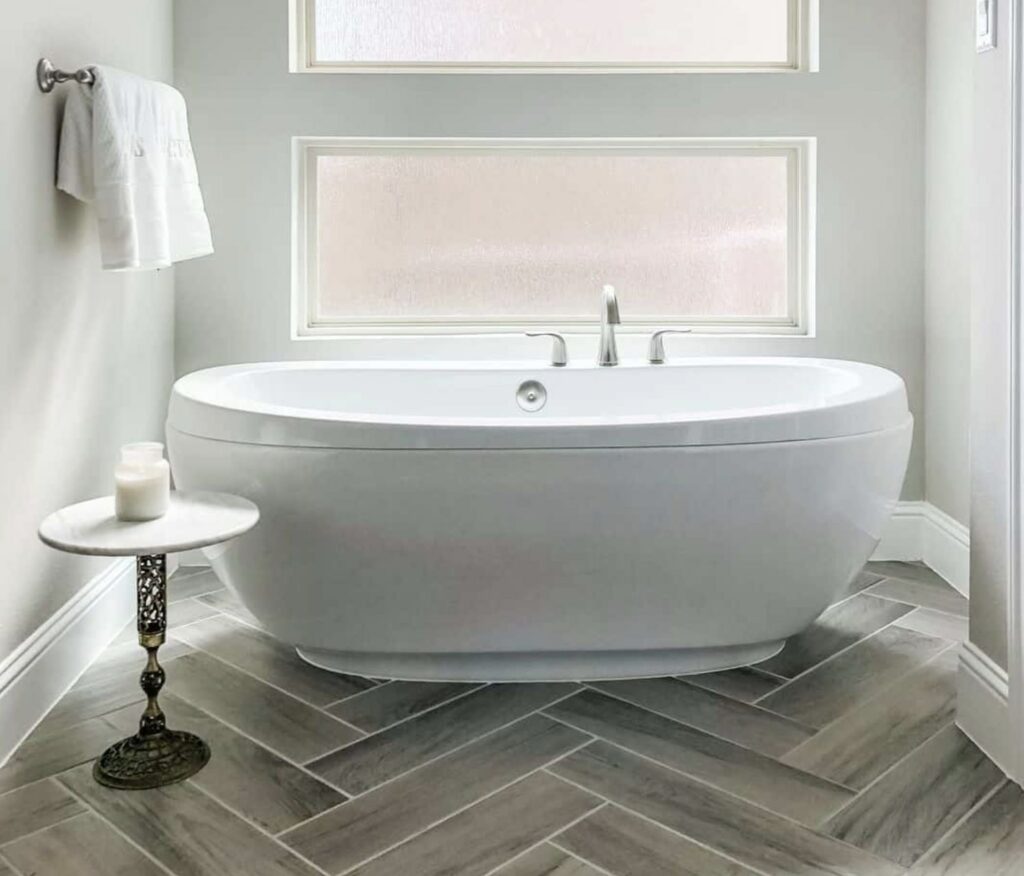 The herringbone pattern gives a feel of both classical and luxury. Besides this, it provides extra foot traction because of its pattern.
6- Dark Shades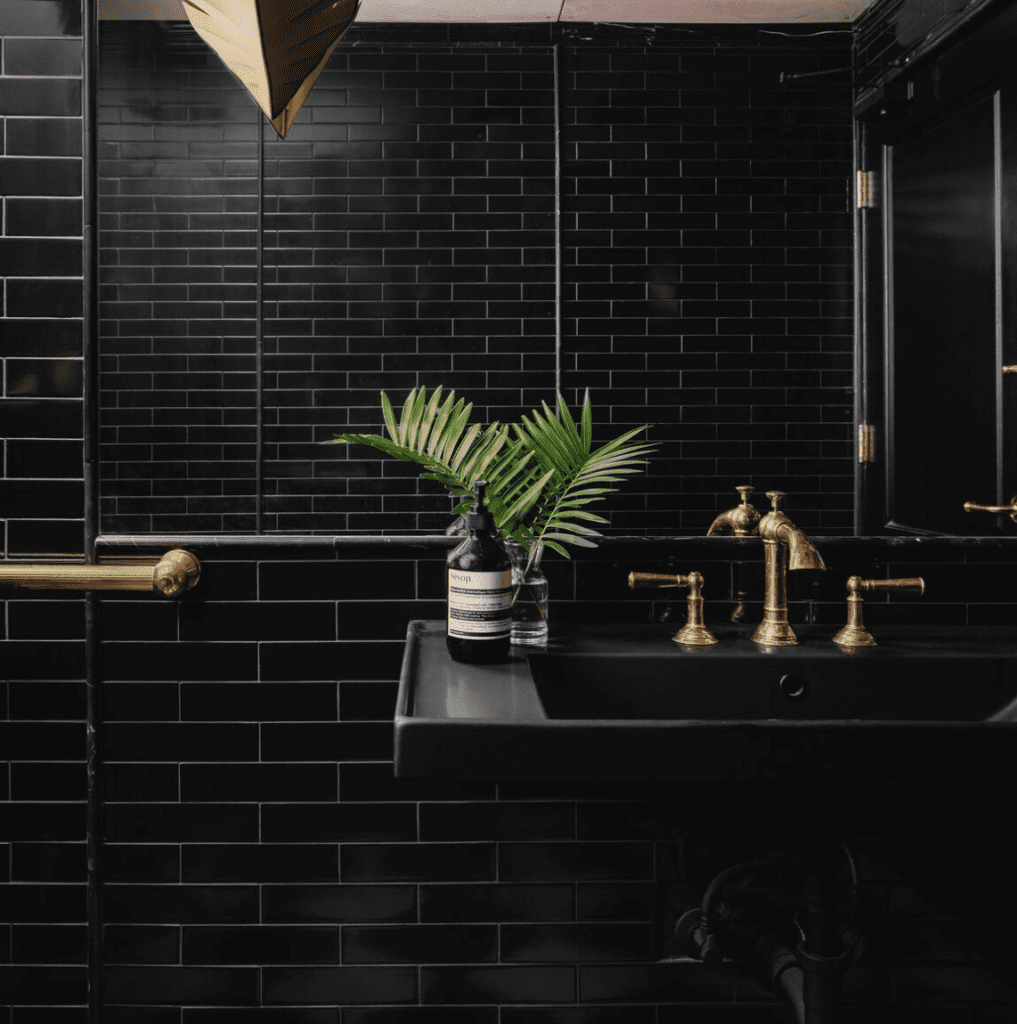 People who fall in love with black should go for glass tiles or small porcelain tiles. They give extra shining making your bathroom more aesthetic and luxurious.
7- Black & White Luxury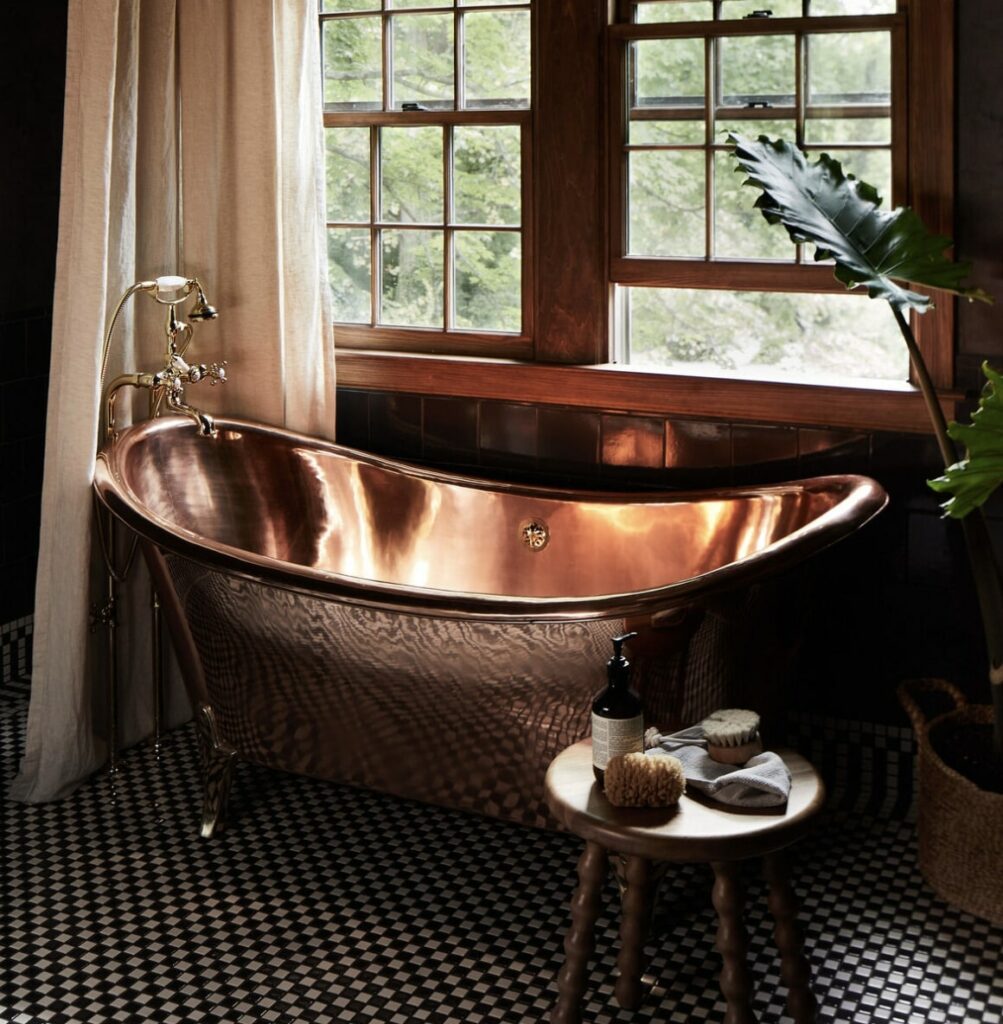 Black and white mosaic tile has been used for decades. Especially in Asian countries, it's considered a sign of luxury. Secondly, it's slip resistant and easy to clean.
8- Creative Designing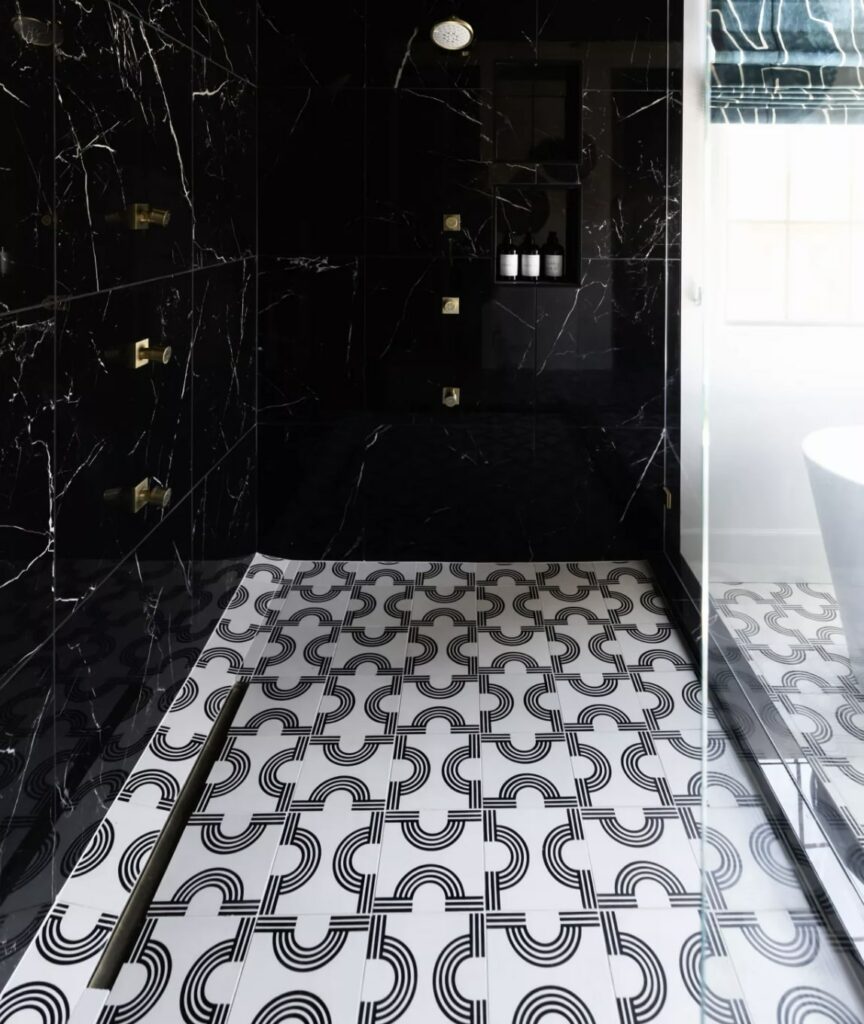 Puzzle pattern Porcelain shower tiles look perfect with black marble wall tile. It's also durable and water-resistant.
9- Blueish Tune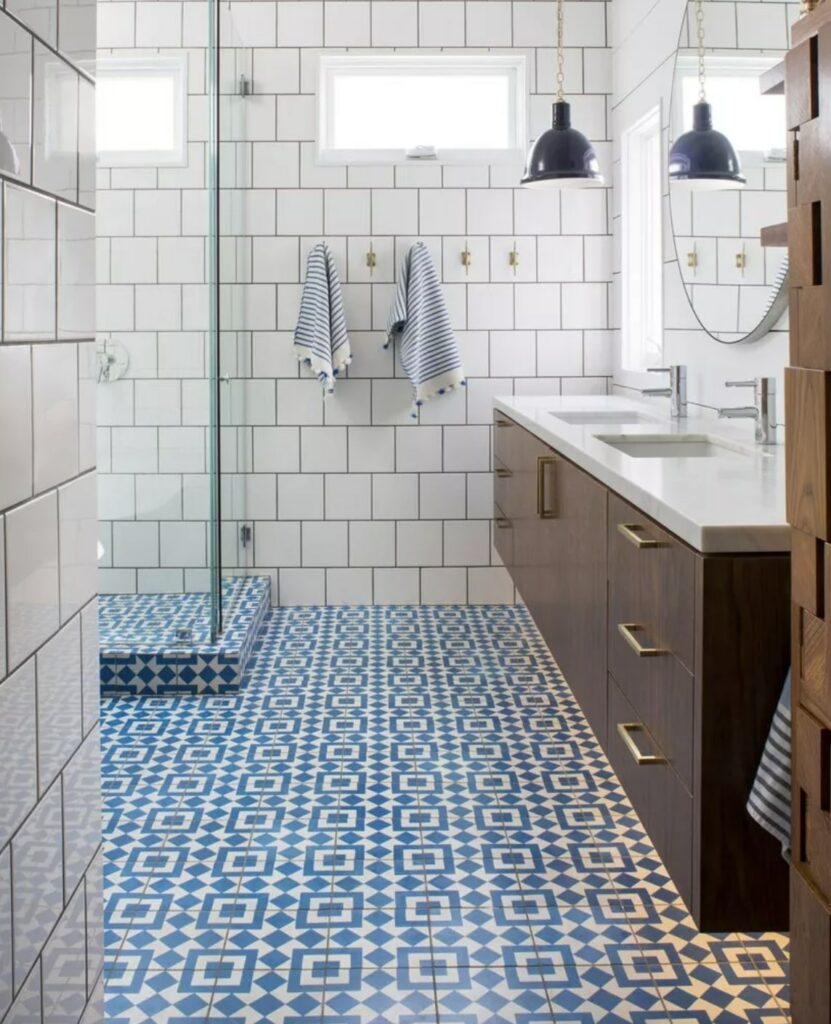 If you want a more cool and sea-type effect, then try blueish pattern ceramic tile. These tile patterns perfectly match any wall tile.
Related Post: