The shower standing handle is essential in any bathroom, especially if you have the elderly or kids at home.
While taking a shower or bath, the floor becomes slippery because of soap or shampoo resin and water, making it more prone to slip. But the shower standing handle is your best companion in this situation; it supports you and prevents you from slipping.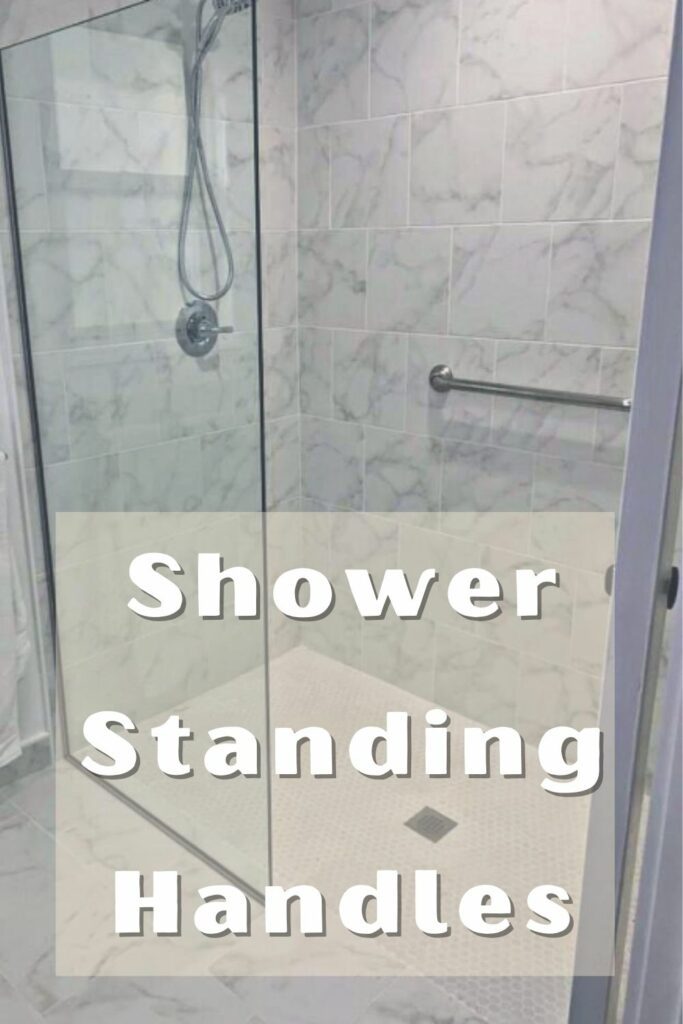 Getting a shower standing handle is not a big deal; the only thing you have to focus on is the standard height and location of installing the shower handle.
This article will teach you everything about shower standing handles, the standard position, types, and some of the best handles you can go for. So keep on reading.
Types Of Shower Standing Handles
Shower handles have two main types;
Fixed Shower Handles
Detachable Shower Handles
1- Fixed Shower Handles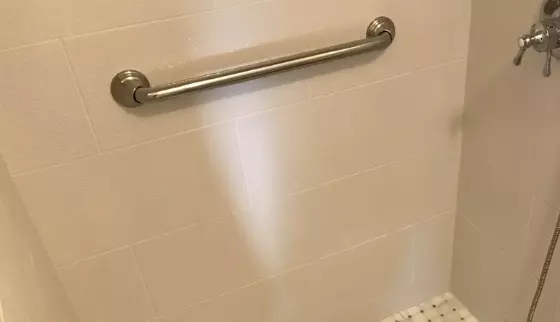 As the name suggests, fixed shower handles are fixed at a certain position. You need DIY skills and advanced tools to install this shower handle.
The big advantage of fixed shower handles is that it provides enough support. You can rely on them as they never give under your weight. So no matter how much weight you have, they will support and prevent you from slipping.
Mostly, fixed shower handles are made of stainless steel, and they come in various designs to choose from. Even though this shower handle might not match your bathroom aesthetic, it's a better option if you prefer safety.
2- Detachable Shower Handles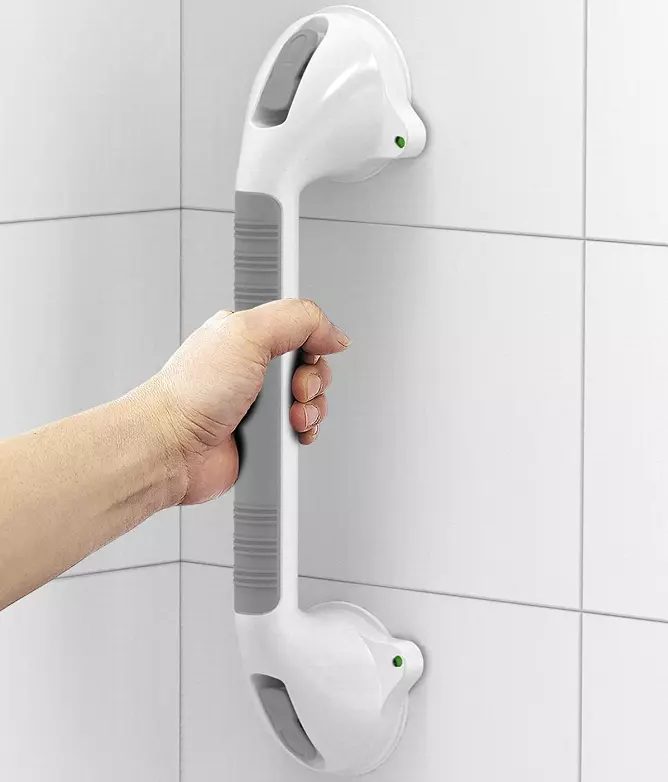 Detachable shower handles are very convenient; you can easily detach and attach them to the wall. You can use a detachable shower handle in a rarely used bathroom.
Because of the flexibility, you can attach the handle before showering and remove it once you are showering. As every product has pros and cons, the detachable shower handle provides less reliability but doesn't offer support like the fixed shower handles.
What Is The Best Size For a Shower Standing Handle?
There is no actual size for shower handles; few are as small as 10″ and up to 42 inches long. Few standing handles have curved shapes, so their sizing is different.
A good rule of thumb is to go for a shower handle with at least 20″ of length, as it's easy to grip and provides enough support. Larger shower handles are more secure and reliable. Whereas small shower handles can slide from your hand.
What is The Appropriate Height For the Shower Handle?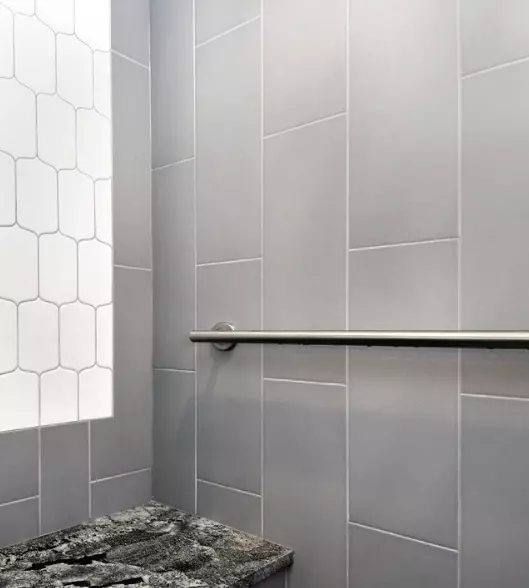 Again the standard height of the shower handle varies depending on how tall or short the person is. You have to look for an area that is easy to access while showering.
I would recommend installing a shower handle near the shower valve, and this is the area where any hand can easily reach it. Installing the shower handle vertically or diagonally is also recommended, so anyone can easily take advantage of it.
The height of horizontal shower standing bars is between 34 to 37 inches from the floor. This is the standard height for average persons. But again, the most important part is selecting a height that feels comfortable to you.
Similarly, if you have a bathtub, it will be helpful if you go through your bathroom routine and find which place is more suitable to install the shower handle.
Can I Attach the Shower Handle To the Tile Wall?
Yes, you can attach the shower handle with a tile wall, but you need to be extra careful. If you don't have much DIY skill, hiring an expert is recommended.
It's for sure that you have to drill in tile before installing the bar; therefore, keep the process slow, and mark the point with a marker or pen.
Drilling at the end of the tiles or in the grout is also recommended because tiles are more prone to damage from the middle. But if you have a pebble or small tiles, you don't need to worry much about them. If you have large ceramic or marble tiles, you need extra care while installing the shower handle.
You can also opt for removable shower handles for your tile wall, as they are easier to install than fixed steel bars. But if your concern is safety, it's better to go with fixed shower handles.
What Is the Standard Shower Valve Height?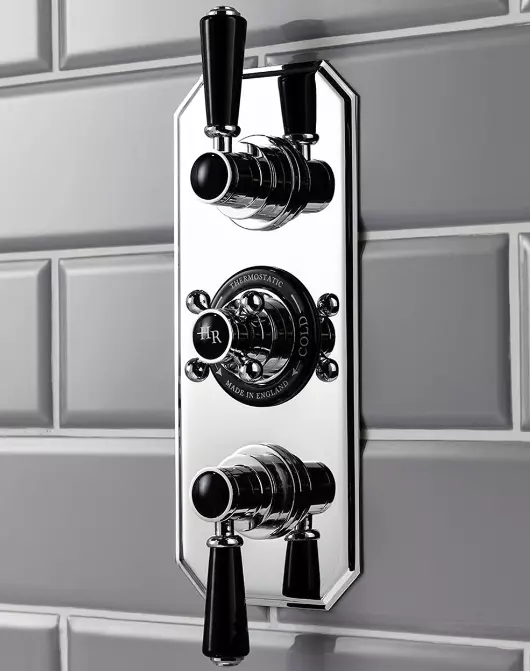 If you're not a DIY person and don't know the basics, here's a quick answer. A shower valve controls the flow of water, and you can say that the pressure of water. And you can also control the temperature of the water with these shower valves.
The shower valve mainly has two types, a mineral mixer valve and a thermostatically controlled valve. Most people, including me, use manual valves; you can rotate them clockwise or anticlockwise to control the water pressure.
The standard height of the shower valve depends on the person's preference. Mostly shower valves are placed between 48″ to 65″ from the bathroom floor. But, for the bathtub, the height will be lower.
It's recommended to install a shower wall at the same height as your bathroom's tap for the bathtub. In this case, the standard height could be 28 inches, but again you have to find out which height suits you best.
| | |
| --- | --- |
| User Height | Shower Valve |
| 5' – 5'3" | 38" – 41" |
| 5'7" – 6' | 44" – 47" |
| 6' – 6'3" | 47" – 50" |
| 6'4" – 6'7" | 51" to 54" |
Different Types Of Shower Heads And Their Standard Heights
Based on the type of shower head, the height might vary. That's why you first need to know what showerHead you will install in your bathroom.
1- Standard Shower Head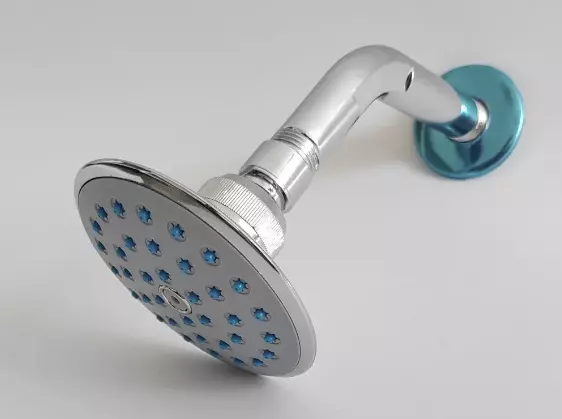 Most people use standard shower heads in their bathrooms. This shower head has a large neck fixed to the wall, and you can slightly move the head but not too much.
The typical height for a standard shower head is 80″ from the floor, but it might vary depending on your ceiling height and your height. There is no rule of thumb for standard height, so you can place your shower where you feel more comfortable.
2- Handheld Shower Head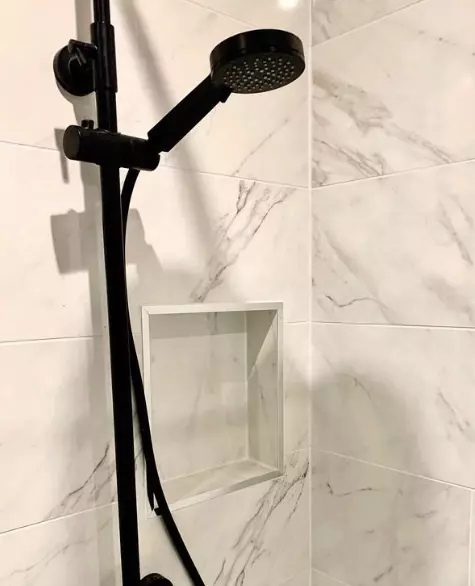 This is another common type of shower head, and it provides you with more flexibility and freedom and is appropriate for all aged people.
When it comes to the height of the handheld shower head, there is no appropriate or fixed height for it, and you can easily hold it in your hand. Usually, these shower heads are placed at a low height so anyone can easily access them.
Typically a handheld shower is installed at the height of the shower valve, as the hose of the shower head is connected to the shower valve; that's why it's easy even for kids.
3- Rain Shower Head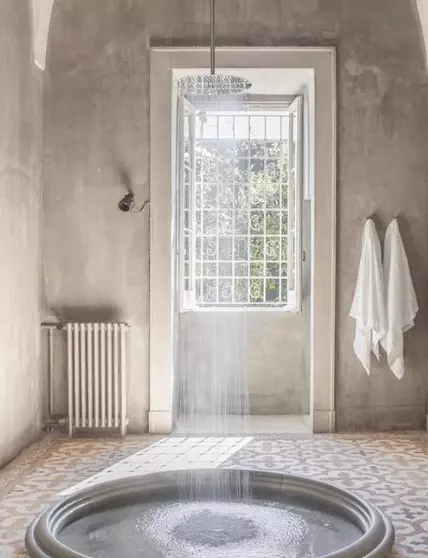 The rain shower is installed in the ceilings of a modern luxury bathroom. But if you want to rain the shower head, what will be its standard height?
This type of shower head doesn't move and is fixed to the wall. Though you can adjust the height and angle slightly from the head side, in some cases, it's not possible. The standard height for a rain shower head is around 80″ from the floor.
The height of the rain shower head might vary depending upon the design of the shower because few showers have long necks; that's why they are installed at 85″ in height.
5 Best Shower Standing Handles
1- Grab Bar for Bathtub Shower
For daily living, this shower standing handle provides amazing support. You can use this bar vertically, horizontally, or diagonally, whatever you want or like. The rod is made of stainless steel, seems very durable and supports up to 400 pounds.
The grab Bar rod is 36″ long, enough to provide sufficient support and grip. This is a fixed shower standing handle, you have to permanently install it in your bathroom, and its oil-rubbed bronze color will boost the aesthetic of your shower area.
2- ZALIK Shower Handle
ZALIK (2-pack) shower handles are very convenient and easy to install. If you are afraid of drilling in tile walls, use this suction grab bar. Even though it's made of plastic, it has a very sturdy grip that supports your weight and gives you stability.
This shower handle has two suction cups with locking latches, so mount the handle wherever you want. The latch has a color indicator that ensures the handle is properly fixed to the wall. This bar is 12″ large and 3″ wide, which is good for a firm grip. This shower handle can support up to 300 lbs of weight, sufficient for elderly people.
3- Vive Grab Bar For Shower & Bathtubs
The Vive Grab bar comes in various colors and lengths. That's why you can choose the appropriate one which matches your bathroom aesthetics. The shower handle is made of stainless steel, and it's pretty easy to install.
Because of the durable design, this shower handle supports up to 500 lbs of weight, and protects you against slips, falls, or accidents. For reliability, Vive Grab Bar comes with a 60-day Guarantee, so you can replace it in case of any issue.
4- Moen R8960FD 30-Inch Bathroom Grab Bar
If you want a stylish shower stand with a robust design, you can opt for Moen R8960FD 30-Inch Flip-Up Grab Bar. The big advantage of this shower standing rod is flexibility; you can flip it at 360; that's why it's the perfect choice for all ages.
The bar is 30 inches long, making it easy to hold. This shower grab bar can support up to 300 lbs of weight, that's why It's a reliable option for the elderly. The manufacturer gives a limited lifetime warranty for customer satisfaction.
5- iMomwee Stainless Steel Shower Grab Bar
This 2 pack of shower handles offer a solid grip because of the rubber anti-slip grip. The rod is made of stainless steel and supports up to 500 lbs. The road is not too large; it has 24″ in length but still feels very sturdy and durable.
You can make your shower place safe and sound using this stainless steel shower handle. It's too easy to install, and the package includes all the necessary installation items, so you don't run for extra screws.
You also get a 3-year manufacturer warranty for these shower handles; if you have any issues, you can replace them.
FAQs
Final Thoughts
A shower standing handle must have element in the bathroom. It protects you from spills and slips, and you can hold the shower handle while taking a shower or leaving the bathtub; they support your weight and prevent awful accidents.
Especially for the elderly, these are crucial; they make the bathroom safe and slip-free. So you should install a shower standing handle in your bathroom.