In many modern living rooms, there must be some electrical cords. Living rooms without power cords of sofa or television are nearly impossible to imagine. One of the worst things is having the electrical cords visible to all.
To hide the sofa power cords, you can tape the cords or use binder clips. Similarly, there are lot of creative methods (which we will discuss below) to hide the sofa power cords
Having the sofa power cord in an organized way is most important.
So, in this article, we have discussed numerous methods that you can use to hide sofa power cords that will make your room more organized and beautiful. So let's jump into it.
Tips on How to Hide Sofa Power Cords (15 Pro Tips)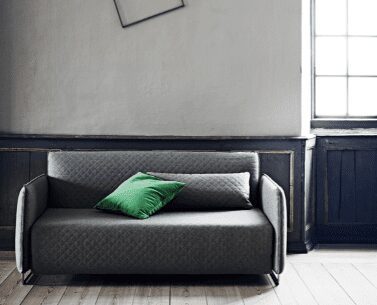 Having the sofa power cords appropriately organized is the most sensible thing. Here are some tips that you can use to hide sofa power cords.
1- Tap The Cords
Using tape is a quick and easy way to hide your sofa power cords. Even though this method will not be the best in the long run, it's certainly not a time-consuming way to hide your cords.
It's still important to be accurate when concealing your cords with this method. Ensure the cords are affixed in a spot that's not the room's focal point using clear packing tape.
After that, run the cord to the desired location, ensuring it remains hidden the entire time.
2- Hide The Power Cords Behind The Sofa
To hide the power cords, you can use your sofa if you don't want to cut holes in the wall or don't want to use tape.
You'll see great results with this relatively simple fix. Make sure everything stays hidden from the naked eye by locating the power cords behind the sofa.
3- Raise The Power Strip Off The Ground
Power strips are likely to create the most clutter, so lift the power strip from the ground a bit to conceal it more effectively. The power strip can be hung on the wall using only nails and screws.
Using this wall-mounted strip, you can effectively hide your sofa power cords. In this way, sofa power cords will be hidden, and the viewers will not see them.
4- Use A Basket Cord Holder
Another option is to use a decorative basket cord that will hide your sofa power cords. Additionally, connecting all the sofa power cords into the basket with Velcro is the best way to use this basket.
In addition to being cute, it will also serve a very functional purpose.
5- Be Creative
You can also be creative and use your imagination to hide your sofa power cord perfectly. Using your imagination, you can hide your power cords without taking the extra measure.
You can easily include them in your décor, for example. A number of decorative elements, such as wires, can be added.
Moreover, think about adding dehumidifiers to your living room. This will give you the option of using several cord lines instead of just one.
Please take a few tube-shaped concealers and play around with them. As long as you use some imagination, you will be amazed at all the options available.
6- Use Command Hooks
The cords can be easily hidden with adhesive hooks you can attach to furniture, such as conceal them. Using this approach, you can connect an appliance to a plug located on the other side of the room.
7- Zip Ties
How about using zip ties to gather all of the sofa cords together? You'll be able to plug in multiple appliances at once, and using this method; everything will be a bit more organized.
8- Cord-Management Kits
You can get yourself a cord-management kit that allows you to conceal the sofa power cords in the tubing. They will work with your internal design, which is the best thing about these kits.
Moreover, the sofa cords won't be visible, so you'll enhance your design.
9- Surge Protectors
A surge protector is an excellent way to hide your sofa power cords. The mounting can be done behind the sofa. In this way, your sofa cords will be hidden, so you'll not have to look at them.
10- Use Binder Clips
You can also use binder clips to connect wires or bring the sofa cords together to hide them. Once you have tied the cords together, these clips will allow you to gather them together and effectively hide them.
11- Place The Cords In A Drawer
In your living room, a desk drawer can also be used for storing your sofa cords discreetly. Even the desk drawer can be drilled so you can thread the sofa cables through it.
12- Hide Them Under Area Rugs
An area rug is a perfect place to hide your cable wires if you are worried your living room could become a tripping hazard.
Run your cables under the rug and secure them with carpet tape. In this way, you can hide them perfectly.
13- Hide Them Inside A Book
We all have at least a few books that are merely collecting dust on our bookshelves. Sofa power cords can be run discretely down the wall or behind the bookshelf itself.
You simply have to place your sofa power cords inside large binders or hardback books and sandwich them vertically between other books if you have them.
14- Use A Plain Foam
Ideally, you should place the recliner near a wall with a power outlet. You can hide most cords by covering them with a foam piece matching the wall's color.
It's almost like hiding the recliner cords in the wall. Additionally, creating this illusion is cost-effective.
It is essential to locate the recliner and adjust the cords so that a majority of the cords can be attached to the wall, then place the foam panel.
15- Use Cable Catch
Use a cable catch to prevent cords from falling to the floor. Your cords will be kept off the ground in this way, preventing additional clutter from forming.
Conclusion
Hopefully, you may now have decided on the perfect method from the above ones to hide the sofa power cords from your room.
All the above methods are best; go with the one you like and adequately hide your sofa power cord without any loss.
FAQs
Can You Run A Sofa Power Cord Under Carpet?
Yes, you can hide the sofa power cords under the carpet. You should run the cord under the carpet area with the least amount of traffic in either case.
How Many Devices Can Be Plugged Into A Surge Protector?
The answer to this question depends on the number of slots in your surge protector. Feeling warm on your surge protector is an indicator that it may be reaching its maximum voltage.
During this time, unplug one cable to allow it to cool down. The surge protector's plastic may melt if it draws too much electricity for a long time.
Can You Plug Multiple Extension Cords Together?
An extension cord is not meant to be connected; it is designed to conduct electricity over a long distance. Multiple extension cords should not be plugged together as they may overheat and potentially damage the covers.