Do you want to make a fabric couch soft again? It is possible and easy to get your fabric couch softer.
Especially after cleaning, your fabric couch may get stiff, and uncomfortable. But you can make it softer using a few simple techniques.
Most of the time, your fabric couch gets older, and the fabric becomes stiff. In such a case, you need to change the fabric of your fabric couch.
Similarly, imbalance or crooked frames of fabric couches also make them inelastic and firm, which leads to uncomfortable sitting.
But you don't need to worry about a stiff fabric couch!
Keep on reading to know more about making your fabric couch softer.
What are the Reasons Behind a Fabric Couch Need To Soften Again?
A fabric couch has been considered a comfort for years. However, with time the couch begins to lose its comfort level and becomes hard. Here are some reasons why your old fabric couch gets uncomfortable and less soft before your expected time.
1- Low Quality material
The material of the fabric couch is crucial for long-lasting comfort and softness. If the material is of lower quality, it may become hard quickly.
The filling of cushions of such couches will be cheap. They use such foam that gives the appearance of thick size, but they are wrapped in dacron excessively. So these types of couches are compressed soon.
Avoid buying any couch that has a dacron wrap of more than 1.5.
1.7lb density foam core for the cushions of your fabric couch.
2- Manufactured With Hard Edge
If the edge of your couch is hard under the front of the seat cushions, the comfort level will be less, and the cushions will wear out very quickly. Always choose a couch with a soft spring front edge. It will make your fabric couch last and more comfortable.
Related Post: How To Soften The Look Of A Leather Couch
How To Make A Fabric Couch Soft and Comfortable Again?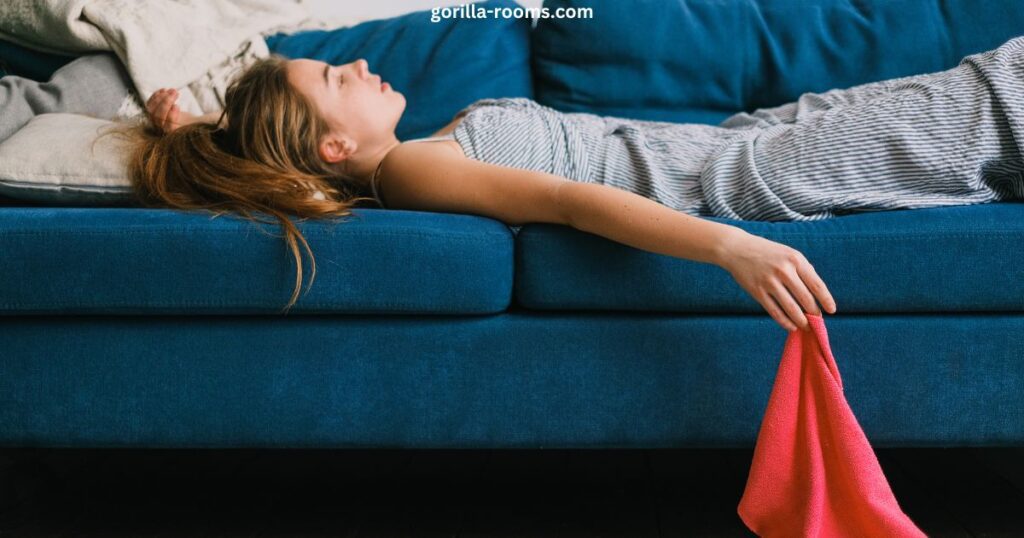 Here are some ways to make your fabric couch soft and comfortable again. You may adopt any of these effective methods.
1- Softening By Using Brush
Using a brush is an easy and simple way to soften your fabric couch. You can do it casually and regularly or whenever you feel like doing it.
You have to rub the fibers smoothly with a soft brush. You can fluff the fibers of your fabric couch, and it will be soft and flush again.
A cloth brush is available in different fabrics. They work smoothly, and you can make your fabric couch soften without any harm to your fabric.
2- By Changing The Fabric
Choosing the perfect fabric for your couch is not essential for visual comfort, but it is also a comfort in feel. Fabric plays a vital role in softening your couch.
There is a wide variety of fabrics for the couch: polyester, silk, hemp, cotton, wool, nylon, linen and channel, and many more. You may need clarification about selecting as you have too many options.
Some of these are durable but not softer. Some are softer but do not last long. Chenell is one of the best fabrics because it makes your couch softer and more comfortable and lasts for decades. It gives a soft and elegant feel.
You should pay attention to the double rub of the fabric you select for your couch to soften again.
3- Softening By Balancing The Frame
An unbalanced and unstable couch changes the comfort level while sitting on it. It becomes hard within weeks after you start sitting on it and keeps getting worse until it gives out.
Do not wait for all this to happen, and take action immediately.
You have to lift some fabric off your couch, Mark the loose joints and apply the wood glue to these joints. Wait until the bond gets dry.
Doing this will improve the structure of your couch and enhance the softness and comfort level of your fabric couch.
3- Softening By Upgrading the Foam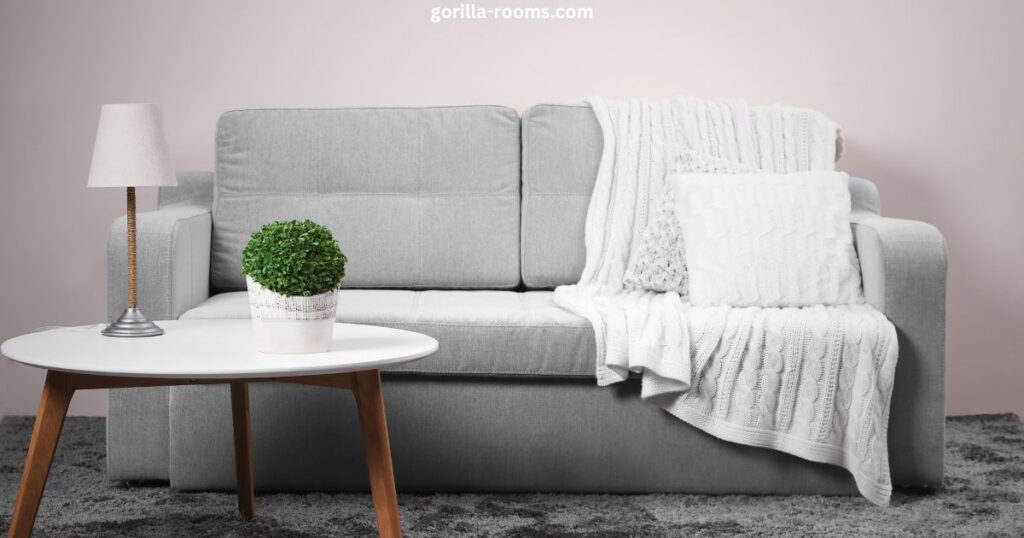 It is undoubtedly the best way to soften a fabric couch again. If your old fabric couch has become very hard and uncomfortable in a short time,
It is proof that a deficient quality foam is used in its making. Get foam of higher quality and make your fabric couch softer than brand new.
Related Post: How Can You Make A Futon More Like A Couch?
4- Softening By Fixing Springs And Jute Webbing
The springs and jute webbing worms out after some time. These are the support of your couch when you sit on it. These springs should always be tight to keep your couch level and soft.
If you do not keep these springs tight, they will break quickly, and you can bottom out while sitting.
These broken springs will not keep the level of your couch long and make your fabric couch hard and uncomfortable. You can change these springs and jute webbing and make your couch soften again.
Can You Treat Your New Couch and Old Couch In The Same Way To Soften them?
Only old couches do not get harder and more uncomfortable but sometimes new couches also become stiff.
The newly purchased fabric couch may not feel as comfy as you considered at your buying time, or you may have chosen a bit softer.
It happens mainly in online shopping. Always try to buy from a place that has a generous return or at least an exchange policy.
If you do not have this facility, it is not an issue that can not resolve. Please do not start thinking of selling your fabric couch, as it will not pay your investment back.
Sometimes your budget does not allow you to buy the couch according to your wish or need.
There are many ways to make your new stiff couch softer according to your need without losing your purchasing value.
It is precisely the same problem as your old fabric couch getting less comfy and less soft with time. You may feel that your fabric couch is less comfortable than you require. So, it needs the treatment to get softer and more comfortable.
These are some easy tactics below to make your couch softer, particularly the new one.
Tactic No 1:
You can create a lounging station with a mix of throw pillows and comfortable blankets. This process will make your fabric couch soften again.
Tactic No 2:
Even for a brand new couch, you may find that the fabric of your new couch is not as soft as it should be good quality for a better comfort level.
Cotton is a softer fabric, but it is not durable. You can use soft and elegant fabric such as velvet instead of a blanket. It will support a super-soft finish.
Tactic No 3:
It is also an excellent way if you add a sheepskin rug on your fabric couch for extra warmth and cushioning. This tactic means making your couch softer.
Tactic No 5:
Investing in your cushions is the easiest way to make your fabric couch more comfortable and softer.
Large fluffy pillows with feathers down will make your fabric couch softer in the best way, and it will take a short time to do.
For this tactic, you need to look at your budget. The foam with high density is expensive but will give the best result.
Related Post: How To Make New Couch Cushions Softer? 
How Can You Speed Up To Make A Fabric Couch Softer?
By improving the cushions, your fabric couch will soften over time. But if they need to be buffered quickly and you want speedy results. You may achieve the softness of your Fabric couch by opting for one of these simple strategies.
Strategy No 1:
Keep sitting on your couch for as long as possible. Your weight on cushions will press them.
You must also bounce up and down a few times to compress the cushions and break down the foam inside. Remember to shuffle the cushions so that all may be flat equally.
Strategy No 2:
Put on a clean pair of socks and put the cushions of your fabric couch on the floor. Keep walking on your pillows for some time.
You may set these cushions back to check if you have the required softness, and if you still need more softness, you may repeat this process to get them softer.
Precaution
Avoid being very forceful while bouncing and walking on the cushions, as certain materials can rip in this process.
You will need these materials in the proper way to achieve your purpose of making your fabric couch soften again.
Video Guide
Conclusion
A fabric couch is an elegant and vital piece of furniture at home. It highlights the looks of your room. It is always hoped to be very soft and comfortable.
It may need to soften again when it gets old. Your new fabric couch may need to soften as you find it uncomfortable and harder after using it only for some days. There may be different reasons for the latest and old fabric couch.
A fabric couch is a luxury item for a home. It is better to shop from a furniture showroom instead of online shopping.
You should have a good knowledge of the variety of foam and fabric used in a couch.
If your fabric couch loses softness, it is not a big issue. You can efficiently resolve these issues and make your fabric couch soften again. You need to know some straightforward tactics for this purpose.
You may even make your fabric couch softer than the new one you bought.